Content Marketers: How to Create a Writing Process That Saves You Time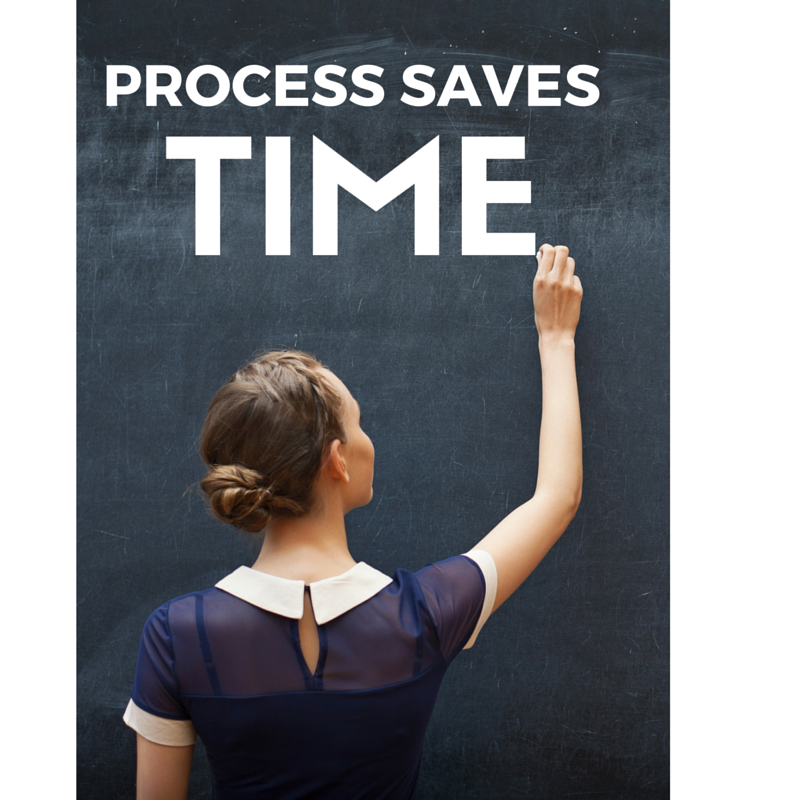 With a never-ending to-do list spanning writing website copy, hosting webinars, and creating
long-term
strategy, how do you create a standardized writing process to help save you time? Find out here.
An average day can in the life of a Content Marketer's shoes involves writing, editing and posting one or more blogs, sending out a dozen tweets, taking part in brainstorming sessions, strategizing with marketing and sales - and so much more.
That's why it's important for Content Marketers to plan their time carefully. When your to-do list looks like this, creating a list of priorities helps ensure you don't get distracted by tasks that don't see significant ROI:



Creating engaging posts




Defining your target audience personas




Developing brand voice




Searching for trending keywords




Analyzing the effectiveness of your posts




Sending out emails




Finding quality graphics




Copy editing




Engaging in thought leadership discussions




Revising for tone



So - what does a typical day focused on content creation look like? Find out here.
Where to Begin?
What we are assuming is that you have just taken on a new project, but have yet to create any content. In this instance, you need to begin your work by doing some research. You do not have to spend all day on it, but you do need to do enough research until you have a pretty good idea of what kind of marketing the brand needs, as well as what will appeal to the demographic you're trying to impact. For example, if you are creating a social media post, it is a good idea to become familiar with the type of trends that are going on and what hashtags people are using. Tools such as
Trendspottr
help you identify these types of trends, which then allows you to start crafting content that might appeal to a certain audience.
Read more:
5 Ways to Tell If You Need a Good Writer or an Industry Expert
What's Next?
After you figure out the latest trends and do the necessary research, you need to come up with content ideas. That's a tough one, and it might involve a little more research. However, you can save time by using apps like
Feedly
or
Flipboard
, which help you organize your favorite blogs and news sites into one convenient place. That way, you are not spending all your time searching for inspiration. Of course, inspiration does not mean you should copy that particular content. Instead, it should only serve as a guide to what you should add to the conversation. You can also use tools like
Oz Conten
t to help you generate ideas for new content - or check out Scripted's free blog idea marketplace.
Now What?
Now that you have found the right trends to match the brand and have found inspiration, you should begin crafting your content. First, organize your thoughts by making an outline of what you want your content to look like. What text are you planning to include? What's the overall message of the piece? Do you have images? Videos? Infographics? Defining the form of the medium as specifically as possible will help you move ahead. If you are crafting a social media message for Facebook or Twitter, try brainstorming a few words that you might want to include. This is where you will want to spend the bulk of your time, especially since you want your content to really be engaging to the customer. You will also need to ask yourself the following questions: "Would I respond to this if I saw it online?" or "Would this make me care?"
Read more:
If you're not publishing content consistently, you could be missing out.
People expect to be engaged in what you have to say, especially on social media. Even when writing a Facebook post, you are still telling a story, which is how you will draw people in. That is why organizing your thoughts before you write can be a useful tool.
And Then....
Once you have created the content, you will need to start creating images to go with it. While some Content Marketers have experience with Photoshop, they do not always have the time to sit there and develop the types of graphics that are needed. That is where a tool like
Canva
comes in handy, because it allows users to use drag and drop features so that they can create professional graphics in a small amount of time. Sites like
Deposit Photos
are also good for more straightforward stock images. Or you can get really creative and head out of the office to snap your own inspired photos.
Now We Revise
After you have finished your content and created the graphics, the next step is to revise what you have done. Why do you want to do this? Well, for one thing, you want to look professional, and for another, people will point out all your mistakes if you leave them in. You also want to make sure your content is as strong as possible, which is where platforms such as
Atomic Ally
can help give you an edge.
Other Tools
Infographics seem to be all the rage these days, but if you have never created one, then you might want to try
Ease.ly
or another tool that helps you create infographics for your content.
Let's face it, the life of a content marketer is a little bit more hectic and chaotic than a lot of jobs - you have tons of stuff to juggle and stay on top of. But that's what makes it so interesting! Make sure to focus the first part of your work day on mapping out your priorities in order to have a clear picture of what you need to get done and use some of these handy tools to help you save time throughout the day.
Looking to save even more time? Find great writers to help you with all or some of your content marketing needs: