4 Reasons Ted Cruz's Content Strategy Failed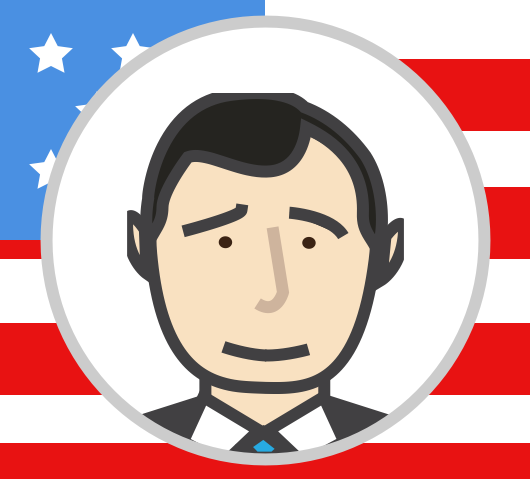 When media outlets reported Ted Cruz had officially dropped out of the Republican race for President, the Twittersphere erupted. Memes were developed, opinions were shared and even his competitor Donald Trump got in on the fun. So what caused the fall of a once promising Republican candidate?
Social and digital content have become key aspects of any presidential race. In efforts to connect with younger voters and maintain online authority, candidates are becoming more interactive than ever. However, not all of them get it right.
Let's take a look at some of the digital gaffes Ted Cruz's team made over the course of his campaign and the lessons all marketers can take away.
1. Make Sure You Purchase Your Domains
For anyone starting their online journey, purchasing a website domain is the first step to getting online. However, many neglect to buy similar domains to make sure the right audience is finding their site every single time.
For instance, people could visit
www.tedcruz.org
to learn more about the Senator's campaign and donate funds. His online marketing team did not, however, purchase
www.tedcruz.com
. Anyone who neglected to see the .org parameter was redirected to a simple web page featuring an image of Hillary Clinton and text reading, "Next President of the United States."
Not a great situation for a man hoping to be her direct competitor.
In March 2015, another prankster bought the domain
www.tedcruzforamerica.com
, which, at the time, redirected to the Obamacare website. One of Cruz's main platform points is eliminating Obamacare.
Currently, the URL redirects visitors to a dating site for Americans looking for a Canadian partner.
Two other domains (
www.tedcruzforpresident.com
and
www.tedcruz2016.com
) are currently registered by third parties, but have not been redirected.
2. Emails Can (and Will!) Be Seen By Everyone
Email marketing seems easy enough on paper, but one wrong mistake can lead to embarrassing consequences.
Ted Cruz learned this the hard way when he emailed his user-base outlining the sacrifices he was making to run for president. In the email, he listed media attacks and losing time with his wife as some of the hardships a campaign entails.
The email was forwarded to Massachusetts Senator Elizabeth Warren, who posted screen shots on her Twitter and Facebook pages alongside a scathing response. The famously democratic Senator lambasted Cruz for complaining to his constituents about running for office.
Her post
received over 164,000 likes on Facebook and 64,000 shares. Media outlets like CNN picked up the story and most didn't paint Cruz in the best light. What's worse, is Cruz didn't respond to the uproar. While the original email addressed key points that resonated with his user base, messages for target audiences no longer have a guarantee of remaining confidential.
Marketing emails that go to a significantly sized list always have the chance to get into someone else's hand. When creating email campaigns, all bases should be covered. If the messaging is something you believe appeals to your audience, responding to negative feedback should be a consideration instead of staying silent and letting viral blow back affect the goal.
3. Control Your Message
SEO can make or break you. When people search your name or brand, it's ideal that your website and positive news features appear on the first page of results. And while not every mention of your brand online is going to be positive, controlling the overall message is important to getting the upper hand.
Viral videos shared on late night television were something that had the potential to embarrass the Cruz campaign, but were never addressed by his team.
A strange video of his daughter deflecting an embrace from the Senator went viral and was featured on most of the late night talk shows. A second video of him repeatedly hitting his wife (accidentally) in the back of the head only provided more comedy fodder.
However, the strangest hijacking of Cruz's online campaign was the rumor that he was the famed Zodiac Killer. While seemingly ridiculous, the search 'ted cruz zodiac killer' soon reached over three million results on Google and was being covered by outlets like CNN and the Huffington Post.
A recent poll found
that 15 percent of millennials actually think he is, or could be, the killer.
The Cruz campaign never responded to these rumors. Humor can be a great way to deflect negative attention. A funny social media message or skit on a late night show could have dampened the internet chatter, but the silence allowed the message to get out of control and became a key talking point during his run.
4. Build a Trusted Digital Team
Politics isn't always a clean game, and the advent of social media means pulling punches isn't something that happens anymore. A few tweets or messages have the ability to derail the national conversation.
Cruz found this out the hard way when he had to fire his communication manager Rick Tyler, who posted a story on Facebook that called rival Marco Rubio's faith into question. It wasn't the first time his campaign felt pressure from other candidates to revise their digital messaging. Ben Carson accused the Cruz campaign of stirring up false rumors he was dropping from the race.
While the Senator addressed the issue in a timely manner and released a statement separating him from the post, the damage had been done. Angry tweets accused Cruz of engaging in dirty tricks and lying, two words you don't want associated with a presidential run.
Political campaigns, and in many cases businesses, will have a team of people with access to social platforms. Making sure messages are reviewed by different teams and have strong alignment can be key to not ruffling Twitter feathers.
Ted Cruz ran an impressive campaign. The Senator from Texas fought a hard battle and out did competitors in many of the state primaries. However, with all eyes on him, digital and content mistakes were scrutinized by the media.
Be sure to check out the strategies of competitors
Donald Trump
,
Hilary Clinton
, and
Bernie Sanders
to get an in-depth look at the content marketing strategies which shaped this election.
Looking to learn more about developing your own content marketing campaign?
Check out our blog
for constant updates on content marketing strategies.
Need help creating your own content for your strategy? Sign up for Scripted today and let our writers help you out.