Martin Luther King Jr. Inspiration For Content Marketers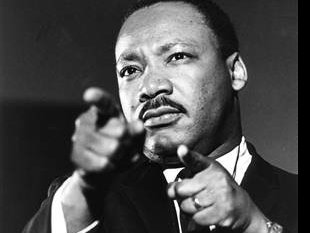 Get inspired by Martin Luther King Jr. for your own content marketing projects and achievements.
The demands of content marketing are such that in order to succeed, one must have an inexhaustible store of inspiration and motivation at one's disposal. Often ideas come from within -- courtesy of a rich and vibrant imagination. Sometimes though, content marketers must seek outside themselves for material, and what not a better place to look than from Dr. Martin Luther King Jr. whose words continue to influence so many of us today. We've put together a list of inspiring quotes that all content marketers will feel empowered by (courtesy of MLK Jr.), enjoy.
See also: Content Marketing Advice From Famous Sitcom Dads
Don't Be Afraid of Uncertainty
For a content marketer, getting started on a project is often the hardest part. Not knowing where a piece is headed, or being uncertain about the conclusion, can be paralyzing. The creative types -- especially writers -- can drive themselves to the edge of insanity by staring at an empty page.
When this kind of writer's block strikes, it can be heartening to call on Dr. King's moving words about faith:
"Faith is taking the first step even when you don't see the whole staircase."
Dare To Lead Through Great Content
Read any article on the challenges of social media and content marketing, and you'll find "cutting through the noise" at the top of nearly every list of challenges. How do you get heard? The truth is both simple, and daunting. You have to create great content. You have to be ahead of the crowd. You have to lead, not be led. Trying to find out what everyone already wants and then giving it to them is no way to rise above; rather, you must draw people in with insight and vision they've not yet experienced. That may sound lofty, but if you think of it in practical terms, it just boils down to a straightforward combination of conviction and execution. You have to create something, and then hit the (virtual!) pavement to convince people.
As Dr. King once said:
"A genuine leader is not a searcher for consensus but a molder of consensus."
See also: How to Be a Good Storyteller In Content Marketing, According to Kevin Spacey
Be Passionate About Everything You Create
Content marketers are often referred to as "creatives." And this is often what they are, and why they're drawn to the position in the first place. They are artists and craftspeople for whom imagination and creativity are critical professional assets. The actual practice of content marketing, however, can be taxing -- even monotonous. When you dream of writing the Great American Novel, it can be hard to knuckle down and write the great American ... white paper.
In times like these, Dr. King provides solace and inspiration:
"If a man is called to be a street sweeper, he should sweep streets even as Michelangelo painted, or Beethoven composed music, or Shakespeare wrote poetry. He should sweep streets so well that all the hosts of heaven and earth will pause to say, here lived a great street sweeper who did his job well."
Aim To Educate As A Content Marketer
Everyone runs into a motivational wall sometimes -- that moment when you just stop and wonder: "What's it all for?" For content marketers, this crisis of faith often turns into an interrogation of one's own work. You question your own creations, wondering if they have value, or a purpose. You create, you publish, you distribute, but why? Content marketers need to remember that at heart, they are educators. They are teaching their readers about something important, and the goal is for their readers to take something valuable away.
As Dr. King noted:
"Intelligence plus character -- that is the goal of true education."
What inspires you to be a better content marketer? Share your thoughts with us below.
To Read More About Content Writing Services, See Below:
5 Ways to Succeed In 2015 With a Content Writing Service
Why SEO Experts Are Supporting Original Content Writing
5 Spooky Signs Your Content Team Needs Ghostwriters [SlideShare]