Marketing Agencies: How to Price Your Services

As a marketing agency, you will experience a variety of challenges. However, a common question we hear is, "How do I price my services?" And the truth is that there is no simple answer. Marketing agencies offer a myriad of services, from content strategy to social media posts. Some of these projects are quite large in scope, covering a list of individual services. Others are much smaller and may need to be priced on an individual basis. The pricing depends largely on many factors, including time investment, depth of research, length of content, expertise required, and more.
With these factors in mind, you will need to create your own pricing model, and you may need to make adjustments down the road. It's not unusual to spend an hour or longer creating a custom quote for a client. The goal of this guide is to provide some common industry practices, a few pricing model options, and a framework to help you get started. We will also outline the pros and cons of each pricing model and additional considerations to keep in mind.
Types of Pricing Models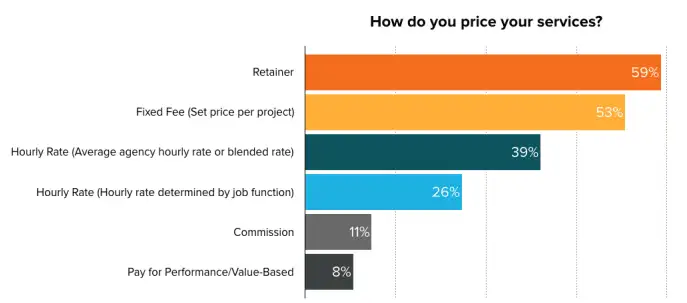 First, let's cover the different types of pricing models.
Flat Rate
The flat rate pricing model is generally the simplest format, particularly when quoting your prices to new clients. Many customers prefer this model because there are no hidden costs or surprises down the road.
With this method, you simply consider all the different aspects of the job, estimate how much time and effort are required, and come up with a flat amount that will generate the profit you desire.
Here's an example:
You're asked to provide five social media posts, two blog posts of roughly 500 words each, and provide social media management for a month for a new client. You estimate that the work will take roughly 6 to 10 hours of your time. However, the client is an attorney, which requires an additional level of research and expertise. You want to price your services at $75 per hour (which is just below average for a marketing agency, but on the high-end for a freelancer), but you're concerned there may be some additional challenges because of the niche. With these things in mind, you decide to price the job between $750 and $1000 for the month.
The downside of the flat rate pricing model is probably obvious: You may put in more work than you originally estimated. What if the client has strict guidelines they want you to follow? What if they request a lot of edits or revisions? You can generally avoid some of these problems by providing a contract that states the number of revisions, but there is still a bit of risk involved when you use this model. 
Of course, there's another con to the flat rate model, too: Many clients simply won't accept it. While some of your customers may appreciate the simplicity of the flat rate model, others want to know what they're paying for, exactly, and how much it costs. They'll want a breakdown included with their quote. With these customers, you may have to consider a separate pricing model, even if flat rate is your default.
Hourly Pricing
To avoid a project that goes well beyond the 6 to 10 hours we estimated in the above example, you might choose to follow an hourly pricing model. With this method, you simply provide an estimate of how many hours the project will take along with your hourly rate. So, for our example, your quote would be 6 to 10 hours at roughly $125 per hour (due to the extensive research and expertise required). Some agencies include external costs within the hourly rate while others add them to the final bill.
The hourly quote helps cover your bases if the project suddenly swells well beyond the original 6 to 10 hours you estimated, but there are downsides to this method, as well. First, your client might balk at your hourly rate. Clients sometimes assume that your hourly rate is the same as your hourly profit. Without knowing your overhead, it's hard for clients to imagine why your services are worth $125 per hour. They may compare the cost to the cost of hiring an employee to do the same work for much less per hour. In this situation, you may feel compelled to explain your rates, which is hardly a worthwhile use of your time.
And though you quoted a range of hours in your estimate, it's also possible the project may take 15 hours or more. In that situation, your cost will go up, which may also upset the customer. Still, many marketing agencies use the hourly method because it's similar to flat rate pricing but also ensures they don't lose money on the project.
Retainer Pricing
A recent survey shows that retainer pricing is actually the most common pricing model for marketing agencies. This model works similarly to a flat rate or hourly pricing model, but the client pays the cost upfront each month before work is completed. In exchange, you agree to set aside a certain number of hours specifically for the client that upcoming month. Monthly retainers average $1000-3000 for a marketing agency.
Value Pricing
Value pricing is quickly gaining popularity for marketing agencies, particularly with content marketing. This model is fairly complex but provides great incentives for both the agency and the client.
With a value-based pricing system, you price your services based on the impact they make for your client. This is usually based on whichever metric is most important to your client (e.g. page views, conversion rates, leads, etc.)
The downside here, of course, is that your work may not pay off, leaving both you and your client dissatisfied. But if you have a good track record of providing great results for your client, research shows that value-based pricing can be the most lucrative path of all. And because the amount of money you make is tied to the amount of money your client makes, you will rarely hear complaints when your cost goes up.
Pricing for Marketing Services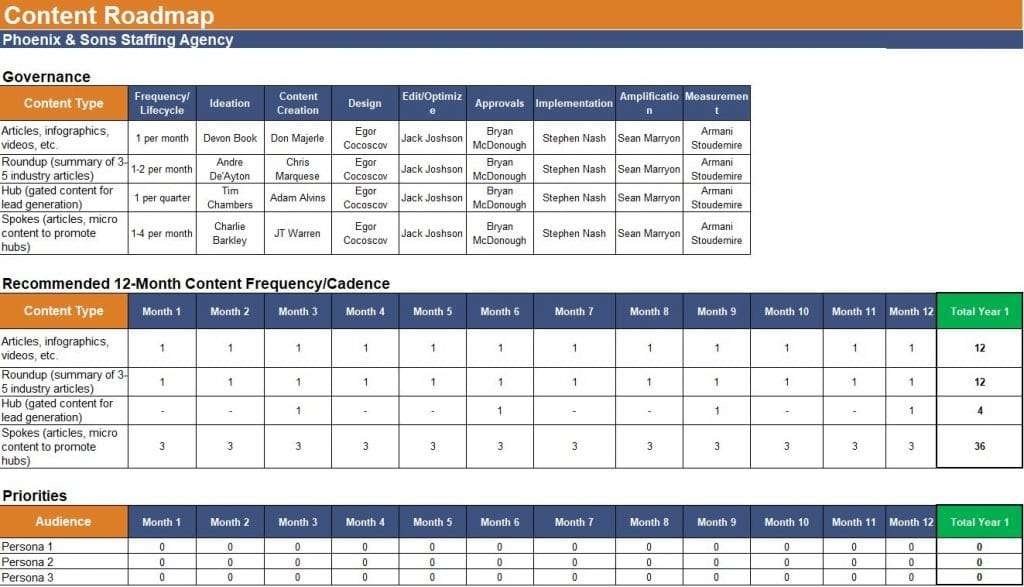 Now that we've covered some of the most popular pricing models, let's consider a few examples. We will include a range of prices to help you get started, but remember that this is your business, so these are merely examples.
Content Strategy
According to Vertical Measures, a full content strategy could cost anywhere from $5,000 to $50,000 or more. Keep in mind that this pricing includes a full content strategy, which typically includes an in-depth analysis of the client's existing marketing strategies, consideration and analysis of their target market and goals, as well as a marketing plan that's tailor-made for the client with all of these considerations in mind.
Content Creation
Content creation includes many different types of content: blog posts, email newsletters, SEO-friendly web copy, social media posts, etc.
Many agencies price these services by the word, and prices typically start around 10 cents per word. The cost per word can easily go up to $1.00 or more per word if the subject matter requires intensive research, however. You might charge more or less based on the level of expertise required. If you have in-house employees who provide your writing services, you might base your pricing off their salaries. Many marketing agencies use freelance writers, which often command their own rates, so you will need to price accordingly if you go this route.
Social Media Management
Social media management is different from social media content, though it may include social media content within its scope. For social media management, many marketing agencies choose a flat rate or retainer pricing model, and the average cost is $100-150 per hour or 
Ad Creation: Google, Facebook, Etc.
Custom ad creation is actually two separate services rolled into one: Content writing as well as technical expertise. Most agencies price ad creation using a flat rate or hourly model, though some use a value-based model instead.
Tracking and Reporting
Most marketing agencies include tracking and reporting within their pricing for other services. However, you could offer these services as an add-on at an hourly or flat rate, or as part of a retainer contract.
Final Thoughts
When you're setting up your first pricing model, it may be tempting to stick to a rigid model with little flexibility. After all, you would much rather spend your time working on projects rather than quoting prices. However, it's important to remember that each client is different, and quoting your prices is essentially part of your own business marketing. You will need to invest a bit of time and skill into this aspect of your business to ensure you snag the right clients with the best possible outcomes for profit and customer satisfaction.
The examples and ranges we provided above should help you get started creating your own pricing strategy. You can also reach out to other marketing agencies as well as freelancers within your niche to help decide which pricing model and rate is best for your business. If you need additional assistance, Scripted is always here to help.
Need content for your clients? Sign up for Scripted's Agency Program here.