How to Hire a Content Marketing Consultant

Table Of Contents:
Content marketing gives you a hyper-personalized way to connect with your target audience and help consumers make informed choices. In today's competitive economy, it makes sense for businesses to rely on expert content marketing consultants who can help create a custom content strategy, craft compelling messages that appeal to likely customers, and promote that content on the proper channels.
Not too long ago, content marketing largely meant writing blog posts that would rank high in search engine results. The industry has grown to include many more types of content, including:
Social Posts

Videos

Podcasts

Case Studies

Infographics

Ebooks

White Papers
Knowing which of these content types is right for your business can be challenging. A content marketing consultant should have the experience and tools needed to not only know what content to create, but where that content should live and how it will help you hit your overall business goals.
Before you can benefit from a consultant's expertise, though, you need to know how to find and hire a content marketing consultant that meets your needs.
Why Do Content Marketing Consultants Matter?
On average, marketing budgets were 9.5% of a company's total revenues in 2022. That's up considerable from 6.4% in 2021. If the trend holds, you might see marketing budgets exceed 11% of overall revenues in the near future. That might sound high, but the percentage reached 11.2% in 2018, so it's certainly possible.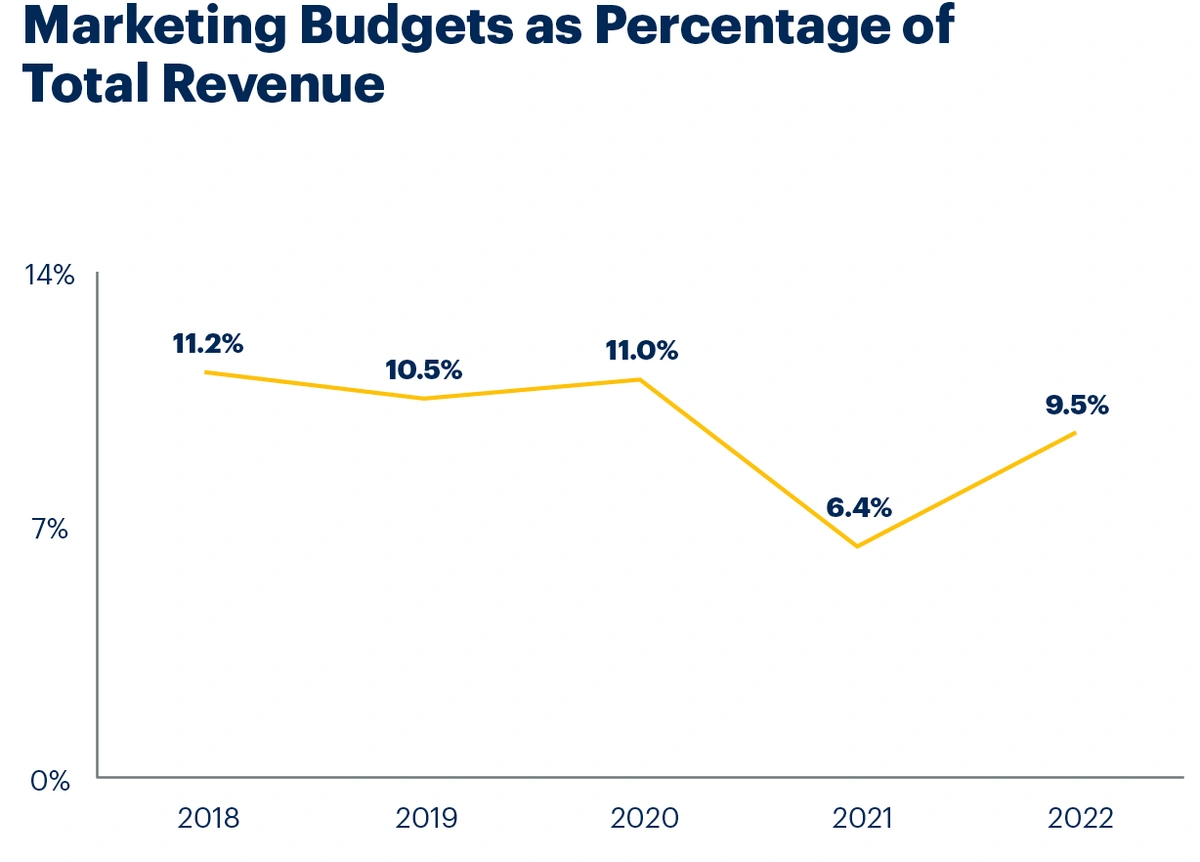 Another report shows that content marketing grew 14.8% in 2022 and the industry's value could reach $487.24 billion by 2026.

As Scripted reported recently, 91% of B2B businesses already use content marketing. Most marketers say content marketing is a key focus for 2023. Given the importance of this channel, there's a good chance companies will dedicate even more resources to content marketing in 2023.
With nearly 10% of overall revenue on the line, you want to choose a content marketing strategy that gets results for your business. That's where a content marketing consultant comes in.
By hiring a content marketing consultant, you recruit a professional who can help you:
Identify emerging trends in content marketing.

Conduct A/B testing that improves your strategy over time.

Budget appropriately for different approaches to content marketing.

Connect with writers, designers, and other creative professionals who can execute your strategy.

Research keywords and channels that get results in your industry.

Track metrics (time on page, conversions, ROI, social shares, etc.).
No matter what industry your business works in, you have unique needs. Because of this, a cookie-cutter approach to your content marketing strategy probably won't get great results. You need to hire a content marketing consultant who can curate every step of your plan.
Tips for Hiring a Content Marketing Consultant

The US Bureau of Labor Statistics (BLS) says marketing specialists earned a mean annual wage of $76,080 in 2021. Those in the 90th percentile earned $128,320 or more.
Content marketing consultants don't work as your employee. Instead, they provide contract services for a fee. They might work independently or with an agency. Regardless, you can expect to spend quite a bit of money optimizing your content marketing strategy. It's worth it when you find a good fit for your business. That raises a critical question: How do you hire the right consultant for your upcoming campaigns?
The following tips will make it easier for you to concentrate on content marketing consultants with the skills and experience you need.
1. Ask About Essential Skills
Every content marketing professional should have core skills. When reviewing your options, look for experience that includes:
Collecting and analyzing data to measure campaign performance.

Project management experience coordinating the work of multiple people or teams.

Search engine optimization (SEO) that helps content rank higher in search engine results.

Establishing key performance indicators (KPIs) that help determine whether campaigns reach their objectives.
Other skills could make a candidate stand out. If someone lacks one of these core areas of expertise, though, you can forget about letting them create and manage your campaign.
2. Review Past Content Marketing Campaigns
Content marketing consultants should have portfolios that share the objectives and results of previous campaigns. A portfolio can give you a lot of insight into a person's experience and creativity. You can start by asking yourself basic questions ("Did they reach the client's goal?"). Then, you can look more closely at how they did their jobs.
Some interesting factors to look for include whether the person:
Used the synergistic effects of different content types.

Convinced social media influencers and thought leaders to support the campaign.

Took advantage of emerging trends instead of relying on outdated methods.

Used industry connections to publish content on high-authority websites.
Additionally, look for people who publish with industry websites like Content Marketing Institute and Search Engine Land. It doesn't necessarily mean they have more expertise than other content marketing consultants, but it does show that they're active in the industry.
3. Ask About Niche Market Experience
Content marketing strategies that get excellent results in one industry might not work as well in other industries.
If your business sells the latest streetwear fashion, you might benefit from someone who knows how to connect with young audiences via social media channels like TikTok. If you want to reach homeowners eager to sell their properties for cash, you will probably get better results from blog posts, Facebook posts, and endorsements on YouTube.
(Nearly 42% of TikTok users are between 18 and 24 years old, so you would use that platform to reach people interested in buying streetwear fashion. More than three-fourths of Facebook users are 25 and over, so you would use it to interact with homeowners.)
Niche experience isn't always a deal breaker. Seasoned professionals can often research your market and develop high-performing campaigns. Still, it's nice to know that someone understands your product and target demographic.
4. Find Out How They Deal With Challenges
Even the most experienced content strategist can't guarantee results. Content marketing campaigns that look amazing on paper can fall flat, especially during their initial stages.
Start your search for a great content marketing consultant by asking them about their failures and how they overcame those challenges. You can learn a lot about a person by how they respond. You might want to look for someone who used failure as an opportunity to:
Research other marketing strategies to put the campaign back on track.

Investigate website traffic KPIs to determine why the content didn't motivate consumers.

Learn more about the target audience, where they spend time online, and what types of messages inspire them.

Try new social media platforms with potential to reach the audience.

Identify inconsistencies in brand messaging.
"Failure" can take many forms. Perhaps the campaign generated plenty of leads but didn't convert as many people as expected. In such cases, the content marketing consultant could have built on minor successes to make the next stages of the campaign more successful. For example, they might have used emails to retarget leads that left items in their shopping carts.
Look for someone with a creative mind willing to take a flexible approach to success.
Also, don't always trust people who say they've never had failures. Most content marketing professionals fall short of their goals occasionally. What really matters is whether they know how to pick themselves up, reevaluate the situation, and develop a new strategy for success.
5. Get Professional References
People don't always see themselves as clearly and accurately as they think. That makes it critical for you to ask for references and talk to other clients who have worked with the content marketing consultant.
Talk to as many references as possible to get a better idea of the consultant's personality and professionalism. A consultant with an impressive resume could have a reputation as someone difficult to work with. Would former clients hire the person again? If not, you might not want to take a chance on them. If most people have positive things to say, you can probably trust that the consultant does good work and is pleasant to collaborate with.
Content Marketing Consultants – Final Words
Once you find a content marketing consultant you love, you can help that person succeed by giving them access to a pool of experienced writers. Scripted has hundreds of vetted writers with experience creating content in diverse industries. Before getting added to the platform, writers must pass a test and provide writing samples that qualify them as industry experts.
What if you don't necessarily want to hire a content marketing consultant? Scripted can still help! You can choose membership options that come with:
Performance analytics

Access to top-performing writers

A quarterly content strategy

Dedicated account manager

End-to-end content production
Depending on your marketing needs, you might find that a Scripted Enterprise Membership helps you save money while supercharging your campaigns.
Take advantage of content marketing's growing importance by contacting Scripted today to discuss your options. One of our content strategists can help you choose a membership plan that suits your budget and marketing expectations.