Content Marketing Statistics: 2021 Trends & Predictions

Professionals who work in digital marketing understand their jobs play a crucial role in business success. When asked to explain how it can justify larger budgets, though, they often fail to describe how a digital content marketing strategy defeats traditional marketing. To some extent, they fail to explain their roles because it looks so obvious from inside their departments.
Knowing the following content marketing statistics will make it easier to tell executives why it makes sense to dedicate more resources to content development and distribution.
The Most Successful B2B Marketers On Content Marketing Strategy

When Content Marketing Institute reviewed answers from 679 surveys, it found that the most successful companies pay close attention to the performance of their B2B content marketing.
According to CMI's results, 42% of all respondents said that they have "a documented content marketing strategy." Sixty-nine percent of the most successful companies had a documented content marketing strategy.
Further results from the surveys show that:
80% of B2B marketers use metrics to measure content performance.

59% rate their ability to demonstrate ROI as "excellent" or "very good".

63% say they use content marketing to build loyalty with customers.

68% use content marketing to nurture subscribers or generate leads.

53% successfully generate sales or other types of revenue through content marketing.
Making Content Marketing Work for Clients
Content Marketing Institute's research offers insight into how companies use content marketing to reach business clients. 66% of all respondents report they prioritize their audience's informational needs over sales and promotional messaging, and 88% say they're most successful when following that strategy.
According to the numbers, content creation works best when it intends to inform clients. Obviously, you want everything from blog posts to video content to increase your revenues. Messages that focus on promoting your products and services, however, may not get the results you expect. A higher conversion rate could come as a side effect of strong client engagement that sets aside the promotional messages in favor of interesting content that shares useful information.
As evidence that fulfilling an audience's informational needs can lead customers through the stages of a sales funnel without relying on much promotional messaging, 74% of respondents say that they're most successful when they craft content based on the specific stages of the customer journey.
Posting marketing material as helpful information makes sense in today's technology-saturated environment.
Social Media Helps B2C and B2B Marketers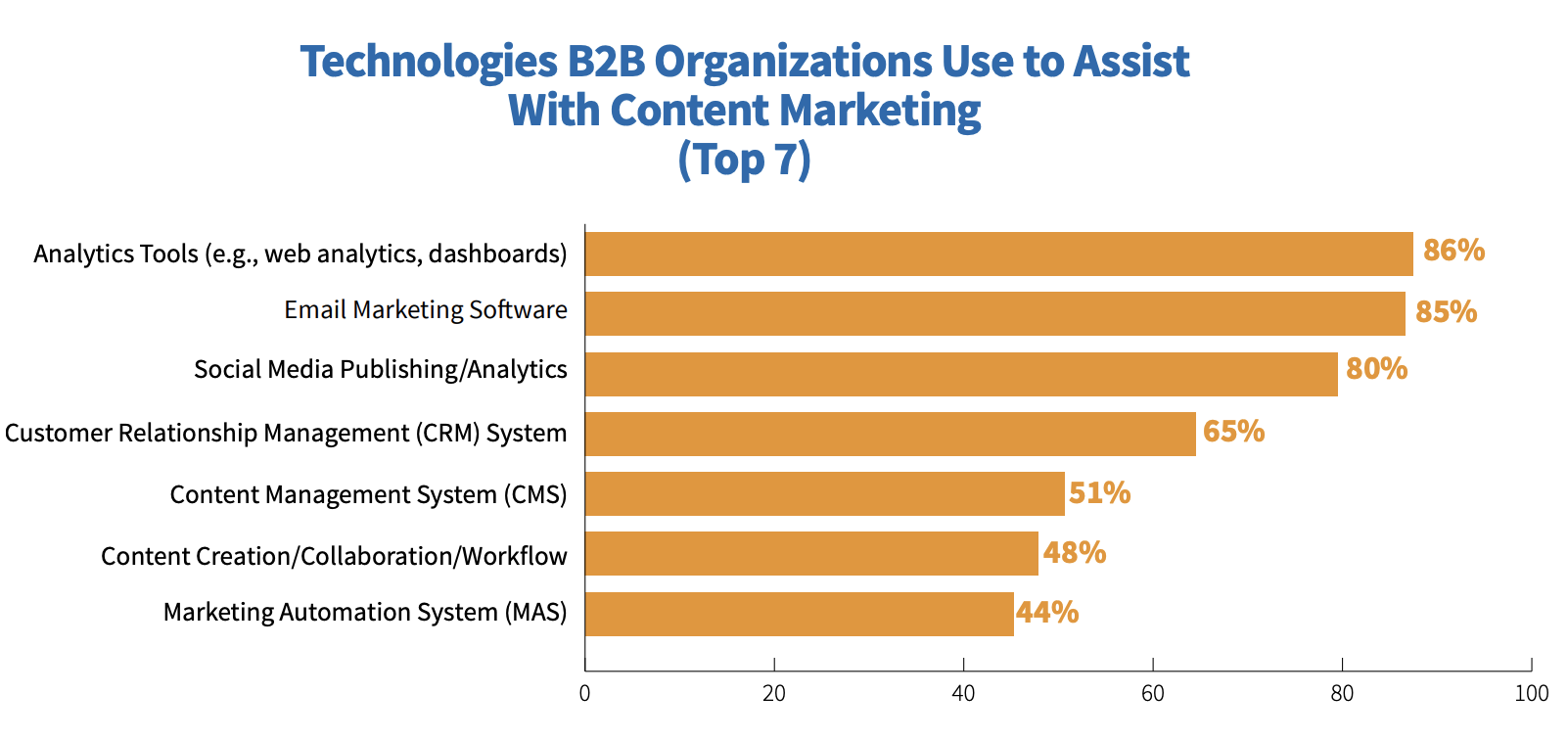 Social media has become the second-most popular way for American adults to read the news. With 18% of Americans saying they rely on social media as a news source, one can only imagine the outreach possibilities for lead generation and customer engagement.
The importance of social media will only continue to grow. Worldwide, the number of people using social media has increased from 2.86 billion in 2017 to 3.6 billion in 2020.
Social Media Opportunities for B2C Marketers
Social media gives content marketers numerous ways to engage with followers and grow their audiences. Many social media platforms support visual content, like images and video, as well as written content.
Creating several types of content should help your account appeal to more people. Some people enjoy reading long-form articles and short blog posts, while others prefer interactive content, and video marketing holds their attention better.
Don't forget that social media platforms also work well as a customer service tool. Publishing high-quality content will help you reach more people, but you need to monitor your accounts to make sure you help customers succeed.
"Customers who complain are your most important customers: they are taking THEIR time to tell YOU where you can improve." -Jay Baer, author, speaker, and founder of Convince and Convert
Some platforms have features that make them better for certain types of content and customer engagement. Consider the following content marketing statistics before you choose how to use social media.
Where Consumers Connect With Brands

According to surveys conducted by Sprout Social:
66% of brands say consumers follow them on

Facebook

.

41% say that their customers follow them on

Instagram

.

35% say that customers follow their brands on

YouTube

.

22% of brands say their customers follow them on

Twitter

.
ROI by Social Media Platform
Research from Rival IQ shows that brands tend to get stronger ROIs from some social media platforms compared to others:
Facebook:

1.6 million posts yield 424 million engagements.

Instagram:

0.6 million posts yield 1.44 billion engagements.

Twitter:

2.4 million Tweets yield 130 million engagements.
B2B Benefits for Social Media Marketing
Social media content also creates opportunities for companies to connect with each other. In some cases, those connections contribute to wider brand recognition and partnerships. Social media marketing can also improve B2B sales.
When LinkedIn reviewed industry numbers, it found that:
80.33% of B2B leads come from

LinkedIn

.

12.73% of B2B leads come from

Twitter

.

6.73% of B2B leads come from

Facebook

.
Content marketers prefer using some platforms over others. Not surprisingly, B2B marketers focus on the social media platforms that give them strong results:
94% of B2B marketers distribute content through

LinkedIn

.

89% use

Twitter

to distribute content to B2B customers.

77% of B2B marketers distribute content via

Facebook

.

77% of B2B marketers distribute video content on

YouTube

.
Organic Traffic Offers More Long-Term Benefits Than Paid Traffic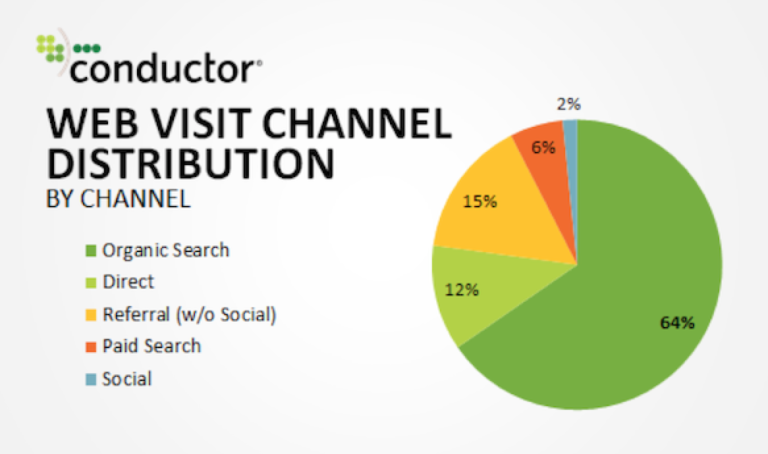 Paid traffic often looks appealing to marketers and their clients because they can get ads in front of potential customers quickly. You also get the benefit of granular targeting. When you pay for a PPC campaign, you know who sees your ads and what results you can get.
Depending on the keywords you want to use, PPC can get expensive. Some keywords can cost hundreds of dollars per click. Extremely high prices like that only happen in the most competitive industries, but it's possible for companies to lose money by running popular PPC campaigns that don't convert enough people into paying customers.
Organic traffic tends to offer more long-term benefits at a lower price than paid traffic. You still have to invest in keyword research, content creation, and performance tracking, but you can expect to attract more traffic when you dedicate yourself to a content marketing strategy.
Some content marketing statistics that show the benefits of focusing on SEO and content development include:
About

85%

of website traffic comes from organic searches.

The first five organic results of a Google search generate nearly 68% of clicks.

Only

6%

of website visits come from paid search.
Organic traffic only gets excellent results when you reach the first page of search engine results. Scripted membership plans give you affordable ways to develop a content strategy and get the blog posts you need to get your site on the first page of search engine results.
What Content Marketers and Their Clients Can Expect in 2021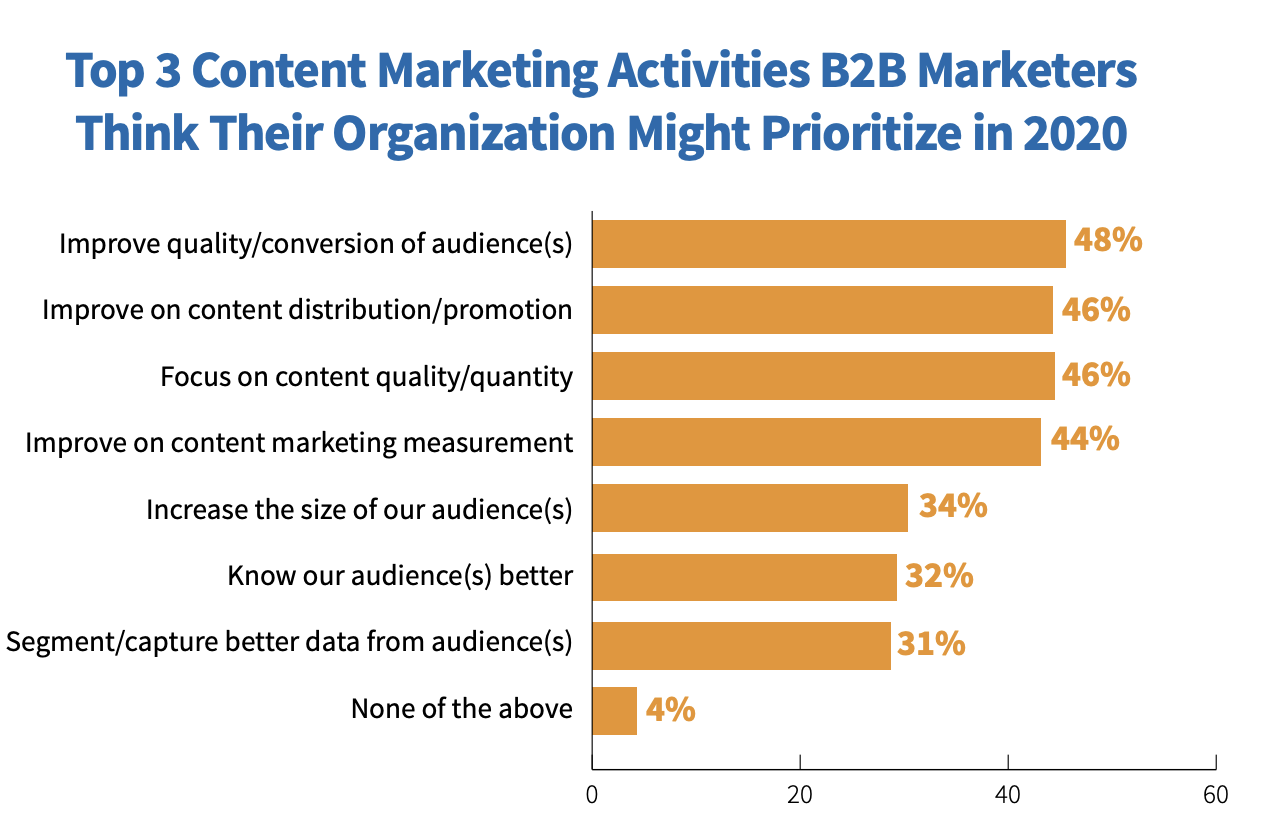 Knowing content marketing statistics that describe 2020's trends can help you anticipate what the next year will bring. Some experts, however, excel at determining how trends will develop over time. The content marketing strategy that you used in 2020 may not get the same results in 2021. Pay attention to how your content performs and keep the expert expectations in your mind as you adjust to changes in consumer expectations, search engine algorithms, and technology.
Digital Content Will Drive Print Media
Some futurists have been expecting the demise of print media for decades. Somehow, popular magazines, newspapers, and other print publications keep churning out issues. If print is on life support, why do you find so many catalogs in your junk mail?
Digital publishing has obviously disrupted the ways that print media works. In 2020, the New York Times announced that its digital revenue exceeded print revenue for the first time. Digital-only subscribers accounted for 5.7 million of the prominent newspaper's 6.5 million overall subscribers. The Times plans to reach 10 million subscriptions by 2025.
The trend toward digital-only subscriptions doesn't mean that companies should abandon print media. They should, however, measure the success of online content to determine what they include in publications. For example, a magazine that publishes articles about the auto industry can monitor the success of blog posts and online articles to decide what it includes in its print magazine. A blog post that performs well might deserve a long-form article that goes in the printed publication for people who don't spend much time online.
Similarly, marketers can use digital content marketing statistics to choose which materials they include in catalogs, newsletters, and other types of outreach. By testing topics online, you help ensure that the money you spend on print publications increases conversions.
Quality Engagement on Social Media Matters More Than Your Number of Followers
You can use any number of strategies to grow the number of people who follow your brand's social media accounts. As more companies become aware of how little most of these followers contribute to the conversions, content marketers will need to show their clients KPIs that focus on engagement instead of audience growth.
"Rather than focusing on getting as many followers as possible in a short amount of time, focus on growing a targeted list of followers. At the end of the day, in order to become an influencer, you need to have people who not only engage with you, but they also care about what you have to say. Those are, after all, the people that you can influence." - Lilach Bullock, How to Become a Social Media Influence and Expert in Your Niche
For genuine success, though, the kind that keeps clients happy and grows your marketing prowess, write content that followers want to read. When they respond, make sure you engage with them to create an ongoing relationship. True engagement will improve the content marketing stats that matter, even when they make old KPI standards look unimpressive.
Email Marketing Will Cut Through the Noise Created by Endless Content
It's easy to forget that email marketing still plays a critical role in reaching and converting customers. Content marketers get so hung up on social media and blogs that they don't use this essential tool. Anyone paying close attention to content marketing statistics, though, will see why it still makes sense to create email campaigns in 2021.
Hyper-Personalization Pays Off
"In marketing automation we often talk about delivering value and following up with behavioural messaging. But none of that matters if we don't attract the right audience." - Jordie van Rign, emailmonday.com
First off, email gives you a way to hyper-personalize communications with your customers. The benefits?
People are 26% more likely to open emails with personalized subject lines.

You can expect your personalized emails to get 6 times higher transaction rates than those that haven't been personalized.
Email Marketing ROI
Email marketing ROI dwarfs averages from other types of campaigns. Overall, you can expect to earn $42 for every dollar you spend on email marketing. That's a 4200% return on your marketing investment.
Email Marketing in the Time of GDPR
Increased internet regulations have made it a little more difficult for some companies to reach their customers. The influence of the General Data Protection Regulation (GDPR) and other regulations doesn't have to hurt your email campaigns, though. In fact, you can get better results by relying on regulations to eliminate the low-hanging fruit that clogs inboxes.
After GDPR went into effect:
Email marketers saw a

412%

decrease in opt-out rates.

Open rates increased by

76%

.

Click-through rates increased by

75%

.

Spam complaints fell by

55%

.
Regulations don't hurt content marketing. As long as you follow the rules, they can make your campaigns more effective. As people get used to high-quality emails, they're less likely to delete them without reading.
As more territories adopt GDPR and similar regulations, you can hone your email outreach by:
Getting consent from people before you send them emails.

Storing your consent records in case you get audited.

Giving email recipients an easy way to opt out of future communications.

Don't use deceptive messaging that will encourage people to complain about your practices.
Gated Content Marketing in 2021 Will Focus on Capturing Leads

Marketers rely on content to generate leads that convert into paying customers. Blog and social media posts might help improve brand awareness, inform shoppers, and encourage people to buy, but they rarely create leads. Gated content will fill that role in 2021.
"Gated content isn't used for brand awareness, generating traffic, or collecting keywords. The primary goal of gated content should be to generate new leads through form submissions. And because the content you're gating takes more time and effort to create than a regular blog post, you can ask customers for more information." - Lauren Pope, G2 Content Marketing Manager
Subscribers don't necessarily have to spend money to access gated content. You can give them access by having them submit their names, email addresses, and phone numbers. As long as potential clients believe they'll get useful content, they will give you their information.
Marketers can also use gated content as a reason to collect other information about potential clients. You might ask subscribers about their interests, industries, salaries, and locations. Add anything to your form that you think will make it easier for you to convert leads into paying clients. The data can go into your CMS to segment and target audiences more effectively.
Once people subscribe to your gated content, you can use their activity to hone your pitches. For example, a person who views articles about transferring balances from high-interest to low-interest credit cards will likely respond well to credit card offers. If your website generates revenues by signing up clients for credit cards, then you can reach out with an email that explains the benefits of signing up for one of your cards.
You can use this approach to generating high-value leads in practically any industry. Whether you want to sell women's fashion or convince people to invest in startups, gated content gives you a reliable way to target people who are more likely to convert.
Keep in mind that this approach to lead generation only works when you have content that encourages people to give you information and then continue visiting your website to read articles. Scripted can help you find experts who write compelling posts that will convince readers to complete forms necessary to access gated content.
The Synthetic Content Revolution Gets Closer by the Day
Everything from your social media posts to your email marketing needs to align with your brand identity. What if your company had an actual face and voice to act as a brand ambassador? You don't necessarily have to hire an actor to reach this goal. Emerging technology could do the job for you.
"If you think the level of fake news is bad now, fasten your seat belts. What happens when almost any person can produce Hollywood-level, fool-proof, digital re-creations of… anybody? This is what the emerging era of synthetic content is all about." - Mark Schaefer, A Firehose of Falsehoods and the Synthetic Content Revolution
Software in 2021 will bring content creators one step closer to the "synthetic content revolution." The technology goes beyond amusing "deep-fakes". It can generate images of people who look real but do not exist. The website This Person Does Not Exist uses artificial intelligence to create realistic pictures of people who, as the site's name says, do not exist. You can refresh the website for hours without seeing a duplicate image.
It doesn't take a wild imagination to see how this technology could influence content marketing: self-generating videos, podcasts, and blog posts from software that costs very little compared to the amount of work it can perform.
Synthetic content is still in its infancy, so it probably won't become a significant issue in 2021. Still, it's worth planning for these developments so you can stay ahead of tech-savvy competitors. At the moment, you still get the best results by hiring vetted content writers with professional experience in topics like:
Automotive

Fashion and beauty

Cannabis

Construction

IT and security

Retail and e-commerce

Human resources

Insurance

Healthcare

Technology

Sales

Travel
Scripted gives you a straightforward way to choose and hire some of the top freelance writers working today. Maybe synthetic content will eventually overtake the work of humans. For now, you get the best results by hiring writers who have proven records of success.
The Most Successful Content Writers of 2021 Will Stay Flexible
Content marketers can make educated guesses about what 2021 will bring, but they must keep an open, flexible mindset that lets them adapt to unexpected scenarios.
"If anyone thinks they can predict 2021 – and their prediction doesn't include a swarm of murder hornets or some other natural disaster – I'd question their hubris." - Jessica Best, VP of Data-Driven Marketing at Barkley.
After 2020, it has become obvious that content marketers and other professionals need to pay attention to everything that can influence their campaigns. By March 2020, a lot of companies realized they needed to pivot their messaging to include content about COVID-19. Even those who didn't want to admit how much the pandemic would affect their businesses faced reality by the summer months.
Throw in some wildfires, murder hornets, and social unrest, and it becomes more than obvious that anything can happen in the world. The most successful content writers of 2021 will stay flexible, keep up with current events, and learn as much as they can about safe practices. Failing to conform means that your content will sound out of touch. Reasonable consumers will not want to do business with a company that could potentially put them at risk.
Hire Content Writers on Scripted to Stay Ahead of Emerging Trends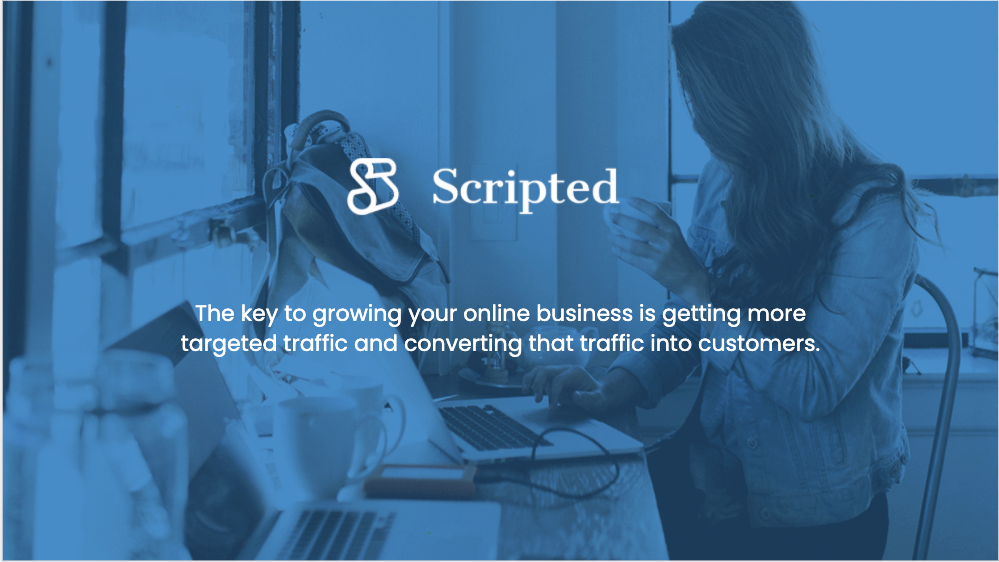 Scripted takes a proactive approach to helping you find freelance content creators who pay attention to content marketing statistics, emerging trends, and other issues that can influence the success of your campaigns.
Very few writers get accepted to the Scripted network. After submitting writing samples and taking exams, Scripted only accepts 2% of writers. We set the bar high to make sure clients get the right types of content to reach their audiences and convert readers into paying customers.
Scripted offers three membership plans to meet your unique needs.
Self-Serve Basic
The Self-Serve Basic plan works well for companies that spend $1,000 or less on content per month. For $199 per month, the membership gives you:
$100 in monthly content credit.

Unlimited content ordering from the Basic Writer Pool.

Two revisions.

SEO-friendly content.

Free blog ideas from our writers.

24/7 support via phone and email.
Self-Serve Premium
Scripted designed Self-Serve Premium to match the needs of companies that spend $1,000 to $3,000 per month on content. For $499 per month, your Premium membership gives you:
Unlimited access to Scripted's

Premium Writer Pool

.

Up to three revisions.

An initial content strategy review followed by quarterly reviews.

A dedicated account representative who can help optimize your content marketing strategy.

Free blog ideas from our best writers.
Cruise Control
Cruise Control gives you a hands-off approach to getting the high-quality content you need to increase traffic, grow your brand, and get more conversions. It works well for companies and marketing agencies that plan to spend over $3,000 per month on content. Cruise Control's benefits include:
A dedicated account manager who works closely with you to develop an effective content strategy.

Ongoing analytics reports that show the results of your content marketing strategy.

Personalized writer selection that makes it easy for you to accept proposals from experts in your industry.
Learn more about the benefits of becoming a Cruise Control member by scheduling a conversation with one of our account managers.
Not sure whether Scripted has writers with experience in your industry? Browse writer profiles today to learn more about our top-rated writers in topics like Lifestyle and Travel, Business, Healthcare, Entertainment, Science, Restaurants, Fitness, Cooking, and Sports. Practically every Scripted client finds a team of writers that creates high-performance content that fuels a strategy's success.