Content Marketing Statistics: 2023 Trends & Predictions
As we move into 2023, content marketing is on an exponential rise. A study surveying marketing managers and business owners stated content was more important now than in previous years. It also said 46% of businesses plan to increase content spending this year. 
But even for the highest-level marketers, navigating the world of content is challenging. Creating a resource to rank on Google that's extremely valuable and resonates with your audience takes considerable time, effort, and focus. 
With an increasing focus on content for many B2B companies, it will take a doubling down on focus and strategy to create valuable content in 2023. And when created properly with a planned and documented strategy, it becomes less of an "added luxury" and more of a lucrative digital asset. So what statistics best show this growth and what trends are shaping content marketing in 2023? Let's dive in. 
Crunching The Numbers In Content Marketing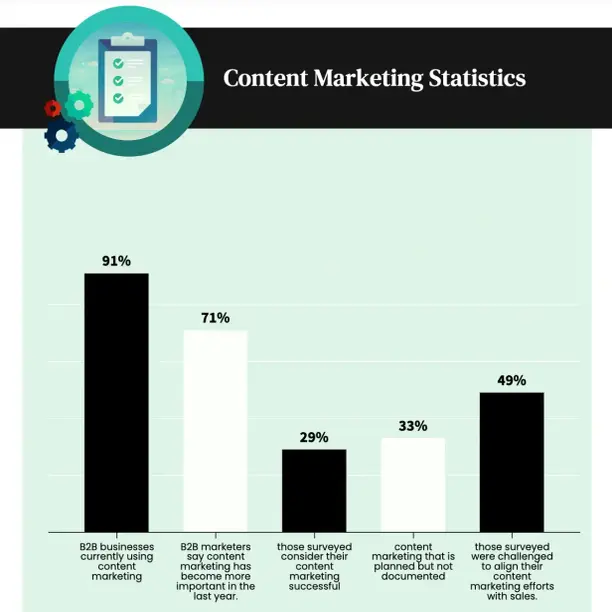 We scoured the internet to find the most striking content marketing stats. Here's what we found:
91% of B2B businesses are currently using content marketing.


71% of B2B marketers say content marketing has become more important in the last year.


Only 29% of those surveyed consider their content marketing successful.


33% of content marketing is planned but not documented.


49% of those surveyed were challenged to align their content marketing efforts with sales.


It's an exciting time for content creation, and encouraging numbers indicate a considerable increase in content creation focus next year. However, the stats also highlight the challenges content marketers face. So what are these challenges, and how can your organization overcome them? 
Content Marketing Challenges 
For any agency with a current content strategy or a desire to implement one, there are numerous challenges to overcome: 
Getting support from executives





Developing a content marketing strategy





Allocating budget





Not having the right technology





Consistent content production





Measuring success  and aligning content with sales




All of these content marketing challenges, however, can be overcome with a strong strategy, the right personnel, and closely following the trends that will shape content marketing in 2023. We dug deep into the internet to uncover the latest emerging trends from the content marketing world; here are some of the most notable trends we found. 
Trends To Consider For Your Content Marketing In 2023 
Repurposing Content 
Did you know you can expand your reach by simply repurposing content? In 2023, repurposing content is an essential aspect of content creation. While you can spend time creating new content, and you should, repurposing it is significantly easier to scale and maintain a presence on numerous platforms. 
For example, the latest article you just published, why not use it to create a webinar, related posts, social media content, infographics, and a newsletter? All from one piece of original content–much easier than creating related resources from scratch, right? Look at your existing content and highlight anything considered evergreen; it's perfect for re-purposing and serves as the basis to reach new audiences and simultaneously maintain a multi-channel presence. 
Hyper-Personalization
 
Hyper-personalization will change content marketing in 2023, and large corporations have already adopted this approach. You only have to look at Netflix or Spotify to see hyper-personalization in action.  The way people consume content is ever-changing and becoming increasingly tailored toward personal preferences. 
Successful creators should adopt a data-centric content strategy, using analytics and AI to create highly personalized interactions and customer experiences. Data from your website and third-party integrations allow you to streamline your customer personas. 
Gathering data on your ideal customers and refining your customer persona is invaluable and gives you the power to create content that resonates with your audience on a more personal level. Essentially you're looking to create content your readers will feel is exclusively made for them. 
Documented Content Strategy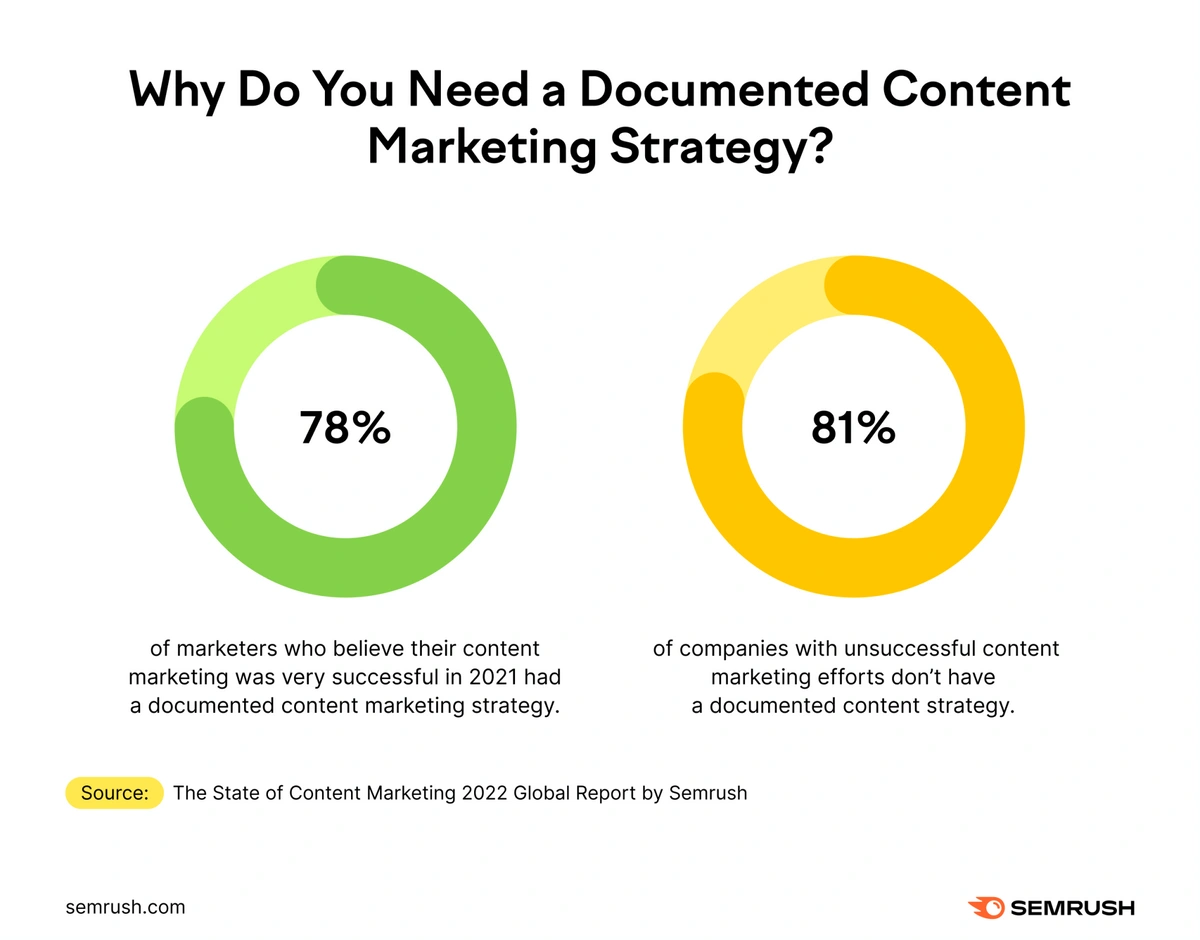 Did you know that 42% of marketers say they struggle to produce content consistency and measure it? What's more, according to SemRush, 40% of businesses don't even have a documented content strategy in place. In addition, 37% of marketers said they planned but had not yet documented a content strategy. Shocking statistics highlight how few businesses have a solid documented strategy in place. 
Measuring your content strategy, documenting it, and sales are all crucial ingredients for successful content. Despite many companies disregarding this aspect of content marketing, there are numerous ways to measure content success, from the number of impressions, clicks, conversions, and sales, but without an exact figure, there's no way of defining what success is.  
Talking with a content strategist can help you create content that benefits your business and can be measured by factors directly related to sales. Giving you the vision, clarity, and confidence to go ahead with a strategy and justify it to decision-makers. To discover how a content strategist can help you accelerate and measure your content marketing, please get in touch with us today. 
U/X Focused Content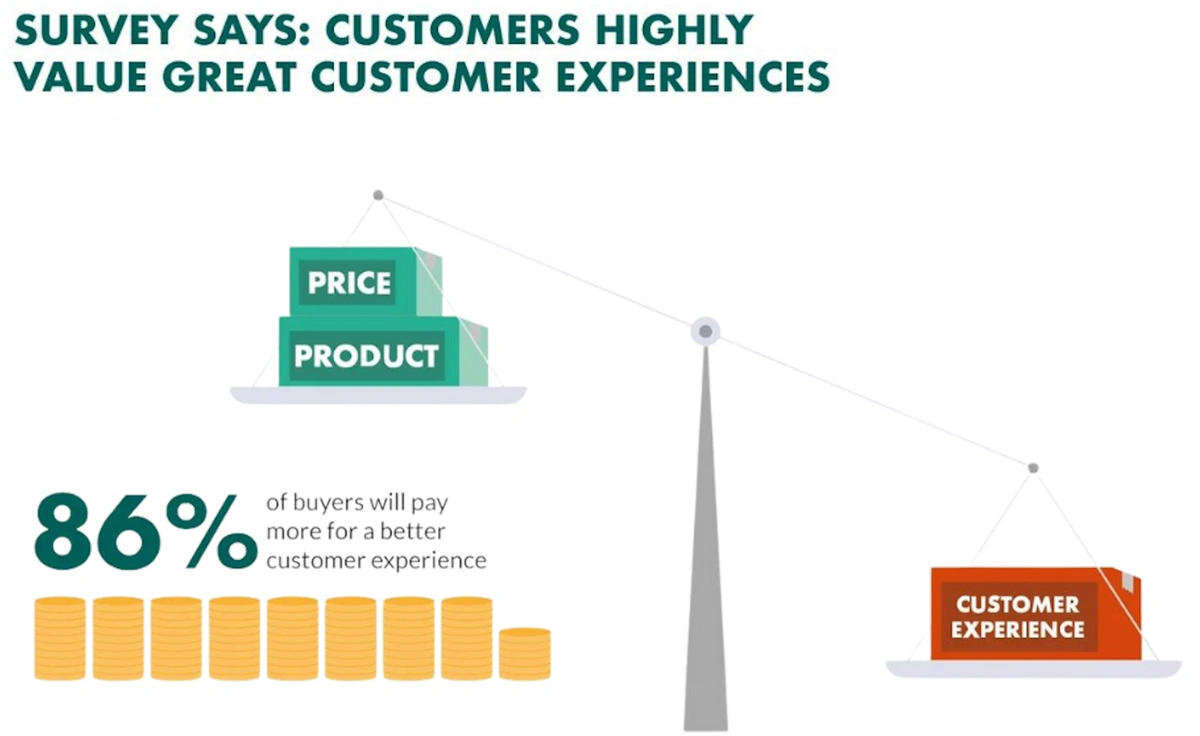 The need to create unique content with a fantastic user experience is no secret and is the only way to create content in 2023. With Google's helpful content update in full effect, and Google's ability to recognize great content over keyword-stuffed pages only increases the emphasis on content experience.
While SEO will remain crucial, content with incredible UX, helpful information, and interactive features will be the future of content. A shift that takes focus away from writing for search engines and one that paves the way for incredible reader-focused content that does everything possible to help them understand a topic. 
While there are numerous on-page elements to create a great content experience, you can also leverage other factors. For example, weaving your brand story into your content, positioning your customer as the hero in their story, and touching on your audience's pain points, hopes, dreams, and goals is a recipe for a super personalized and incredible content experience. 
Interactive Content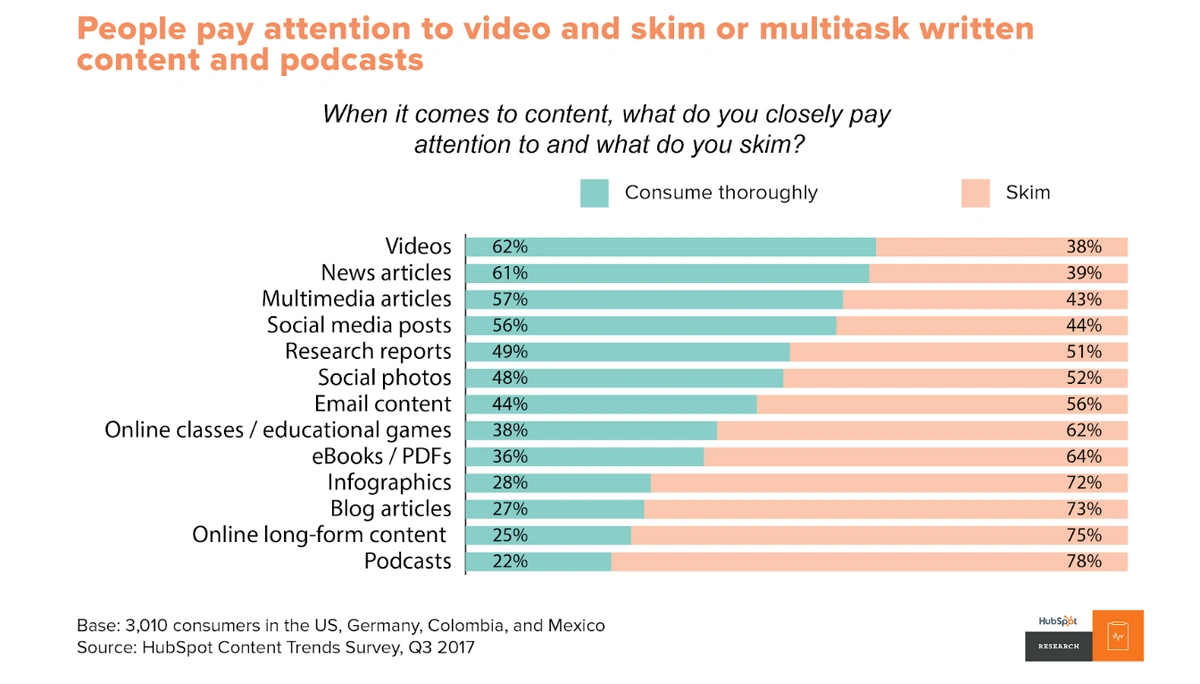 Video is the most engaging content, and its relevance in content marketing has never been more apparent. Creating awesome videos is relatively easy now, with an abundance of affordable video production tools to help you to create multi-channel content. 
Creating highly informative videos as part of your content marketing strategy is a way to help and engage your audience, giving them a compelling behind-the-scenes glimpse into your business, which is an excellent trust-building method to strengthen your customer relationships.  
With a YouTube channel, you not only open your business up to additional revenue streams, but you can embed video content throughout your landing pages and blogs to help add value to your audience. Putting a face to your business increases like-ability, trust, and authority and ultimately develops a bulletproof long-term customer relationship. 
Specialist Creators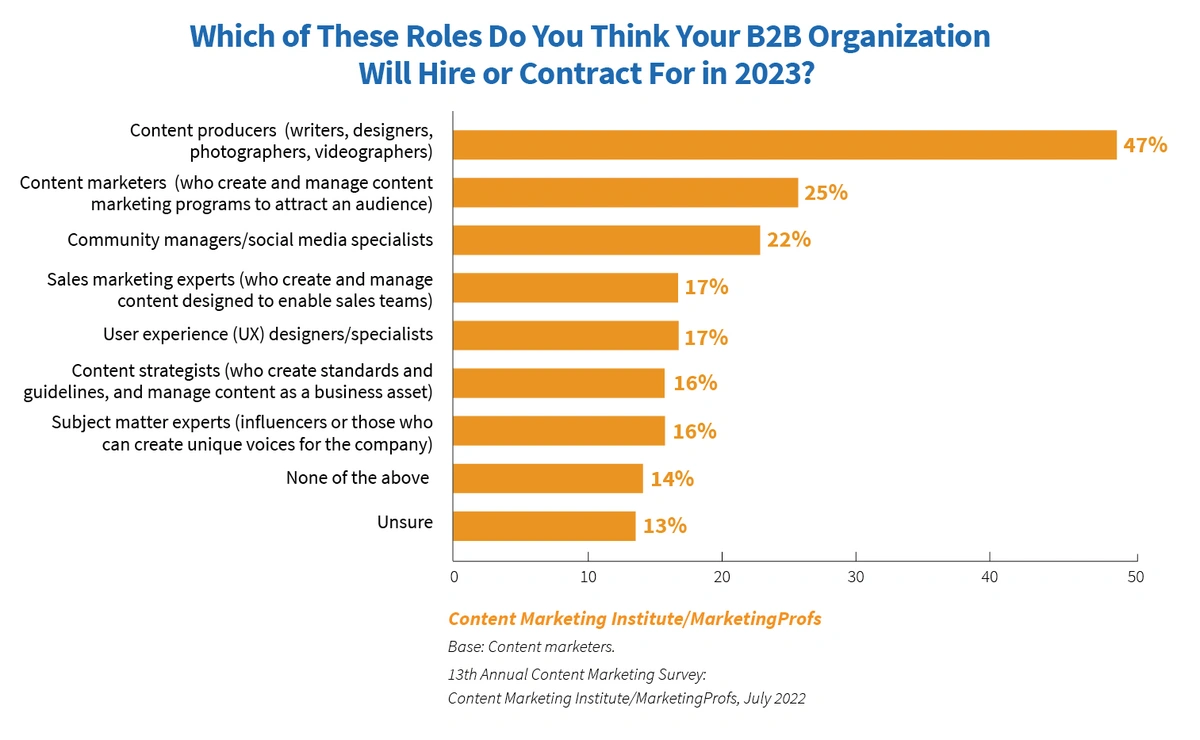 According to Content Marketing Institute, 46% of businesses plan to increase their content creation spending in 2023. In addition, 47% of marketers surveyed said they will hire or contract a dedicated content creator, and 22% said they'd hire a dedicated social media marketer. Numbers that clearly indicate what businesses are focusing on in 2023. 
Hiring a content specialist gives you the knowledge to map a strategy, align it with your business goals, execute it, and document it. Working with a content marketing strategist and outsourcing content creation to expert writers gives you the confidence and power to accelerate your content marketing game while freeing you up to work on other aspects of your business. 
Content Marketing Statistics - Final Words 
It's an inspiring time for content, with emerging trends suggesting an increasing focus on transforming a sporadic, unmeasured content marketing attempt into a profitable business asset. The trends and stats show businesses must focus on creating super high-quality, comprehensive content that serves audiences across multiple platforms. Your content is an opportunity to showcase high-level industry expertise, build trust and authority, and create a foundation for long-term customer relationships.
If you want to accelerate your content marketing in 2023 and take it to a place you never thought possible, contact Scripted today. Our dedicated content strategists can help you develop an effective content strategy and match you with highly-vetted expert writers. An excellent recipe for creating a truly successful content marketing asset. Get in touch with us today to see how we can help you succeed.