How to Get Started with a Content Marketing Strategy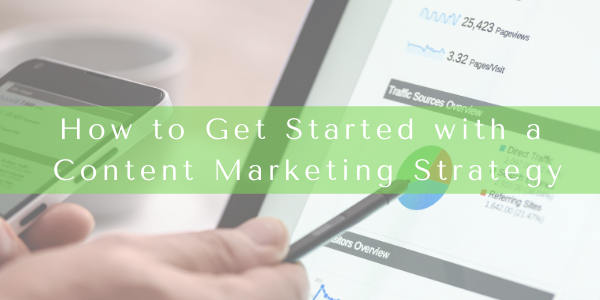 Every business professional knows they need a content marketing strategy to reach the right online audience. But time, energy, and resource constraints often block brands from fully executing a plan that works for them.
One study showed that just 18% of marketers reported having the right technology to execute their content strategy well. This means far too many companies are producing lackluster content that leaves their audience wondering what they actually provide. The following steps will help you build a successful content marketing strategy from scratch.
1. Set Business Goals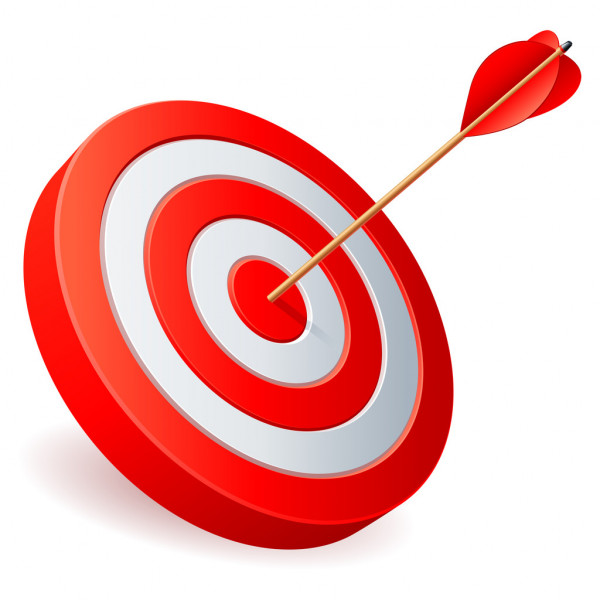 A content strategy should always have a goal or 1 to 2 priorities it aims to achieve. By chasing too many priorities, a company's marketing efforts become scattered and results get watered down. For this reason, many brands adopt campaign-driven marketing in which each campaign has a clear goal and a start/end date. This makes it easier to measure the impact, success, and ROI of your content marketing efforts. Keep goals simple and measurable, and track the results from campaign to campaign.
2. Research Your Target Audience
Experts continuously harp on the importance of understanding your target audience, but it's easier said than done. Demographical trends move quickly, and the right data isn't always a click away. Social listening tools are a practical way for busy professionals to keep their finger on the pulse of what's happening.
Tuning in to customer feedback, social media comments, and even your competitor's audience is a surefire way to gain insight for your content marketing plan. Once this is done, businesses can choose content topics more confidently.
3. Pinpoint Your Market Position
Established business owners will already have a decent understanding of their market position, but it's something that can change over time. For this reason, reassessing your position periodically can provide context and guidance for your content marketing strategy.
Your marketing position involves the combination of attraction and distinction: What do you provide that your customers need, and how do you do it uniquely? Rather than projecting into the future, consider your brand's current strengths.
4. Choose Content Mediums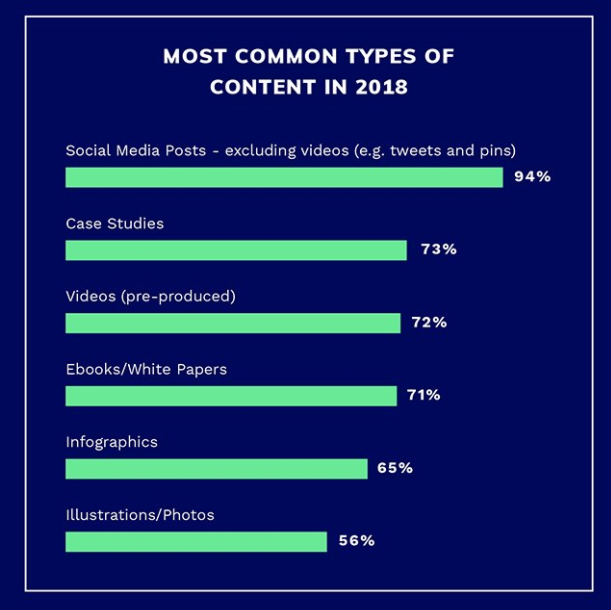 Many brands are opting for a do-it-all approach, and for bigger brands with a marketing department, this may be fine. But small businesses or those that are just starting out may want to hone in on a few types of content. Just as marketers need to limit themselves to fewer priorities, businesses with smaller social followings shouldn't be watering themselves down on social media.
Consider which medium allows you to showcase the best of your brand - videos or blogs? Facebook, Twitter, or email marketing? To choose correctly, consider your audience, budget, and message.
5. Delegate & Allocate Resources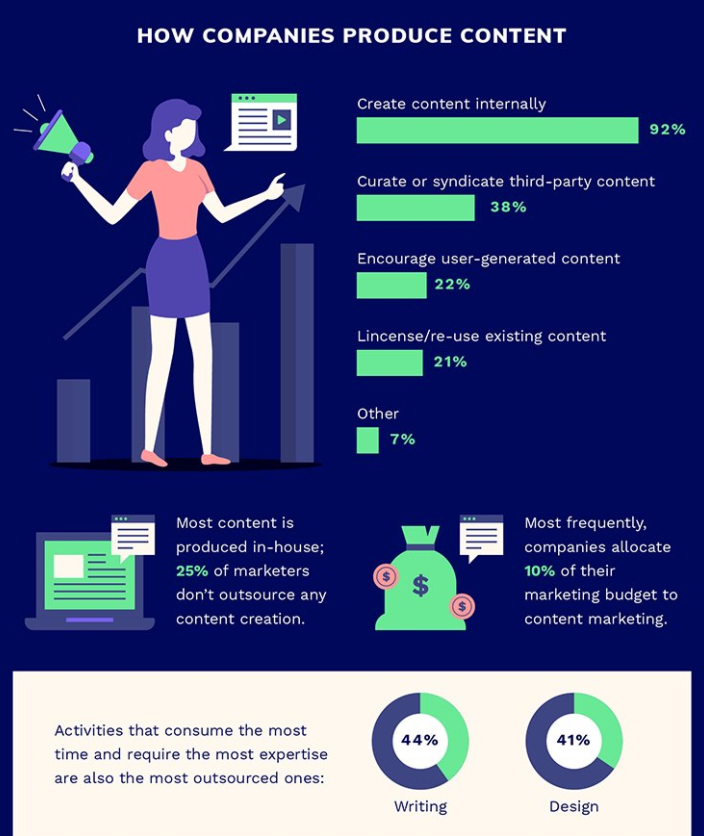 Whether you are a solopreneur or your company has a robust marketing department, resource allocation can get tricky. Delegating appropriately ensures no one has too much or too little on their plate.
Creating a company culture of communication ensures team members feel open to sharing what resources they need and which ones are unnecessary. Leaders can check in regularly with team members, adjusting how tasks are assigned if necessary. Reviewing marketing resources every few months helps leaders keep track of which tools are useful and which ones are no longer appropriate.
6. Create an Editorial Calendar 
Setting aside time to create great content creation is often the most challenging aspect of executing a relevant content marketing strategy. You may know what to write and why, but you already have a schedule full of business-critical tasks. This is where the expertise of outside content writers comes in handy.
Imagine a team of vetted content professionals motivated to help you meet your business goals. This is what Scripted writers and account managers do, allowing you to put your content calendar on autopilot. Writers can help with lead generation and creating customized calls to action for each buyer persona.
7. Distribute Content Across Channels
While it is important to choose content mediums carefully, it is equally important not to cast too small of a net. Brands that don't show up enough in social feeds fail to receive enough exposure to gain traction on that platform. Unfortunately, this causes social media algorithms to downplay your content and show it to fewer people.
Platforms like Hootsuite and Buffer are great options for automatically scheduling posts to multiple channels at once. Using the Scripted-Hubspot integration lets users plan and schedule pieces of content quickly.
8. Measure Results/Iterate
"When taking a content-first approach, our job as marketers is not to create more content. It's to create the minimum amount of content with the maximum amount of results," Robert Rose told the Content Marketing Institute. This rule applies to any business using content marketing for lead generation.
As data analytics becomes a primary driver of marketing decisions, many businesses have yet to harness its full capabilities. Budgeting, technology, and talent constraints can limit a team's ability to measure marketing results. Observing simple marketing metrics like conversions, email list sign-ups, web traffic volume, and click-through rates can reveal what type of content resonates with your audience. Making slight adjustments and gauging your audience response will provide you with a wealth of data over time.
Master Your Content Marketing Strategy
Understanding your platform options contributes to a powerful content marketing strategy.  As Hubspot advises, websites like Instagram and Snapchat are best for connecting more deeply with your audience, while websites like Twitter and Facebook help brands drive traffic to their websites, spark conversations, and reach more people.
Along with knowing the terrain of where your content gets published, brands must follow the golden rule of 'know thyself.' This is where a brand audit can be useful. Even well-established businesses need occasional brand check-ins to make sure their content aligns with market position, marketing objectives, and brand values.
Browse Scripted's community of vetted writers who specialize in blog posts, social media marketing, white papers, and more. Working with a content expert in your niche saves time and effort, as there is no need to explain industry-specific terms and concepts. Getting a content strategy off the ground is challenging, and creating one you are proud of requires even more time and focus. Scripted writers help you deliver the great content you know your audience will love.