Hiring Freelance Financial Writers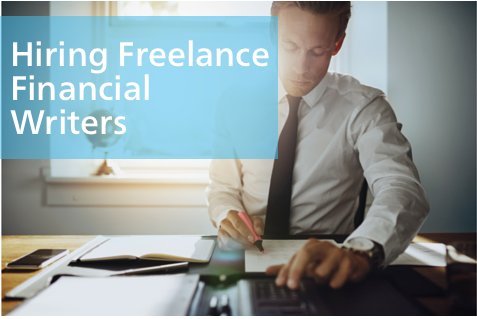 Hiring a freelance financial writer doesn't have to be a complicated process. Through proper vetting, clear communication, and an established workflow, nearly everyone can find success.


In both the B2C and B2B financial sectors, online content marketing has become a vital component for capturing the eyes of customers and clients. But while 78 percent of financial institutions said that they utilize content marketing, in a recent Content Marketing Institute report, only 25 percent said they were doing it effectively, and nearly 30 percent said they were doing an explicitly poor job of it.

Those results reaffirm the fact that while content marketing can become something like a "set it and forget it" routine once a company has established itself in the sphere, doing so is dependent on the ability to find and leverage the most skilled writers to begin with.
Hiring Financial Writers: In-House or Outsourced?

A mismatch between writer sourcing and a company's requirements is one of the most common stumbling blocks for a nascent content marketing program. In the largest companies, the first impulse is often to establish an in-house team of copywriters. But establishing an entirely new department also comes with added bureaucratic and administrative concerns and impact organizational buy-in. Even when a company can justify a full-time writing team, hiring freelance financial writers is often the better choice.

Freelancers are usually a better fit for budgets and require zero background spending for things like health insurance or employment taxes. Additionally, writing is an amorphous skill set when compared to the typical finance position, and it can take some time to find writers who are a good match for the company's voice and content objectives. Hiring and firing full-time employees when writers aren't a good fit imposes an unnecessary burden on what should otherwise be a fast and responsive endeavor.

However, until recently, the freelance writing market has been completely unstructured, and wading through the chaff to find truly expert writers can be a time-consuming process.
Finding Qualified Freelance Financial Writers

When it comes to hiring a finance ghostwriter who has built a career as a freelancer, many of the old rules don't apply. For example, the gold standard for any creative industry has long been the ability to provide a thick portfolio of industry-leading clients. But modern freelance writing is often a web of non-disclosure agreements and content rights structures that preclude portfolio sampling, especially when it comes to ghostwriting for enterprise organizations.

For those reasons, assessing professional freelance writers often depends on adopting a content-focused perspective for evaluation.
Common areas to focus on include:
Writing samples

While freelancers may not be able to provide work they've written for previous clients, they should still have a solid portfolio of work that they've written purely as samples. Some may even have this readily viewable in a writing profile or on their own blog.

If an organization operates in a particularly complex segment of the financial industry or requires highly technical writing, it can sometimes be appropriate to ask for a tailor-written sample. However, be aware that freelancers are often asked to "write for free," and doing so risks devaluing the relationship and can turn away the most experienced professional writers. In such a case, it's often better to buy a single article or short blog post from that writer. At a minimum, the solicited sample should come with a written guarantee to pay for it if it's used by the company.
Pre-project interviewing

Holding a conversation with a writer before agreeing to a professional arrangement can often be enough to ensure they're a good prospect. It's a good sign when writers demonstrate curiosity for the interviewing organization's operational goals and can knowledgeably answer questions about how they intend to help meet those objectives. An interview can also reveal the writer's sense of industry familiarity and provide him or her the chance to reference work without violating rights structures and non-disclosure agreements.

Freelance platforms like Scripted allow you to schedule calls with writers before beginning an engagement for this exact reason.
Third party vetting

As an acknowledgment of modern content business practices, the new gold standard is to find a writer who has already been assessed by a third party. Content agencies and online platforms are a perfect fit in this regard, as they're able to evaluate a writer's proficiency from behind the scenes and have a vested interest in maintaining a highly skilled corral of writers to present to new clients.
What to Expect When Working With a Freelance Financial Writer

In the best case, working with a freelance writer is very similar to working with an in-house writer, with a few potential wrinkles.

A typical freelance writing process includes these steps:


Sourcing: The writer must first be found and vetted.
Project briefing: Writers must be briefed on the scope and requirements of the project, including how it fits into the organization's larger objectives.
Rate negotiation and contracting: Writers may be paid by the word, by the piece, or by the project. An appropriately scoped contract should then be drawn up and signed by both parties.
Deadline setting: Organizations need to set deadlines that leave room for revisions while meeting in-house calendars. Very quick deadlines require a commensurate increase in writer compensation.
Drafting and revisions: The writer will present a first draft, then revise per client notes.
Final draft and payment: Once the final draft is approved, organizations must pay the writer according to the negotiated contract. Be aware that delayed payments are one of the biggest reasons freelancers choose to terminate relationships with their clients.


When an organization is able to establish a long-term relationship with freelance writers, all the steps above are only a minor burden. However, a diverse calendar of projects can mean an organization needs to go through the entire process many times over.

To shortcut the initial steps and stay focused on the content itself, platforms like Scripted make it easier to find the best writers at the best rates. Additionally, in-house editorial teams and deadline enforcement ensures a smooth writing process and a guaranteed standard of quality.

Looking to hire a freelance financial writer? Scripted has pre-vetted plenty of them for you to use. You can view their previous work or even schedule a call with them before getting started!