8 Essential Content Marketing Tools for Your Enterprise Business

8 Essential Content Marketing Tools for Your Enterprise Business
Great content builds customer relationships, nurtures leads, and converts readers to customers, all while establishing your brand's credibility and authority. Some 67% of marketers would agree that content is an essential part of a lead generation strategy, and even more acknowledge that content marketing plays a critical role in audience education. The result? Brands that use content marketing are better known and trusted.
However, directing time and precious energy into creating content can be tricky. Finding reliable freelancers, developing a schedule, publishing, and promoting your content takes considerable effort. When you already have so much on your plate, you might keep delaying the step in ramping up your content marketing strategy, given the sheer complexity of it all.
Luckily, you can use a combination of content marketing tools to help reduce the labor and time involved in creating excellent content. While no tool will do all the work for you (AI isn't that creative just yet), these top tools can make your life easier and allow you to spend less time on project management and more time driving results with great content.
Engage Your Target Audience with Quality Content
Since 2006, Scripted has connected businesses with every content they need, exclusively planned, written, and perfected for their brands. With thousands of professional writers across industries, we simplify the entire content creation process into a few easy, stress-free steps. See for yourself with a 30-day free trial!
What is a Content Marketing Tool? 
A content marketing tool aims to save time by supporting some or all of the aspects of content creation and promotion, whether that's research, ideation, writing, editing, scheduling, or sharing. As you can imagine, there's a whole heap of tools for each aspect, but some are far more trouble than they're worth.
The best content marketing software for enterprises is robust, scalable, and efficient, offering plenty of ways to integrate and automate. Multi-faceted platforms that bring various features under one roof are even more valuable, helping you reduce connectors, log-ins, and the time your team spends pivoting from one spot to another. There are plenty of great tools like that, but you need the very best.
How Should You Approach Content Marketing in 2023?
With artificial intelligence bringing new challenges and opportunities in content marketing, there's no better time to start streamlining your workflow and getting on the path to efficient content creation. After all, content marketing isn't going out of style any time soon, with:
83%

 of marketers are actively investing in content marketing

81%

 of marketers view content as a core business strategy

65%

 of organizations have a dedicated content marketing team
With such an abundance of content out there and more and more companies directing time and resources into developing excellent content, it's essential to do what you can to stand out, rise above the noise, and blow your composition out of the water.
Read More: Content Marketing Statistics and Trends in 2023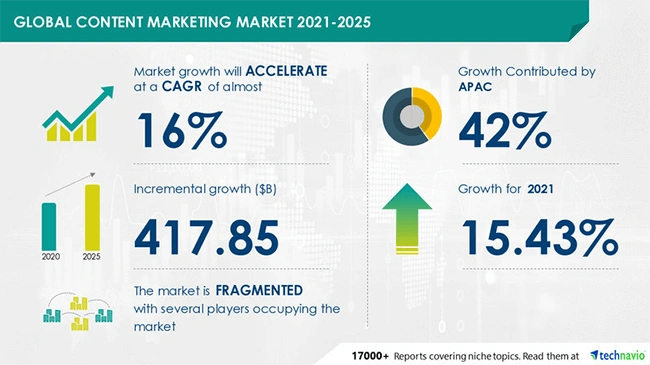 The Best Content Marketing Tools For Your Enterprise 
There's no use integrating a tool into your stack if it won't actually help your team work more effectively and efficiently. Across the strategy and ideation, creation and workflow, publishing and promotion, and performance and optimization, many tools exist that could help, but we wanted to find the best.
Based on performance, enterprise functionalities, industry recognition, and user reviews, we've handpicked our favorites. Without further ado, here's our list of the best content marketing tools for large companies in 2023.
Google Workspace - Best Organization Tool 
Summary
It's easy to lose track of all the briefs, guidelines, and documents involved in the content creation process, but Google Workspace is one of the best organizational tools out there. Formally G-suite, Workspace integrates several super helpful Google tools into one dashboard, including; Drive, Meet, Calendar, Docs, and Sheets. Using it, you can plan and document your company's entire content strategy in one place.
Besides helping you arrange your content schedule, Google Workspace also allows you to draft content, leave feedback, compare versions, and generally streamline your workflow. Plus, it integrates with many other useful tools and the simplicity of the interface takes any stress from getting organized with your content. It's also extremely enterprise-friendly with endless storage, excellent security, and extreme reliability. Affordable, functional, and beautifully simple.
Pricing
Business Starter: $6 USD per user

Business Standard: $12 USD per user

Business Plus: $18 USD per user
Who Uses WorkSpace?
Countless enterprises around the world rely on Google Workspace, including Nielsen, Colgate-Palmolive, and Broadcom.
WordPress - Best Content Management System 
Summary
You can't discuss content management systems without mentioning WordPress. While many other website-building tools and CMS platforms exist, WordPress takes the cake for the best overall solution for its simplicity and versatility. With endless plugins, themes, and software integrations, WordPress is the best way to create, manage, and publish content. 
It's extremely user-friendly for your non-tech content team yet fully customizable for your developers. Plus, with countless plugins and apps, you can create anything you want, exactly how you want it to look, without having to build and maintain a codebase from scratch. In contrast, other website-building tools are severely limited.
Pricing
Free and open-source with paid third-party themes and plugins allowing for additional functionality and customization.
Who uses WordPress?
Around 810 million websites use WordPress, including Sony Music, BBC America, Tech Crunch, The Rolling Stones, the official website of The White House, ensuring that your company will be in good company.
Put Your Content on Autopilot
Content is the core of your website — it drives traffic, nurtures leads, and converts readers into happy customers. At Scripted, we help teams drive more results with their marketing efforts by making it easy to share on-brand social media posts, articles, lead magnets, and landing pages. Want to see for yourself how Scripted can help your business thrive in search engines? Start your 30-day free trial today.
Semrush - Best SEO Tool Overall 
Summary
Trying to be the end-all, be-all of SEO is no easy feat, but Semrush manages to pull it off. It's not a tool, but rather an entire tool suite that covers every aspect of the SEO game. The platform was founded in 2008, but as anyone who knows SEO knows, it has been continuously overhauled, expanded, and reworked to keep up with the needs of SEO professionals and business owners alike. Today, it is an extremely user-friendly solution for large teams.
Semrush is an SEO industry standard that can give you more insight into SEO data than any other tool on the market. For example, you'll be able to perform keyword research, competitor analysis, and website audits in addition to tracking backlinks and web analytics. Think of Semrush as your foundation for a solid SEO strategy. 
While anyone can benefit from using Semrush, it is significantly more expensive than other SEO tool options, mostly limiting its user base to larger companies. However, for an enterprise, this tool is a no-brainer, and the insights it can give you to use throughout your content strategy are more than worth the ROI. 
Prices
Semrush Pro is $199.95/month

Semrush Guru is $229.95/month

Semrush Business is $449.95/month
Who uses Semrush?
Semrush is used by 30% of all Fortune 500 companies, including Tesla, Samsung, IBM, Walmart, and P&G. If that's not enough, they also hold 21 international awards for being the best SEO suite, solidifying their position on our list as one of the leading content marketing tools of the year.
Google Search Console - Best Web Analytics Tool 
Summary
Google Search Console isn't trying to be the all-in-one solution that Semrush has become, but you will find some valuable tools that will help you establish a healthy web presence and optimize your content for the algorithm based on feedback from Google itself. For starters, Google Search Console will crawl your site to check for bugs and broken pages, helping you identify and fix common errors that harm the user experience.
Search Console also lets you see how your pages are performing in search and gives you valuable insights on keywords you're already ranking for. With insights into traffic, acquisition, and website data, Search Console can help streamline your SEO game. It's no substitute for a platform like Semrush, but it's an excellent addition.
Prices
Free 
Who uses Google Search Console?
Any business with a content marketing strategy.
Adobe Creative Suite - Best Design Tool

Summary
For a design tool, you can't ignore the Adobe Creative Suite. If your enterprise has a design team, they're probably already using it. Creative Suite allows you to create anything you want using Adobe's powerful suite of tools, from Adobe XD to Photoshop. With this platform, you can create everything from awesome infographics to high-quality, professionally edited images for social media and your website.
While slightly more complex than some design tool alternatives, the power and capabilities found in Creative Suite more than makeup for it, and any skilled graphic designer you work with will likely already be familiar with Adobe's renowned tools. Creative Suite is an obvious choice if you have a dedicated designer who can make use of its features.
Pricing
You can purchase all the creative cloud apps for $84.99 per month per user or buy individual programs such as Lightroom or Photoshop separately. For large companies, Adobe advises you to call their sales department to negotiate a rate for your whole team.
Who Uses Adobe Creative Suite?
Try to find a company untouched by Adobe's suite of design tools. Since its founding in 1982, Adobe has built a reputation of innovation and is trusted by everyone from indie designers to the production teams of Oscar-winning films. This year, Samsung even announced that Adobe Lightroom will be the exclusive app for the Samsung S23's default editor.
Grammarly

- Best Editing Tool
Summary
While you may not strive for perfect grammar when crafting a piece of relatable content for your brand's blog or social media accounts, you simply can't work effectively without a good editing tool. Grammarly is able to correct sentence structure, but it's also able to understand the tone and format of your writing to make helpful suggestions even if perfection isn't your goal.
Aside from picking up on typos, Grammarly can help your writers replace boring words with powerful alternatives and shorten wordy sentences to make your content more concise. As a result, using Grammarly can help you share content that's as engaging and digestible as can be. Plus, your team can even use it internally for emails, messages, and documents. With both a Chrome Extension and native desktop app, Grammarly is the all-around editing tool writers and content teams need to avoid getting tripped up by the tiny details.
Pricing
Grammarly offers a limited free version or a paid version starting at $15 per user, per month.
Who Uses Grammarly?
Anyone who wants to ensure their writing is error-free, concise, and compelling can benefit from Grammarly. We love it so much that it's actually one of the few tools we ask our writers to use when crafting content on behalf of our clients. By helping them catch errors in real-time and suggesting ways to change up their wording, Grammarly helps ensure that Scripted's content is always the best it can be.
MailChimp - Best Email Marketing Tool 
Summary
Email marketing continues to have one of the highest ROIs across all forms of digital marketing, making it an essential part of any content marketing strategy. However, not all email marketing tools are created equal. Aside from ease of use and customization, you need a tool that's secure and able to maintain high deliverability. MailChimp can do all of that with a cute mascot to boot.
Mailchimp makes email communication easy, allowing you to schedule emails and inform your audience about upcoming posts, new content, and sales offers directly in their inbox. It's one of the most popular email marketing tools for a reason, with a simple, easy-to-use interface that makes creating, A/B testing, and sending emails simple. Plus, with pre-designed templates, you could get your next newsletter out in mere minutes.
Pricing
Free plan available

Essentials plan starts at $13/month

Standard plan starts at $20/month

Premium plan starts at $350/month
Who uses MailChimp?
Mailchimp is owned by Intuit and more than 12 million businesses trust it for their email marketing needs. While it's popular amongst small businesses, notable clients include Vimeo, TED, and Six Barrel Soda.
Hootsuite - Best Social Media Marketing Tool 
Summary
Social media has a major role to play in any content marketing strategy, but it can be extremely tough to manage a handful of different accounts. With Hootsuite, your team can gain a bird's eye view of all the activity happening on social media around your brand, making for more interactive content.
As a full-scale social media management tool, Hootsuite makes scheduling and dispatching social content easy. With automated scheduling and a dashboard of your social media platforms in one easy-to-use interface, you won't have to hop from one site to another checking comments or drafting posts ever again. The platform even offers content curation tools to help your brand share content your audience will love from other creators.
Prices
Professional plan is $99/month

Team plan is $249/month

Business plan is $739/month

Enterprise plan is available
Who Uses Hootsuite?
From PennMutual to Clarins, U-Haul, and the British Museum, countless large companies trust Hootsuite as their social media marketing solution.
Scripted — Best Overall Content Marketing Tool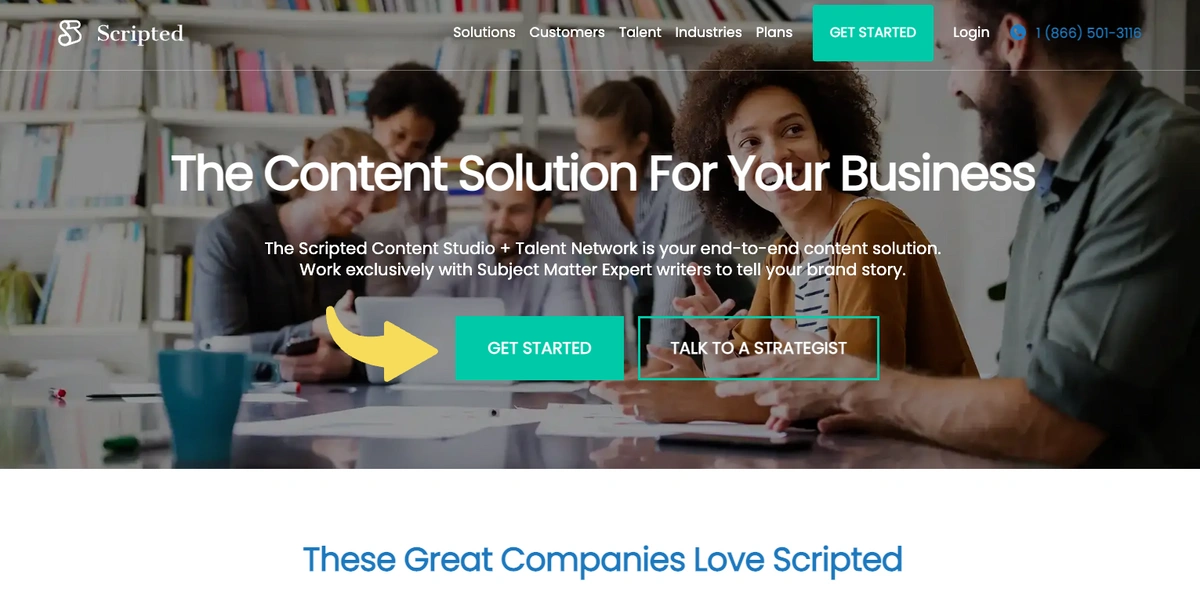 Summary
With AI-powered content planning tools paired with 100% human-written content from industry experts, Scripted easily wins as the best overall content marketing powerhouse.
A combination of content planning, writing, promotion, distribution, and monitoring services means that Scripted is a one-stop-shop for your enterprise. Plus, integrations with various content management systems make it even more powerful.
Prices
Self-Serve Basic is $199/month

Self-Serve Premium is $499/month

Agencies plan is $2,500/month

Enterprise plan is $5,000/month
Who Uses Scripted?
Many enterprises use Scripted to power their content marketing strategies, including L'Oreal, Adobe, Adidas, LinkedIn, and IBM. With scalable pricing plans, Scripted is accessible to businesses big and small. 
Honorable Mentions 
Canva 
While a relative newcomer compared to a design staple like Adobe, we simply couldn't ignore Canva on this list of best content marketing tools for enterprises. Simple and easy to use, Canva empowers everyone to create using beautiful templates and a cloud-based editor that's incredibly intuitive. Next time someone on your team needs to mockup, wireframe, edit, or design, have them give Canva a try.
ClearScope
ClearScope is an excellent SEO tool, but with a feature set entirely different from Semrush or Search Console. ClearScope's power is seen during the writing process where it allows your writers to implement semantic keywords naturally throughout a piece of content, priming it for the top spot in the search engine results pages. The platform also offers research and outlining tools for easy SEO content planning.
Summary: The Best Content Marketing Tools for Enterprises
As we enter 2023, content marketing is only increasing in relevance as your competitors continue to direct time and resources into creating great content. So with fierce competition across all industries, it's an exciting time for content marketing to see how it develops and changes and what gets produced through the year. 
If you're serious about developing a content marketing strategy aligned with your enterprise goals, these top tools will help you get there. To recap, here are those top tools and what they'll do for your enterprise again: 
Google Workplace:

 Best for Organization

WordPress:

 Best Content Management System

SEMRush:

 Best SEO Tool 

Google Search Console:

 Best Web Analytics Tool

Adobe Creative Suite:

 Best Design Tool 

Grammarly:

 Best Editing Tool

MailChimp:

 Best Email Marketing Tool 

Hootsuite:

 Best Social Media Marketing Tool 
With these tools, you can create a cloud-based, end-to-end workflow that simplifies your content marketing tasks and allows your team members to get more done with every click, but they leave one problem unsolved: Creation. If you need help with the legwork of planning and creating high-quality content to fuel your marketing strategy, Scripted can help.
From managing your content calendar to writing authoritative white papers on behalf of your brand, Scripted can fill the gaps in your sales funnel by creating content that drives results. Want to experience our hassle-free writing services for yourself? Start your 30-day free trial today.