The Draft: Your All-Star Content Marketing Team Players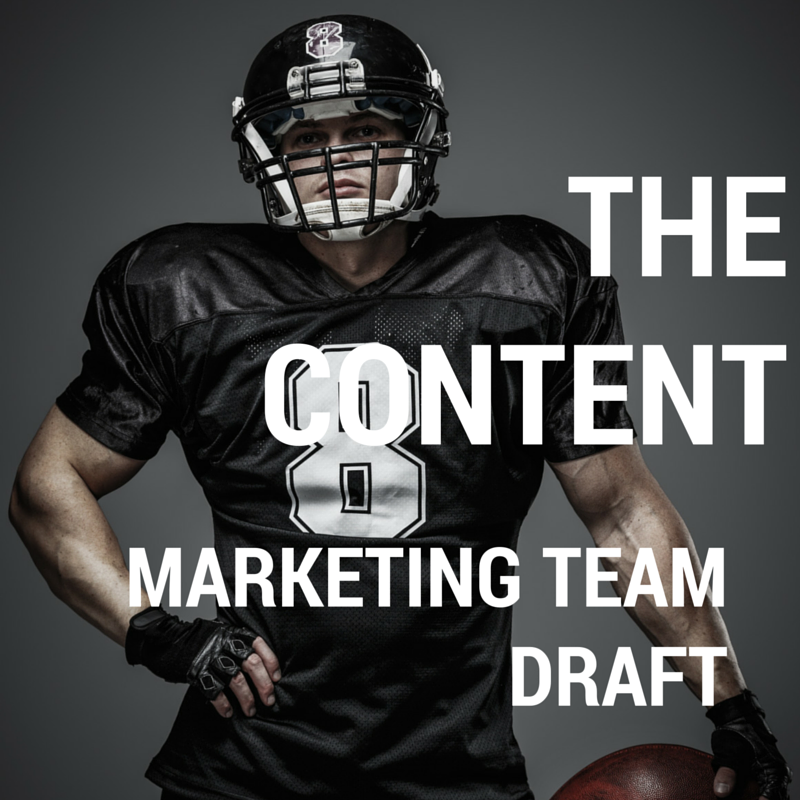 The ideal content marketing team uses each of these players to their strengths. Use the descriptions below to help make your draft picks this year.
With the 2016 Super Bowl just around the corner, we couldn't help but think how much a
content marketing
team is, in many ways, like a football team. The right leadership, players and strategy can take a content marketing team all the way to the end zone.
Head Coach: Content Manager
The content manager is a lot like the head coach. He or she is in charge of calling the plays, creating long-term strategies, formulating goals and creating the team's editorial calendar. The content manager always needs to think about how to reach a target audience and also understand what kinds of resources are needed to meet key goals. Like any excellent coach, the manager should adapt to any situation, recognize talent early on and work well under pressure.
The Team: Content Writers
Writers make up the bulk of the team on the field. Like every football team, a content team needs specialists. The good news is these specialists don't need 250 pounds of pure muscle to intimidate your competition. They just need to be the best writers in their niche.
For example, short-form writers can produce blog content and social media updates, such as Facebook and Twitter posts. These writers are like the center who snaps the ball. They put each play in motion with consistent, daily blog posts that keep an audience engaged and raise brand awareness.
Writers who excel at long-form content or have a special area of expertise are the wide receivers who go for the big plays that rack up the yards. They can produce white papers and long articles with in-depth analysis to establish thought leadership and generate qualified leads.
External writers often make up the majority of a content team, and they're there to produce quality content in volume. This group of writers serves as the offensive line. They're out doing the heavy lifting so content teams can make sure other team members have the time to get their jobs done.
Quarterback: Content Editor
The content editor is the quarterback of your team. He or she is on the field every day to ensure execution of the head coach's calls, cleans the copy, guides team members and keeps the team's eye on important goals. A great editor also knows how to motivate writers and help them learn from their mistakes so their next content play is better executed.
Running Back: Content Distributor
The content distributor is the running back. Once content is produced, the editor (quarterback) hands it off to the content distributor, who releases it across all channels, runs e-mail marketing campaigns and measures the success of these efforts.
Assistant Coach: Content Analyst
The content analyst is like the assistant coach, analyzing major trends seen in football, and reviewing play tapes to see where the team can improve. In content, they analyze the explosive growth of
Big Data
. Like top football teams, a content team doesn't want to play blindly. That's why the content analyst examines key data to ensure a content strategy is paying off. Content analysts also determine future strategies based on hard data, which helps a team come out on top.
Offensive Coordinator: SEO Specialist
The SEO specialist is the offensive coordinator, working to push a team forward with the right SEO strategy. That means researching keywords, analyzing traffic patterns and helping a content team get better search page rankings on the content they produce.
Cheerleaders: Community Specialist
The community specialist is there to support the team as the cheerleaders. He or she engages with an audience through social media comments or handling engagement on Twitter. They get the fans (a site's readers) more pumped up about the content being produced -- no pom-poms required.
Ultimately, an all-star content team requires a talented and dedicated staff to avoid any fumbles. When it's time to watch this year's Super Bowl, don't forget that there are some great lessons to be learned from this year's winner.
When it comes to drafting your content team, you can leave the writing part to us.
Subscribe for the latest in Content Marketing & Freelance Writing!
While you're here, have you tried Scripted lately?
Used to be a member, but moved on? Heard of it, but never signed up? The current iteration of Scripted will amaze you! Streamline your content writing efforts and build your own team of high-quality writers. It's all you need for content writing. Try it free today and meet your next favorite writer or writers!