7 Rising Content Marketing Influencers You Should Be Following Right Now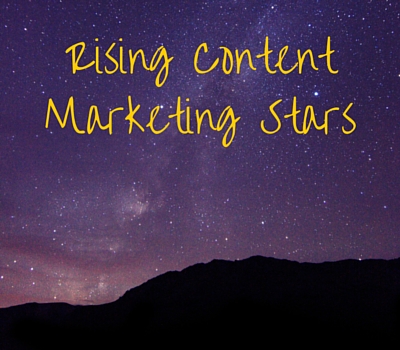 Looking for new content marketing inspiration? Check out what these up and coming influencers have to say.
Content marketing alone generates three times as many leads as outbound marketing, which costs more and generates less. Though the traditional approach, outbound marketing is being tossed aside as inbound marketing becomes the natural choice for most brands in modern business. While Joe Pulizzi, Lee Odden and Ann Handley have totally transformed marketing as we know it, there's a new group of up-and-coming leaders who are changing the way we think and approach brand marketing even more.
Learn a few tips from the greats by following these seven content marketing influencers:
1. Melissa Breker
Melissa Breker is the co-founder of
Content Strategy Inc.
, a marketing company focused on helping brands achieve their traffic, financial and overall goals. As a former marketing teacher at University of British Columbia,
Breker
applies an easy-to-absorb technique to teaching other brands and marketing leaders about content strategy. And the results are certainly forthcoming: throughout her tenure with Content Strategy Inc., her company has had major brand clients such Wells Fargo, Samsung and the University of Minnesota.
2. Scott Abel
As a self-identified "
content wrangler
," Scott Abel blends content marketing and social networking to establish a unique, yet effective, marketing plan. He specializes in how brands write, keep up, publish and store information on their sites and blogs. He also focuses on making the most of social media to draw more readers to brands' content. The best way to stay up-to-date with his latest tips, tricks and findings is to follow his frequently used Twitter handle
@ScottAbel
. When it comes to the world of content marketing, Scott Abel is the ultimate jack of all trades, and the guy you want to follow.
3. Allen Gannett
As the Chief Maven and Founder of
TrackMaven
, a real-time marketing intelligence company, Allen Gannet specializes in helping brands be heard and stand out in crowded industries, as well as in helping marketing execs fine-tune their marketing strategy. Based in Washington, D.C., Gannett uses his Twitter handle,
@Allen
, to pull out plenty of real-life examples of prime marketing.
4. Andrew Davis
Andrew Davis
specializes in niche targeting. His approach to content marketing leans heavily toward the mindset that targeting well to a small audience is a fast track to growing a bigger company. Based out of Boston, Massachusetts, Davis has worked for a wide variety of brands, including the Muppets and the Today Show. His most recent book made the list of Amazon's top 100 marketing books. Brandscaping: Unleashing the Power of Partnerships hones in on the benefits of teaming up with other brands and partners in an effort to grow both multiple companies simultaneously. He also tweets out interesting articles and blurbs that shed light on his approach to marketing. Follow his handle
@TPLDrew
to learn more.
5. Kathy Button Bell
Kathy Button Bell runs global marketing and corporate branding at
Emerson
, a major player in technology and engineering innovation. Because she oversees the large company's marketing on a global level, she has a good understanding of how to make major marketing plans for larger businesses, as well as helping to build up smaller ones. Button Bell's approach to marketing is very campaign-driven, and her detail-oriented approach helps gigantic marketing campaigns go off without a hitch. Plus, you could pick up a trick or two of your own from her words of wisdom.
6. Georgia Galanoudis
As the managing director at Imprint, a content strategy and intelligence company, Georgia Galanoudis is an expert when it comes to
producing
meaningful content and making sure it reaches the right audience. With a background at both Time Inc. and Meredith Corp., Galanoudis has marketed with the best of the best, and is now coming into her own to leave her footprint in content marketing innovation. She has groundbreaking approaches to everything from social media to consumer insights, and loves to help both major and up-and-coming brands find their footing in inbound marketing. Follow her on Twitter -- at
@Imprint_Georgia
--for tips on custom curation, audience engagement and more.
7. Jon Wuebben
Jon Wuebben
is the CEO of
Content Launch
, a content marketing platform designed to help marketers write content and strategize their inbound approach. What helps his company stand out is that it doesn't only direct and analyze campaigns and content, but provides content as well. His company is made specifically for small- and medium-sized companies, meaning he excels in growing smaller businesses through content marketing. Wubben also recent published a book, Content is Currency: Developing Powerful Content for Web & Mobile, which focuses on helping businesses get more eyes on their marketing content. As an established speaker in the industry, Wuebben is sure to help you spark some interesting ideas of your own for how to transform your content approach.
Let this roundup of up-and-coming marketing influencers inspire you and remind you that the world of content marketing is forever changing. Staying up to date on the new thinkers in the field can help you cater your own inbound approach and jump on new trends earlier to truly reap their full benefits.
Need content?