The Content Manager's Ultimate List of Events to Attend In 2015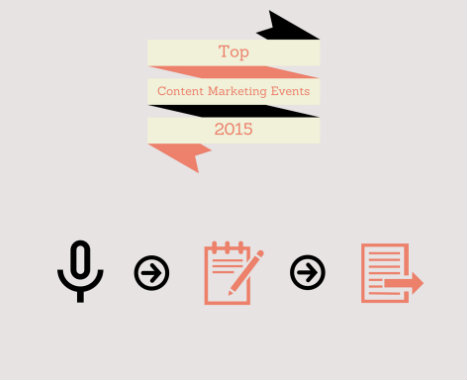 Content marketing events are a great way to brush up on industry trends and network with top talent.
You spent most of 2014 developing your content marketing strategy, setting up a solid infrastructure and working with your content team. After passing through roadblocks and finding creative solutions, you might be left wondering: Is there a content marketing tactic I'm missing? The answer is yes -- events!
If you haven't considered including events in your content strategy yet, you're missing out. The content space is getting crowded -- this is true -- but events are a great way to network with fellow content leaders and brainstorm new ideas. Who knows, maybe you'll find your next partnership at one?
Here's what should be on your radar:
Conference #1: CMI's ContentTECH 2015


Location: Virtual


Date: January 25


Pricing: Free


Why you should go:
The Content Marketing Institute hosts the only free
virtual marketing conference
-- a must-attend in our book. A decided lack of fancy venue and destination location make it affordable for those with slimmer marketing budgets. Six sessions cover topics like webinar improvement, UGC (user-generated content) and the role of conversions in content marketing. They're led by industry talents like
Jeannine Rossignol,
VP Marketing at Xerox Corporation and
Eduardo Conrado
, Senior Vice President of Marketing & IT at Motorola Solutions. Six live chats with additional marketing professionals are available to attendees as well, making it perfect for those with selective interest. Plus, how can you really pass up a
free
event?
Conference #2: B2B Content2Conversion


Location: Scottsdale


Date: February 16-18


Pricing: Full conference pass is $1,095, workshop-only pass cost $395


Why you should go:
Content2Conversion
is ideal for beginner content marketers looking to learn more about the relationship between content marketing and lead generation. The conference, put on by
G3 Communications
, is uniquely focused on increasing revenue from content marketing. Organizers claim the
event
will better help attendees plan their content calendar, get familiarized with the latest content tools and build a strategy aimed to increase revenue. Featured speakers include
Michael Brenner
, Head of Strategy at NewsCred
, Lee Odden
, CEO of TopRank Online Marketing and
Celia Brown
, Sr. Director of Content Marketing, Customer Engagement & Commerce at SAP.
Conference #3: Intelligent Content Conference


Location: San Francisco


Date: March 23-25


Pricing: All access pass cost $2,495, conference only price is $1,795


Why you should go
: This
three-day
conference is aimed to teach content marketers to produce intelligent, reusable content. What exactly is reusable content? Organizers define it as this:
Structurally rich and semantically aware, intelligent content makes your content automatically discoverable, reusable, reconfigurable, and adaptable
It offers a variety of highly-acclaimed speakers, workshops, exhibitors and other useful resources for creating efficient and effective content marketing. It features speakers like Joe Pulizzi, founder of the Content Marketing Institute and Michael Margolis, founder & CEO of Get Storied. If you're running into problems growing your content campaigns, this conference is for you.
See also: Resuscitate Your Underperforming Content Using These Proven Digital Defibrillators
Conference #4: Content Marketing World 2015


Location: Cleveland


Date: September 8-11, 2015


Pricing: All-access pass cost $2,495 at the door and $1,830 before February 28. Workshop-only registration runs $1,790


Why you should go:
Content Marketing World
is the largest and most popular content marketing conference. It offers a packed schedule of high-profile guests on a wide array of topics across the industry. It features plenty of classes, workshops and hands-on learning experiences.The biggest influencers and companies call this conference their home, with over 80 sessions in total. Last year's conference saw an astounding 2,600 attendees, making it the perfect place to network with a crowd of like-minded experts.
Conference #5: Pubcon


Location: Las Vegas and Austin


Date: October 5-8 (Las Vegas) and April 20 (Austin)


Pricing: Between $699 to $1,399 (Las Vegas) and $249 to $369 (Austin)


Why you should go:
Pubcon
is the premiere online marketing conference. It covers the broadest subject material of any conference listed above. You'll still find workshops and presentations on content marketing, but you'll also find plenty of material on social media, SEO and online advertising. The conference is split in two, one hosted in Austin during the spring and, the main event, held over three days in Las Vegas in October. Expect to see big guests like Microsoft's CEO
Satya Madella
, Google's
Matt Cutts
and renowned marketer and writer
Malcolm Gladwell.See also: What Social Media Visits Bring to Your Content Marketing Strategy
Whether you've run hundreds of campaigns or you're new to this part of the marketing world, innovation defines these conferences. Don't miss your opportunity to identify upcoming trends and keep up with the competition.
Which conferences will you attend this year? Share your thoughts with us in the comments section below.
To Read More About Content Writing Services, See Below:
5 Ways to Succeed In 2015 With a Content Writing Service
Why SEO Experts Are Supporting Original Content Writing
5 Spooky Signs Your Content Team Needs Ghostwriters [SlideShare]