Introducing The Content Cornucopia [Infographic]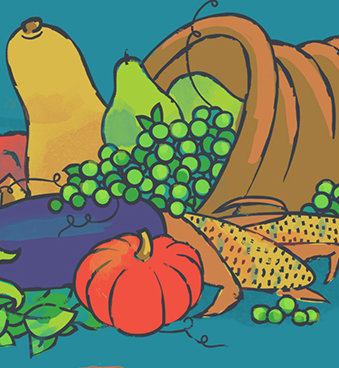 Your dinner guests need a variety of food to satisfy their cravings -- and so do your content consumers. This Thanksgiving show your audience appreciation with the help of our Content Cornucopia.


This time of the year is all about giving thanks and being grateful for what we have, which is why cornucopias are an important centerpiece on any Thanksgiving table. A cornucopia symbolizes abundance, but that doesn't mean it should be filled with too much of one fruit or vegetable. A delicious cornucopia includes a little bit of everything, giving everyone at the table something tasty to snack on. In light of Thanksgiving, we put our own Content Cornucopia together to highlight how important it is to have a variety content -- including everything from long-corn content to white paper pears.


Want Resources On How To Maintain A Healthy Content Cornucopia? See Below.

Evergreen Blog Posts (A.K.A. Evergreen Grapes)

These articles can be easily snacked on and are typically presented through short, how-to formats and/or listicles. They are really easy to outsource to a content writing service.

* The Essential Ingredients For Writing a High-Quality Blog Post
* How to Measure The ROI Of Your Blog Content

Long-Form Content (A.K.A. Long-Corn Content)

In-depth articles that provide valuable information for a consumer who is truly involved in your industry and eager to learn more about a specific subject matter.

* Best Practices For Including Thought Leaders In Your Written Content

* Advice & Insights on Promoting Your Written Content From 4 Thought Leaders

White Papers (A.K.A. White Paper Pears)

These are great assets are authoritative, in-depth reports on a specific topic that presents a problem and provides a solution. Learn more about optimizing white papers:

* How to Measure The ROI Of Your White Papers

Webinars (A.K.A. Winter Squash Webinar)

The perfect content to increase brand awareness and prove thought leadership.

* Engagement Conversation: Here's How to Webinar in Content Marketing

Video (A.K.A. Video Pumpkin)

A different medium in which content consumers can take in the information you provide -- they can be entertaining or educational.

* How to Write a Short, Stellar Video Script

* When Video & Written Content Intertwine

Slideshows (A.K.A. SlideShare Spinach)

Another way to communicate to your audience through visual content. Learn how adding them to written content can boost ROI here:

* How Much Do Images, Videos & Infographics Boost ROI?

EBooks (A.K.A. eBook Eggplant)

The cream of the crop in the world of written content. These are particularly helpful for increasing your thought leadership status in your industry. Learn how they fit into your content strategy:

* The Pyramid of Written Content: How to Present Your Story Ideas

 

Need original content to power your content marketing efforts?