Dear Marketers, Quit Capitalizing on Celebrity Deaths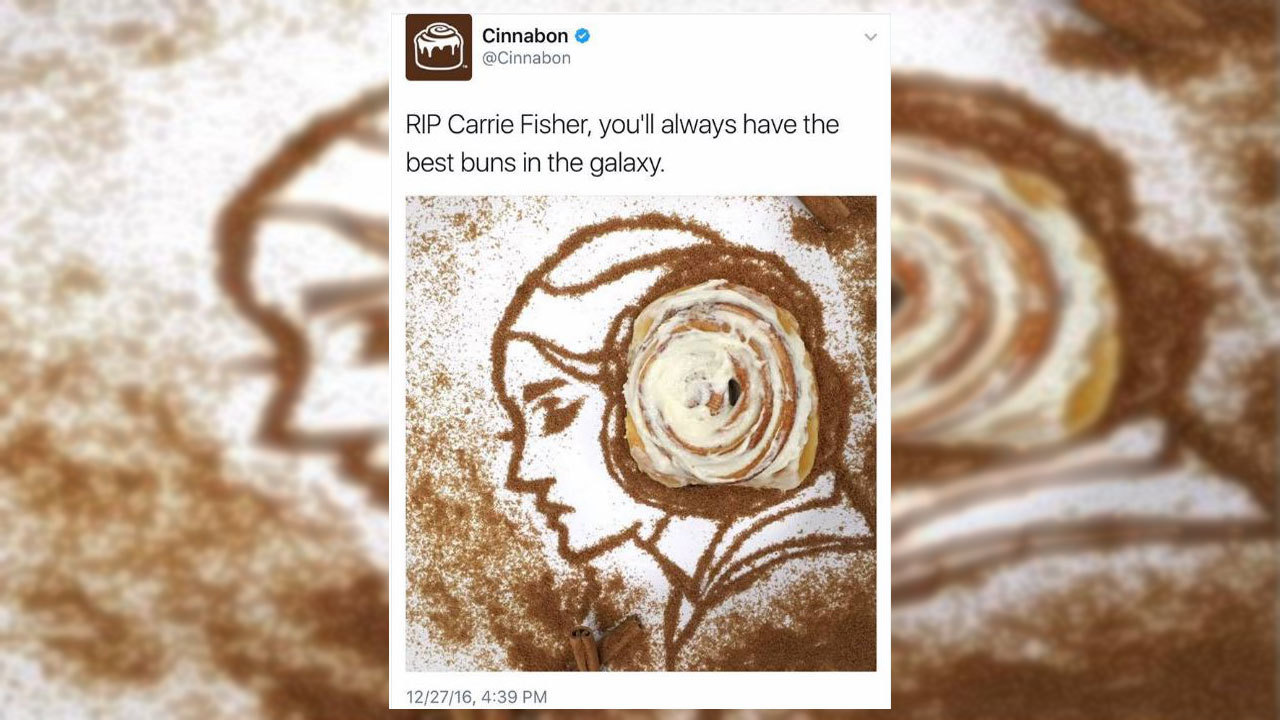 The year that robbed us of David Bowie, Prince and Carrie Fisher has gained notoriety as the year of celebrity deaths, each one dealing a bigger blow to the public consciousness than the last.

One list longer than the list of celebrity deaths in 2016? That of brands which found it necessary to comment on these tragic departures via their social media accounts.

By now, we've seen this groan-inducing cycle play out time and time again:



Cultural icon dies.


Brand posts a hastily written or designed piece of content.


Social media audiences explode in outrage.


Brand offers an equally hasty apology or, in some feeble cases, blames an inexperienced young social media manager.


These tributes are mealy-mouthed at best and offensive at worst. Somewhere in between lie the faintly opportunistic, the lazy and the pointless. The following examples from 2016 illustrate why these RIP posts are seldom a wise choice for a brand.
Exhibit A: Cinnabon and Carrie Fisher
There's a reason marketers started publishing celebrity tributes a few years after the dawn of social media: They got hip to the idea that consumers want brands to
act more like humans
and less like ... well ... brands. The idea is that by joining in on the public mourning for a celebrity their consumers love, brands align with their consumers' interests and feelings and behave like "one of them." This is indeed a necessary element for success in digital marketing today. However, numerous brands' gaffes from the past year and beyond prove that attempting to reach marketing goals via celebrity RIP posts is a risky move that attracts the bad kind of attention from audiences -- most of the time.
Social media users love a good takedown. The question is, Would brands like to be the subject of this outrage? This depends on whether brands believe the adage of "there's no such thing as bad press." Take the example of
Cinnabon's recent tweet
that went viral for the wrong reasons: "RIP Carrie Fisher, you'll always have the best buns in the galaxy."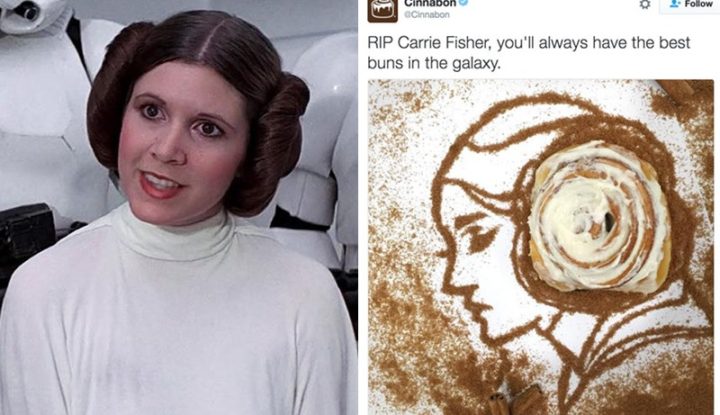 This was immediately lambasted on Twitter, with hundreds of people labeling the tweet as insensitive. Some defended it as just a joke, and one that Fisher herself might have loved, but the overall sentiment was negative. The social media error launched a barrage of
think pieces
unpacking how the brand could have thought this was a good idea. Of course, the amount of mentions of Cinnabon skyrocketed, but some people's perception of the brand changed to "uses death to sell cinnamon buns." Was it worth it?
Exhibit B: Crocs and David Bowie
Moving on from the offensive category, here's an example of a post that falls into the category of baffling non-sequitur. After the death of David Bowie,
Crocs pulled together
an image of a white Crocs shoe superimposed on Ziggy Stardust's famous red lightning bolt, along with the words "Your magic will be missed, but your inspiration lives on forever. #David Bowie."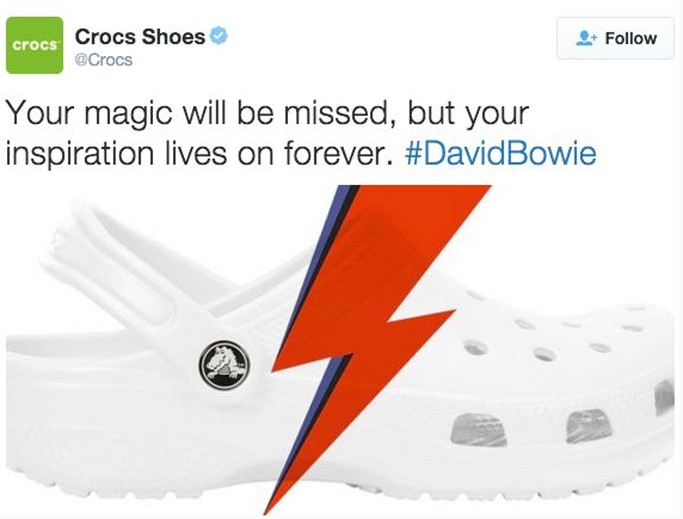 This one was met with a similar outcry of both mockery and offense at the attempt to exploit the loss of an icon with a weak plug for Crocs. The worst offenders are those who simply slap a logo or an image of their product on a RIP tweet when their product or brand is completely unrelated to the celebrity -- just like Cheerios'
widely hated Prince tribute
. Made worse in the case of Crocs is the fact that Bowie himself was considered a fashion icon, and Crocs shoes are famous for being hated by the fashion set. There's simply no link between David Bowie and Crocs. Conversely, several fashion brands, like
Marc Jacobs
, tweeted fashionable images of the singer alongside a quote from one of his songs and a #RIP. Because of Bowie's status as a fashion icon, these tasteful tributes actually made sense -- and did not offend.
The Rare Exceptions
This leads us to the rare exceptions in which a celebrity tribute is not an entirely risky idea, although it's important to remember that a RIP post is never mandatory for a brand and not posting is almost always a safe and acceptable choice.
A general rule for these rare exceptions is that if a brand is either directly related to the celebrity (a spokesperson or endorser) or the celebrity has worked closely with a brand, it's OK for the brand to post a well-thought-out and simple tribute.
Almost 99 percent of the time, brands should refrain from using a product or logo in the image posted -- an image of the celebrity works perfectly. In that other 1 percent is Chevrolet's tasteful,
well-received tribute to Prince
: an image of a Corvette with the words "Baby, that was much too fast" from the song "Little Red Corvette." Note that this was a success because Prince's song directly mentioned the brand in question, and the minimalist tribute didn't even mention the singer by name.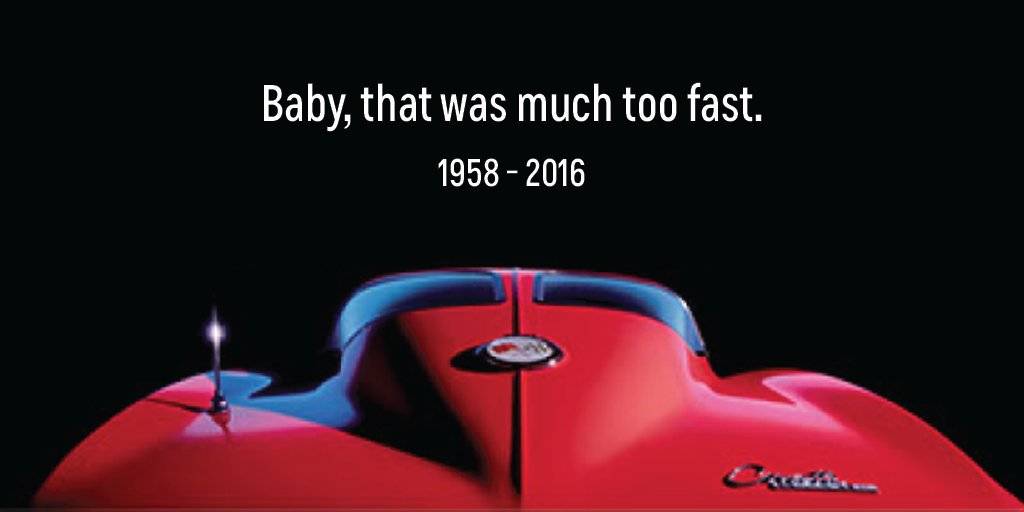 Brands should tread with extreme caution when commenting on celebrity deaths, and instead aim to find a more creative way to connect with their customers on an emotional level -- a way that has a higher chance of success and lower chance of offending, ideally.
---
Author Credit: This great post was contributed by Scripted Writer Lauren McInnes