How Influence & Co. Built Their Content Marketing Team [Interview]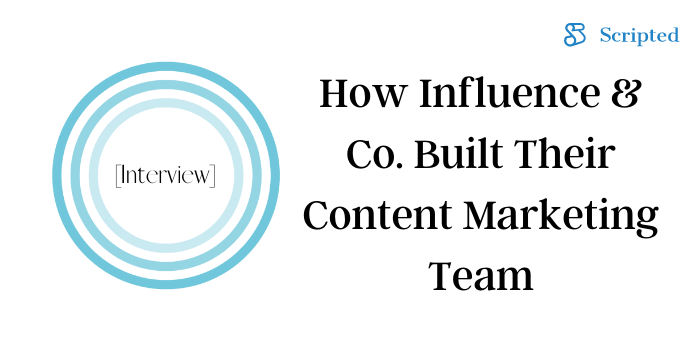 We caught up with Influence & Co. to learn more about how they structured their content marketing team.


Kelsey Meyer is the president and co-founder of Influence & Co., a company that helps brands position key individuals as industry influencers and thought leaders. As a company that's focused on building thought leadership, content marketing has played a key role in their success. In this interview, Kelsey tells us about how they built a content team in the early days of their company -- and what other companies can learn from their own content journey.

Scripted: How is your content team structured, and why?
Kelsey: When Influence & Co. employees say we practice what we preach, we sure mean it! We have account strategy, marketing, editorial, and publication departments that all work simultaneously on client work and internal content.
In our process, the topic for each piece of content is fleshed out in a pitch meeting, which includes a lead from each department. It's then taken through the writing and editing phases -- we take each piece through our editorial process twice, sometimes three times. If the article is going to an external outlet, someone from our publication team will approve it and make sure it aligns with that publication's specific guidelines. This is a process that we've perfected and streamlined for our clients, and we love it so much that we decided to execute it internally as well. And it's worked wonders for us.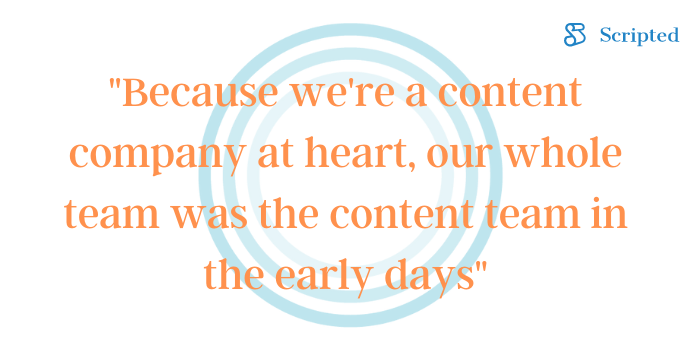 Scripted: What did your content team look like in "the early days"?
Kelsey: Because we're a content company at heart, our whole team was the content team in the early days. We started with me, my co-founder, John Hall, a part-time content strategist, and a part-time freelance writer/editor. We hired both of the part-time people on as full-time members within a few months, and they've been with us ever since. In the early days, there was a push toward quantity; now that we've scaled a bit more, we have the luxury of being able to push toward quantity and high quality at the same time.
Scripted: Why do you think it's important for a marketing team to have someone dedicated to content marketing?
Kelsey: While I don't think having one person "handle" content marketing alone is ideal (we actually published a blog post on why content isn't a one-woman show!), it is crucial to designate part of the team to coordinate and manage content initiatives. Publishing high-quality content from your company's employees is exponentially beneficial, both for the longevity of your brand and the manner in which you engage your audience.
Building your brand as a leader in your space doesn't come easily, and that's where content can serve as the vehicle to drive those initiatives. People work with people they trust, so having your CEO, VP of marketing, or other key leader publish content and educate the community about solutions to common barriers, industry updates, and helpful resources (without being promotional) bridges the gap and builds that trust that brands so desperately need.


Our best suggestion is to have an in-house person on your marketing team focus on overall content strategy, then enlist the help of a company that specializes in the type of content you're looking for -- whether that's video content, thought leadership content, or social content -- to help scale the amount of content you can produce. We wrote an article on when it makes sense to outsource part of your content marketing, and you can read it here.
Scripted: What advice to you have for businesses just starting out in building a content team?
Kelsey: Don't start writing until you have a strategy. There are so many companies that are writing three or four blog posts a week about the most random things because they've been told, "You have to do content." "Doing" content with no strategy is a waste of time and money. Start with a comprehensive content strategy, and answer the "who" and "what" questions regarding what you need to accomplish your goals.