Top 10 Best HR Blogs for Content Inspiration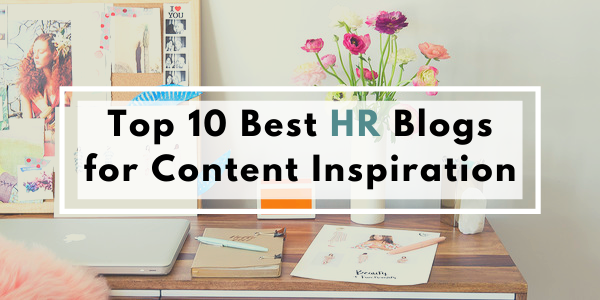 Human resources is a broad niche. At any given time, HR professionals have a number of concerns and questions in front of them as they continue to tackle workplace issues like engagement, retention, and inclusion. So, if you're in charge of planning or creating engaging and insightful HR content, it's easy to feel a little lost.
These ten blogs offer tons of content inspiration for professionals in need of new ideas for their HR audience. Take notes on the topics, structure, and overall style to better resonate with your readers.
#1 When I Work
Top Reads:
The When I Work blog is dedicated to the topics of people management and leadership. With templates for just about everything (including employee termination letters), it's a rich resource for HR professionals in any company. The posts vary from regulatory and policy-related to advice on backend productivity and overall culture.
#2 SnackNation
Top Reads:
Don't let the brand behind this blog fool you. The blog from SnackNation may center around employee appreciation (often promoting SnackNation's products), but it's far from limited to content marketing and actually offers a ton of content pertaining to HR and creating a healthy workplace environment.
The brand's focus on health and wellness really shines through in their blog's content, and that offers lots of inspiration given that today's brands are seriously focused on work-life balance and employee morale. As far as HR-related content goes, SnackNation can fill in the employee appreciation and support gaps with ease.
#3 TalentCulture

Top Reads:
TalentCulture offers HR news and insights for the modern workplace. From pertinent topics, like sustainable remote work policies, to insightful articles on compensation transparency, the TalentCulture blog is one worth bookmarking. They've also nicely categorized all of their content into a handful of categories, including HR technology and HR strategy.
#4 SHRM
Top Reads:
SHRM is the go-to resource for inspiration on the most pressing and serious topics the HR world is facing. With a focus on D&I (diversity and inclusion) along with legal compliance, benefits, and other policy considerations. The blog may not have the trendiest layout, but it does offer organized, authoritative content that's worth following.
#5 The Employer Handbook

Top Reads:
Straightforward and on-point, The Employer Handbook is another popular blog HR professionals continuously turn to when they need help with compliance, people management, or just an update on the latest industry news. It's a particularly great resource for more creative and out-of-the-ordinary content (like "The Most '2020' Social Media Firing of The Year").
The author, Eric B. Meyer, is a well-respected industry professional and he's also the partner of a national law firm. That puts him in a unique position to offer input on some of the industry's pressing (and unique) legal matters, like whether or not a business could dodge a discrimination claim by closing and re-opening again with a new name.
#6 Culture Amp

Top Reads:
If you're looking for forward-focused content ideas in the world of HR, Culture Amp has it. This blog is driven by the movement towards a people-centric workplace that cultivates balance and wellness. Beyond culture, the blog talks about managing performance, engagement, experience, and wellbeing at every level. It also touches on the important topics of Diversity & Inclusion along with encouraging and enabling continued learning.
Since Culture Amp as a brand is focused on driving behavioral change within an organization, they also have a lot of insights gained from their own case studies and client surveys and they're always including them within articles to better inform their audience. That makes for very interesting reads and statistics you can certainly link out to in your content.
#7 Nectar

Top Reads:
The Nectar blog is entirely devoted to the topics of HR. It's another resource that leaves a bit to be desired when it comes to the actual user interface, but the content and insights are top-notch. Topics of employee experience, engagement, perks, and benefits take the spotlight, helping you get inspired to write about rewarding and appreciating employees in ways that the modern worker will truly appreciate.
#8 HR Bartender
Top Reads:
With a slogan like "work responsibly," how could you not follow the HR Bartender blog? It's operated by Sharlyn Lauby, a former HR professional who's now a consultant for others in the industry. Her blog is extremely fun (and informative) to read as she puts her intriguing spin on various topics, like taking a "fake commute" if you work from home.
Just a quick glance at the latest posts will show the variety of topics Lauby covers, giving you plenty of inspiration for your HR-related content. There's also an entire section devoted to resources for HR professionals, which is also worth sifting through if you want to enrich your content with workbooks, templates, or downloads.
#9 The HR Capitalist
Top Reads:
The HR Capitalist may not look like the most modern blog on the block, but it's a dependable resource in the HR community. With a complete focus on HR professionals, the content here offers a lot of advice that individual professionals can take to heart. Whereas other blogs on the list tend to focus on the HR department's role as a whole within an organization, this one is more akin to one-on-one professional guidance from one HR professional to another.
#10 Workology
Top Reads:
Workology isn't just a blog. This is a resource you could get lost in for hours as you read the latest posts and perhaps listen to the podcasts. The content is topical, engaging, and thoughtful, covering some alternative and forward-thinking topics alongside the more traditional. Everything from HR technology to affirmations are written about here, which is great if you're looking to get outside of the box and attract a wider audience.
Perhaps one of the nicest aspects of Workology is that this is a resource that truly caters to businesses of all sizes. While many HR resources tend to focus on bigger companies, this one goes out of its way to offer guidance tailored to small businesses (along with larger ones, of course). So, keep that in mind if you have SMBs in your target audience.
Start Publishing Insightful, Engaging Content
All the content inspiration in the world can't replace the writing skills of a talented HR specialist. Here at Scripted, we have a number of human resources writers prepared to pitch ideas and take on your projects with a passion. If you're looking for a content solution, partner with Scripted.
Our self-service and fully managed options give you the flexibility you need to consistently publish engaging, insightful content without breaking your budget. Learn more by reviewing our plans or reaching out to the Scripted team.

---
Published by
Carolyn Heard
on Tuesday, March 16, 2021
in
Blogs
,
Content Marketing
,
Hr
,
Culture Amp
,
Hr Bartender
,
Nectar
,
Shrm
,
Snack Nation
,
Talent Culture
,
The Employer Handbook
,
The Hr Capitalist
,
When I Work
,
Workology
.