Fiverr vs Scripted: Features, Prices, Reviews, and Writers
Every organization needs content that gets attention online. As such, digital content creation has become an essential service. Not every company can afford to hire a team of content creators, campaign managers, and SEO researchers. Freelancers working with online platforms like Fiverr and Scripted give you a more affordable, flexible way to get the content you need to grow your business.
Of course, choosing the right content creator for your business can feel like a stressful task. A lot of websites make big promises about how they can help grow your brand and attract more customers. The following comparison will help you make an informed decision if you're choosing between Fiverr and Scripted.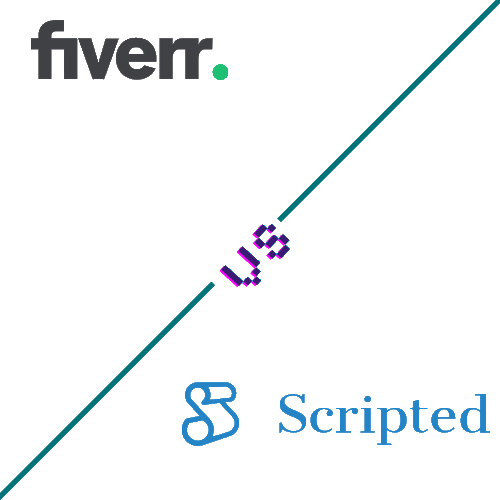 How Scripted Works
Scripted excels at giving its members high-quality content for blogs, landing pages, social media accounts, newsletters, and email campaigns. By only letting experienced writers join our network, we ensure the absolute best quality. Writers must pass multiple tests when applying that showcase their excellent writing and editing skills. We only accept about 2% of all applicants.

Finding Writers on Scripted
When you become a Scripted member, you gain access to thousands of writers who know how to:
Optimize content for search engines;
Mimic brand voices to maintain consistency across channels;
Write compelling calls to action that convince readers to become customers;
Create social media posts that encourage people to click links;
Give customers instructions about how to use products and services.
The Scripted platform has a search feature that lets you focus on expert writers who have already published great content in your industry. Every writer has a profile with:
A rating generated by client reviews;
A bio that gives you information about their interests and experience;
The percentage of clients who say the writer followed guidelines;
A list of recent writing samples.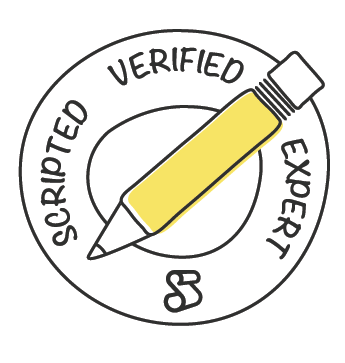 Getting Proposals From Scripted Writers
Once you setup a project, you can invite several writers to send you proposals and bids. This gives you the opportunity to choose the best ideas from trusted writers. With a blind bidding system, you also get to select proposals that fit your budget without having writers trying to undercut one another. This helps you focus on who's most qualified in your price range.
When you work with Scripted, you have complete control over who you hire to create the content you need. If you don't like any of the proposals, you don't have to accept them. However, most members find that they get lots of diverse, interesting ideas that fit nicely into their content strategy.
Building a Team of Reliable Writers
As you work with Scripted over time, you will probably decide that you like some writers more than others. Building relationships with your favorite writers will make it easy for you to get excellent and consistent content anytime you need it.
Keep your team motivated to work with you by:
Giving them work frequently;
Inviting them to send you project proposals;
Sending feedback that helps them exceed your expectations;
Accepting finished projects instead of waiting for the platform to auto-finalize;
Tipping writers when they impress you.
You don't need an in-house content team. Scripted can give you all the services that you need to publish effective content.
Scripted Fully-Managed
Scripted Fully-Managed makes it easier than ever for your business to publish content that establishes authority, reaches your audience, and increases conversions. You get all of the perks of hiring an on-site content marketing team, but you don't have to pay for employee benefits and salaries.
How Fiverr Works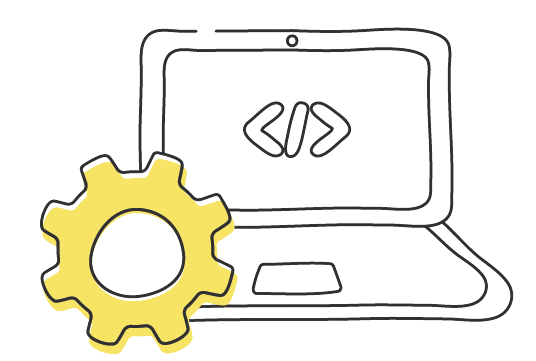 Fiverr takes a different approach to outsourcing. The platform doesn't vet its content creators and they allow anyone to join and start selling. That doesn't mean Fiverr's writers can't produce good work. It does, however, mean that you might have to go through a lot of profiles before you find someone you trust.
When you sign up with Fiverr, you get to tap into a huge network of freelancers with different skills. Not all of them are writers. You can hire people who work as:
Logo designers
Translators
Website designers
Photographers
Musicians
Animators
Video producers
Voice actors
The diversity of services Fiverr offers can come in handy when you want to take a creative approach to reach new customers.
Choosing Fiverr Sellers
On Fiverr, clients are called "buyers" and the people you hire to do a job are called "sellers." The platform lets you search for Fiverr sellers with specific skills. Since the company doesn't vet its sellers, though, you always take a risk when you hire someone for the first time.
You can think of each freelancer on Fiverr as an independent business. Fiverr helps manage the transaction, but it doesn't get involved in most projects. Instead, Fiverr sellers set their own rules, including:
How many revisions you get;
Whether you need to supply them with keywords;
The types of content you can request;
When the project gets delivered to you.
Since you have so many options, the experience can feel a little confusing. Once you find people you trust to give you quality work, though, it becomes much simpler.
You don't have to hire someone blindly. Fiverr sellers that have been on the platform for several months or years should have reviews that will help you decide whether you want to choose them. Look for sellers with a lot of 5-star reviews. Also, pay attention to the seller's "level," which ranges from "New Seller," to "Level 1," Level 2," and hand-picked "Top-Rated" sellers.
If you want someone to manage projects for you, opt for Fiverr Business over the regular Fiverr platform. Fiverr Business will connect you with an assistant who helps you find the right talent for your projects. It will also give you tools to:
Manage your team of writers;
Oversee your budget while working with multiple freelancers;
Collaborate with freelancers;
Add up to 50 users.
Fiverr Business isn't as "hands-off" as Scripted Cruise Control, but it's a step in that direction.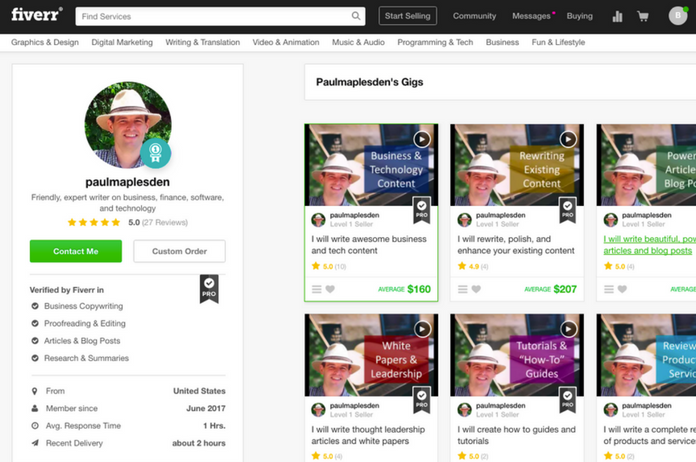 Self-Serve Basic
$199
/month
$100 content credit included
You can only choose this membership option as long as you spend $1,000 or less per month on content.
The membership comes with several services that can help you start publishing spectacular content within days.
Some of the most popular services include:

Unlimited access to Scripted's pool of writers.

Free blog ideas generated by Scripted writers.

One round of revisions for each project.

24/7 email and phone support.
Self-Serve Premium
$499/month
when paid annually
With this membership, you can spend up to $2,500 on content each month.
May clients choose the Self-Serve Premium membership because they want:

Unlimited access to Scripted's Premium Writer pool.

SEO-friendly content.

Two rounds of revisions that ensure you get the perfect content.

A content strategy consultation with quarterly reviews.

A dedicated account representative.
Fully-Managed
$1299/month
when paid annually
You can spend up to $10,000 on content per month. If you need more content, though, your dedicated account manager can work with you to increase the bandwidth.
Fully-Managed gives you the easiest way to publish optimized content that gets results. Fully-Managed members get:

A personalized selection of writers that can serve their needs.

Unlimited content ordering.

Two rounds of revisions.

A dedicated account manager who will work with you and the best writers for your industry.

Ongoing content strategy with monthly reviews.
Fiverr Prices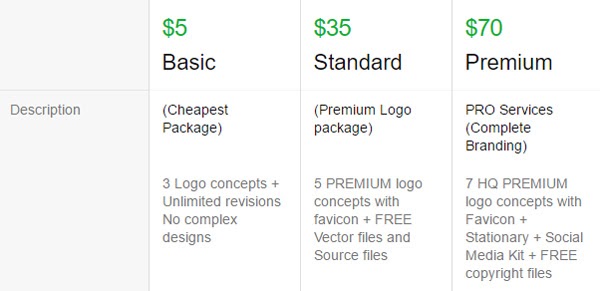 Currently, freelancers have more control over how much they charge.
Some digital freelance writers still charge $5 for blog posts, social media posts, and similar projects. More experienced writers may charge more.
In general, most sellers now price per word, with the most common range being $0.03/word to $0.05/word.
Orders that cost $20 and under have a $1 processing pay that helps cover the cost of running Fiverr's online marketplace. The company charges a 5% fee for orders that cost more than $20.
If you want to join Fiverr Business, your first year of membership doesn't cost anything. After the first year, you will pay $149 annually.
What Clients Say About Scripted
Getting content for our blog used to be a long and painful task. It was always very time consuming for our team. By simply uploading our topics on Scripted, along with main ideas and a couple of references we were able to get great articles, ready to publish in less than a week!
- Mathieu Laroussi, CEO and Founder at Guarana Technologies
Scripted has been the perfect solution and partner for our done-for-you content model. I 100% trust that the Scripted team is going to knock our client's posts out of the park, and they have been the outsourced writing vendor I've recommended countless times to clients in my own consulting practice. I couldn't be happier with the results!
- Jonathan Ronzio, Founder at Content Jelly
What Clients Say About Fiverr
Fiverr is really easy to use and because of its set up where freelancers can provide various services, it makes it even easier for the buyers to get services done, by picking the best freelancer suited to their needs. Also Fiverr has been able to maintain discipline in terms of time duration given to sellers to complete a task, also leaving space for getting work re-done in case of any issues.
- Palvika Singh, Social Media Marketer at The Conspiracy Studios
There are times the website is a hit and a miss but considering the pricing of everything, it shouldn't be hard to find what you need if one seller is incapable of delivering your exact specifications.
- Joseph Reyna, Social Media Manager at Bulk Brands LLC
The Pros and Cons of Fiverr and Scripted
Fiverr
Opportunities to hire sellers at extremely low prices.

Huge network of professionals with experience in diverse fields like writing, design, and photography.

Option to join Fiverr Business for additional services.

User reviews help you choose reliable sellers.
Low prices can mean you don't get the quality content you need to grow your business.

Sellers operate like independent businesses, which can get confusing.

Little oversight from Fiverr managers.

Practically anyone can join the network without needing any professional experience.
Scripted
Large network of vetted writers who can produce professional content.

Informative online profiles that help you choose experienced, knowledgeable writers.

Request proposals to find writers with great ideas.

Build a team of writers who understand your brand voice and unique style.

Managed accounts that use data-driven insights to ensure your campaign's success.
UI can feel a bit clunky for beginners.
Should You Get Freelance Services From Fiverr or Scripted?
If you want an inexpensive way to buy freelance services like content creation and writing translations, it might make sense for you to use Fiverr. Remember, though, that you will need to manage relationships with your freelancers. The company doesn't do much to vet its writers, so you never know what level of quality you will get from them.
Scripted gives you an opportunity to work with some of the best freelance writers in the United States and other countries. Everyone on the Scripted platform has passed tests for grammar and word choice. They also have SEO skills that will your posts get noticed by search engine crawlers. Great SEO is important because, without a first-page ranking, it's unlikely that anyone will find your content.
Start with Scripted today to get a 30-day free trial. You will probably pay more using Scripted than Fiverr, but you will get a significantly better return on your investment by increasing traffic to your website and converting more people into paying customers.
‍

Sign Up for a 30-day Free Trial