Crowd Content vs. Scripted
Crowd Content and Scripted have become popular options for companies that want to outsource their content needs. This comparison will help you decide which service is best for your content marketing strategy.
Types of Content Offered by Crowd Content and Scripted Writers
Scripted and Crowd Content writers create diverse types of content with quick turnaround times. Content types offered by both writing websites include:
Blog posts
Product descriptions
Social media posts
Ghost written content
Articles
Ebooks
Content tuneups
Crowd Content also sells city pages and meta descriptions. Many Scripted writers will include meta descriptions upon request. Just include the requirement in your project.
Additional services from Scripted include:
Transcriptions
Newsletters
Landing pages
Press releases
Video scripts
Both companies can help clients set up custom projects that don't fit into popular content categories.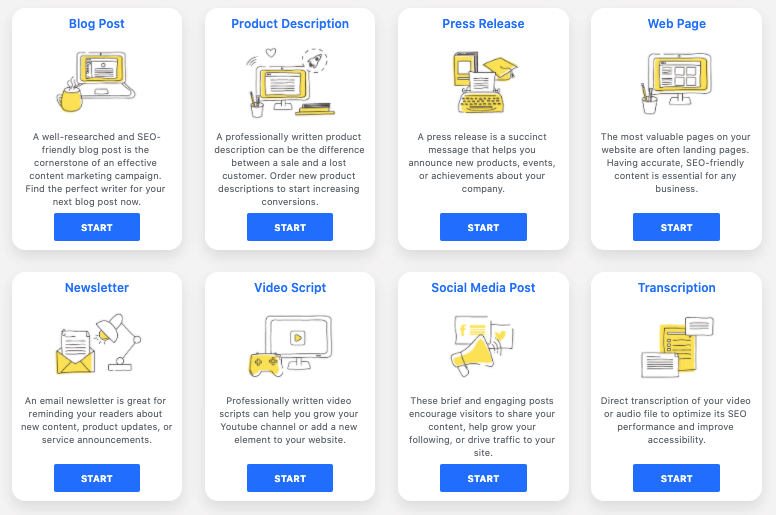 How Crowd Content and Scripted Vet Their Freelance Writers
Creating content that succeeds takes a lot of skills. The best writers know how to research topics, optimize content for SEO, keep readers engaged, organize ideas, and avoid spelling and grammatical mistakes.
You turn to a writing website so you don't have to vet every writer you hire. Some companies put more effort into choosing writers than others, though.
How Scripted Vets Writers
Scripted uses a lengthy application process to vet every freelance writer who joins the network. Writers allowed to join Scripted must show excellent skills in:
Grammar
Word choice
Editing
Creative Thinking
Research
Organizing
Collaboration
Less than 2% of Scripted applicants get invited to join the network.
How Crowd Content Vets Writers
Crowd Content doesn't vet incoming writers as strictly as Scripted. Crowd Content writers are, however, held to standards. The platform uses a three-strike system. After a writer gets three strikes, Crowd Content removes them from the network.
Writers can get strikes by:
Dropping an order after the 30-minute Drop Window.
Failing to submit projects before the deadline.
Missing deadlines for revisions.
Crowd Content also uses a point system to determine which writers do the best work. All ratings come from clients. Crowd Content will not adjust the ratings for any reason.
How Prices From Scripted and Crowd Content Compare
Freelance writing almost always costs less than hiring a full-time employee for your business. Not only do you avoid paying someone a salary, you don't have to pay freelance writers the benefits that employees expect as part of their compensation.
Keep in mind that it doesn't always make sense to choose a content creator based on price. Content mills are infamous for churning out blog posts for just a couple of cents per word. The extremely low price doesn't look as appealing once you receive your content and realize that publishing it on your site will likely damage your SEO strategy and make your company look unprofessional.
Then again, you don't want to spend more money than necessary on quality content that helps you reach your goals. Knowing the basic price structures from Scripted and Crowd Content will give you an idea of what you get for your money.
Crowd Content Pricing
| | One-Star Entry Level | Two-Star Freelance | Three-Star Professional | Four-Star Expert |
| --- | --- | --- | --- | --- |
| Basic | 2.2 Cents Per Word | 3.5 Cents Per Word | 8 Cents Per Word | 12 Cents Per Word |
| Fresh Product Description | 2.2 Cents Per Word | $2.75 Per 50 Words | $5.00 Per 50 Words | 12 Cents Per Word |
| Product Description | 2.2 Cents Per Word | $1.75 Per 50 Words | $2.75 Per 50 Words | 12 Cents Per Word |
| Tweets | 2.2 Cents Per Word | $1.75 Per Tweet | $2.75 Per Tweet | 12 Cents Per Word |
| Facebook Posts | 2.2 Cents Per Word | $2.25 Per Post | $3.25 Per Post | 12 Cents Per Word |
| Metadata | 2.2 Cents Per Word | $1.95 Per Set | $2.80 Per Set | 12 Cents Per Word |
Self-Serve Basic
$199
/month
$100 content credit included
You can only choose this membership option as long as you spend $1,000 or less per month on content.
The membership comes with several services that can help you start publishing spectacular content within days.
Some of the most popular services include:

Unlimited access to Scripted's pool of writers.

Free blog ideas generated by Scripted writers.

One round of revisions for each project.

24/7 email and phone support.
Self-Serve Premium
$499/month
when paid annually
With this membership, you can spend up to $2,500 on content each month.
May clients choose the Self-Serve Premium membership because they want:

Unlimited access to Scripted's Premium Writer pool.

SEO-friendly content.

Two rounds of revisions that ensure you get the perfect content.

A content strategy consultation with quarterly reviews.

A dedicated account representative.
Fully-Managed
$1299/month
when paid annually
You can spend up to $10,000 on content per month. If you need more content, though, your dedicated account manager can work with you to increase the bandwidth.
Fully-Managed gives you the easiest way to publish optimized content that gets results. Fully-Managed members get:

A personalized selection of writers that can serve their needs.

Unlimited content ordering.

Two rounds of revisions.

A dedicated account manager who will work with you and the best writers for your industry.

Ongoing content strategy with monthly reviews.
Managed Project Services From Crowd Content vs. Scripted
As mentioned in the above section, Crowd Content and Scripted have managed project services that make it easier than ever for clients to get the articles they need. The companies take similar approaches, but they have a few differences that will likely mean you prefer one over the other.
Crowd Content Enterprise Content Solutions
A pre-project consultation that lets a manager determine your content needs.


Developing your brief and style guide to let Crowd Content writers know how to meet your requirements.


Assembling your workforce of freelance writers.


Calibration, which gives you a chance to test the first pieces of content you receive and adjust your requirements as needed.


Content creation, when your freelance writers fulfill your order.


Feedback and adjustment, which gives you other opportunities to fine-tune your content strategy.
Scripted Cruise Control
A dedicated account manager who will talk to you about your goals and create a strategy designed for those goals.


Keyword research that will improve your SEO without forcing you to pay for expensive tools.


A team of carefully chosen writers who can create the types of content your strategy needs to succeed.


Reviews from qualified editors who can improve your content before the first draft reaches you.


Content ideation that helps you choose topics that will attract interest in your industry.


Analytics and reporting that tracks targeted keywords, social media engagements, and page traffic to show you precisely how well your Cruise Control strategy works.
Crowd Content vs. Scripted: Their Order Processes
Most companies want an easy, straightforward ordering process that lets them get high-quality content quickly. You may also want to look for a platform that gives you the flexibility to create unique jobs, choose experienced writers, and manage your projects.
Scripted Ordering Process
You don't have to put in so much effort, though. You can simply ask writers to submit proposals. Then, you can review their ideas, expected article lengths, and prices to choose the best options for your website


If you want to ensure success, you can invite some of Scripted's top writers to submit proposals. To hire a content writer:


Visit the profiles of freelancers with experience in your industry.


Read writing samples to see how well the content creators can adjust their tones to match a brand voice.


Look at the writer's score to make sure you choose someone other Scripted members enjoy working with.


See how many clients have "favorited" the writer.
Crowd Content Ordering Process
Crowd Content has a very simple ordering process


You just create a project and submit it to the platform.


Crowd Content writers trying to find work can pick up your assignment.


Since the service uses four quality levels, you can decide which writer tiers can access your projects.


Once you submit your project, you wait until the writer sends you a draft.
What Clients Say About Crowd Content
I'm not sure what you have to do to get a decent blog post out of this place. They can write but its 2-3 star quality work and that is about it. The content I have been given is nowhere near the cost they charge. I have had local people write better articles for half the cost. I've learned my lesson and will take my business somewhere else. - Thomas Drake
Client Reviews About Scripted
The talented writers that I've engaged with on Scripted are the biggest catalyst behind my 5-star review. The UI is intuitive and simple to navigate; I'm still learning the new dashboard. I've interacted with customer support a little and they were very helpful and responsive - Kelly
Big fan. So far, I have received quality, reliable writing that's easy to use. - Thom Nicknish
Crowd Content vs. Scripted: Pros and Cons
Crowd Content
Low prices make it affordable to buy content.

Simple platform that doesn't require much time or thought.
Low prices can mean that you get hastily written content that doesn't meet your quality expectations.

Some customers complain that hiring more expensive four-star writers doesn't actually improve quality.

Managed services still rely on you to do a lot of the work.
Scripted
Access to a network of vetted writers who must meet high quality standards.

Opportunities to build relationships with your favorite writers.

Cruise Control manages all of your content and analytics needs.

Flexible platform lets you create diverse projects or ask writers for their ideas.
Higher prices than Crowd Content.

It can take some time to find writers who suit your brand's voice perfectly.
Hire Experienced Writers on Scripted to Fuel Your Content Marketing Strategy
Fulfill all of your content needs by joining Scripted. You can choose a membership plan that fits your budget and the services you need. You can also sign up for a Cruise Control membership that acts as a content marketing and social media department for your business.
‍

Sign Up for a 30-day Free Trial