Case Study: DonorWerx.com

DonorWerx.com, formerly NewFireGiving.com, is a non-profit organization dedicated to helping pastors and charitable organizations manage and grow their donor list through their advancing technology and software. Founders Gavin Globensky and Stu Baker describe their company as such:
"Founded from the mindset of 'always do more, we believe passionately in donors, technology, pastors, and all things communication. Our mission is to help organizations create a better donor experience by listening to donors, leveraging the power of technology and strengthening relationships through effective and relevant communication."
In this case study we will examine how DonorWerx was able to take a brand new domain and in under 10 months establish authority and grow their traffic by leveraging unique content and a targeted content strategy with Scripted.
The Problem


Gavin and Stu came to Scripted with a new site and a new brand in early 2020. A new domain means they were starting from scratch with no authority in their niche and no inbound traffic coming to the site. We knew it would be a challenge to build a new website into an authority, especially in a competitive niche, but it was a challenge we were excited to take on.
"Launching a new brand or website can be intimidating. There are always a lot of moving parts. Scripted helped designed a strategy that builds authority and trust in our DonorWerx brand. Together, we committed to building this website the 'right way,' which meant finding the best writers to match our voice, optimizing for SEO, and creating congruency with our existing blog articles." -Stu Baker, DonorWerx
So we got to work. 
The Solution
Our plan was to create a comprehensive content strategy that could produce consistent, high-quality content that would attract links, help them rank for relevant keywords, and finally, bring sustained traffic growth. 
Easier said than done, right?
Well after doing some initial keyword research we were able to find keywords and phrases that are relevant to the company's desired target audience, have enough search volume to bring in sustained traffic, but not so competitive that a new website would find it too difficult to rank for--even with superior content.
After landing on a list of search terms, we then created a list of content types. We would focus on multiple kinds of web pages and blog posts as the cornerstone of our strategy and pepper in social posts and email copy to promote that content. We would also do updates, what we call "tune-ups", to existing content on the site to better match our strategy and the new branding.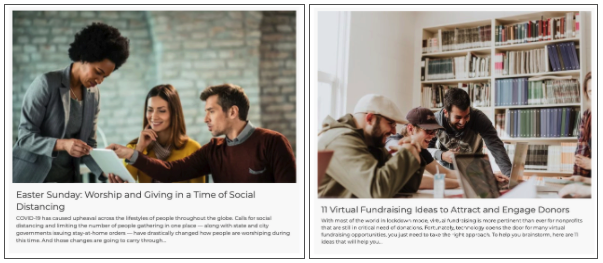 To have an impact on search results we knew that we'd have to enact an aggressive publishing cadence. In Q2 of 2020 we published 54 new pieces of content and by Q3 we were up to 65. By mid-August, just 6 months into our campaign, we started to see real results.
We found particular success with listicles like "The 12 Essential Sermons on Giving" and "7 Great Ideas For Church Social Fellowship Events" and "How To articles like "How to Write a Heartfelt Church Thank You Letter". These pieces resonated with their audience and over time started ranking for key terms and bringing in organic traffic.
"We knew that if we were going to build this brand, we had to be consistent and relevant. Scripted listened and proposed an aggressive 90-day content plan. They were spot on in their projections. After the 90 day mark, we saw our analytics start to climb and they haven't slowed down. " -Stu Baker, DonorWerx
The Results

From a brand new domain in February to over 900 monthly organic visitors in December, DonorWerx now has authority and a base of sustained traffic from which they can continue to grow.

DonorWerx started to see organic traffic growth in as little as 3 months of content production and by December of 2020, they ranked for over 2,000 keywords. And because they've created content relevant to their organization, all those keywords and phrases are bringing in targeted traffic to their site.



"Before Scripted, we were scrambling every week to publish new and relevant content. It felt like we were always playing 'catch up' with no clear-cut, long-term communication goals.  Well, those days are long gone. Since entrusting Scripted with our blog, the DonorWerx website traffic has skyrocketed, our team is freed up to focus on better serving our clients, and we've positioned DonorWerx as a trusted advisor to help churches and non-profits raise money and reach more people." - Stu Baker, DonorWerx
Conclusion
This important thing to know about the success DonorWerx found is that they really committed to creating the best content for their audience and they believed in the long-term benefits of content marketing. Scripted worked with the leadership at DonorWerx to find the right strategy to achieve their goals and we are happy that they trusted us to execute that strategy.
Thank you to everyone at DonorWerx for letting us tell your content story and we can't wait to see what we'll accomplish in 2021.
Looking to rebrand or build your organic traffic through superior content? Sign up for Scripted today.