Top Technology Blogs by Traffic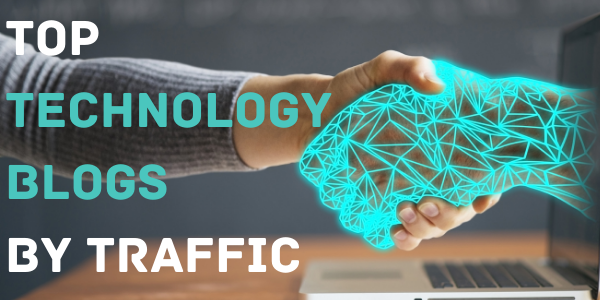 If you run a tech business, chances are you have a marketing team that works hard to promote your company to potential customers. One of the most important marketing strategies today that some marketers overlook is content marketing. Content marketing is a promotional strategy in which a business creates content of value that they share with the world, which helps establish their reputation as a thought leader and a business that can be trusted for its expertise and know-how. One of the most important parts of content marketing is blogging.
While you might not realize it, there are tons of individuals and businesses employing blogging as a content marketing strategy. In fact, last year, there were about 31.7 million people running blogs in the United States alone. There's a reason so many people run blogs: not only is it a chance to share your brand's voice, give helpful advice and information to the public, and paint yourself as a knowledgeable thought leader. It's also an opportunity to engage with your potential customers and make them feel heard since blogs allow comments. In fact, there are 77 million new blog comments left by readers of blogs each month. Also, your tech business can use a blog to boost traffic to your company website and improve your search engine rankings, because blogs allow for other people to link back to your company. Studies show that companies that run blogs get 97% more links to their websites than companies that don't. The more backlinks that exist to your blog, the higher your rank in Google search results.
Want to learn more about the most successful tech blogs, and how these blogs are using tech news and advice to draw traffic? Check out the 10 most visited below.
Engadget
Engadget is one of the oldest tech blogs on the web. It's been around since 2004. One reason people love Engadget is that it helps people stay up to date with the newest technology and devices available for purchase. It's a comprehensive blog that covers all sorts of tech, so it draws a wide audience
Why People Love Engadget
Buyers Guides:

It can be hard to know what tech devices to buy. Engadget is great about including buyers guides for certain products and types of products, so

Reviews:

Engadget includes honest reviews of a wide variety of gadgets, tech devices, and more. These reviews are written by tech experts and people who've actually tried out the products.

Deals:

The blog's editorial team researches, gathers, and curates the best tech deals available, which helps readers save money on software and gadgets.
The Verge
The Verge is a unique tech blog because it doesn't only cover technology, but also the intersection of tech, art, and science. The blog was founded in 2011 in partnership with Vox Media. The Verge pulls in a wide readership because it covers such diverse topics, and it is updated daily.
Why People Love The Verge
Video:

A section of The Verge is solely devoted to videos. This appeals to people who would rather consume visual and audio content than written content. It gives the blog a tech-forward feel.

Creator Coverage:

The Verge is unique in its dedicated coverage of "Creators," or influencers. The blog gives news about influencers on a variety of platforms, from Instagram to TikTok, and beyond.

Company-specific Coverage:

You can read the Verge's tech news by company—that is, filter news by famous tech businesses. It's a great place to go to read articles about Facebook, Microsoft, Apple, Google, and more.
TechCrunch

Founded in 2005, TechCrunch is another of the oldest tech blogs out there. It has had time to grow its readership, and it's currently one of the most trusted sources of tech news on the web. TechCrunch considers itself a newspaper that's focused on high-tech and startup companies. Tech nerds love TechCrunch because it's focused on tech businesses only. This can be extremely helpful for businesses in the industry who want to see what competitors and colleagues are working on.
Why People Love TechCrunch
Startup focus:

Startup founders who are looking to learn more about the industry and competitors, and get more press about their business, appreciate TechCrunch's focus on startups. They get the word out and keep people abreast of what's going on with new companies.

Popular Newsletter:

TechCrunch offers a popular newsletter that sums up the most important newsletter of the day, which makes it easy for readers to consume the most important news in a bite-size serving.

Crunchbase: TechCrunch provides even more resources for startups. One of the best is CrunchBase, which keeps track of startups that are launching, as well as how much has been invested in them. It also gives investors the opportunity to invest.
Wired
Unlike most tech blogs, Wired is a monthly blog that offers monthly news about new technology. It has a print version, in addition to a blog online. Wired is focused on politics and global news, as well as how tech intertwines into those two things. It is now owned by Conde Nast.
Why People Love Wired
Longer form articles:

Because Wired is monthly, the articles can be more in-depth and lengthier. People enjoy the meatier content that is published here.

Gear features:

Wired does a deep dive each month into the newest and coolest tech gear to buy.

Green-tech and climate focus:

Because Wired is a political and news blog as well as a tech blog, there's a lot of focus on climate change. In the same vein, they feature a lot of green and sustainbly made tech projects, to help reduce our carbon footprint and minimize our impact on the world.
Ars Technica
Ars Technica is a blog that serves "the technologist." The blog has tons of regular IT reviews, as well as news regarding the Internet, software, and more. Ars Technica has been one of the most popular blogs on the web since 1998.
Why People Love Ars Technica
Video game section:

Gamers love Ars Technica because it has a section on video games. You can find lots of info about new games, reviews of consoles, and more.

Science focus:

In the science section of Ars Technica, there is the latest news about science across the globe. This leans more heavily towards a wide variety of sciences than most tech blogs, which tend to keep science news focused on technology. You can find pandemic info, health news, and more.

Honest reviews: Real people and tech writers review gadgets on Ars Technica, so you can get an honest look at how a device or program performs, so you can decide whether you want to purchase it or not.
Gizmodo

Launched in 2002, Gizmodo is a unique tech blog on the web because it features both tech news, and pieces of fiction. Originally launched as part of the Gawker network, Gizmodo has a subsite called io9, which has science fiction and futurism-focused stories.
Why People Love Gizmodo
Down-to-earth tone:

Gizmodo started in the Gawker family, so it's no surprise that the site is casual, friendly, and at times, very funny. Their tagline is "We come from the future," so that gives you a sense of their dry but familiar wit and tone.

Movie section:

Gizmodo likes storytelling, so they include movies and movie reviews in their content. It draws cinephiles to their site.

Field guides:

Rather than provide simple reviews, Gizmodo has a field guide: it explains how new gadgets work, if they're worth buying, and how to make them work for you in your work/play scenario.
CNET
Based in the US, CNET is a tech-focused news blog. The blog has been around since 2004, and last year, they were purchased by Red Ventures. They keep pricing guides, product reviews, and news stories up to date daily.
Why People Love CNET
How-tos:

Cnet writers don't just review and explain things to you. They do how-tos—both written and video. Product demos help people get better understandings of machines and tech gadgets and help them get more use out of the tech tools they buy.

Price guides:

People can come to CNET to find articles about device and gadget values and pricing, which can be very useful.

Cars:

Not all tech blogs cover cars, but CNET does.
Cruise Control with Scripted: Blogs to Help Your Tech Business Grow
Need help starting a blog for your technology? Scripted can help. Scripted gather's the world's best tech and freelance writers who have expert knowledge in your field—and outstanding writing capabilities—so you can utilize a pro to write your blog who really gets your subject matter, and who will also make it sound good. Check out some of the top tech writers Scripted has available on their site, and reach out to us today to learn how you can get started building a blog that grows your business.

---
Published by
Carolyn Heard
on Tuesday, May 11, 2021
in
Blogs
,
Technology
,
Ars Technica
,
Cnet
,
Engadget
,
Gizmodo
,
Techcrunch
,
The Verge
,
Wired
.