Top Food Supplier Websites by Traffic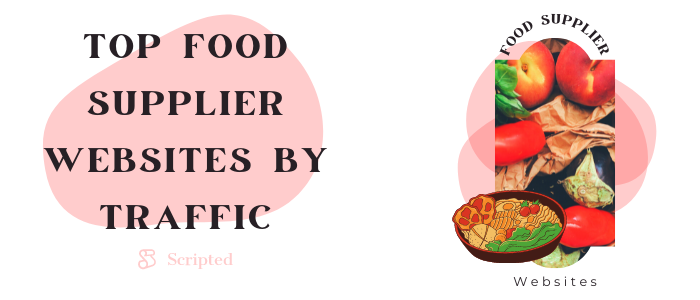 The United States alone has over one million restaurants and a humongous food supply industry that is worth billions of dollars. Food suppliers are the lynchpin of the food industry—without them, there would not be even the tiniest fraction of the food variety and availability that we all enjoy today.
Food supplier blogs target several audiences, often within one website. A food supplier blog owner could target restaurants as their ultimate customers or potential supply partners like egg farms or vegan snack companies to increase their product offerings. 
It's important to understand how the top food supplier websites by traffic actually get that traffic. Content marketing strategies for food supplier blogs can be complex because of this multifaceted audience, but once you are aware of a few key tactics, you can readily increase organic traffic to your own food supplier blog.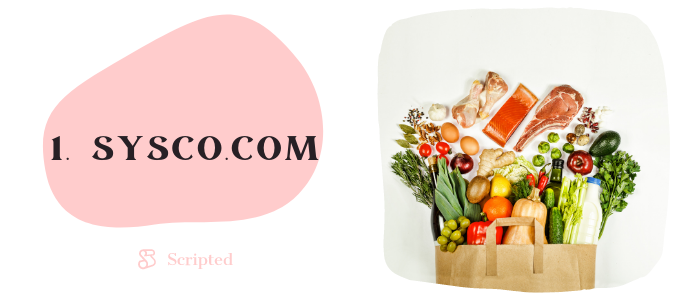 You're probably not surprised to see Sysco on this list. Sysco is among the largest food distributors in the world and ranks in the number one position in Google for key search terms like 'food supplier', 'food suppliers for restaurants, and 'wholesale food service'. According to SimilarWeb, Sysco.com receives around one million visits to its website per month.
Why Sysco.com is so successful: Unlike many companies that publish the content solely under a 'Blog' section on their website, Sysco publishes different types of content across their whole site. This enables them to engage their various audiences at multiple parts of their buyer journey. For example, there's a dedicated section for Supplier Resources with long-form content aimed at potential partners of the company. Elsewhere on the site, there are content-rich product category pages that help the site rank for different categories of food supply, such as meat and poultry, seafood, dairy, produce, baked goods, and desserts. Diversify your content similarly and you'll catch potential buyers at various stages of the sales funnel.
Another giant in the food supply industry is US Foods, so, again, you're probably not surprised to see it among the top food supplier websites by traffic. US Foods ranks for many top terms like 'restaurant suppliers', but it is also getting hundreds of thousands of visits each month from its own brand name keywords. One example is 'chef store', which relates to Chef'Store, a US Foods' warehouse-format supply store serving chefs and home cooks. According to SimilarWeb, USFoods.com receives around 916,000 visits to its website per month.
Why USFoods.com is so successful: Like Sysco, US Foods produces a variety of content for different audiences. But there is one key difference in their content marketing strategy—US Foods keeps its most recent content front and center on its homepage. Among the first things you see when you land there are its helpful resources for chefs and operators that are getting back to work after the COVID-19 pandemic shut so many restaurants down. By prioritizing timely content, you show your readers that you're not just publishing content, you're actually staying ahead of the curve in responding to new trends, ideas, and industry developments.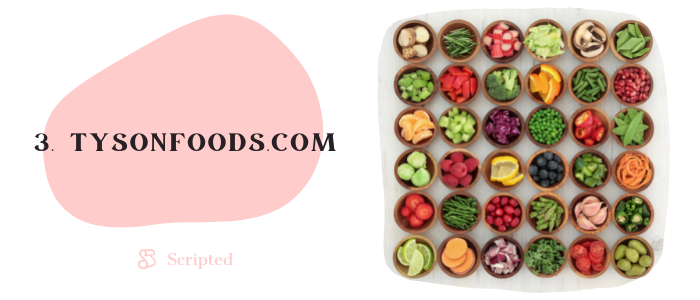 Tyson Foods may not have the immediate brand recognition of Sysco or US Foods, but it still has national distribution and handles around 20% of the beef, pork, and chicken produced in the United States. According to SimilarWeb, TysonFoods.com receives around 113,000 visits to its website per month. While not as impressive as the million visitors the above websites receive, there's still value in looking at TysonFoods.com's content strategy. Here, they focus keyword targeting efforts on the foods they're most well-known for. For this reason, their website ranks for keywords like 'chicken farms' and 'commercial chicken houses, which are two huge keywords that restaurateurs and others in the food industry may search for.
Why TysonFoods.com is so successful: Tyson Foods faces some hefty competition for main keywords like 'restaurant supply', and that is exactly why they've targeted more niche keywords relating specifically to the foods they're most known for distributing. This is a smart tactic—not only does it allow you to snap up some keywords that the competition has missed, but it also allows you to narrow your audience and thus attract only those who are more likely to buy your particular products. There is no point in Tyson Foods targeting, for example, 'vegetarian restaurant suppliers', because consumers know the company for its meats. Being selective in how you target keywords and how you plan your content for various types of buyers is one of the best things you can do to increase organic traffic most likely to convert into a customer.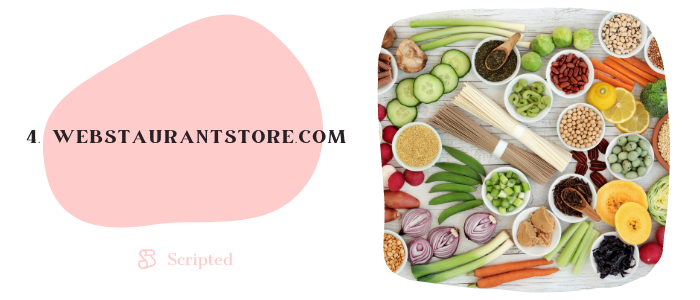 Webstaurantstore.com is a giant in the online food supplier content game. This website sells restaurant equipment, commercial refrigeration items, small wares, storage and transport products, and janitorial supplies, in addition to its food and beverage niches. According to SimilarWeb, Webstaurantstore.com receives around 8.89 million visits to its website per month.
Why Webstaurantstore.com is so successful: There's no denying that having thousands of detailed product description pages helps Webstaurantstores' search engine optimization (SEO). The website ranks for thousands of keywords in the number one spot, from vague food terms like 'charcuterie' to instructional keywords like 'how to sharpen a knife with a stone'. What this tells us is that WebstaurantStore not only produces content that relates to what they sell, but they also try to help chefs and other food enthusiasts learn new skills, discover new products, and try new cuisines. This tactic casts a wide net, but it helps position your brand as a reliable and authoritative source in the food industry, which is exactly what food supplier blog owners should do.
How to Increase Organic Traffic on a Food Supplier Blog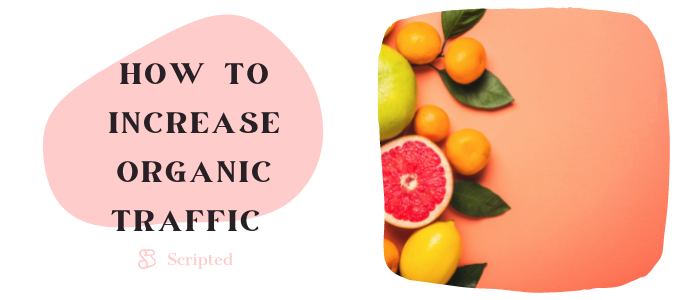 It's clear from the four examples above that there's no one-size-fits-all approach to generating serious traffic for your blog. That said, there are some common strategies and tactics these companies employ across the board. Here's what you can learn and apply to your own food supplier blog content:
Create blogs for different audiences

in different parts of your website, as Sysco.com does with its customer and partner resources.

Organize your content

according to the stage of the sales funnel your audience is in. For example, educational content attracts people who are thinking about buying but aren't quite ready, and review content attracts buyers who have decided to buy and now just need to decide who to give their money to.

Put your newest and most engaging content on your homepage,

and use calls-to-action (CTAs) to get visitors to read it as USFoods.com does with its COVID-19 recovery information.

Target niche keywords

that you want to be known for like TysonFoods.com does by targeting keywords in the meat and poultry supply space.

Publish informative content

that offers your audience a strong sense of trust and loyalty in your brand, as Webstaurantstore.com does with its diverse blog content and helpful articles. 
Scripted Can Help You Post High-Quality Food Supplier Content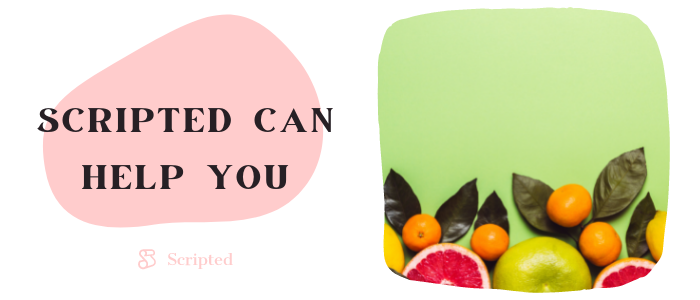 If you're looking to increase organic traffic and enhance your blog with professionally written and edited content, look no further than Scripted's database of food supply writers. Finding and hiring the perfect writer for your website couldn't be easier. 
You might already know the type of content you want to publish on your blog, and if so, write a brief description of what you're looking for. In your notes, include a high-level overview of what the post should be about and what you want readers to do after reading it. This will be the overarching goal for the writer in drafting your piece. 
If you're not sure exactly what you want to post, go through the examples listed above and see what resonates with you. It's important your blog reflects your company's culture and mission.
Next, write down specific goals for the content. What purpose will the article serve? What do you want the readers to do when they've finished reading? Examples for this include:
Attracting more organic traffic from search engines

Encouraging restaurants to sign up for your email newsletter

Getting a restaurant to buy from you

Increasing brand awareness in the vegan foods industry
Once you finish these core sections, think about:
Tone

Target audience

Point of view

Examples of content you like

Things the writer should avoid

How you would like sources attributed (inline or bibliography style)

Target keywords (this is critically important if you want to increase organic traffic)

Any other details you want your writer to be aware of.
When you fill in your brief for a new job posting or contact a writer directly, you'll need to provide these details to communicate what you expect effectively. 
At this stage, you can either post a new job on the Scripted platform and wait for qualified writers to bid for the project, or you can reach out to qualified writers directly. Scripted accepts only the top 2 percent of applicants to its talent pool and each writer has to submit evidence of their credentials in each field in which they wish to write. Our attention to detail means you can rest easy knowing you'll receive quality posts.
Ready to get started? Find your next food supply writer on Scripted!