Top 10 Entertainment Blogs by Traffic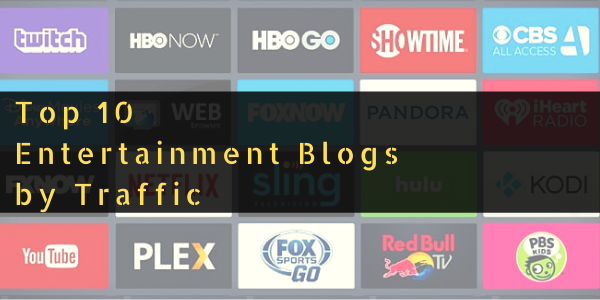 Whether your bread and butter is the film industry, music, gaming, or any other area related to entertainment, there is an immense opportunity available. Research shows that media and entertainment will reach approximately $2.2 trillion in 2021.
Regardless of what you offer, developing a content marketing strategy that addresses your current and future goals will allow you to grow as a brand.
Powered by SimilarWeb, the list below focuses on all categories within the "arts and entertainment" space. This includes everything from comics to literature, performing arts to TV movies and streaming. Although some websites rank higher than others, the goal here is to acknowledge top-ranking sites with successful blogs. These blogs help drive traffic, allowing various brands to achieve business-related goals.
1. YouTube.com
No surprise here, as YouTube draws in over 2 billion logged-in users (and approximately 30 billion visits) each month. First founded in 2005, 73% of adults in the U.S. use YouTube, 51% of which say they visit daily. Based on worldwide traffic, over 21% comes from the United States, followed by Russia. Brazil, the UK, and Japan. Focusing on direct marketing, 78.85% of traffic comes from this channel, followed by "search" with 16.23% — 99.8% of which is organic.
YouTube's blog focuses on all things related to video, art, culture, and trends. Each category offers several featured articles, helping visitors access the latest content. Browse content that covers news and events, artist stories, culture, trends, and more.
2. Netflix.com

First founded in 2009, Netflix has blown up in recent years, becoming one of the most well-known streaming services. Offering viewers access to award-winning TV shows, documentaries, anime, and movies, the website itself draws in an average of 2 billion visits per month. Nearly a quarter of all traffic comes from the United States, followed by Brazil (6%), the UK (5.8%), Canada (5.3%), and France (3.89%).
Netflix creates plenty of content on two very different blogs. The Netflix TechBlog covers all topics related to the company's culture, engineering efforts, product developments, and more. The articles written are technical, requiring immense expertise. This has allowed the company to position itself as a leader in a space that many wouldn't initially expect. Since this blog appeals to a certain niche of developers and data scientists, Netflix also offers everyday users the Newsroom. Here, you'll find global news on business, entertainment, innovation, and social impact.
3. Fandom.com

Also known as Wikia, Fandom.com is "the entertainment site where fans come first." Acting as your daily source of all things related to movies, TV, games, and more, traffic pours in from around the world. Each month, the site attracts around 645 million visits. Just over 27% of this traffic comes from the United States, followed by the UK, Russia, Canada, and Brazil. The bulk of fandom.com's marketing strategy focuses on search with 81.18% of traffic coming from this channel — 100% of which is organic.
The Fandom blog is this brand's "community center," focusing on all things related to games, movies, TV, and video. Based on the content produced, the blog appeals to a wide audience. However, all the content published relates back to the Fandom brand, helping the site increase organic traffic.
4. Spotify.com

Originally founded in 2006, Spotify is a Swedish audio streaming and media services provider. Today, it is one of the largest digital music services, providing access to millions of songs. Pulling in around 335 million visits each month, users flood in from the U.S., Brazil, the UK, Mexico, Canada, and other countries around the globe. Spotify focuses on direct marketing, with 77.98% of traffic coming from this channel, followed by "search" with 12.18% (93% being organic and 7% being paid).
Spotify's blog, For the Record, covers a wide range of topics, appealing to music lovers across all genres. Categories include What's New, Culture and Trends, Behind the Mic, and Inside Spotify. Trending topics are listed at the top of the page, covering the most-read articles across all categories. Music lovers will find content on everything from emerging artists to the most-streamed female artists in the world.
5. Disneyplus.com
Disney+ needs no introduction, as it's the exclusive spot to watch all your favorite movies and TV shows from Disney, Pixar, Star Wars, Marvel, and National Geographic. Although the company didn't launch this on-demand service until late 2019, it gets around 278 million visits each month. Users are from countries around the world, with the top five by traffic being the U.S., Mexico, the UK, Brazil, and Canada. Disneyplus.com's marketing strategy focuses on direct with 73.5% of traffic coming from this channel. Search accounts for 16.63% of traffic, 71.96% of which is organic.
The blog, What's On Disney Plus, offers an inside look into all things related to Disney+ trends, news, previews, reviews, podcasts, and more. For anyone who is a movie and TV buff - specifically, those who love Disney - this blog spills all. All content is well-written and formatted in a way that is easy to read. Visitors can easily jump from one article to the next. Scroll through content, click on one of the main menu categories, or select an article from various sidebar options, including Coming Soon to Disney+, Features, and Recent Stories.
6. Wattpad.com
Founded in 2006, Wattpad had 90 million users as of 2020. This website and app connects a global community of millions of readers and writers through the power of storytelling. As they say, Wattpad is where stories live. Each month, the site gets around 182 million visits, attracting people from the U.S., Mexico, the Philippines, Indonesia, Brazil, and other regions around the world. Wattpad.com's marketing strategy focuses on direct (58.86%), followed by search (31.51%), and social (8.39%).
Wattpad's blog covers topics related to the brand, culture, life, love, and everything in between. Stories fall under a wide spectrum of categories, ranging from non-fiction, horror, fantasy, science, poetry, and much more. Being so diverse, it's a great place to see trending topics and how they are received by readers within your target audience.
7. Worldstar.com
First launched in 2005, WorldStarHipHop won BET Hip Hop Award for Best Hip Hop Platform. The entire website is essentially a blog, focusing on both written and video content. Most visitors come from the United States (72.27%), contributing to an average of 276 million visits each month. Unlike the other sites listed, worldstar.com focuses on referrals, with 94.23% of traffic coming from this channel. Just 3.07% is direct and 0.53% is from search.
As they say at WorldStarHipHop, the site is home to everything entertainment and hip hop, being the #1 outlet for the latest urban news. In addition to the blog, this brand also invests heavily in social media. With over 28.8 million followers on Instagram and 5.4 million followers on Twitter, you can say those investments definitely pay off.
8. Hulu.com
Hulu is an American subscription video service that offers access to your favorite shows and movies. Pulling in an average of 215 million visits per month, hulu.com's marketing strategy focuses on direct, with 90.76% of traffic coming from this channel, followed by search with 7.74% of traffic coming from this channel — 97.7% of which is organic. Much like Netflix, Hulu has two blogs. One is press-based, and focuses on the latest news, while the other is tech-based.
The Hulu Tech Blog highlights topics such as product management and engineering, product design, and data science. This blog is more specialized, appealing to a smaller niche. In comparison, the press-based blog appeals to anyone using the service or interested in subscribing. The section on guides offers deep insight into the best shows to stream based on varying topics and interests, ranging from 80s romance movies to Golden Globe nominees.
9. Dailymotion.com
Dailymotion originated in France, offering a video-sharing platform. Partners include BBC News, Vice Media, and more. Being the place for the latest news, music, sports, and entertainment videos, this site appeals to a wide audience. This site gets around 160+ million visits each month, attracting visitors from around the world, including the U.S., France, the UK, Canada, and Turkey. The bulk of traffic comes from search (67.39%), followed by direct (23.38%).
The Dailymotion blog focuses on news and press, highlighting the features and happenings on Dailymotion. For example, "Fashion Week is coming to Dailymotion with 'Good Morning Vogue' and 'NASA's Mars Mission Perseverance live-streamed on Dailymotion.'" This brand also regularly posts on Medium, covering topics such as engineering, API, design, and AI.
10. Soundcloud.com
SoundCloud was first launched in Sweden in 2007. This online audio distribution platform and music sharing website allows users to upload, share, and promote audio while interacting with other users. Each month, the platform attracts an average of 150 million visitors. These visitors are distributed across the globe, with users from the United States, Canada, the UK, Germany, and France. SoundCloud's marketing strategy focuses on direct, with 68.54% of traffic coming from this channel, followed by 18.85% of traffic coming from search — 99.96% of which is organic.
The SoundCloud blog highlights contents, news, and resources. Each category offers the top featured articles, and easy access to the archives, dating back to 2007. Readers can select any year with ease, taking them on a content time travel journey. On Facebook, SoundCloud has over 6.7 million followers and 2.3 million on Twitter.
Increase Organic Traffic with the Help of Scripted
While the websites above are successful for several reasons, all the content published shares something in common — it's well-written and appeals to each brand's intended audience. Quality content makes all the difference when aiming to increase organic traffic and boost conversion rates.
If you're in need of entertainment writers you can count on, Scripted offers access to thousands of highly vetted writers. Whether you're in need of blog posts, social media content, newsletters, press releases, video scripts, or any other type of content, Scripted offers an all-in-one platform that makes content creation as seamless as possible.
When you join Scripted, you get:
Collaboration with actual people who will communicate with you directly to execute your vision

The best content available, as Scripted only accepts 2% of applicants

To take advantage of powerful content management tools

...and more.
Start browsing the top entertainment and media writers and get started today!
---
Published by
Carolyn Heard
on Monday, March 22, 2021
in
Blogs
,
Entertainment
,
Dailymotion
,
Disney+
,
Fandom.Com
,
Hulu
,
Netflix
,
Soundcloud
,
Spotify
,
Wattpad
,
Worldstar
,
You Tube
.