Top 8 Real Estate Blogs by Traffic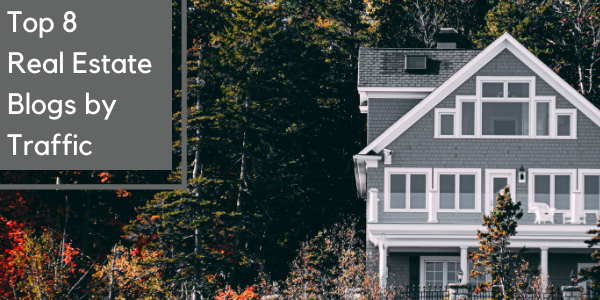 There are over two million real estate agents working in the United States, many of who leverage the power of content — especially social media. Research shows that 76% of realtors use Facebook for their work, understanding the value that online users bring to their ongoing success. Blogging and email newsletters also offer immense value.
Whether you are a real estate agent, manage a real estate marketplace, host Airbnbs, flip properties, or push any other real estate product/service, quality content will drive your marketing strategy. However, not all content is created equal. To stand out, you'll need to invest in captivating content that converts. To take a closer look at the top real estate blogs, we leveraged data from SimilarWeb. This list is based on the top websites by global traffic. Draw inspiration from these blogs to kickstart your own content marketing strategy.
1. Zillow.com
Zillow.com is the leading real estate marketplace, offering millions of for-sale and rental listings. First founded in 2006, Zillow generates revenue by selling advertisements on their site. Their revenue model relies on a steady flow of traffic, which is why Zillow has invested so heavily in its blog. Each month, this site receives an average of 259 million visits (based on data from September 2020 to February 2021). The bulk of traffic comes from the United States, followed by Canada and the UK. Zillow's marketing strategy focuses on direct with 56% of traffic coming from this channel, followed by 40.56 from search — 94.47% of which is organic.
On Zillow's blog, there are six core categories, appealing to a wide range of readers. From market trends to home improvement, there's something for everyone. Zillow Porchlight covers everything you need to know to create the best at-home living experience. Sample articles include How to Create Your Ultimate Outdoor Kitchen and Regain Your Garage: Simple Tricks for Getting Organized.
2. Realtor.com
Since launching in 1996, realtor.com has become a brand name everyone knows and trusts. This website allows you to search real estate for sale, shop mortgages, take virtual house tours, and much more. Each month, this site gets an average of 145 million visits, 97% of which comes from the United States. While focusing on traffic sources, realtor.com's marketing strategy focuses on search with 54.24% of traffic coming from this channel, followed by direct with 40.33%.
On realtor.com's blog, Home Made Blog, the company shares content "from our home to yours." Again, topics are based on various categories, including buyer tips, seller tips, giving back, innovation, and technology. All the content created is well-written, authoritative, and informative. The content reflects exactly what their audience wants — and they deliver. Articles cover everything from buying land to the 10 best bathroom improvement projects.
3. RightMove.co.uk
Rightmove.co.uk is the UK's largest online real estate portal. Visitors can search over a million properties that are for sale or to rent. Averaging 95 million monthly visits, the bulk of this site's traffic is direct, with 60.88% of traffic coming from this channel. Search is the second-highest marketing strategy with 35.56% of traffic coming from this channel — 99.95% of which is organic.
The company blog covers celebrity houses, dream homes, the latest property news, and more. The articles written are both enlightening and entertaining, offering readers an inside look into all things related to UK-based real estate. While some pieces of content are intended to educate, such as What can £250,000 buy in each region of England? — others are published to increase engagement, including Peek inside former Manchester United and England star's mansion. This helps the company appeal to a wider audience while building trust and loyalty.
4. Redfin.com
First founded in 2002, Redfin is a real estate brokerage that has since won multiple awards for innovation. Whether someone is buying or selling, this is an excellent site. Based on its growing popularity over the years, Redfin attracts an average of 75 million monthly visits. Of the traffic coming in, 57.73% is direct and 34.6% comes from search — 96.32% of which is organic.
The Redfin blog is intended to help you buy, sell, and more. Not only does this blog's content focus on buying and selling real estate, but it also explores home improvement topics, lifestyle subjects, finance, and local insights. It is highly comprehensive, offering readers an in-depth look into the world of real estate, appealing to a wide audience. Nearly half a million people follow Redfin on Facebook, showing the power of content across several channels.
5. Apartments.com

Founded nearly two decades ago, apartments.com offers access to the homes, apartments, and condos available for rent in your area. Users can easily compare rates, watch videos, view photos, and learn about pet policies, and more. Getting around 43 million visits each month, this site appeals mainly to an American audience which accounts for 97% of traffic. The bulk of traffic comes from search (65.94%), of which 92.56% is organic. Apartments.com's marketing strategy also focuses on direct, with 31.42% of traffic coming from this channel.
Renterverse is the blog offered by Apartments.com. All of the content created falls into four categories, including live, find, lease, and move. Topics are then broken down into dozens of keywords, ranging from beach towns to affordability, DIY to pests. As they say, this blog is "the best renter's guide in the galaxy." All blog posts are well-organized and written, providing a content hub for any renter or landlord.
6. OnTheMarket.com

Creating a property portal that is uncluttered and user-friendly, onthemarket.com has grown in popularity within the UK. Attracting around 21 million visits each month, with 94% of visitors coming from the UK, this brand's marketing strategy is mixed. Most traffic comes from search (58.22%), followed by direct (34.98%) and referrals (3.42%).
The OnTheMarket blog focuses on the latest property news and advice across five core categories — news, buying, renting, selling, and advice. The blog is easy to navigate, offering a spectrum of content topics, ranging from mortgages to house prices, real estate agents to first-time buyers. The blog also clearly shows the icons for all the brand's active social media platforms.
7. Movoto.com

Founded on the principle that real estate should be easy, Movoto is a real estate brokerage, research site, and technology company. Bringing in around 19 million visits every month, over 98% of these visits come from the U.S. Movoto.com's content marketing strategy is fairly evenly split between search (50.47%) and direct (47.53).
As they say on Movoto's blog, "We make real estate easy." Their mission is to bridge the gap between the real estate market and the average person, positioning themselves as leaders in the industry. They base all content on three major topics, including real estate, tips and how-to's, and lifestyle content. The posts they create aren't just unique and interesting, they're also informative, which has allowed Movoto to grow into a trusted brand.
8. Point2Homes.com

Point2 started as a software company in 1996 and is now known for the real estate marketplace, Point 2 Homes. Drawing in around 13 million visits each month, just over half of all traffic comes from Canada. The vast majority of traffic comes from search (80.19%), of which 99.76% is organic. An additional 17.85% of traffic is direct.
The Point2 blog is unique in terms of its approach. While many of the sites above share similar content ideas, the Point2 blog highlights real estate news from across Canada, the U.S., and internationally, as well as buying and selling tips, and a section specifically for professionals. Choose content from any of these categories or select an article from the recent posts tab. Based on some of the most popular content, there is also a useful resources section, listing articles such as Real Estate Lead Generation Tools.
Scripted Can Fuel Your Content Marketing Strategy
Scripted is an all-in-one platform that makes content creation as seamless as possible. Our team of writers and experts will help you take your content strategy to new heights, offering a wide range of options in terms of your budget and time management.
A Scripted writer can help you achieve your goals through the power of content based on the following benefits:
SEO

— A professional writer will understand the value of search engine optimization (SEO), allowing you to increase organic traffic to your site.

Research shows

that companies who blog receive 434% more indexed pages and 97% more links to their site. This significantly increases visibility.

Lead generation

— Quality content can help potential clients and customers learn about your business or the properties you're currently selling. Again, an active blog can produce

67% more leads

.

Boost sales

— It's been found that

61% of buyers

feel better about companies that deliver custom content. When you consistently publish content that people trust, you position yourself as a leader in the real estate industry, increasing your ROI.
How it works
Scripted takes great pride in our community of writers. Accepting only 2% of applicants, we understand the difference that quality content makes. Once you become a Scripted member, you gain access to thousands of highly vetted writers, many of whom have personal and professional experience in the real estate market. Since you hire, communicate, and edit content all within the platform, we provide an efficient process that allows you to focus on what matters most - your real estate business!
If you're too busy with your business to manage your team of writers, you can also take a more hands-off approach with Scripted Cruise Control. This service offers a complete content marketing strategy, account management, content creation, and managed analytics.
Ready to get started? Browse all of our real estate writers today!

---
Published by
Carolyn Heard
on Wednesday, March 17, 2021
in
Blogging
,
Blogs
,
Real Estate
,
Apartments.Com
,
Movoto.Com
,
On The Market.Com
,
Point2 Homes.Com
,
Realtor.Com
,
Redfin.Com
,
Right Move.Co.Uk
,
Zillow
.