Xenu: Tool Review, Features, Pricing, and Integrations

Broken links can impact your website's search engine rankings and damage its online reputation. But a web tool with a name straight out of pulp science fiction can help site owners in any industry locate bad links, spot redirected URLs and more, all entirely free.
Named after Xenu, the galactic ruler in L. Ron Hubbard's Scientology mythos, the Xenu Link Sleuth is a link verification application that can check up to 100 links per minute across all pages on any website. Because Xenu Link Sleuth works to locate issues that interfere with user experience and SEO rankings, it can play an important part in any company's overall SEO strategy.
Why Worry About Broken Links?
Hyperlinks, or just links, are the connective tissue of the Internet – a network of unique URLs that keep data flowing between websites of all kinds. But when a link is broken, it points to an empty page or non-existent site. That completely shuts down a user's path to needed information and affects backlinking – a key to building a website's authority. Although the occasional broken link isn't necessarily harmful, a site with multiple broken links creates a poor user experience and negatively affects its search rankings.
But broken links are a two-way street. Some are caused by errors on the originating site, while others arise from problems with the destination site. Entering a wrong or mistyped URL will of course create a broken link, since there is no site or page that matches it. So will entering a URL without checking to see if the link is live. 
In other cases, though, broken links happen because of circumstances on the part of the destination site. That site may have closed down or moved to a new URL. The linked content might have been removed or reposted under a different URL. In some cases, the destination site sets up a firewall that prevents access to the content except under certain conditions, such as signing up for a subscription. 
Wherever broken links come from, it's a site owner's responsibility to locate and either repair or remove them, so that search bots don't encounter 404 "page not found" error codes or multiple redirects. But finding and fixing those links manually can be time-consuming, and some problematic links can be missed. That's why a web scraping tool like Xenu can be helpful for keeping a website search friendly and accessible to users.
How Does Xenu Link Sleuth Work?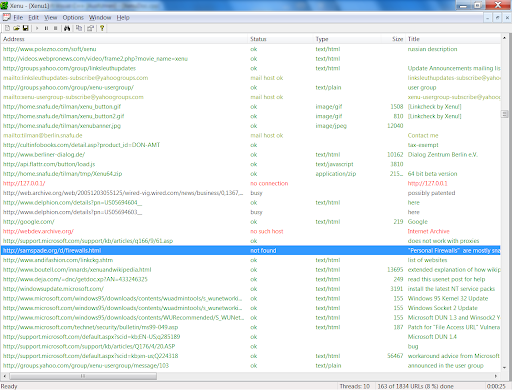 The main function of Xenu Link Sleuth is to crawl your site for broken links, but its basic tools have a number of other functions that can be useful for monitoring search rankings and improving a website's usability. 
Pricing
Xenu Link Sleuth was created back in 2010 as a freeware web scraper for finding – and fixing- broken links. Today, after more than 245,000 downloads, it also gives site owners tools for checking the performance of competitor sites, seeing the configuration of an entire website at a glance, and other SEO-related features. Xenu is permanently free, and can be downloaded and installed on any computer running Windows. As of now, Xenu is not available for Mac users.
Ease of Use
Xenu supports FTP and SSL sites, and it can even crawl HTML files on a user's computer before they're uploaded to a website. It comes with a clean, clearly marked interface that's easy to use, even for those with no development or programming skills. 
To run the link checker, simply select "File" from the application's drop-down menu and enter the URL to check. From there, you can also set the number of levels you want Xenu's spider to crawl. Xenu scans for links associated with any kind of content, including images, backgrounds, plugins and scripts.
Xenu returns a lengthy report, available in a number of different formats, of all the links present on the site, as well as all pages with broken redirects. By clicking on any of the listed links, you can see the page associated with the link, or any error codes returned from a broken link.
Xenu Does More Than Check Links
Along with its basic function of checking links, Xenu's key features can be used in other ways to provide insights that can help improve a site's SEO and rankings.
Sorting Links By Size
Images can improve the look of a website, but they can come in large files that increase the site's load time and slow its performance. Xenu can sort all links by size, so you can find large image files and optimize them for faster performance. Xenu's sorting features also allow you to filter searches by file type, such as Javascript or applications, and to find missing elements such as image ALT text.
Analyzing a Competitor's Links
Xenu crawls the links of any URL that's entered into its interface, so it can show the broken and working links of any site on the web. By using Xenu's general crawl feature this way, site owners can see the link structures of competitor sites and get insights into their SEO strategies and performance.
Analyzing Website Information Architecture
Xenu can also provide a picture of any site's entire URL structure. Along with a listing of links to all site elements, it can show how many clicks are needed to get from one page to another, such as from the home page to an internal page. This information can reveal whether a site's architecture is too complex for an easy user experience, and whether certain pages are working for the site's overall goals.
Xenu's Link Sleuth offers unlimited link checking, and it can crawl up to 100 pages in a single operation. Xenu can work with any SEO strategy to improve website performance, rankings and user experience, including Scripted's comprehensive content marketing solutions.
Scripted and Xenu: Partners for SEO Solutions
Quality, SEO friendly content is the cornerstone of a successful marketing strategy. Scripted's comprehensive SEO solutions center on providing that content, produced by a pool of skilled writers with experience in industries of all kinds.
Scripted's subscription plans offer a range of services and support for developing full featured SEO strategies that meet your unique marketing goals. Scripted's managed plans also include periodic site reviews that incorporate the insights and information from Xenu's link checking tools as part of an overall, content focused strategy to boost your site's visibility.
Each of Scripted's three subscription plans includes access to a deep pool of professional freelancers skilled in writing blog posts, white papers, social media posts and other types of content to support a successful content marketing campaign. Whether you're looking for the basics to complement your current marketing plan, or a fully managed solution that handles every aspect of your SEO strategy, Scripted has a plan for you.
Choose Your Scripted Plan

Scripted's Self Serve Basic plan offers access to unlimited content from a basic pool of qualified content writers, optimized for SEO best practices and ready to be incorporated into your company's existing SEO and marketing strategies.
Like Self Serve Basic, the Self Serve Premium plan includes unlimited content. But Self Serve Premium also provides access to a different set of writers – top-rated content creators in Scripted's Premium writer pool. This plan includes a dedicated account representative who provides support for managing your plan and working with the writers you select from the Premium pool. Self Serve Premium also supports your website's SEO performance with an initial site analysis and a quarterly review of your site's overall SEO health for the duration of your plan. 
Scripted's top-tier Cruise Control plan is a fully managed SEO solution driven by high quality content. On Cruise Control, we handle every aspect of your site's optimization, from matching you with the best writers in your industry to performing regular SEO checkups on your website. The Cruise Control plan also includes support from a dedicated account manager, who coordinates all aspects of your customized SEO strategy and helps you work with your chosen writers to create the best content for your marketing goals.
Scripted also has specialized solutions designed for larger enterprises and digital and creative marketing agencies. With Scripted for Agencies, your company can spread its content budget across multiple campaigns targeting a wide range of clients. You'll have access to a dedicated account manager who handles all your content needs, and you'll only pay for the content you want, with unlimited users and no membership fees.
Scripted for Enterprise serves large enterprise businesses with a turnkey marketing solution. With a no-membership plan that includes unlimited organizations and users, Scripted for Enterprise features a dedicated team of expert writers in your industry who can work with you to produce well-researched premium content. 
Want to learn more about Scripted's content-centered, SEO-friendly marketing solutions for businesses and industries of all kinds? Contact us today for a consultation or a demo.