The Scripted Podcast: Research & Content with guest John Tyreman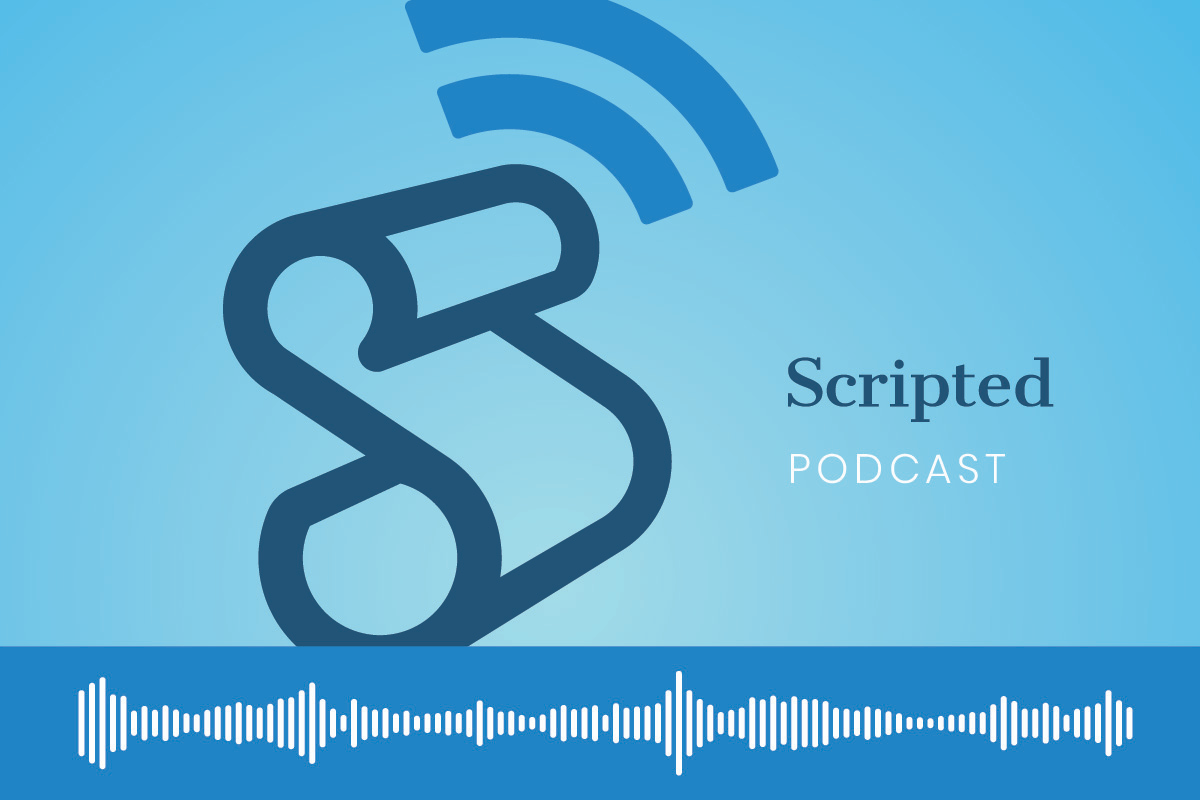 The Scripted Podcast is a show created for content marketers and content writers featuring real Scripted writers. We'll talk about best practices in content and SEO, our favorite marketing tools, how to find and hire writers, and all the fun and misadventure that comes with being a professional freelance writer.
In this episode of The Scripted Podcast we sit down with John Tyreman, Head of Research for Silverback Strategies in Washington D.C. to discuss the importance of proprietary research in content marketing, how to use research AS content, and how he was able to grow his personal brand on LinkedIn through a 90 day marathon of publishing.  
Quick Links:
John's 90 Day LinkedIn Experiment
Connect with John Tyreman on LinkedIn or Twitter.
Episode Transcript:
Kevin O'Connor: [00:00:00] Welcome to The Scripted Podcast, I'm Kevin O'Connor, Marketing Director here at Scripted.
John Parr: [00:00:05] And I'm John Parr, Scripted's Writer Community Manager.
Kevin O'Connor: [00:00:08] And we are your hosts.
John Parr: [00:00:09] We are indeed.
Kevin O'Connor: [00:00:11] Today our topic is research and content marketing that every important relationship of how do you figure out what you're going to write about?
John Parr: [00:00:20] Absolutely. And I think this is something that affects a lot of Scripted writers on the platform. So I think there's going to be a lot to learn. But with that, let's get into it.
Kevin O'Connor: [00:00:44] Here with us today is John Tyreman, Research Director at the digital performance marketing agency Silverback Strategies in Washington, D.C.. Welcome to the show, John.
John Tyreman: [00:00:54] Thank you, John. Thank you, Kevin, for having me on.
Kevin O'Connor: [00:00:56] Yeah, we appreciate you taking the time. So, yeah, today we're bringing you in, you're a research director at a marketing agency, to talk about research and content. Let's get a little bit of a background from you, John, on how did you ended up in digital marketing and tell us a little bit about your marketing origin story.
John Tyreman: [00:01:15] Sure. So actually I played drums in a rock band in high school and we wrote and recorded our own music. We performed it live. We promoted those events. We had a MySpace page where we put our songs up. And that's really what where I fell in love with digital marketing was creating that kind of content and putting it online and sharing it and distributing it. And funny enough, playing music and writing music really helped with pattern recognition. So in college, I excelled in classes like market research, analytics, social media, and then that carried with me throughout my career at a few different marketing agencies where I did a bunch of research. So that's how I got started. It was really music driven and content driven, and today I do what I love.
Kevin O'Connor: [00:02:09] Are you still working in the band and and putting out MySpace music?
John Tyreman: [00:02:16] Not on MySpace. Unfortunately, no. But I do like to play whenever I can. My brother lives near me, so we jam. We jam often.
John Parr: [00:02:25] Excellent. And so you head up the research division at Silverback Strategies in D.C. Can you tell me a little bit more about that?
John Tyreman: [00:02:32] Absolutely. Yeah. So as you mentioned, silverback strategies, we're a full service digital performance marketing agency. So we really help marketers set up these systems to measure marketing impact on sales. That's really what we're all about. But today's customer journey is just so complex and it's fairly easy to identify with that first and what that last touchpoint is. But what happens in the middle and even Google, who owns this holy grail of user data, they just recently threw up their hands and said, look, it's so complex that this scribbled napkin drawing is the best way to describe it. And they they refer to it as the messy middle of the customer journey. And, you know, it's true. And kudos for them for keeping it simple like that. But what does this mean for marketers? And I think it really depends on your specific market. So your market behaves differently than other markets. And you need to understand your market first before you can map your customers journey or attribute revenue to any specific channel and then take those insights and really from the research and apply those to your campaigns, set up different custom attribution models. So that's what we're that research comes into play. And that's what I'm doing appear at Silverback. Awesome.
Kevin O'Connor: [00:03:51] Yeah. I want to talk about that process. I want to talk about what what do you do for a typical client when they come in? Is the first thing you do is start to map out buyer personas.
John Tyreman: [00:04:02] Well, buyer personas is a big part of it and research can really accomplish many different goals. So it really depends on what the client is looking for and where their priorities lie in their marketing. So clients come and they say, I want to know how my brand is perceived in the marketplace. So that would necessitate one kind of research. They come in, they say, we don't know who we need to target. And so then a buyer persona type of research engagement may be the best option. And some folks come in, they say, I don't understand my that my customers buying cycle or I don't understand my competitors. So there's a number of different reasons that clients would come and look for research services. But those are really some of the more common scenarios and those scenarios.
Kevin O'Connor: [00:04:51] What's the most common problem you find a customer come into your agency with?
John Tyreman: [00:04:55] Well, I think it's "we want to understand our market" and that, you know, that can come in a variety of different flavors or we're looking to expand into a new market and we don't know what to expect or what the behavior is like or what would really help us out and give us an advantage in going into that new market. So that's another common scenario that I've run into.
Kevin O'Connor: [00:05:17] Yeah. So you end up with some competitor research as well and then for your clients. And but first, I just want to talk about what the process like is for you, for a typical client. If they were coming to you for building a persona, they want to know more about who their market is and what their  pain points are, how do you walk them through that process or is it you take it, your company takes it and does all the work and then presents?
John Tyreman: [00:05:48] Well, when you talk about building personas, I think it's important to just remember that if you write for everybody, you will appeal to nobody. And I think writers and marketers both sometimes fail to see the power of specialization. We all have this tendency to say, oh, let's focus on this. Oh, but that'll alienate this group. OK, let's lumbermen. That'll alienate this group. So let's lumbermen. And over time, your focus then becomes so broad that you appeal to nobody. And I think the power of specialization really helps with this alignment between marketing and sales and sales wants more leads, but moans about the quality and its marketing job to really attract the right leads based on these ideal customer profiles to feed that sales team and that that machine. And in B2B especially, there's these buying committees and different members of those committees and they should be treated differently with a different approach, a different tone, a different level of detail. And these buyer personas really help marketers and salespeople is focused on empathizing with those ideal customers rather than wasting time dealing with unqualified prospects. So if you think about the process to getting to that ultimate goal, you really got to start with, OK, we need to profile of our existing clients or our of our existing customers who embodies our ideal clients? Who have we found the most success with? Some companies use lifetime value as that metric. Others just go based on what they're easy to work with. So, you know, you start there, you sample that its very purpose of sampling to go in and look at that group and what are their characteristics. And then from there, you can start to paint a picture of who fits this profile. These is this is who we should go after. This is who we should write for and our content. And this is who we want to attract with our marketing messages.
John Parr: [00:07:47] And so, you know, regarding that specific type of research that goes into creating that kind of content. How important is it for, say, small businesses to have proprietary research done? And like, how would that affect their SEO and marketing?
John Tyreman: [00:08:03] Well, I think when you when you talk about research and, you know, we touched on this a little bit in terms of how research can really help your strategy. You can understand your customer journeys. You can build buyer personas. So I think it's fairly easy to see how that can help with your messaging and your content. But I think another part of this is using using research as content. But I think that can be a game changer for marketers, especially shifting towards a more content focused digital approach. So if you think about it, if you publish original research, by definition, that research can't be found anywhere else. Right. And if it's relevant enough and if you if you can explain the insight simply that research will attract organic back links and inbound activity from bloggers wanting to cite the research in their work, students publishing papers. I mean, we all know how much Google loves to see that dot edu link. Right. Looking back to you. So if you can use that research and then you can package that up in a number of different content formats so you can have a PDF lead magnet, you can have a webinar reviewing the results. You could talk about research on a podcast and a blog post on a video. The list goes on. That research really gives these marketers a gold mine to go tap into for content.
Kevin O'Connor: [00:09:24] And how much how much do you think about that end product when you're getting into a research project like that? This is going to end up as certain types of content. We're going to build on this to create content. How much of that is already figured out ahead of time?
John Tyreman: [00:09:41] That is such a great question, because it really starts with thinking about that end product and having that in mind and what you what you want, what your hypothesis is and what you want to prove with that data. So it really starts with a sound research design and really focusing in on the topic that you want to explore and the phrasing that you use with your questions to elicit the right responses. And do you do an interview, heavy focus where you go out and you interview a bunch of representatives of your sample population to try to get qualitative insights, or do you balance that with some sort of quantitative online survey if mass appeal and if quantity is what you're going for? So research design is really where you have to think about that and product and then kind of reverse engineer that back into its component parts of the survey and questions.
John Parr: [00:10:36] Interesting. And so how many of these surveys are you conducting, really? What does that look like on your end?
John Tyreman: [00:10:41] Yeah, so I've conducted hundreds of surveys, so it the process is fairly simple. Like I said, it starts with understanding that end product in mind, working backwards. And then when you're going out and collecting data, you really need to have access to the right networks. So it's important to build strategic partnerships that you can use to do email swaps. It's important to build alliances with other associations that align with the topic that you're researching. So those are two different strategies you could use to build out that network for your data collection. And then once you've collected your data, it all needs to be analyzed and you really need to understand what's the story from your data? What is this data say? How is this going to impact the industry? What are the business implications of this research? And then from there, if you're taking that and you're turning it into content, you've got to think about visualizing that data. And, you know, so many research reports that I've seen just throw a table out there with some text and they really it's like they almost crossed the finish line. If you were if you could just take that table and make it more visually appealing, it would just be so much better. And then, of course, branding and imagery and adding it offers everything that goes into a good piece of content and then finally publishing that research and promoting it. I think that's one step that a lot of marketers miss out on is the promotion piece, because, you know, you could have a great piece of content, but if it's just sitting there gathering dust and not doing anything, it's serving no purpose.
John Parr: [00:12:21] There's so much of that. That's right.
Kevin O'Connor: [00:12:23] Yeah, it's absolutely true. And I think you did a great job of kind of explaining that in that LinkedIn post that you showed us. It was called Personal Branding on LinkedIn. How to rate your profile growth. Can you tell the audience a little bit about this experiment that you did?
John Tyreman: [00:12:43] Sure. So that was a fun experiment. So in January, I challenged myself to a marathon of sorts. It was sort of like a New Year's resolution. And I was going to post every single day on LinkedIn seven days a week for 90 days. And I did it. I was able to work it into my routine. The first couple of weeks were fairly easy because I, I knew I had a bunch of content all already pent up that I was going to put out there. But after a couple of weeks, I was like, OK, content bank is running dry. And what that did is it really forced me to get creative.
John Tyreman: [00:13:25] And I think what happened is it really kind of flexed a muscle and I was able to grow a muscle that that copywriting muscle of being kind of in a position where I had to get something out. I had to produce a post today to keep pace with this challenge. And after 90 days, I doubled my LinkedIn connections. My my visibility just skyrocketed. The engagement on my post grew up. I grew this network. I was able to generate leads. I was able just it just unlocked so many doors that I just can't recommend posting to LinkedIn enough to people. It's it's just been a game changer for me.
John Parr: [00:14:06] So we had a previous guest on the podcast and she was an agency owner and she said pretty much that she had abandoned LinkedIn because of spam. Did you find spam to be a problem at all during this experiment?
John Tyreman: [00:14:17] Of course, yeah, all the time. But. Right. You just gotta you got to roll with it. I mean, these salespeople got to eat. So, of course, that you there service it, right? Yeah.
Kevin O'Connor: [00:14:29] How much did you know going into the experiment, what you wanted to find out and how much did you find out that you were surprised by that you're Aliko. I knew I wasn't even looking for this particular data point.
John Tyreman: [00:14:43] Well, yeah. So that's a great question. I, I see it all the time. You know, all these social media gurus are saying, hey, just don't be afraid to post. All you had to do is post. There's no such time as bad content. Well, you know, I agree with some of that and some of it I don't agree with. But you you just got to get out there and be active.
John Tyreman: [00:15:03] And I think what was surprising is a lot of the the inbound requests that I received from invite's to hop on a podcast like this one and invites to be interviewed for articles and the earned media opportunities from LinkedIn was one that was surprising. And I I think it's it's just a great tangible benefit.
Kevin O'Connor: [00:15:29] Yeah. No, I want to tie this into advice for our writers because you used it as a copywriting exercise and a way to expand your audience as a way as a copywriter and what can what can our our writers and our writing audience really learn from this experiment?
John Tyreman: [00:15:50] Yeah, well, I find that LinkedIn is a great channel for copywriters. So I just went through this process. If copywriters post to the platform daily, it shows me that they have copywriting skills. It's the perfect medium. So I was looking for a copywriter for a white paper that we were produced. I had an outline for and just based on some of the accounts that I follow regularly, I know, OK, they post to LinkedIn. I like their style. They could be a good fit. Let me reach out to them. So because of their activity, I knew exactly who to reach out to. And so now we're in talks. I haven't I haven't selected a writer yet, but every single one that I reached out to was active on LinkedIn.
John Parr: [00:16:34] You know, let me bring it back to white papers for a second here. What skill sets are you looking for when hiring a writer for a white paper? What could a new writer did?
John Tyreman: [00:16:44] I think I think that's a really good question, because I think it boils down to basic journalism skills. So I think when doing your research, checking sources, understanding the context behind what you find, question phrasing, ideation, concept visualization, I think these are all really good skills because a white paper is more than just a collection of words. There's a visual element to it that you need to be able to stand out so as well as a writer can adapt to that. But I think one other critical piece is minimizing subject matter, expert involvement to whatever degree. So whatever information you can collect on a subject and then minimize that expert involvement, I think that's critical because that shows that you are the expert, right? You don't need these experts. You bring that industry knowledge and expertise to the table.
John Parr: [00:17:44] And, you know, you're a great writer yourself. I'm curious bit about your personal chef. Of course, you're a pleasure to read, but I would like to know a bit about your personal approach when it comes to writing and any tips you might have to share with new writers.
John Tyreman: [00:17:58] I try to write like I speak and speak like I write. That's something that I've been working on for a few years now. And I've done podcasts. I've done webinars, I've written blog posts. So I've got a pretty wide range of content formats that I've been able to produce. But I think tying together the spoken word and the written word is really important to me. And like like I mentioned earlier, this 90 day LinkedIn marathon that I went through was really an exercise in flexing that copywriting muscle. So I think just doing it daily and getting in that routine really helps sharpen my copywriting abilities, but then also reading different articles and blog posts and LinkedIn posts from different copywriters out there.
Kevin O'Connor: [00:18:48] Absolutely. I think what drew me into your writing was your ability to weave in your personal experience with the research you're trying to accomplish as well. And I think some writers, especially newer writers, are might be scared to do that. They might be scared to to show a little bit of their self in their writing, even if they're copywriting for a company. I think the best writing that comes for from a small business has a personal approach from the writer. And you get that feeling that what they're writing is something that they actually care about.
John Tyreman: [00:19:21] Well, it's called personal branding for a reason, right? Right. We have to include our personal our experiences and our preferences and to some degree, our opinions into, you know, what we put out there. So I think especially today, when everyone is online more than they normally would be outside of a pandemic and interacting with people in in on social media, I think it's important to share those personal experiences just to maintain a level of human to human connection. Yeah, yeah.
Kevin O'Connor: [00:19:57] It's impossible to tell a story without people in it.
John Parr: [00:19:59] Exactly right. So as far as heavily researched content and long form content is concerned, what would you say to writers who are looking to break into that?
John Tyreman: [00:20:11] Well, if you're doing an original body of research, I think if you go back to that process that I outlined, it really starts with the research design and in in developing a questionnaire that you're going to use to bring to a survey or to interviews, I think what goes into that is the secret sauce. So going out and reading as much as you can about a given topic or whatever, you're going out in research. Fact check it, look at different sources, just exhaust all the resources you have available to you before you craft the questions that you want to ask in your interviews and in your surveys, because you don't want to ask questions that have already been asked before and haven't yielded any actionable results. So you want to find a new perspective, a fresh perspective, something that gets people thinking, wow, I hadn't thought about that before or wow, you know, I didn't think about it that way. I mean, that's really where you should you should try to get to. So just putting in the legwork, I think a lot of a lot of marketers, a lot of writers do good jobs of that kind of research. But I think just taking it that extra step and digging just a little bit deeper. Right. I think that can really set you apart one hundred percent.
John Parr: [00:21:26] And I mean, original research on the Internet is already exceedingly hard to find. I mean, so much of the content that we find out there is citing existing research, which was already citing existing research to begin with, for sure.
John Tyreman: [00:21:41] Yeah.
Kevin O'Connor: [00:21:41] And quickly, before we move on to another segment, I wanted to ask you in your process, are there any tools you can recommend for research, for writing research or content marketing research that that you go to is just stuff that people can go check out?
John Tyreman: [00:21:58] Sure, yeah. So I I'm a big fan of Qualtrics. I've used Survey Monkey, I've used Qualtrics. I've used a few different other survey platforms, survey gismo comes to mind. But I really I really like the Qualtrics platform because it it does a really good job of connecting with all of your other systems. But then it also comes with a research services division where you can source samples. So I, I find that the Qualtrics platform is is good, especially for marketers and other agencies out there. And then. Yeah. So I think that's a good one. There's some data visualization tools, but I think working with a designer for custom data visualizations is is really a good path because that's really where you can get that research to pop.
John Parr: [00:22:49] So let's talk for a second about infographics. What's your take? What's your advice?
John Tyreman: [00:22:54] Yeah, so infographics, I think infographics should really have three things. They should be number one, they should be visually appealing. Right. So you want to be able to stop people from scrolling on social media to to look at your visual and then be interested enough to click in enlarge and zoom in to see what it has to say. Number two, I think in infographics needs to be informative and it needs to be insightful. So you need to be able to put information on your info graphic that's really relevant, that appeals to your ideal customer profile. So going back to that buyer persona, what's the thing that's interesting to the folks that you want to talk to? And then third, I think this is one where a lot of marketers miss is branding it so you can create this info graphic and it can be shared widely. But if it's not branded or if it doesn't have your you URL on it, then how do folks know where it came from? What's the source? So that's a question that I have when I look up infographics. Where did this come from? And sometimes it's just a pain in the ass to go and research where the original sources. So putting a brand on it and putting a sauce on it, I think that's another big piece.
Kevin O'Connor: [00:24:08] Yeah, I would add fun.
John Tyreman: [00:24:10] Oh, yeah, absolutely. Yes. Infographics should definitely be fun,
Kevin O'Connor: [00:24:13] You know, make them humorous if you can.
John Tyreman: [00:24:15] Well, I think, you know, another thing is it's social media and sharing, you know, trying to get a post to go viral or trying to get good shares of an info graphic. It's it's a lot like surfing, right. You got to find the right wave. And I think one mistake that a lot of folks make is they posted info graphic once and then they say, well, it didn't get engagement, so, you know, scrap it or they forget about it. But I think it's important to build out a bank of infographics that you could periodically go back to and share at different times of the day on different channels, share from personal accounts versus the corporate accounts. There's a number of different things you can do. But posting it once and praying for Veraldi I think is just a flawed strategy.
John Parr: [00:25:03] Well, so I'm going to Segway here into this next segment that we have here. It's called Solve My Problem. And essentially what we're going to do is provide a situation for you and you would tell us how you would solve this marketing problem.
John Tyreman: [00:25:16] Ok, sound good. Yeah, that sounds great. All right.
John Parr: [00:25:18] So I own a home security business in Arlington, Virginia, and I want to start producing proprietary research material to add to my site to show potential customers the benefits of my work in real easy to consume numbers. And then I come to you. For a plan of attack, where do I begin?
[00:25:38] Well, do you have any existing customers?
Kevin O'Connor: [00:25:42] Yeah, let's say we have 20 clients and we're trying to expand.
John Tyreman: [00:25:46] Ok, well, where I would go first is I would go to those customers and I would sit down with them or have a phone call and say, hey, can I get 20 minutes of your time? Ask them about what their top challenges are, what their fears are, and really understand the emotional benefit of the security services that you provide. And then I think, you know, understanding, getting their perspective. If you wanted to do a broader market test or if you really wanted to be aggressive in pursuing a new market, then you could test out those emotional benefits in a new market. Let's just say that you wanted to tap into the Boston area market so you'd go and you'd you'd probably need to find a research vendor to source a sample of homeowners within certain demographic criteria of your buyers in that given market. And then you can present them with a survey, test out different messaging options. And I think that then you would give you'd have a really good idea of how you should go to market and expand your business.
John Parr: [00:26:59] Love it. And so before we wrap up here, is there anything you'd like to plug, any projects that you're currently working on?
John Tyreman: [00:27:06] Well, one research study that I've launched just recently was this Consumer Services Buyer Study. So we really wanted to understand that messy middle for consumer services. So home services or home cleaning or construction, accounting, banking, financial services focused on the end consumer. So we just launched data collection for that and will be publishing that later this year. But if you want to connect with me on LinkedIn, I'm happy to connect and you can follow me on Twitter @John_Tyreman.
John Parr: [00:27:43] Awesome. And John, once again, thank you so much for coming onto the show today. Just a metric ton of excellent insights here, John.
John Tyreman: [00:27:51] Kevin, John, it's been a pleasure. Thank you so much for having me on your show. Thanks again.
John Parr: [00:28:16] All right, so appeal to everyone and you'll appeal to no one. Kevin, you seem to have a reaction to this. Can you fill me in on that?
Kevin O'Connor: [00:28:26] Yeah, I don't know where it originated from, but it's an old writing adage that you want to really imagine your ideal audience as one person. I think I first heard it from Stephen King. He would always picture his wife when he wrote. Right. He always said write for the one person and that focuses your writing. But if you try to write or try to think about your audience as a bunch of different people, you're going to second guess yourself and you're going to just lose all confidence and focus.
John Parr: [00:28:54] Yeah, that's right. And I think I think John kind of touched on it as well, where he talked about that there's this sort of scope creep that happens with certain projects where I think over time you think about maybe expanding that base. And then the next thing you know, you've completely lost sight of your niche and it's an easy, easy kind of pit to fall into.
Kevin O'Connor: [00:29:12] Yeah, and a way to solve that is market research and and doing buyer personas and ideal customer surveys and finding out exactly who you want to be contacting with your content. Right. And whether you're a marketer or a business owner or a content writer. It's important to have that information. And especially if you're a business owner and you're outsourcing your content, share that information if you have it. If not, go do that research, but to share it with your content writer, because it's going to make your content way more focused and way more friendly to the people you're trying to reach.
John Parr: [00:29:49] That's right. And also, his LinkedIn experiment was super interesting and fascinating. I mean, you can tell he has a dedication to this for what he does. I mean, to be able to write every day for 90 days, regardless of platform is a difficult task.
Kevin O'Connor: [00:30:10] It is. But to be able to publish it on a network where you find professionals and, you know, and possible leads for him. And and that was the result, right? Yeah, that's a difficult thing to do.
John Parr: [00:30:24] I mean, it's the definition of putting yourself out there. And I think but here's the deal. Right. I think it's another one of those things when you're building a skill that you kind of lose sight of to some degree. But the idea of somebody doing their job for 90 days isn't that crazy. You know, but when we think about certain skills that we're building, the idea of doing something consecutively like that, it's overwhelming. But I would be willing to bet, and I almost kind of regret that we didn't ask John that I would be willing to bet that somewhere around that, like 30 to 40 day mark, it just becomes life, right? It's just what you do.
Kevin O'Connor: [00:31:03] You hit that like crevasse. Like the abyss stares back at you. Right? A bit. And I think it was just--it was a great piece of advice. And if you can find it on LinkedIn and look at that project, please do. Yeah, he it's a great piece of advice for content writers. And he said it himself, said it's a great platform for content writers to find new work, to find more, just build relationships professionally.
John Parr: [00:31:33] Well, that's I mean, he was saying, too, that he actually built some right from that project, which I was shocked by. You would think that this hustle is just like just so oversaturated at this point. But I think if you're if your content is right, then you still have a chance with it. Which kind of segues nicely into what I thought was the obviously the larger topic at hand, but his emphasis just on the importance of research. And, you know, unless you're only taking on subjects that you're already familiar with, you're going to need to be able to do in-depth research in order to grow as a writer. And further, he kind of touched on this idea of original research and that at the end of the day, that's really what makes for a genuinely unique content.
Kevin O'Connor: [00:32:19] Yeah, we preach about doing research for quality content, but I like the way he put it as research, as content. Right. And I think that's definitely the move. Like, I can't recommend that approach enough. Like, there's so much value to it from an organizational level to a purely SEO and marketing aspect. Right. In my career, I've seen so many clients who produce a ton of great content, but it's that one piece of original research when done well, it tells a story. It's visually appealing. It's shareable that one piece of research can carry their business. You can earn them qualified traffic and it can build links or. I mean, you understand why, right? Like when writers are looking to do a research project, they're going to look for hard data and they come to you for that. So that's just going to build. It just keeps growing.
John Parr: [00:33:10] Yeah, I know. And well, also, you have to figure, like from the reader's side, I think research as content kind of grows the investment in a way where if you're just reading the results of research, it can be a bit plain, it can be a bit dry. But I think that if you're if you're willing to follow a piece that goes through it and essentially brings you into this research process, this writer's going through, I think it's just makes also for far better content. It's also fairly rare. I don't come across it very often.
Kevin O'Connor: [00:33:45] Yeah. And then to his other point is being able to take that research and turn it into a story and to be able to use your personal experience to self brand and then to not be afraid to do that as a writer. And I think that's something that we preach to our writers. And you can say and say it, but really, you got to take the leap and start putting yourself into your content even when you're ghostwriting. Right. You can you can give your writing a perspective. It doesn't necessarily need to be like, hi, my name is this and this is my story. But you can give your writing and and your research great and a perspective without it. It's just a bunch of numbers on the sheet.
John Parr: [00:34:28] Well, and there's also clients out there that are looking for that kind of writing where you're fully buying into like, hey, here's this. I want character in this piece, you know? And one thing that John had said was like when we asked him about his tips, he had mentioned that he spent years working on the concept of writing like he speaks and speaking like he writes, which is a really difficult thing to do, actually, especially those of us who don't speak. It's the holy grail for either or either one of those things. Well, ideally, you know, ideally, you are a good writer trying to match your speaking, not vice versa. But yeah. So anyway, to bring it back to that, I think that what's really important about that is that that's how you grow, say, your own readership. And if you're working as a freelancer, obviously you're not always going to have the room. It may not always be appropriate to inject that in there, but there's always going to be space to to make content colorful. And I think you can get there kind of through some of the steps that he talked about.
Kevin O'Connor: [00:35:33] Yeah, absolutely. And it's a lot gets lost in SEO and content marketing when we talk about what elements content needs to have. But we don't talk really enough about being able to put yourself into it. And I think that's that's an important lesson that John learned. And and what makes his writing so good.
John Parr: [00:35:50] Yeah. Amen. Is there anything else you'd like to add?
Kevin O'Connor: [00:35:54] No, I loved that about does it for me too.
John Parr: [00:35:58] Thanks again for tuning into this episode of The Scripted Podcast will be back again next week or next month or we don't actually have a schedule this time, but we'll be back soon enough. And thanks again for listening.
Need help with content? Start your 30 Day Free Trial today and find the perfect writer for your business!