The Best Ways to Communicate with an Editor

What is the best way for writers and clients to communicate with editors? Whether the project is travel writing, a Facebook advertising campaign, or a sales page, the communication process can sometimes be difficult but it is extremely crucial.
In this article, we'll give you tips on how to communicate effectively so that editors know exactly what you want and expect from them.
We'll cover the following questions:
What are some reasons that writers and clients may want to communicate with editors?

How should writers approach the editing process?

Why is it important for clients to provide clear instructions when working with an editor?

When sending emails, what are some things writers should remember?
What is the Role of an Editor?
Editors are trained to not only understand the grammar rules of writing but also how to improve content through their comments and edits.
One of an editor's primary jobs is to give constructive criticism. They are not there to praise every little thing you do. A good editor will tell you if something is missing, what needs to be clarified, or if your writing could use some more work.
Assisting Writers
Editors are skilled professionals who have completed training on how to edit pieces and have a strong eye for detail. They're here to help writers create great content.
Editors offer guidance and insight based on their years of experience in the publishing world. So don't be afraid to ask them for guidance.
Editors are there to support writers throughout the whole publishing process until the final product is submitted.
It's important to remember that editors are not there to spell out every single word for you. They will let you know what needs improvement so that it can be fixed, but they won't take over your work in full.
Assisting Clients
For clients, the role of an editor is to make sure that the project runs smoothly. An editor checks grammar, spelling, overall flow, and ensures that a writer has met the obligations in the content brief.
Editors are also responsible for ensuring deadline adherence and they must clearly understand the project's brief before performing edits and submitting the piece to the client or handing it back to the writer for revisions.
Understanding the Editing Process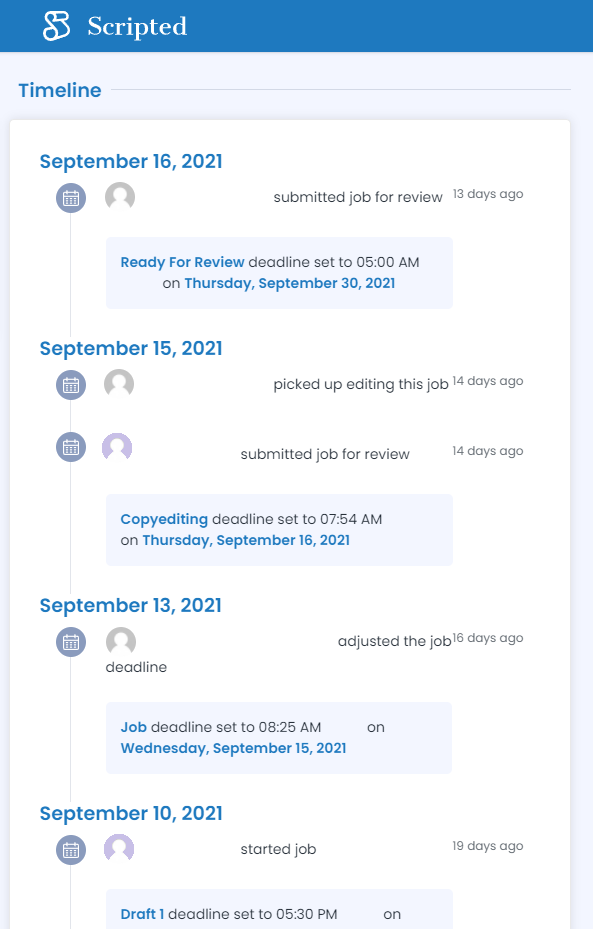 Writing is subjective — it can be simple or complex depending on the writer's style and preference. Where one person sees perfection, another may see major problems that need to be addressed.
Some projects may require little to no editing, while others may need significant revisions. Timing is important. Like any other relationship, timing is crucial in making sure projects run smoothly and you meet client deadlines. If you constantly contact your editor every other day with questions about the project or request additional changes here and there, it can become overwhelming for them. Have a clear understanding of the time remaining before the deadline. Be proactive — if you have a question, ask it as soon as possible.
Tips for Working With an Editor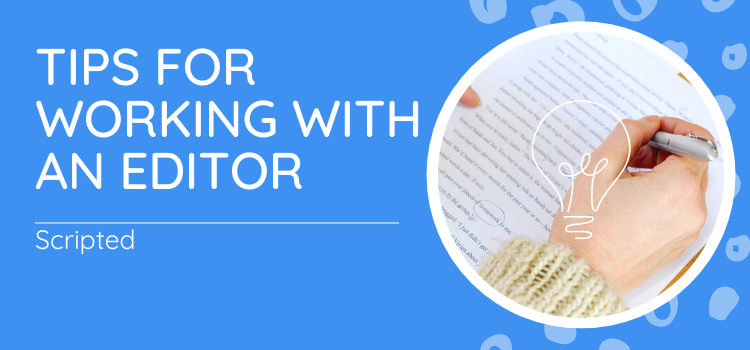 Editors want to know that writers they're working with are sincere in their intention and dedicated to becoming better writers. They also want writers who are genuine in how they approach editors with questions or concerns.
Editors can't edit pieces that aren't submitted for editing. Writers need to submit their work on time so that editors can meet their publishing deadlines.
Writers also need to take editors' feedback seriously and make revisions accordingly.
By working with an editor, you are opening yourself up to helpful feedback so it's important to stay positive no matter how the editor responds.
Take constructive criticism positively and remember that editors are there to help you become a better writer so it's important to appreciate their effort.
Communicating With Your Editor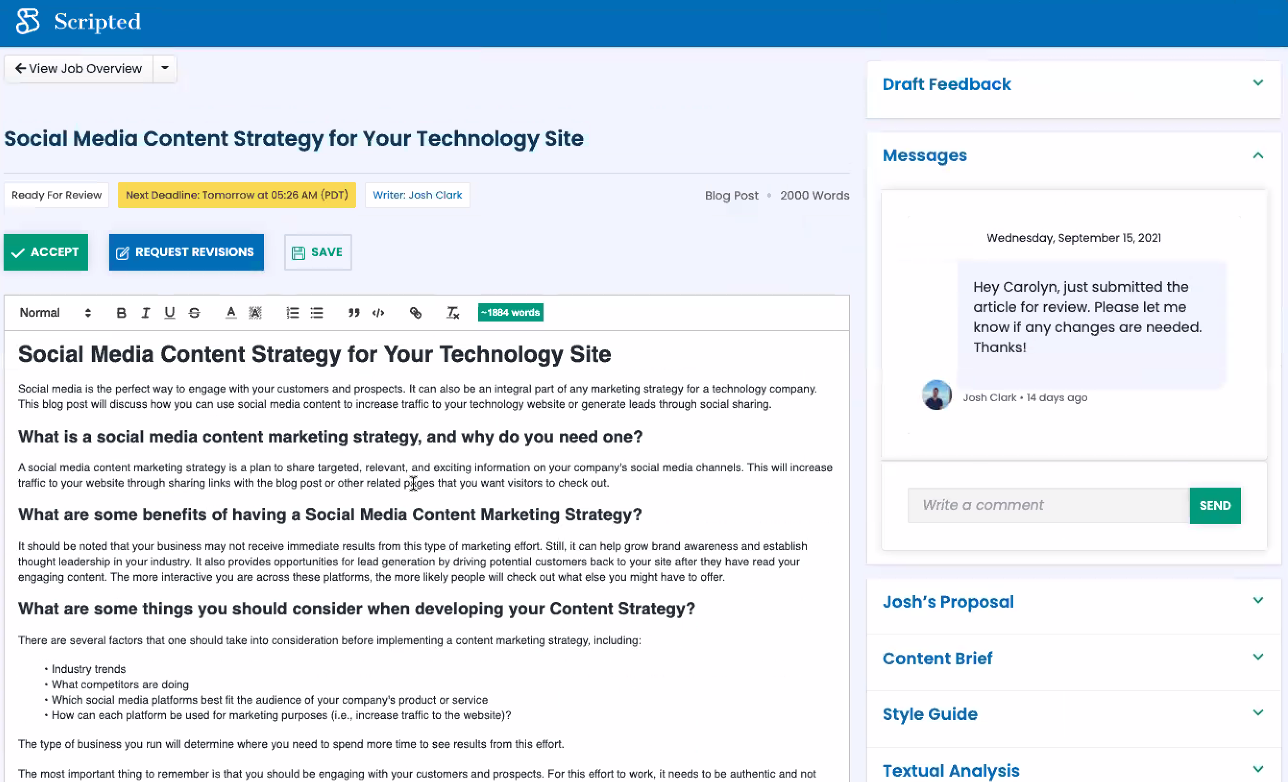 When fleshing out project details, writers should express themselves in a clear, concise manner. Stay on topic in each email message so it doesn't become overwhelming. Before sending an email, ask yourself if you've covered all the bases in your explanation. Be respectful of your editor's time and workload by not sending many emails back-to-back.
Ask questions if something is unclear or confusing. If you are unsure about anything, it is always better to clarify your language or ask questions.
If you have an editor who uses methods or programs you're not familiar with, such as Track Changes in Microsoft Word or Google Docs, it's important to learn how to use them. This way, writers can see edits they must address for the document to be ready for publication. Reviewing your writing also helps you find points for improvement, which is helpful for writers who want to improve their craft.
You can also use bullet points or numbered lists to help break up your messages, making them easier for clients and editors to read.
Proofread before you send off your work so there aren't any mistakes. Typos are embarrassing and can reflect poorly on a writer's work. That's part of the magic of working with an editor. If you happen to miss something, the editor will catch it. Mistakes and typos aren't the end of the world. Remember — even Hemingway needed an editor!
For clients communicating with editors, be sure to articulate your needs and vision for the project. Clients need to be open about what they want out of the project while providing editors with detailed instructions on how to proceed along the way.
Work With Scripted
When you hire a Scripted writer, you can also expect an editor with effective communication skills.
Scripted editors are available for questions or concerns anytime throughout the order process. They make editing easy, moving through revisions quickly because they understand your style and vision.
Scripted also provides high-quality work for a fair price, an easy-to-use interface, and access to the best writers in the business.
Sign up for a free Scripted trial.