March Madness: Writer Edition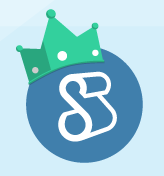 A little friendly competition is just what the literary world needs.
Here at Scripted, we're all for a little friendly competition. With March Madness on the brain, we thought it was a shame that while our favorite college basketball teams are often pitted against each other, our favorite writers never have the opportunity for such glory.
We put our top 16 writers from past and present into a grueling competition, where their talents, creativity and wits are their greatest assets.
Meet the Sweet Sixteen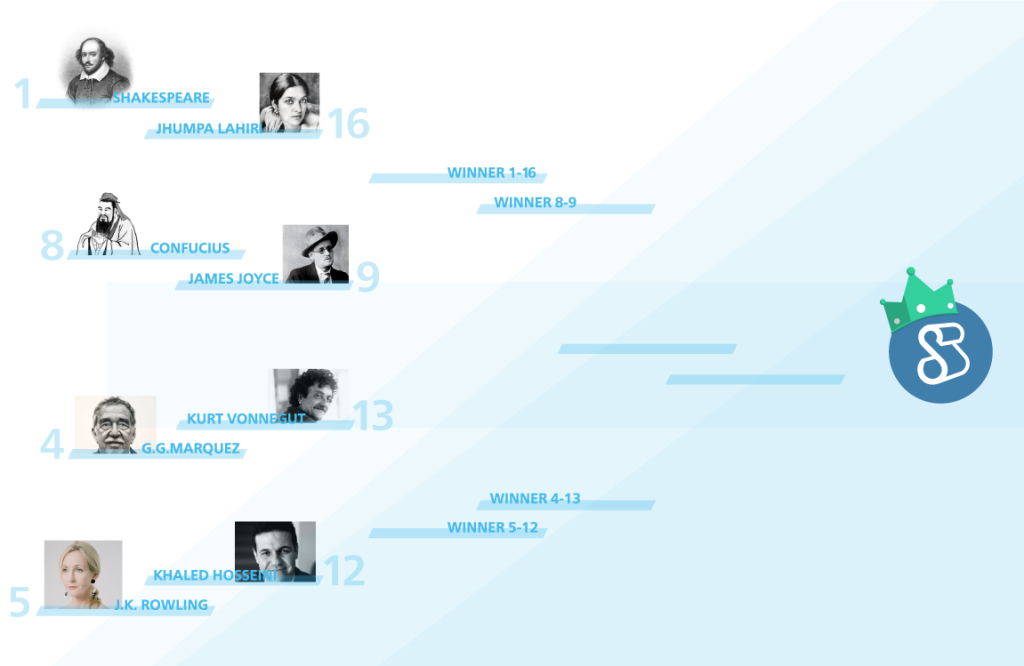 #1 WILLIAM SHAKESPEARE:
The Bard was an unquestionable master of words, wielding iambic pentameter as a powerful weapon in the battle for his audience's hearts and minds. Shakespeare's well-crafted characters and advanced lexical command make him a foe to be feared; is he a shoe-in for the Final Four?
#16 JHUMPA LAHIRI:
With a Pulitzer Prize from her first novel already on her mantel, Lahiri is ready for another trophy. Whether writing short stories, novels or television scripts, this Indian-American author is ready to sic(k) her revered characters on the competition.
#8 CONFUCIUS:
Although his teachings may promote harmony and good ethics, Kong Qiu isn't a contender to take lightly. His ancient texts, thousands of years of wisdom and legions of followers just might push him to the top.
#9 JAMES JOYCE:
One thing is for sure when it comes to this Irishman: he's got the work ethic, having written 265,222 words for
Ulysses
alone. If what you get out of something is tied to how much you put in, Joyce could be the underdog to watch.
#13 KURT VONNEGUT:
The only thing sharper than the weapons in
Slaughterhouse-Five
is its author's wit. Vonnegut is a satirical genius, and his low seeding will surely motivate him to try and cut through the competition.
#4 GABRIEL GARCIA MARQUEZ:
Law student turned journalist turned author, GGM has several literary prizes (including a Nobel) and the love of his home country (Colombia) under his belt. He is no stranger to doing what it takes to achieve his goals -- Marquez even has a coup d'etat to his name.
#12 KHALED HOSSEINI:
An author with a medical background who has only written best sellers? That's Khaled Hosseini for you. His vast intelligence and goodwill just might be his leg up in this bracket.
#5 J.K. ROWLING:
When it comes to wizards and witches, there is no one better than Robert Galbraith's alter ego. If March is all about madness and magic, then Rowling might just be able to cast a spell on the competition to come out on top.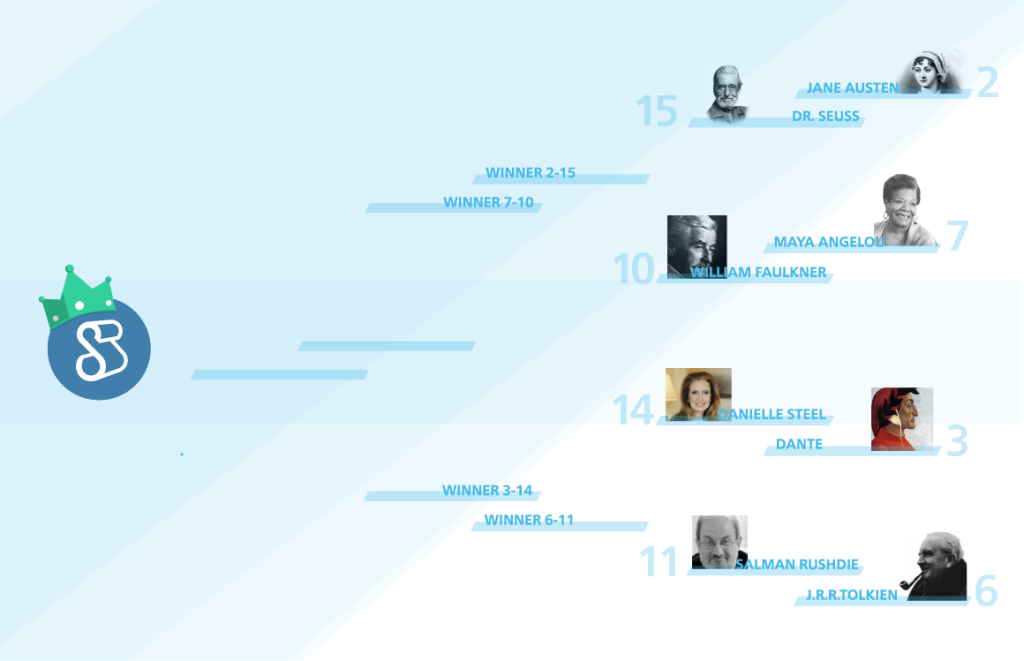 #2 JANE AUSTEN:
Britain's mother of romance wasn't all petticoats and parties; Jane had some bite to her bark, and she wasn't afraid to be real with her competitors. Austen won't need a Fitzwilliam Darcy or George Knightley to help her succeed -- she's quite the matchup (and matchmaker) on her own.
#15 DR. SEUSS:
It seems a shame to have one of the greatest children's authors of all time as a bottom-two seed, but Theodor Seuss Geisel has never been the type to complain. He'll greet his foes with a tip of his (striped!) hat and a smile -- but they would be unwise to underestimate the greatness he is capable of achieving.
#7 MAYA ANGELOU:
Marguerite Annie Johnson did so much more than write -- she inspired several generations of Americans. She's won the Presidential Medal of Freedom, but she'll have to pull off some upsets to add to her trophy case this month.
#10 WILLIAM FAULKNER:
From his humble beginnings as a night worker in a boiler room to becoming one of the kings of Southern literature, Faulkner is no stranger to working his way up the ranks. Winning a Nobel Prize in Literature is impressive, but not as impressive as coming out on top in this competition.
#14 DANIELLE STEEL:
Don't be fooled by her gooey prose and lovey-dovey plotlines. Steel is the best-selling author currently alive today, with over 800 million copies sold -- not to mention a whole genre that idolizes her. Will she be the Cinderella of this bracket?
#3 DANTE ALIGHIERI:
Dante was penning stories before most of our other competitors -- or their ancestors! -- were even born, telling tales of heaven and hell in the way that only the Father of the Italian language could. But will the old dog be able to learn enough new tricks to survive our bracket?
#11 SALMAN RUSHDIE:
It takes a certain kind of writer to elicit death threats from the leaders of sovereign nations -- and Rushdie is just that type. We know he won't back down, but will his guts be enough to carry him to glory?
#6 J.R.R. TOLKIEN:
Tolkien wrote poems, songs, novels and even full languages; he dreamed up elves, hobbits and orcs. Who stands a chance when the father of modern fantasy is in the (One) ring?
Who will come out on top? Check back every Tuesday in March at 1 p.m. for the latest match-ups, with the final showdown between the two top writers occurring on March 31. Tweet to us at @scriptedwriters and let us know who you think will (or should!) win each match, and we'll retweet the best match-ups.
Who do you think will make it to the Top 8? Add your thoughts in the comments below.
---
Published by
JD Peterson
on Tuesday, March 3, 2015
in
Writing
,
Angelou
,
Austen
,
Confucius
,
Faulkner
,
Garcia Marquez
,
Hosseini
,
Joyce
,
Lahiri
,
March Madness
,
Rowling
,
Rushdie
,
Seuss
,
Shakespeare
,
Steel
,
Tolkien
,
Vonnegut
,
Writers
.