How Scripted Writers and Editors Can Help Each Other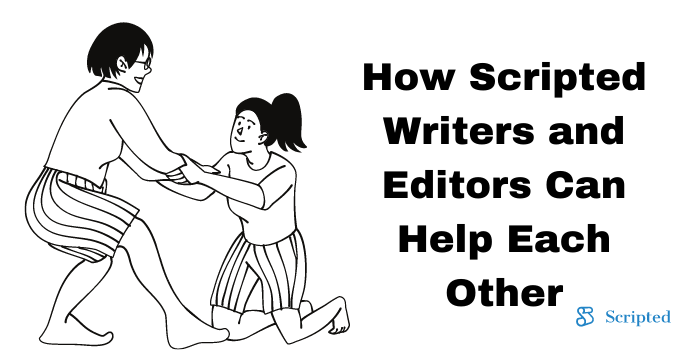 One of the things that sets Scripted apart from other writing platforms is its editorial process. To provide the very best final product for clients, every piece is sent to an editor for a thorough check before the client sees it. Like writers, editors are paid for their work and do their best to only hit "submit" once they're sure the work is top quality.

It stands to reason that two heads are better than one when catching errors, but sometimes the relationship between writer and editor can feel strained. This is especially true when you don't know each other and can't send a quick text to ask a question about something. If you don't work in both roles, you may not even know what your counterpart does, exactly.

Let's fix that. We're all on the same team, after all, so here's what you should know about the editor-writer relationship here at Scripted.
For Writers: What the Editor Does

The editor clicks on your piece once you've submitted it and has a three-hour window to review it before either sending the piece back to you for revisions or pushing it through to the client. Editors have access to the full brief as well as any attachments the client includes, such as an outline, samples or other documents. They can also see the full record of your communication with the client about the order in the messaging section, so if you've tweaked the instructions or received further clarification from your client, it's all right there.

The editor checks to make sure you've followed all of the client's instructions, including adding an image if requested, using the proper tone and voice, and following sourcing requirements. They also scrutinize your writing for grammar, spelling and punctuation errors along with typos. If there's a question about word choice or clarity, they might send the piece back to you for some fine-tuning. Unless otherwise directed by the client brief, editors use AP style to make sure your work follows standard rules for header capitalization and comma usage.

In general, editors will make quick changes themselves but may send the piece back to you if they have questions about a choice you made or need you to significantly revise a paragraph or section. Editors will highlight the action in question and write their comments for each area, which makes it easier for you to address issues as you work through the piece.
Tips for Working With Your Editor
Assume Good Will: Your editor isn't your mean high school English teacher, so try not to experience comments as criticism. If you feel defensive, it helps to take a break between reading the comments and completing the revisions so you can cool off.
Address Simple Fixes First: When you see a list of issues on the right side of your piece, start by checking off the easy items first. This will help you gain some momentum and feel less overwhelmed if you have many comments to sift through.
Remember That Your Editor Doesn't Know Your Client: While your editor can see the messages that are directly tied to the order, you may have a long-standing relationship with a client in which you've hashed out the style already. If that doesn't match the brief, let the editor know!
Leave a Note: If you've made a stylistic choice that you don't want changed, or if you know your client really loves Oxford commas despite AP style, try leaving a note for the editor at the top of the piece in italics. This can quickly get the two of you on the same page and lead to a smoother submission process.
For Editors: What the Writer Does

Writers write, of course, but they often do significant prep work and background research before the piece crosses your screen. In addition to the brief, many clients have messaged writers before assigning work to discuss their needs. These conversations occur outside of the order, so it's possible your writer has access to a whole set of expectations that you don't know about. They may also have taken a conference call to discuss strategy and expectations in real time, which often leads to a cryptic brief referring to a conversation you weren't present for.
Tips for Working With Your Writer
Read All Attachments: Many clients prefer to attach instructions that follow their own formatting instead of filling out Scripted's standard brief. It's crucial to read over these documents, especially if one is a style guide that varies from AP style.
Check Samples: Clients will often provide the URL to their website and/or samples of writing that they like. These are a great way to get a feel for the desired tone. If you notice a discrepancy in what's asked for in the brief and what the samples look like, check with the writer before making any changes.
When in Doubt, Ask: Some typos are obvious, but now and again the autocorrect can do a real number on a sentence. If there's any doubt about what the writer intended, it's better to send the piece back with a question than to make a change that could introduce an error into the writing.


Since the editor can only send a piece back one time for revisions, it's important for both writers and editors to be as clear and thorough in their communication as possible. Respectful collaboration is the key to great content, so don't be afraid to reach out to your partner to make sure the piece is the best it can be.