Hiring A Healthcare Writer: The Step-By-Step Guide

The healthcare industry is easily one of the fastest growing sectors in the world. Last year, the BLS predicted a growth rate of 15% between 2019 and 2029, representing 2.4 million new jobs in the United States alone.
Factors like a growing demand for healthcare services, along with a large aging population, are behind these impressive numbers. Of course, while growth is a great thing, it can make businesses in the healthcare industry think long and hard about their plan to increase organic traffic and keep up with an ever-changing niche.
In the healthcare sector, success relies on a trusted, dependable brand image, but how can you start gaining that recognition? In today's world, the journey starts out online with a well thought-out content marketing strategy — and, behind that strategy, you need to have the right writer.
Why Hire a Freelance Healthcare Writer?
When it comes to content creation, the benefits of outsourcing are obvious. So, not surprisingly, 84% of marketers who utilize outsourcing are most likely to outsource content creation before anything else. Of course, you can't outsource your writing to just anyone.
While there are a number of professional writers out there, every company needs to choose the right person based on their industry knowledge and the styles/voices they're able to adopt. If you're able to check these boxes, you'll enjoy benefits like:
Industry Expertise: Hiring a healthcare writer means you won't have to worry about explaining all the little things or taking extra time fact-checking their work. The right healthcare writer already understands the niche and has the necessary background knowledge to dive right into every project.
Special Certifications: Many healthcare writers have job experience, if not a relevant degree and/or certifications, in the healthcare sector. In addition to adding to their background knowledge and reducing research time, this hands-on experience allows them to approach your projects with a more informed and even unique perspective.
Existing Reputation: If you hire a top healthcare writer, your brand will benefit from the recognition their name already receives. While a recognized writer costs more, the instant authority they can bring to your brand is well-worth the money for many companies.
If you're looking to get a reputation boost and increase organic traffic, your primary focus should be hiring a writer with niche experience in the healthcare industry. After all, your reputation will be built over time and it ultimately depends on the quality of information you're offering readers. Still, hiring a writer with a recognized name or a degree that earns them an authoritative title, like Doctor, will give your content an instant credibility boost, if you have the budget.
The Healthcare Writer Hiring Process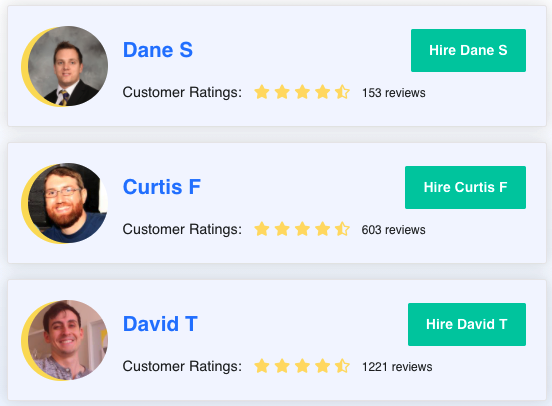 Before you start accepting proposals or going through the list of available writers in your niche, it's important that you lay down the groundwork. With a few preliminary steps, you'll set your brand up for successful content that offers value to your readers and makes a real impact in your industry.
Understand Your Needs
The healthcare sector is a broad one, consisting of countless specialties. What's more, companies within a given specialty can play a variety of roles, whether you're a B2B medical supplies vendor or a B2C patient-facing clinic, at-home care provider, or a brand filling many other needs within the industry. As such, even amongst the best healthcare writers, you'll see that not all of them fit your unique requirements.
To make the right selection, define the following for your writer in every brief:
What tone and style would you like to present to readers? Think reassuring, empathetic, and professional, or friendly and conversational.
What formats do you hope to publish? Think blog posts, white papers, social media content, etc.
What are the logistics of your content plan? Think about how much content you need each month, how much you can afford to pay per word, and how soon you want content delivered.
Plan Your Topics
The next question you need to answer as a brand is whether you are ready to plan your own topics or if you'd like potential writers to pitch ideas for you. You need to narrow down what you're looking for. With the healthcare industry being so broad, you should first specify your company's niche (i.e., podiatry, addiction recovery, etc.), and then explain the type of content you need.
For instance, an addiction recovery center may start out their content plan with some "101" type content that introduces potential patients and their families to signs of addiction, addiction treatment pathways, and other basic information. The same center may later publish branded content introducing the team and what makes the center unique for receiving treatment.
Whether you request ideas from writers or plan topics out yourself, it's critical you have this information detailed out for both your own team and the writers you hire.
What to Look for in a Healthcare Writer
Once you gain an understanding of your company's content needs, you can proceed with selecting the best writer for the job. Aside from good communication skills and availability, consider these factors when hiring a healthcare writer:
Specialization:

 

Do they specialize in healthcare writing or are they a generalist? Do they have a relevant degree, certification, or job experience that lends itself to better content? The more complex, technical, or "niche" you need your content to be, the more you should opt for a specialized writer.
Writing Style:

 

Most professional writers can take on a diverse range of styles, but reading samples that match the voice/tone you need for your brand's content is important in ensuring the writer you hire can ultimately match your brand's voice.
Marketing Knowledge:

 

One of the biggest perks of hiring a professional writer is that they should be able to bring an engaging style to the table, all while incorporating relevant keywords and handling on-page SEO for you. Asking writers about their background knowledge in content marketing and SEO is a good idea, unless you have another expert who will optimize the content before it goes live.
The more experienced, specialized, and otherwise "in-demand" the writer, the more you're going to have to pay them for each project. However, these investments ultimately prove worthwhile for most businesses, especially in the healthcare sector where fighting misinformation and gaining a client's trust is a full-time job.
Ensure Your Project is Successful

When it comes to hiring a healthcare writer, the most important thing a brand can do is take their time. Laying out your brand image; understanding your audience's wants and needs; and taking the time to find the right platform are all critical to a successful, long-term content marketing strategy. Of course, when you're ready to move to the next step, Scripted is here to help.
With some of the best healthcare writers in the industry, Scripted can help you get ideas, hire a writer, and manage your projects all in one place. Plus, with Cruise Control, a dedicated account manager will take over the reins of your SEO and marketing plans for you. Interested in learning more? Register today!