A Guide to Writer Profiles on LinkedIn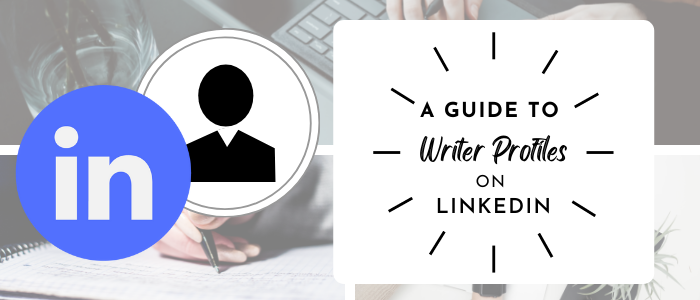 The job market landscape has experienced a dramatic shift since the pre-pandemic days. Now more than ever, social networking is key for those looking to advance their careers or grow their businesses. Most people head straight for job boards like Indeed, Monster, Glassdoor, and others when job searching. However, the following statistics about job seekers may surprise you:
"Connect the world's professionals to make them more productive and successful."— LinkedIn
LinkedIn is the largest professional social network in the world and has amassed a following of over 774 million members. If you're a freelancer looking for work or a content marketer seeking writers, LinkedIn is the best place to start. It's here that over 85% of recruiters run checks on job applicants. The best way for a freelance writer to attract the attention of a recruiter is to create a professional profile—a comprehensive profile gives a 71% higher chance for a job interview. Here are the elements you need to include in your writer profile along with tips on how to stand out among other job seekers.
1—Professional Head Shot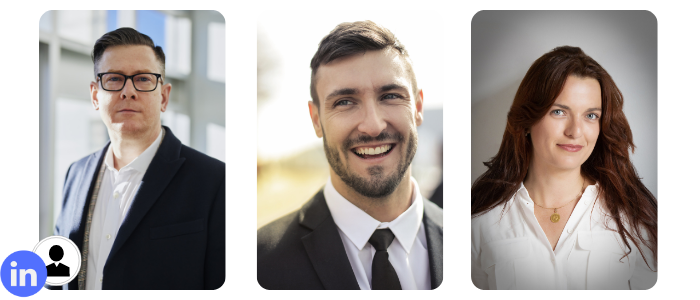 They say first impressions matter, and that holds especially true when people view your LinkedIn profile. Despite its small size, the first thing they'll notice is your profile photo. First, a profile with a professional photo gets 14 times more views than other types of profile pictures. Second, the photo is a reflection of your brand.
Your headshot should be clear, high-quality, and give the impression that you're friendly and approachable. It's wise to invest a few hundred dollars in a professional photographer who can capture you in the best light possible. You can also use a current photo or take a new one using your smartphone or camera. Be sure to pay close attention to lighting, background, image resolution, and other LinkedIn profile photo tips. Also, don't forget to smile—those pearly white teeth make you appear twice as likable.
2—Impactful Headline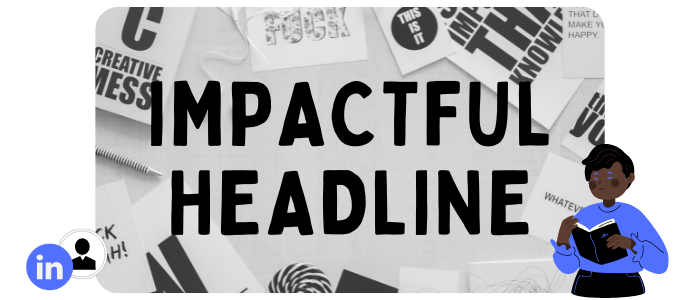 Next to the headshot, the headline is going to be the most looked at part of your LinkedIn profiles. Most users use this space to display their titles. Unfortunately, they're missing out on opportunities to create eye-catching headlines like other LinkedIn users. This area right under your name should be treated like your own personal advertising space.
In general, it's recommended to include "freelance writer" in your headline. This boosts your chances of showing up when recruiters search for writers to hire. It also lets them know that you're not looking for full-time work. Here are a few other headline ideas:
Display your personal or business mission statement.

Share a mini version of your elevator speech.

Flaunt your talents as a professional writer.

Announce the opportunities you're creating for clients.

Highlight the promise of your writing services.
You can take many other approaches to create a headline that gets people wanting to learn more about you. Think outside of the proverbial headline box rather than follow the crowd—and risk being lost amid the mediocre. You've only got 120 characters, so make it short and sweet.
3—Unique and Personalized Summary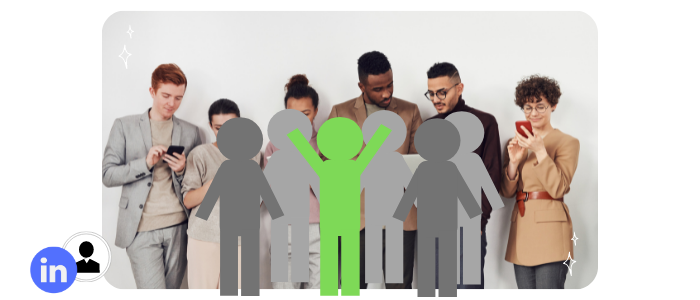 The headshot showed how you look, and the headline told who you are in a nutshell. The "About" section of your LinkedIn profile is where you're allowed to let your personality and ambitions shine through. It also helps recruiters find you when you optimized your summary with industry-related keywords and job-search terms.
In your summary, you want to show recruiters, marketers, and other business professionals what makes you special and why they should connect with you. Use some creativity to make your summary unique to you and:
Start with an eye-opening and catchy opening statement.

Highlight your short-term and long-term goals.

Show enthusiasm by talking about your passions.

Brag a little by outlining your most significant accomplishments.

Tell a story about your brand rather than regurgitating skills.

Write in the first person so you don't sound overly formal.
Whatever you do, avoid the typical clichés that most jobseekers use, like "Seasoned writer with 10 years of experience." This says nothing about what makes you stand out, as there are plenty of writers who could write the same thing on their profiles.
4—Writer Portfolio Links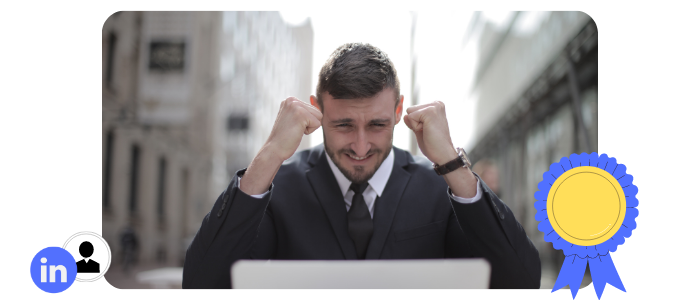 The "Experience" and "Education" sections of your LinkedIn profile are laid out similar to a typical resume. The general tips for good resume writing remain the same on LinkedIn. Rather than simply listing your positions and credentials, also add your most impressive measurable accomplishments.
Like most creative jobs, a basic resume isn't enough to show what you can do. Having a writing profile is an absolute necessity because 58% of recruiters look for samples of written or design work. Even if you're new to freelance writing, it pays to create sample articles on topics you're most interested in writing about. You can upload PDFs of your writing samples directly to your profile. You can also add a link to a writing portfolio on your website or portfolio sites.
5—Articles, Posts, and Link Sharing
One of the most overlooked benefits of LinkedIn is the ability to post your content. Only 1% of LinkedIn users post content every week, even though 91% of executives source content on LinkedIn. As a professional network, you can increase your visibility and credibility on LinkedIn by positioning yourself as a thought leader or simply sharing samples of your work.
LinkedIn has grown to be a prime location where you can publish long-form blog posts on your writer profile. You can create great content about anything from voicing your opinion to sharing advice to writing about your passions. Even if you don't have time to write, you can easily share links to other published content. Status updates are an excellent way to inspire others as well as to generate followers. The key to becoming a LinkedIn influencer that's more likely to capture the attention of recruiters is by publishing content regularly.
Join Scripted Now
Are you looking for professional content for your website, blog, newsletters, videos, and more? Scripted is an online marketplace that connects business professionals and content marketers with highly vetted freelance writers. Writers pitch content ideas, so clients only pay for what they like.
Browse through a list of our career writers to find one that can write content customized for your industry!