June Writing Contest: My Best (Or Worst) Summer Vacation -- Congrats, John C.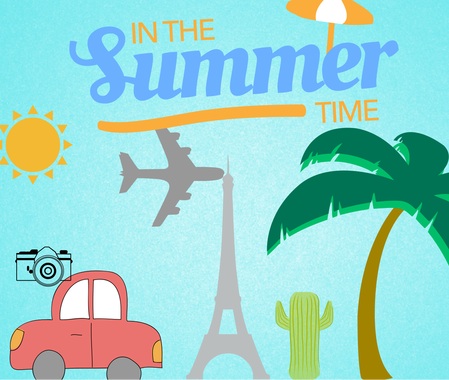 Summer is a season for adventure, fun, love and so much more. We asked our writers to share their best (or worst) summer vacation memories for this month's writing contest -- make sure to vote for your favorite!
While each year brings new changes, the summer heat is always something we can count on. Whether you're going on a vacation or moving to a new city, summer is a time that can create the fondest of memories. As temperatures rise this month, we asked
Scripted.com writers
to share their best (or worst) summer vacation stories. Vote below the table of contents for your favorite story; the winner will be announced on June 30.
Update: We'd like to congratulate John C. for winning this month's contest!












[polldaddy poll=8120253]
Three Kids, Two Dogs, a Reptile, a Loving Husband and a Summer to Remember
Seth R.
I'm not going to start this with: "summer's here, time for fun and relaxation!" There's a world out there to experience. You all know that, perhaps we all do -- and that maybe more than once we have caught ourselves staring out the window thinking: "Why am I here instead of spending an afternoon on a beach somewhere or in a wood cabin up in the mountains?"
Years ago it was easy for me to pack my bags for a weekend out of town -- sometimes even taking a bus ride without planning ahead on where to go or what to do, but those days are over. And besides, my traveling companion is now busy being my husband and father to my three kids.
Now vacation means planning ahead, confirming reservations, packing bags and finding someone to feed the pets and water the plants -- the list goes on. Going through each and every entry on the list is tiring. Writing the list was tiring.
We deviated from our yearly vacation plan and all decided to stay at home.
My husband and I both work at home. With school out, we were all everyday in one place, with the mall as our nearest refuge for leisure. There's the movie theater, of course. And summer meant plenty of blockbuster action-packed movies. One after the other. After we had our fill of several buckets of buttered popcorn and soda, we asked, so what's next?
It was quite ordinary, what we did everyday that summer. And that ordinary was what made it so special. That summer was when my husband and I had to prepare our daughter for college. That summer I also got to know my kids better. It was special because I became more than a mom to them. I became their friend.
I also got to learn how to cook. Not just plain cooking of tossing in proteins and veggies to make a stew. I cooked with my heart and served the dishes plated like how professional chefs would do. Surely my love for cooking must have outshone my inexperience in the kitchen for everyone seemed to love my kitchen concoctions.
Several years ago, my husband and I found a shared passion for reptiles. And we were able to find a pet iguana to adopt (with paper and license of course). I liked the idea of having an iguana at home because they're vegetarians and it encouraged everyone at home to eat their veggies as well.
My husband trained the iguana ever so patiently. Finding out which types of leafy greens it loves best. Which gave me a reason to drag my husband along for our regular trips to the market.
We hopped from one market to the other, looking for the best greens in town. I loved those trips because I get to go home with loot bags filled with beetroot, passion fruit, chard, kale, edible flowers and other types of ingredients that are not normally sold in supermarkets. With new ingredients on hand, it meant more new recipes for me to work on.
That summer was also the warmest summer ever recorded. My plants withered, my dogs were sweating like crazy. It was fiercely warm and we all felt it. That was the summer our iguana died. Died from intense heat. Something that may have have been avoided. For sometime we all blamed ourselves for that. We miss the head-bobbing when it tends to claim its territory. It whipped its tail only once a when a cat strayed near its enclosure. He was the perfect iguana and we all miss him.
Disneyland
Jack O.
Summer vacation was always one of the best times of the year when I was little. My dad is a twin and my uncle's family used to join us on our family vacations. I have lots of fond memories of my childhood vacations. Summertime meant celebrating my birthday, going on vacation and my dad having time to himself for a couple weeks.
When I grew up, though, my first summer after I started college wasn't so great. I had not been getting along with my parents, which was one of the reasons I refused to go to the school ten minutes from my house even though it had a great reputation. I was 19 and thought I was ready to make my own decisions, live on my own and do whatever I wanted. Then summer came and I had to leave the dorms, the cafeteria where I lived on Lucky Charms (something I had never been allowed to eat as a child) and days spent doing what I thought was best or right.
My birthday was coming, too. I decided to spend it in California, on the opposite coast. This wasn't a random decision, either. I had met this guy online who was older than my parents, who was doing nothing with his life, and who had convinced me that he was the only person who would ever want me. According to him, I was broken, my fiery temper meant nobody could ever love me and he was a saint for putting up with our conversations on the phone, never mind in person. Sadly, my self-esteem was low enough in those days that I believed him.
So off to California I went for a week to visit him.
He picked me up at the airport and right away I could tell this was not the guy for me. It just didn't feel right.
I don't remember much about what we did. What I do remember is embarrassing. See, this guy had a girlfriend. I had told him that I did not want to be involved with someone who was with someone else. As usual in those days, though, I didn't have the ability to speak up for myself. So when he decided we were going to stay at a hotel together but he wasn't telling his girlfriend about it, I didn't argue. He called her and made up some long involved story. He wanted his parents to wait outside while he finished this amazing piece of fiction so that she wouldn't find out.
On my birthday we went to Disneyland, which I was very much looking forward to. It was not exactly an enjoyable trip, however. I'm not talking about the standard long lines and hot temperatures. As I recall there were sprinklers on the lines to keep everyone cool while they were waiting. The problem was that the guy I was with didn't understand why I didn't want to quit school to come live with him. His opinion was that being with me was vital to his life and that it was my job to "save" him from being with the woman he was currently with, so that he wouldn't be miserable. School was not important because I could always go to school later.
We argued about this throughout the whole Disney adventure and throughout the whole performance of a circus that was in town the next day. We argued until I was tired of arguing and decided to give in.
Two days later, I was thankful to be able to go home, where he told me that he couldn't hurt his girlfriend by leaving her and that he and I should just be friends.
Although that was probably the worst vacation and the beginning of one of my biggest relationship mistakes, I don't regret it. Had I made better choices, it would have been the best vacation of my life because I would have either gone by myself to places I really wanted to see or would have told him in no uncertain terms that his behavior was unacceptable. I learned a lot about what not to do in a relationship from that whole mess, so in a way it was a great vacation and great birthday gift, even if I didn't quite get it until several years later.
Rocky Mountain Flood
John C.
My girlfriend and I had planned for months to hike a portion of the Rocky Mountain National Park, known for its majestic beauty and ample wildlife. However, we had no idea that during our trip Colorado would face down flooding of historic proportions, leaving us caught right in the middle of a natural disaster.
Normally, early September in the Rocky Mountains features clear blue skies and perfect weather for hiking. Unfortunately, it had already been raining for nearly a day straight when we first set up camp inside the park, and much to our dismay, it kept raining the entire night.
The used tent we bought for $15 at a Goodwill Store wasn't exactly waterproof, leaving us resting on a small puddle. The temperature dropped rapidly in the mountains, turning me into sleepless shivering heap inside a sopping wet sleeping bag. At least my girlfriend was doing much better. She's the smart one who brought a waterproof sleeping bag. I knew I couldn't sleep inside the tent anymore, but where could I go?
The only answer was the Rocky Mountain National Park men's bathroom -- not exactly the dream camping vacation spot I had in mind. Despite the buzzing fluorescent lights and cold floor, I eventually fell asleep until someone woke me up a couple hours later after stumbling upon my sad sleeping form -- probably scaring him more than it scared me.
We quickly escaped the campground and rented a room in a hotel in the nearby town of Estes Park. Little did we know that during the night the rain would only pick up pace. The next day, the quaint Estes Park downtown was completely swamped with water, a truly sad sight to see, especially considering the impact on small businesses.
All this flooding meant every road leading east from Estes Park was essentially closed to traffic for days. There was only infrequent Internet and cell phone access as well. Unfortunately, all of this meant we missed our flight back home.
While we thought we had it bad, one couple said the fire department had to rescue them with a zip line after flooding turned their once peaceful stream into raging rapids. Others at our hotel told us that their summer cabin had been completely swept away in the flood, underlining how dangerous Mother Nature can be.
Although the trip was stressful and exhausting, we learned that tragedy can make communities stronger. People picked us up when we needed a ride, shared valuable information and worked together to make it through this epic disaster. In the end, the kindness of strangers was the best part of a bad trip.
Tennessee Getaway
Lucinda W.
My best summer vacation was a family trip to Gatlinburg, Tennessee. What started as a one night couple's getaway for my husband and I turned into a week long trip with our son, too. Since it's only about an hour from our house, we decided to drive back home and surprise our son with the trip. We don't vacation much, so the look on his face as we crossed from the mountains of western North Carolina into the mountains of eastern Tennessee was priceless.
Since none of the vacation was pre-planned, we spent each night in a different hotel. Though most people would find packing and unpacking their stuff every night a hassle, it was fun to hop around the "strip" and check out each hotel.
On our date night, we enjoyed tasting local moonshine and whiskey, went souvenir shopping and had nice dinner together.
In two days alone -- according to my fitness tracker -- we walked 10 miles. We checked out a number of Ripley's attractions, including the aquarium, "Ripley's Believe it or Not! Odditorium" and the "Mysterious Mansion."
We met with friends who just so happened to be in the area from our hometown at the same time and experienced our first fondue. The experience took hours as we moved through three courses, but memories made at that table over melting pots of cheese and chocolate will stay with me forever.
Though we spent a great deal of time together as a family, we also spent one-on-one time with our son, as well. While I rested and enjoyed the whirlpool in our suit to soothe my aching feet, my husband and son went to the Pepper Palace, where they sampled a number of hot sauces, and came back the hotel with plenty of bottles with which to stock our home kitchen. While my husband slept in, my son and I went out for breakfast and later in the day went for ice cream while my husband enjoyed the whirlpool.
Though we don't vacation often, our experience last summer made me a fan of the spur of the moment approach. It was the perfect combination of rest and relaxation with touristy fun. Never again will I pack my schedule with so many things to do that I need an extra two days of vacation to rest from my vacation.
My Tyrolean Summer
Ceejay T.
Summer of 2010 in Austria's Tyrol region stands out for me as the best summer vacation of my life. Having spent the season in more cosmopolitan destinations skywalking, surfing and souk-hopping, the Tyrolean vibe was a welcome change.
As expected, it was cold when we landed, but my friends and I immediately got a feel of the local warmth from the cheerful stewardess in the tiny Austrian Airlines plane we boarded from Frankfurt, the attentive owner of Sylvia's Pizza in Brixlegg (surprising corner refuge for weary, kind-of-lost tourists) and the filial care of our cottage host.
First stop: Alpbach, dubbed the most beautiful Austrian village. It's essentially a winter destination, but since our group are not winter people, we went in a drier season for the landscapes, the architecture and the farmlands. We crossed off mountaineering since it's still way too chilly for us tropical children. It was a guten morgen every day, waking up to the smell of scrambled farm eggs, fresh milk, apple strudel and Staud's marmalade. While all the lush panoramas in the world are the same to me, Alpbach stood out with castles jutting out -- a welcome addition to the landscape.
Next on the list: Innsbruck. We made the centuries-old Baerenwirth Hotel our home and drove our car near the tram station that brought us straight to Old Town, where we satisfied our fetish for historical spots and al fresco risottos. Finally, there I was, staring at the Golden Roof (how touristy!), imagining Emperor Maximilian making eye contact with me. As if! While its shops and the cycling are rather common in other countries, Old Town is an architectural wonderland with the Helblinghaus, Cathedral of St. James -- the works. It's also a great stomping ground for baklava and about 50 variants of Margherita pizza. Simply put, it was all so delightful.
Next up, the customary shopping. It surprised me that you can actually request discounts in some Austrian malls for items not necessarily damaged referred to as "last piece." Our lovely Asian friend Bei, who speaks fluent German, was the real deal maker, but nevertheless it was retail negotiation like I've never seen before.
The best thing about my Tyrolean summer? It made me realize worlds apart aren't really so apart after all. There are things and people that instantly remind me of home: the Maypole Festival, the street parades, the patience of a local tour guide boy. These more than made up for all the skiing I missed. On a brighter note, there's a reason to go back: I need a second chance to finally create my angel wing imprints on the Tyrolean snow.
Trip to My Grandparents' House
Jennifer T.
I was a 10-year-old facing the long, lazy stretch of summer yawning before me, as only a 10-year-old can. The freedom from school and doing whatever I wanted were the ideas that thrilled me about my upcoming summer. However, the same reality had been worrying my parents. What was their solution to the problem? Grandparents. To my 10-year-old brain, summer with the grandparents sounded about as much fun as rolling around in a mound of fire ants. However, knowing how much power my 10-year-old self had over the ideas and inclinations of my parents, I just went with it.
The trip from Corpus Christi to Lago Vista, Texas used to take about 5 1/2 hours by car. The maximum speed limit in 1980 was 55 mph on the highway, so getting anywhere in Texas back then had this dream-like molasses quality to it. When we finally arrived, I was in full sulk mode. My grandparents let me spend a day in that state and then did something completely unexpected. They pulled me out of my funk with actions rather than words!
It began with scent. The scent of bacon sizzling gently and biscuits baking in the oven had my eyes popping open. This would happen every morning for the entirety of the summer. Not the same breakfast every morning mind you, but something delicious would be ready to greet us upon waking. Lunch and dinner were equally amazing! Coming from a home where homemade cooking was a foreign concept, this was a welcome change. My grandmothers cooking lessons and habits would influence my sister and I for the rest of our lives.
We made daily treks down the hillside towards the marina, where my gramps kept his boat. He showed us his fishing poles and the boat toys. How to bait a hook, fish, water ski and ride a wake-board were all lessons learned that summer. We swam in gorgeous coves and listened with rapt attention to the stories my grandparents would share with us -- from the depression, stories from WWII and from their time overseas. This included all of the odd experiences they encountered over the years. Hours were spent on Lake Travis morning, noon and night -- somehow we never suffered sunburns.
The thing about this first summer vacation with my grandparents is that is was the very first time I felt recognized and thoroughly paid attention to by an adult. They never treated us as if we were too young or too fragile to hear about and understand certain truths in life. For my 10-year-old self, it was magic and it was emotionally liberating!
My Costa Rican Adventure
Ian E.
I have been fortunate enough to go on quite a few vacations in my lifetime. My parents were incredibly generous with my sister and I -- we'd frequently get invited to go on trips with them to places like England, France, Rome, Israel, New York and elsewhere. As I grew older, I realized that most of the places I had ever gone were either in the United States or other Western countries. I had the itch to venture outside of the safe and comforting confines of The First World.
A friend and I decided that we would backpack through Central America. Our Spanish was mediocre at best, neither of us had ever done a trip like this before and we were both completely in over our heads.
We should have known better.
The trip started off surprisingly well. We flew from Long Beach, California, to New York, to San Jose and Costa Rica (I'm not sure why that route was by far the cheapest, but it was.) After we landed, we went to a hostel where we met some amazing people, both locals and fellow Americans, who we decided to travel with for a while. For about two weeks, we toured the country, enjoying the scenic vistas that Costa Rica had to offer, until we eventually decided to say our goodbyes and part ways.
My friend and I headed to the beach cities on the Pacific side of the country. We ended up in a city called Playa del Coco, a somewhat whitewashed town that was breathtakingly beautiful. One night, after some particularly indulgent bar-hopping, my friend and I decided to go for a swim at the beach. In a moment of sheer idiocy, we left our backpacks (with ALL of our belongings, including our passports, phones, and cash) on the beach and went into the water. Four young locals saw the treasure trove we'd left for them, grabbed it and ran.
In a drunken moment that was as brave as it was idiotic, I decided to chase these four young boys down the beach, screaming "Por favor! Por favor! Es todos mis cosas!" After a couple of minutes of running, we ended up in a remote part of the beach. The four boys decided to stop running from a winded 24 year-old, turn around, and beat the crap out of me. Then, they stole ALL of my clothes.
I'd be lying if I said walking into the police station completely naked wasn't embarrassing. But it didn't stop me from spending another two months backpacking through Central America.
Pura Vida.
Suburbanite, Award-Winning Milker
Michael N.
My parents knew how to take advantage of every resource available. When it came to summer vacations that meant relying on the charity of my uncle, who managed a string of hotels across Southern Vermont. There was never a Hilton in the bunch, but they were solid places, joints where I could load up my plate with bacon at the breakfast buffet and then swim in the over-chlorinated pool.
For years, that was our only tourist destination when the school year ended. Some people had Disneyworld or Cape Cod; we had a two-hour car ride from Northern Connecticut to the Green Mountain State. My sisters and I got sick of it rather quickly. By the time I was 12, we'd seen just about all Vermont had to offer. We put our collective feet down when my parents tried to hustle us into the minivan for a trek out to the Cabot Cheese factory for the umpteenth, stomach-churning time.
"We can't do it anymore," we said. "We need something new. Our intestines are turning into cheddar."
What could my parents do? Desperate, they dug through the hotel's brochures, looking for anything new. Finally, they found one -- a working farm in nearby Woodstock where visitors could go smell manure and watch chickens cluck. We reacted as a bunch of kids from suburban Connecticut naturally would.
"Hell no! Just bring us to the mall! Cows? Who cares?!?"
The pleas fell on deaf ears. We were going, my parents driven by novelty and some old-school 4-H nostalgia. So, for the first hour of the expedition, we moped. We hopped over cow droppings and drank whole milk (so much for the dairy avoidance) and sat around on stumps.
It was misery.
My salvation came from loudspeakers. "It's time for the Visitor's Cow-Milking Contest! All interested guests please come to the dairy barn!"
Oh, what the hell...
To this day, I don't know what made me get up from that stump and walk over to that barn. The cure for boredom comes in mysterious ways. I shuffled over there, sat down on that stool, grabbed those pink udders and went to town.
I wasn't just a natural, I discovered. I was a phenom. I was the LeBron James of milking. My little 12-year-old arms worked those things like Tyson working a speed bag. By the end of it, the pail was overflowing and I had an honest-to-goodness blue ribbon on my shirt and a big wide smile on my face.
Nearly two decades later, that blue ribbon still sits in my apartment. It's a reminder that you can find the greatest bit of amusement in the places you least expect.
Swahili Summer
Lisa J.
From the first bouncing bus ride I took from the Kilimanjaro airport to the city of Arusha, I was taken aback by the way people blended into the scenery; it was hard to tell where the land ended and its people began. Open fields and abandoned shops appeared still until I noticed feet swinging where a child was perched atop a wooden barrel or a woman's head bobbing as she ambled through tall rows of sugarcane.
Knowing I only had a month in Tanzania, I became transfixed on trying to put the people on every corner, peeking out from dilapidated shops with tall recycled glass bottles of Coca-Cola, into context. What was a day like for the woman sauntering down the street with a basket of grain on her head, her hands dancing in front of her in sweeping motions as she laughed with a friend? Where was the old man on the rusty bicycle pedaling to -- and why was that ox following him? Who left that sheep tied to the light post? I wondered what they thought when they saw us mzungus riding through their town in a Land Rover.
I spent a month in Africa trying to put the daily lives of its people into a context I could understand, sometimes consciously, by asking awkwardly-phrased questions revolving around the few Swahili words I knew, other times by reflecting at night, under the halo of my mosquito net, on what I had seen and who I had met that day. In the end, no matter how many times I wished I could live by the sun and moon, dance to the rhythm my ancestors put in place long ago, or acquire a taste for salted goat meat, the truth is I am a blonde-haired mzungu who couldn't balance an apple on my head, let alone a clay pot filled with water.
A year after my return, I'm still re-reading my weathered journal, examining the people in the background of my photos who went about their daily lives, unaware that their actions were captured and bound in a leather album that sits on a dusty bookshelf halfway around the world. I try to make sense of what makes people and places so vastly different and incomprehensibly familiar at the same time. I don't have all the answers, but what I do have are fragments of vivid memory so alive I can smell the sweet corn blackened over sooty fires on the street corner and warm sweat on bodies dancing in the humid night -- postcards from the real Africa. I may not have been born into the ancestral pulse of the ngoma drum, but I was lucky enough to be welcomed into it by an elderly Maasai woman who grabbed my hand firmly and led me in the dance our ancestors began long ago.
Gulf of Thailand
Nick C.
I woke up in a hammock on a white sandy beach with a clear view of the majestic turquoise waters. My girlfriend was back in the hut, snoozing. Apparently, I had stayed up to watch the sunrise. I don't remember if I actually saw it. I went to the street, bought a coconut, had the vendor cut the top and insert a straw and headed back to the hut. I set the coconut beside TT. She was still sleeping. I gave her a kiss.
I took my bandana off and stepped back outside. I expected to be tired by this point. I expected bumpy 12-hour bus rides to take a toll on my body and mind. I expected to be ready to go home. Where was that? Wherever one could feel peace, I thought. In two days, it would be back to Bangkok and then on a plane back to my physical home. That meant saying goodbye.
The song "Pressure Drop" by The Maytals all of a sudden came on at the guesthouse's bar. Staring out into the Gulf of Thailand from my humble hut in Ko Samui, it suddenly hit me why I had come to Southeast Asia. Yes, it was for the Pho in Hanoi. It was for paying way too much for lobster in Saigon. It was for the architecture in Phnom Penh. It was for Angkor Wat and staring at cows in the Cambodian countryside. It was for giving a pack of cigarettes as a tip (the waiter loved those American Spirits!). It was for waving glowsticks in the jungle at the Full Moon Party on Ko Pha Ngan. It was about all those things.
More importantly, it was about learning to love everything for what it was, and living life with open eyes and an embracing soul. It was about traveling and taking it all in with someone you love. I went back inside the hut. TT was drinking coconut. She smiled and offered me a sip.
At this moment, I became certain that this goodbye would not be permanent. Travel makes you gravitate toward the things you love. Yes, indeed! I decided I would have to get another coconut. I needed some time, and more coconut, to gather myself. I had a question to ask.