Research Tips for Creative White Paper Ideas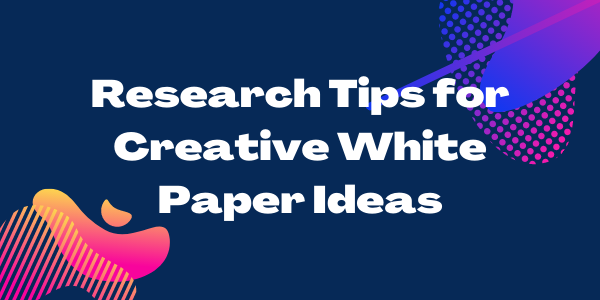 White papers are an excellent way to build authority for your brand by giving readers long-form, in-depth content that explains your product, industry, or relevant information. Of course, coming up with a great idea for a white paper is no easy feat. No brand wants to waste time creating a white paper around a topic that readers simply don't care about, so how do you find the right idea?
Here are some research tips to help you develop creative white paper ideas that are sharable, engaging, and highly valuable.
Look to Your Current Content
If you already have a robust blog or other content resources for your brand, that's a great place to start your research. Dig into the metrics of your blog posts to figure out the most popular category, topic, or sub-topic that seems to really grab the reader's attention. The topic that people spend the most time reading or sharing may be worth diving deeper into.
Once you identify the top-performing topics on your blog, ask yourself: Is this a topic our brand could provide an in-depth white paper around? Will the audience benefit from even more research or background information on this topic? If the answer is yes, this is a great candidate on your list of creative white paper ideas.
Break Down Big Topics
Maybe you know that your audience cares a lot about lead generation, but that's a very broad topic. White papers perform best if you break a topic like that down into something ultra-specific and actionable. For instance, you might decide to turn lead generation into a white paper titled "How to Generate More Leads Using Twitter."
Your white paper should take a topic and narrow it down to a specific method, action, or approach that you can take a deep dive into exploring. Ideally, you'll end the research project with specific metrics, too, and you can incorporate those into the title, like "How to Generate 7x More Leads Using Twitter."
Think About Your Mistakes
Every company makes mistakes as it grows and thrives. What are your most significant learning stories? Many white papers have found success by basing the content around a company's lesson. Your white paper might take on a title like: "How I Turned a Failed Launch into a Marketing Campaign with 304% ROI."
Your mistake may be new or old, relating to:
Your company's launch.

Your product's launch.

Your product idea.

Your marketing initiatives.

Your internal management.

Your overall approach to sales, service, or success.
Many companies are embarrassed to talk about their mistakes, but this approach to creating a white paper can bring incredible authenticity to your brand, all while offering real value and insight to your readers since you're basing the entire content piece around a personal experience.
Consider Your Audience's Questions
Your company has likely already dug into all of the questions your audience commonly asks when they are considering buying your product or when they first start using your service, but what about all the questions that come before they even know your company? What about the questions they ask about their challenges and the solutions that exist?
Digging deeper into your audience and the questions they hold could spark the perfect idea for an in-depth white paper people will actually want to read. This will take weeks of market research and may require surveys and polls, but you'll likely end up with a long list of content ideas and at least a couple of ideas for your white paper.
Turn to Your Biggest Clients
Your next white paper could be a raving success if you decide to turn it into a case study. This means reaching out to your biggest clients and digging deeper into their initial questions, struggles, and even their ongoing challenges and successes. Most clients will jump at the chance to collaborate on your white paper since it means more eyes on their business.
Approaching your white paper as a joint project has many perks, although it will take a great deal of back-and-forth between yourself and the client's company. Still, the insights it can bring to consumers are worth the hassle -- plus, teaming up with a well-recognized company will build authority for your brand and help readers trust the content from the start.
Look Ahead and Behind You
If you're not getting anywhere by thinking on the client or company level, it may be time to take a step back and consider how far your industry has come, or where it's going. White papers often find success by looking ahead or behind the current times, making projections or emphasizing growth over a time period.
For instance, if you're in the SaaS industry, you might benefit your readers by taking a deep dive into the changes over the past five years and how the approach of companies, including your own, has changed. Alternatively, you might look ahead to the next 1-5 years, identifying trends and where the market is headed.
This type of recap and forward-looking content is most popular within the first and last couple months of a year, but you can get started on its creation any time.
Decide Where It Fits In The Funnel
The best companies make a home for every piece of content they plan to produce before they start writing it. Your white paper is one of the most time-consuming pieces of content you're going to create as a company, so you should take the time to decide where it lives in your sales funnel. In doing so, you'll be better prepared to outline the topics, determine the explanations you need to include, and position the calls-to-action so they best address the reader base.
Looking at your funnel and all the content associated with each part of the funnel can also help bring on ideas for topics and sub-topics. When you look at your white paper within the funnel, you'll be better positioned to connect it to existing content within that same area of the funnel, thereby helping you entice readers to open it.
Reach Out to Writers for Inspiration
As you continue your research, it's normal to feel a little "stuck" in a white paper's initial ideation. After all, you want to make sure that you choose a topic readers will care about so you don't waste all that time creating something that no one clicks on. Fortunately, your writer can prove to be an excellent source of inspiration.
Turning to a professional writer to help outline or create your white paper can unlock a whole new perspective and help you dig deeper into industry ideas you may not have considered yourself. At Scripted, we maintain a database of over 7,000 writers across niches who can help you take a deep dive into a relevant topic and produce content that tells a story.
Are you ready to move forward with the creation of your attention-grabbing white paper? Let Scripted's writers help you produce something that's engaging, thoughtful, and valuable to your audience. Get started today.