Scripted's Weekly Content Marketing Trends: 05/17/21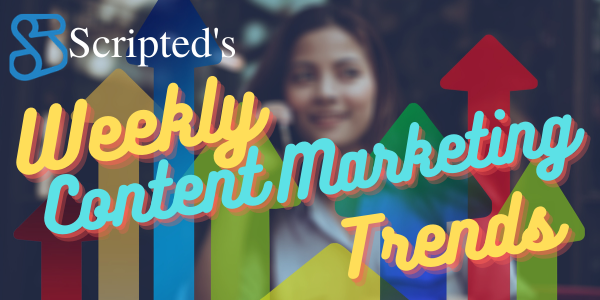 This week on Scripted's Weekly Content Marketing Trends, we cover the social audio boom, infographic trends, the rise in legal content writing, content marketing ideas for the upcoming month, and how to increase the impact of your product launch. Take a look!
Quicklinks:
Social audio has gained a great deal of popularity in the last few years. Spotify is largely responsible for recent growth with purchases of Gimlet Media and Anchor. With Spotify getting users used to listening to audio beyond music, the demand for social audio continues to grow.
In response, social media platforms are adapting. 
Clubhouse has announced that it closed a new round of financing to support social audio functions

Facebook reported that in the coming months, it will launch both Soundbites (similar to Instagram reels) and Podcast (a podcast discovery tool).

Twitter is working on purchasing its own audio application
Read more to learn how your business can benefit from this growing content channel.

There's no denying the effectiveness of infographics. Combining data, copy, and imagery targets the brain's visual processing center, thus making the information easy to digest and remember. 
Three ways to create them to achieve your content marketing goals include:
Modular Infographics

Destination Storytelling

Divisible Content
Read more to learn about what these methods entail and how to create them for your business. 

The legal industry is facing an extreme overhaul with new technologies and consumer habits brought on by the pandemic. The traditional face-to-face services are moving to almost 100% online. 
Firm owners now need high visibility on the Internet in order to compete. This means the key to their success lies in their content marketing, which is uncharted territory for most firms. 
Because this heavy focus on content marketing for law firms is somewhat foreign, firms are showing an increasing need for content writers, platforms for promotion, and data analysis tools. 
Read more to learn what law firms can do to adapt. 

With summer just around the corner, content marketers can take advantage of the warm-weather vibes and international celebrations that come with this time of year.
Practical Ecommerce offers 5 content ideas including:
World Bicycle Day

World Environment Day

June 6: D-Day

Surveys

A focus on pets
Read more about what these ideas entail and how to execute them for your business. 

Content marketing has become a staple of B2B marketing. Beyond building lead generation power, content marketing allows for direct communication with your target audience to educate them on your product. In response, you receive feedback on pain points and can resolve them quickly. 
So how do you develop a strategy to put this into action?  Business 2 Community walks through the power of social media, how to generate engaging content for your website, how to use blogs to inform your audience, and how to close deals.
Read more to learn how you can increase your impact. 
Stay Up With The Latest News
Check in with Scripted's blog each Monday for the latest content marketing trends.
Have any questions about your own content marketing strategy? Connect with one of our team members to take your business to a whole new level!