Woopra Tool Review | Scripted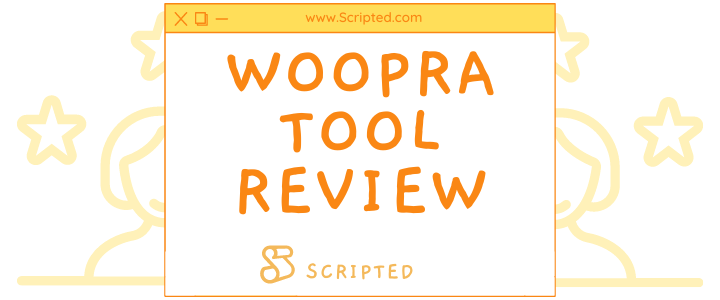 Customer journeys can be confusing. They aren't the same 1-2-3 step process most traditional "conversion funnels" want you to believe and, in reality, a prospect might jump back and forth between stages multiple times. What's more, no two customers are alike, and while you might have an average time it takes for customers to make it from start to finish for their journey, that alone isn't enough to engage them.
More than knowing the metrics of your average customer journey, you need to unlock analytics that will give you accurate insight so that you can start asking questions like, how do we bring down the average time to adoption? How can we improve customer success after adoption? These are the answers a system like Woopra can give to you. Here's what you should know about this customer journey analytics platform.
What to Consider When Looking for a Customer Journey Solution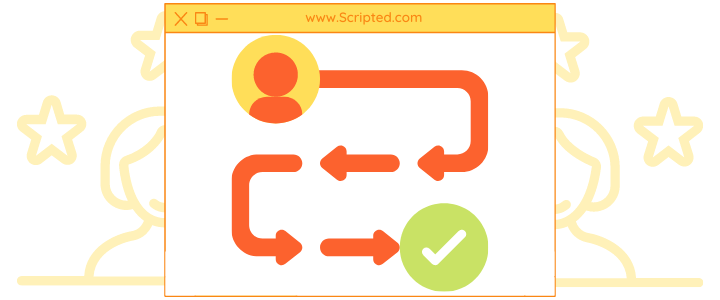 Understanding the journey your customers take to get from discovery to purchase is no easy feat, and it truly does require the help of a system like Woopra. With this platform, you can save your team countless hours and take a lot of guesswork out of the process by giving your people the data they need to make informed decisions that drive customer engagement.
If you're not familiar with customer journey analytics, these solutions plug into the core of your tech stack, capturing data from across platforms and tracking every prospect as they move from the early stage of acquisition through discovery, activation, adoption, and, hopefully, on to purchasing or subscribing and becoming a customer of your brand.
With Woopra, you can "holistically understand how every single touchpoint affects the customer experience to drive growth, retention, and customer success." This platform will help you answer important questions like, which advertising platform drives the most sign-ups or how does the activity in your live chat box impact conversions for visitors?
The core of Woopra's offerings is the analytic tool. It has plenty of fancy reports and add-ons to help you make the most of your information. What counts is that your company understands its needs and decides that all that Woopra has to offer is really the right fit for your brand.
Features and Benefits of Woopra

When you use Woopra, the first thing to explore is analytics. Once you get all the integrations made so that Woopra can begin collecting data, the next steps are easy. It's truly a matter of sitting back and allowing the data to collect itself. Once you have a sufficient amount of data to start making decisions, Woopra allows you to extract journey reports that break down important attributes and actions.
According to a McKinsey & Company Research Report, "Journeys are 30-40% more predictive of customer satisfaction and churn. Organizations that analyze the customer journey win in customer experience and growth." This is what makes Woopra's offering so valuable because the platform will help you uncover precisely who your visitors are and what they're doing on the way in, or the way out, of the conversion process.
Woopra can also produce trends reports for you, allowing you to see how things change over time, especially in relation to a new feature, subscription option, or other change in your platform. The trends report will help reveal whether that change was well-received, widely adopted and if it boosted conversions or drove them down.
Cohorts reports give you more high-value options, as they "help teams analyze growth trends over time by monthly or quarterly cohorts, allowing you to measure patterns throughout the customer lifecycle. Break down users by behaviors such as acquisition date, sign-up date, first purchase date, and more to understand the attributes and actions driving success."
Retention reports, behavioral segmentation, and countless other analytics tools are truly only the beginning. Woopra also offers integrations, automation, and tools to help you get real-time information about the people who are interacting with your brand, all helping to inform your sales and marketing teams and drive conversions.
Pros of Woopra
Woopra is a detail-oriented platform with advanced reporting and countless features that any brand will benefit from.

There is a learning curve and setup time associated with Woopra, and you'll need to account for it when accepting any free trial offer if one is available.

Automation tools will help you connect with users at just the right time, helping to improve the performance of your marketing and sales team while saving them valuable time.

Woopra's performance is proven, and you can easily find countless case studies from major companies on how Woopra has helped them transform their conversion and engagement results.
Cons of Woopra
Woopra has a learning curve, but that's really unavoidable with a tool of this nature and variety.

While they have a fantastic free plan, once you exceed those limits, the pricing goes up rapidly.
Woopra Plans & Pricing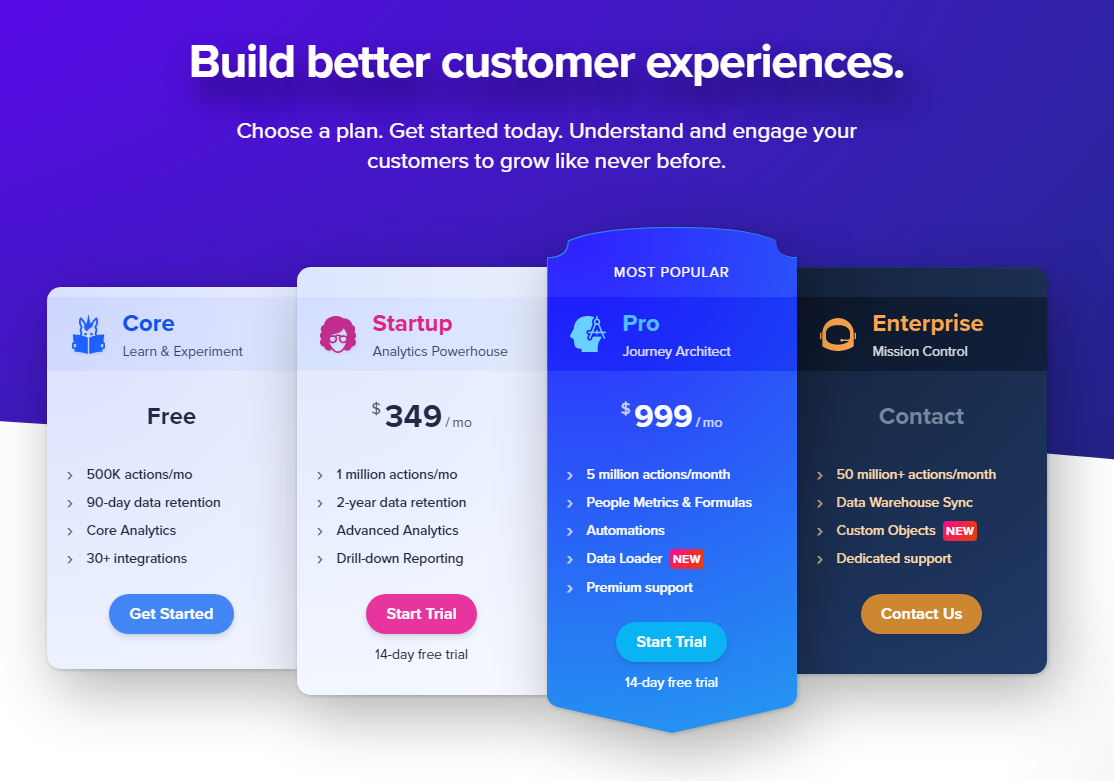 Woopra has a generous pricing structure. While you might be reading about its features and begin to dismiss it, assuming it's out of your budget, you can use Woopra for free -- not just for a free trial, but with a flexible free version.
For reference, Woopra says: "An action is any event tracked in Woopra such as page views, downloads, property changes and any custom actions you configure. Also, every time a property is changed, for example, a user updated their email address or joined a segment, it will be listed as an action in the customer profile and counted towards your action quota." 
Free
The free plan includes 500k actions/month, 90-day data retention, core analytics, and 30+ integrations.
Startup
The startup plan includes 1 million actions/month, 2-year data retention, advanced analytics, and drill-down reporting for $349/month.
Pro
The pro plan includes 5 million actions/month, people metrics and formulas, automation, data loader, and premium support for $999/month.
Customer Reviews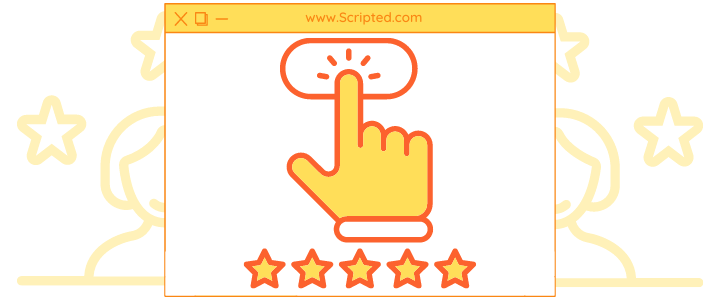 "I like that it both provides tracking on web and mobile properties, and it aggregates other data sources, to provide a source of truth for all data within the organization. It can integrate with a large variety of tools, and can easily map different databases without having to write SQL. I'm now able to create dashboards that pull information from my Web traffic, Marketing Automation tool, and Sales CRM. We are now able to better understand which forms are performing well, and where the conversion traffic is coming from. The interface is easy to use and great-looking. [However], It takes a bit of time and engineering effort to get it set up and track all the touchpoints on the web properties." via G2
"It is the number one tool to find tracking solutions, it allows direct interaction with the client, it also keeps us attentive and informed of everything our clients do on our website, it has also helped us and improved all aspects of our marketing strategies, it is a great tool to analyze data, it also allows your software to track the visitors who come to your website and their behavior, it also provides reports with valuable data that allow us to know the position of users, it is easy to configure and deliver complete documentation. I still have not found something that works wrong with this platform, everything is very well designed with excellent functions to help make a better follow-up." via G2
Power Your Content Marketing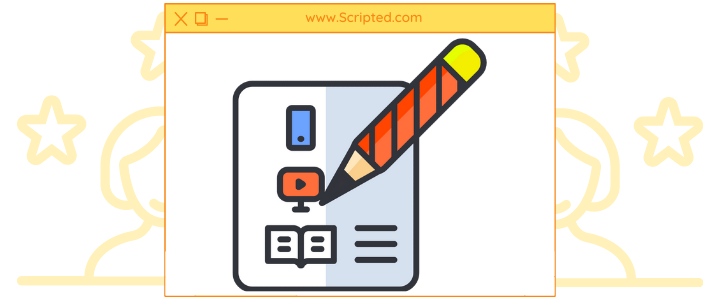 All in all, Woopra has a generous free plan that is well worth trying, but beware that the price increases rapidly if you exceed the free plan's limits -- something to consider if you want to use Woopra long-term, but you're close to the upper end of the free plan. With that said, budgeting for Woopra may prove well worth it. Just spend some time reading the case studies, and you'll get a feel for the major impact Woopra could have on your company.
Of course, content marketing is about more than understanding your customer journeys; it's about creating content that helps transform them and nudge them along from one phase to the next. That's where Scripted's services come in. With Scripted, you can put your content needs on autopilot and get back to focusing on what matters most. Explore Scripted today!