Uberflip Tool Review | Scripted

From Ceros to Optimizely, digital experience tools may seem like they're popping up everywhere, but Uberflip is an option with a unique premise. The thought of having 30 variations of your home page to display to different people in your target audience is exciting but becomes daunting once you start thinking about creating all of that content. That's why Uberflip explicitly focuses on re-purposing and expanding upon your existing content, so you can spend less time creating iterations and more time measuring, and improving, impactful results.
As Uberflip puts it: "Our easy-to-use platform helps you quickly create personalized destinations that surface the most relevant content and messaging based on campaign, audience, and intent data." With this platform, you can optimize across email, ads, outreach, social media, and events. Uberflip is so committed to re-using your existing content that it boasts you can "build personalized content experiences in minutes."
Using AI, Uberflip makes automatic content recommendations to users to help increase content consumption across platforms, thereby driving engagement and helping you build a lasting reputation amongst your audience. The time-saving value proposition continues in Uberflip's marketing copy, where they reinforce that users can "skip hours of development work with software that lets you update content and launch campaigns on the spot. Built for marketers, Uberflip lets you personalize marketing experiences for your buyers and get them live and distributed across channels."
Saving time is a huge deal for marketers, especially when your company is functioning at scale and you're putting in a lot of time and energy to create personalized experiences for your users. At its core, Uberflip may be a content management system (CMS), but it's not a CMS as you know it. Uberflip goes far beyond the functionality and focus of traditional CMS platforms, like WordPress, and helps you deliver jaw-dropping experiences for your visitors.
Features and Benefits of Uberflip

We're at an interesting point in time where marketers have more control over the buyer journey than ever before, yet there's a disconnect happening where the experiences customers actually have aren't what the marketers promised them. With Uberflip, web design and user experience can be put directly into the hands of your marketing team, so they can deliver on their promises and address pain points head-on. The key benefits of Uberflip include:
When you need a new landing page or campaign destination, teams won't struggle with the typical back-and-forth as they forward ideas, mockups, and iterations to each other. The final landing page can be created in minutes, skipping all the mockups and miscommunications.

Uberflip is built for marketers, not developers. This means developers can get back to focusing on functionality and expansion, rather than designing and re-designing a hundred variations of web content.

Instead of manually uploading content, Uberflip allows you to import content quickly and automatically keep it updated, making it even more "marketer-friendly" and saving everyone -- techy and non-techy -- significant time.

While traditional websites direct all visitors to the same generic form or landing page, Uberflip helps you offer a curated collection of content unique to each visitor, so they want to stick around.

With Uberflip, you can skip the guesswork and start getting accurate reports on the campaigns, pages, and content that actually converts visitors, leading to better results in less time, with far less effort poured into web design and copywriting.
Uberflip's platform is tried and tested with some of the biggest names in the industry utilizing Uberflip to grow their companies. While not everyone will have the budget to get hands-on with Uberflip, startups and large companies will certainly be able to make use of its innovative approach that's helping to define the new standard of digital brand interactions.
Pros of Uberflip
Uberflip lets you reach your audience in a whole new way, treating them as individuals and responding to their interests, pain points, and attributes with dynamic content that changes based on what's most important or relevant to them. The result is binge-worthy content experiences that keep your audience engaged and coming back.

With Uberflip, you won't just see increases in basic metrics like "time on page" or return visits. Uberflip will have a real and direct impact on your profits, helping you deliver the content that's most likely to convert each individual user based on their unique attributes. It's no longer a shot in the dark when marketing to the masses.

Uberflip is a tool meant for marketers, not developers. This means it only takes minutes, not days or weeks, to get a new page up. There's no coding, no back-and-forth with developers, and no waiting for multiple iterations or bug fixes. Uberflip produces responsive, beautiful content every time.

Since Uberflip is designed for marketers, the marketing team no longer has to struggle with meetings and phone calls to the developers trying to communicate their vision or focus points. They can get hands-on, mockup a page in minutes, get approval fast, and make it live instantly.
Cons of Uberflip
By far, the biggest con of Uberflip is the cost. Uberflip is an expensive, enterprise-ready product that the biggest brands have adopted, and that means the price point is completely unrealistic for small businesses. You'll need to schedule a consultation to talk to Uberflip about the available plans and their pricing.
Case Studies & Reviews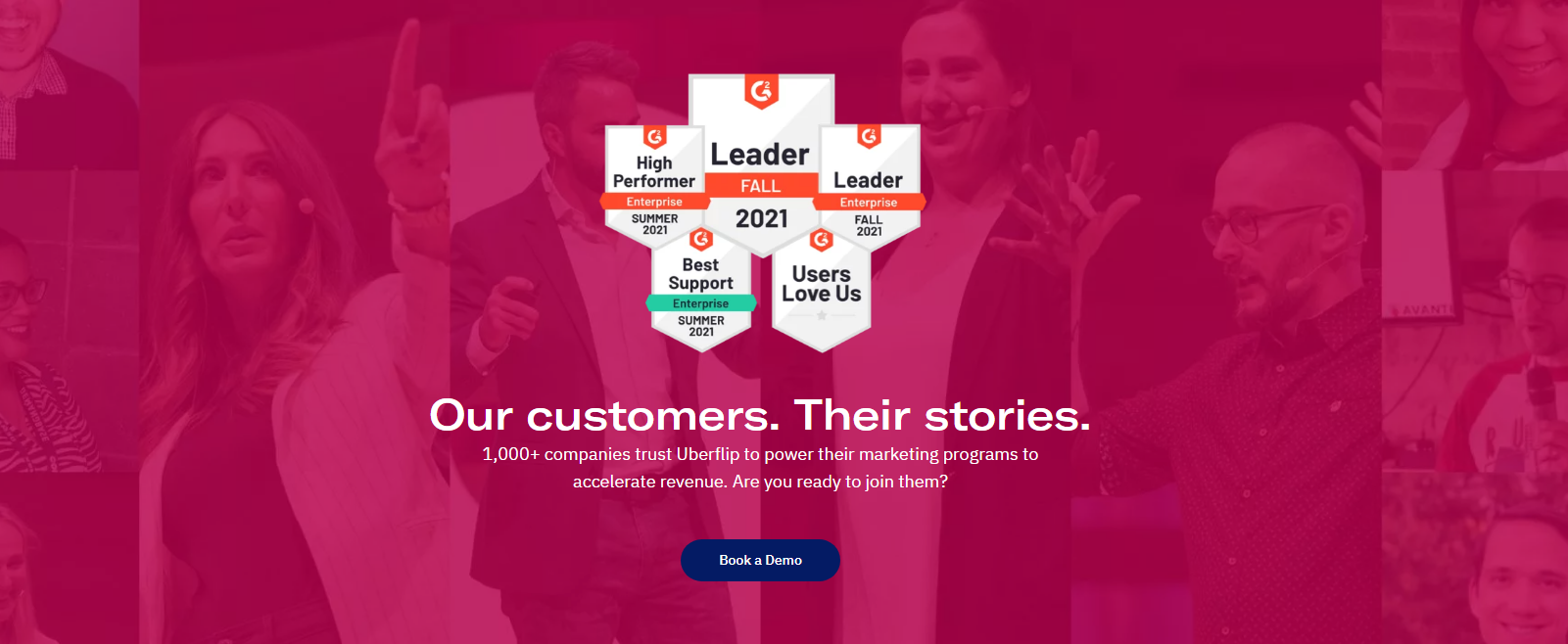 Among some of the biggest companies to use Uberflip, one case study that stands out is for Blackbaud, a major cloud software company. When they partnered with Uberflip, they realized incredible results. "The new campaign quickly led to $100,000 in new pipeline, and a 42% increase in opportunity-to-deal conversions for one of Blackbaud's flagship products—not to mention a better understanding of content engagement and ROI ... Across all 15 marketing groups, the Blackbaud marketers were able to show $51 million in pipeline influenced by their content."
Cision, a global software provider, also used Uberflip to achieve some astonishing results. "Cision was looking for a way to personalize the way their visitors consumed content. The marketing team had built up a vast library of content that included more than 300 blog posts and dozens of eBooks, playbooks, and webinars. Yet, despite their efforts, they were failing to meet their traffic and lead generation goals. The solution was a simple one for David Cardiel, Head of Global Demand Generation at Cision, and a three-time Uberflip client."
Meanwhile, Claranet managed to save over 200 hours of development time with the help of Uberflip. "An inefficient content management system was draining Claranet's development team's time and resources. Developer intervention was required every time the site needed a change, and things were quickly becoming outdated. Rob Brown, Web Development Manager at Claranet knew a more efficient solution was needed to scale the marketing team's content and demand generation strategy. Uberflip was the perfect solution, offering a versatile and engaging platform for their marketing team, web developers, and customers. Best of all, the integration with their existing technology stack meant that their demand generation strategy could scale as their business did."
Power Your Content Marketing

Are you looking for a digital experience solution that will help you deliver the right content to every individual visitor? Uberflip may be your winner. While alternatives certainly exist, Uberflip puts its focus on user-friendly design and an interface that anyone can start using in mere minutes, making it highly appealing, especially for marketing teams that want to have more control over how their ideal experiences are executed and delivered for customers.
With Uberflip, you get real-world, measurable, and substantial results with the help of curated, dynamic content. Of course, the price tag can hold many businesses back. If Uberflip isn't within your budget, you can invest in content marketing from the ground up to get great results for your company without spending an arm and a leg on complex software.
Scripted's services may be just the solution you've been searching for. With Cruise Control, you'll have a content strategist on your side, helping you to plan and produce content that impresses your audience and keeps them engaged. Your content strategist will take advantage of Scripted's top writers to get you timely, high-quality content that your audience will love reading and sharing. Interested in learning more about Cruise Control? Explore the features today!