Open Web Analytics Tool Review | Scripted

When it comes to powerful free tools that can help grow your business, Open Web Analytics has to be one of the best out there. This open-source framework helps businesses just like you gain valuable insights into your users, competitors, and how people interact with your websites and applications. You'll enjoy first-party control, endless customization opportunities, and all the money-saving benefits of using a truly free tool that you can build upon to make a solution perfectly suited to your company. So, let's take a closer look at this app.
There's an endless list of solutions out there if you're trying to understand how people interact with your applications and websites. Being free is a huge leg-up for Open Web, but it's definitely not the only reason people choose this solution. The customization opportunities, combined with the strong framework it's built upon, make for a truly powerful tool.
Some of the features that make Open Web stand out include:
First-party control. Choose to run OWA in first-party mode, under your own domain, or implement it into your web application so that you can extra data directly from your users and their behaviors.

Customize. OWA is a framework, and it's easily built upon and expanded, allowing you to tailor it to perfectly suit your needs.

Integrate. You can integrate OWA with various CRM systems so that you can put the data you extract about your audience's behavior to good use right away.

Reporting. You'll never miss a metric with downloadable dimensions and reports covering every piece of data you track.

APIs. Make use of the raw data access API so that you can start working with the raw data you extract without the need to transform it more than once.

Privacy. OWA makes it easier to remain in compliance with GDPR and other global privacy regulations while still helping you collect valuable data.
From heat maps showing where your users click on a given page to a dashboard complete with detailed analytics, OWA may not compare to the most expensive analytics solutions. Still, it does offer a wealth of functionality for a free tool, and you can always customize and build upon it for a solution custom-tailored to your company.

If you ask OWA to describe their product, they state: "Open Web Analytics (OWA) is an open-source web analytics software framework that you can use to track and analyze how people use your websites and applications. OWA is licensed under GPLv2 and provides developers with easy ways to add web analytics to their sites using simple Javascript and PHP-based APIs. OWA also comes with support for tracking websites made with popular content management frameworks such as WordPress and MediaWiki."
Being open-source, OWA depends on the community around it to continue developing and expanding it. The inherent risk with an open-source product is that it can be abandoned, or the community may be slow to fix bugs or other flaws. With that said, OWA has a very lively community at this time, and it's been around longer than a lot of open-source software. 
There are also upsides to using open-source software. For example, beyond having the option to customize it yourself, you can often find examples of customization online where people have shared their work, so you can plug and play with a new feature or configuration. This can save you time on development and help cut costs. 
Pros of Open Web Analytics
Stay in control of your data without the need to bring in a third party, which presents additional privacy concerns for you and your users.

Customize OWA to perfectly meet your needs and look to the community for examples of what others have already done.

Connect your account to your CRM for better data management and customer insight.

Use dimensions and reports to make the most of all the information you're collecting, and dig deep with the raw data API.
Cons of Open Web Analytics
As an open-source product, it's always possible that bug fixes take a while to get addressed or it stops being updated altogether.

While the tool is free, you should expect to spend some time and money implementing and developing OWA to meet your company's needs fully.
Open Web Analytics Plans & Pricing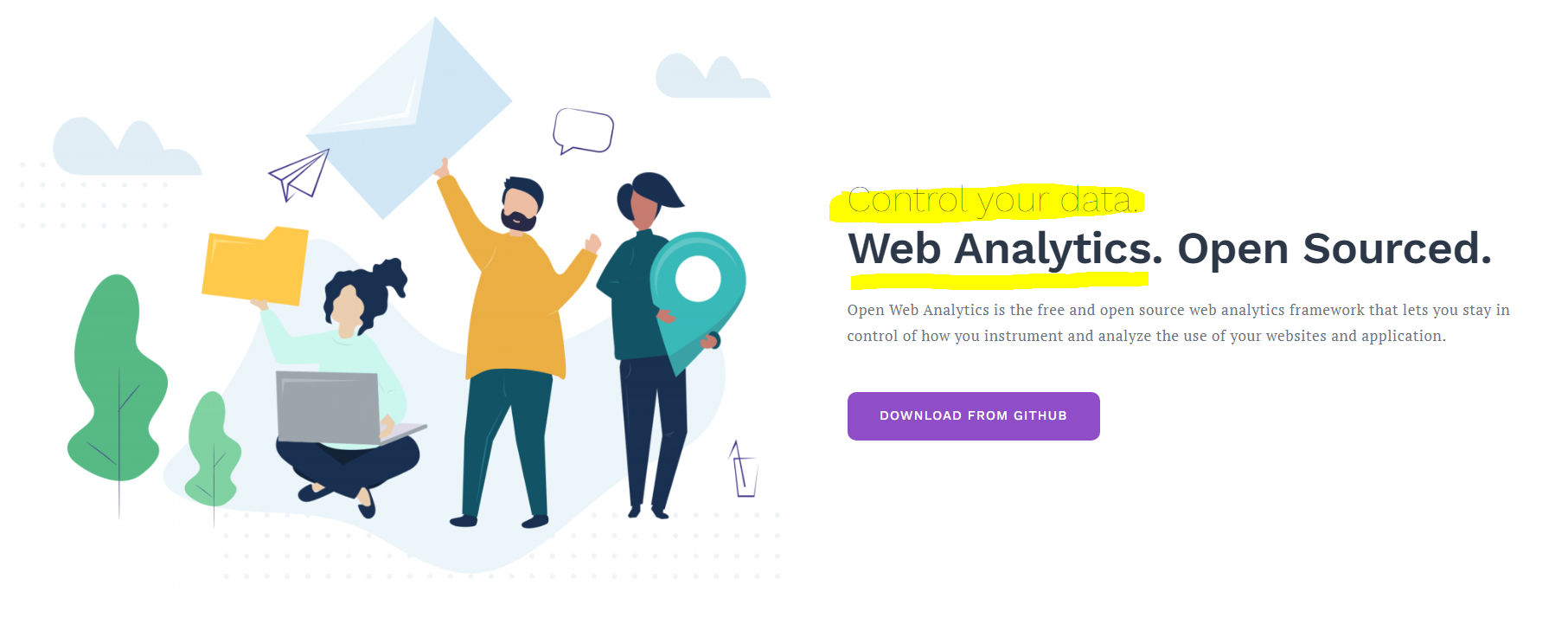 Open Web Analytics is open-source, so you will not need to pay anything to download and start using it. With that said, there are inherent costs associated with OWA. As with any open-source platform, it's unlikely that you'll be able to get it running right out of the box. Most likely, you're going to require some work implementing and developing it to meet your needs.
You should always give yourself a complete comparison by considering what OWA can do up-front and what you will have to do to make it work. Account for things like implementation time and all the features or functionalities you'll need to develop to make OWA a part of your business. With those things in mind, you can determine if there's a paid offering out there that fulfills all of your needs, and then you can compare potential costs and time investments to come to a good solution.
Customer Reviews

"Open Web Analytics is a piece of free, open-source website analytics software that lets you see what users are doing on your website. This review highlights my personal pros and cons of this software. [W]ith Open Web Analytics (OWA), you take ownership of your data. It stores data in your database, and you decide who to share it with and for how long time you want to store it. In other words, you keep Google or any other company with potential interest in user behavior on your site away from your website analytics data. [However, while] you keep Google away from your data, you will miss a lot of the good features that e.g. Google Analytics provides. Open Web Analytics is nowhere near Google Analytics in feature set and slice-and-dice functionality." - Soren Holm
Power Your Content Marketing

Ultimately, if you're looking for an analytics solution for your business, Open Web Analytics is going to be an option on your list -- whether or not it wins out will come down to the complexity of your use case, your budget, and your development experience or resources. Generally, the more time and energy you can pour into developing OWA to meet your needs, the happier you'll be. This is good if you're a developer working on a solo project, but if you're a business, the money you invest in development will probably justify going with a premium option instead.
Of course, the best way to know whether or not OWA is right for your company is to dive in and spend a little bit of time playing around with the features. Estimate how long it will take the implement for your company and then consider how many functions and features you would like in addition to what it comes with. Once you have that information, it will be much easier to make an informed decision on whether or not OWA is the right solution for your brand.
About Scripted

If you're looking for an analytics solution, you are undoubtedly trying to understand your customers better so you can improve your approach and boost conversions in the process. Scripted's service can help by tackling your conversion problem from the source: Your content. With Scripted, you'll be confident knowing that a content strategist is planning and producing all of your content with the help of Scripted's professional writers.
As a Scripted user, you'll enjoy unique content, where all you need to do is hit "publish" as you watch the results roll in. Are you interested in learning more about how Scripted can help grow your brand and build a reputation for your company? Explore Scripted's features today and sign up for a consultation.