thruuu SERP Analyzer Tool Review

If you've ever tried to analyze your competition and understand why they're ranking, and you're not, thruuu is a handy tool to try. This SERP analyzer looks at search engine results pages (i.e., "SERPs) and helps you see how they're ranking, the traffic their rankings are generating, and other important metrics that can give you the information you need to outperform them.
As the brand puts it, "thruuu will help you to get a quick overview of the SERP and its content. You will instantly analyze the central theme and sub-topics of each page's ranking first." While plenty of tools like it exist, perhaps the reason why thruuu stands out is its simple, user-friendly interface and straightforward design.

If you've spent any amount of time researching an answer to the question of how you can rank your website better, you'll know that countless things are factored into Google's search ranking, with the overriding theme being very simple on paper: Give your users a great experience. This concern is why Google cares about how long your pages take to load, how many semantically related keywords each article contains, how long your content is, how many headings you use if you include images — and everything else.
All the ranking factors Google considers ultimately are Google's way of trying to give their crawl bots means of analyzing your content and assigning a relevancy and value, allowing them to place you within the SERPs, and that's the kicker. Even if you're on page ten of the SERPs, that doesn't mean all the content ranking before you is better, it's just being perceived as "better" by Google because that content is meeting ranking factors that your content isn't.
With a tool like thruuu, you can dive into the details and figure out exactly what your competitors are doing that you aren't, so your content can shine. As thruuu puts it: "Indeed, your content must answer the most critical questions of a search query and cover the topic in depth." That's why thruuu has been carefully developed to help reveal important information about your competitors to you.
Pros and Cons

Pros
Intuitive, straightforward user interface that even non-techy, non-SEO users will be able to navigate and understand with ease and minimal learning curve, so you can dive right in and start making improvements.

Quickly gain an overview of the top results for any keyword you plug into Google, so you know exactly who your competition is for every keyword you wish to target.

Get a detailed overview of each page ranking in the SERPs for a given keyword, so you know what the top performers are doing that you should be doing, too.

Gain information about the length of a page, number of images, last time it was updated, whether or not there are featured snippets, and other useful insights.

Compare keywords and the density of keywords through headings, titles, and page content. 

Use the related search and most asked questions analysis to help fill out your next article or get ideas for additional content that you can link together. 

Export all the handy information thruuu shows to you for later reference or use within another tool.
Cons
thruuu is not designed to be a be-all, end-all solution to your SEO, so expect to use it in conjunction with other tools to optimize your content and website. With that said, thruuu is a good free addition to your plan.

You'll get 10 scrapes for free each month, but you'll have to purchase credits for additional scrapes. The pay-as-you-go model means high-volume users may or may not be getting a good deal, so you'll need to run comparisons next to your favorite SERP analyzers to be sure.
thruuu Plans & Pricing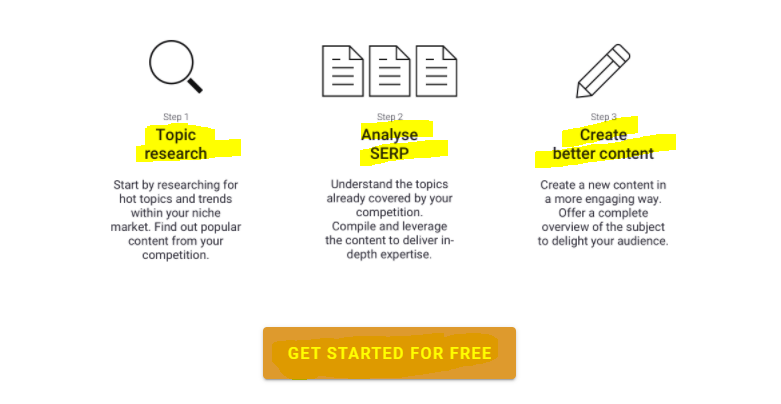 You can use thruuu and enjoy all of its features and benefits without paying a dime, as they allow up to 10 scrapes each month for free users. This resets at the start of each month, too, so you only need to pay when you go over the threshold for a given time period. This simple pay-as-you-go model will help you keep your tools well within budget, and ensure you're not spending money on something you aren't using.
Once you exceed 10 scrapes in a given month, you can buy an additional 20 credits (good for 20 scrapes) for $10 or 100 credits (good for 100 scrapes) for $20 or 500 credits (good for 500 scrapes) for $50. This simple and affordable tiered pricing model makes thruuu extremely affordable, even for agencies and marketers using it at-scale.
Any credits you buy will stay in your account. You'll get 10 free credits each month as well, but those do not rollover. So, if you purchase 100 credits in June and use 50 of them, on the first of July you'll have 60 credits (the 50 remaining from your purchase in addition to July's 10 free credits).
thruuu Customer Reviews

thruuu is a fairly new tool and was developed by a single individual, not a company, so it hasn't gained an immense amount of traction in the market yet. With that said, those in the industry who have tried thruuu give it high accolades for living up to its promises and having a lot of potential, assuming that development continues.
"Thruuu shows you the similar search Google users did, which means these searches are relevant. It shows you related questions and other content, such as video, if they are searched right after your initial keyword. Much like AnswerThePublic tool. There's also an option to download the data. So, you can export reports and prepare an aggregate datasheet as well. Overall, Thruuu is an excellent SERP analyzer for free. It's basic and gives enough information on what to include in your blog posts to improve rankings. Your goal is to create better content than your completion and this tool will help you create a benchmark to cross. Try using Thruuu for your old blog posts and check if you can get more traffic and better rankings. " - B for Bloggers
"[A]wesome SERP analyzer. The tool allows you to scrape the SERP and get useful information, such as on-page and page performance metrics. The tool was fully developed by Samuel Schmitt. Having tried out thruuu for myself throughout its development, I must say it packs a powerful punch when it comes to delivering useful data in a user-friendly way. It's looking to be one of the better SEO tools that provide SERP analysis data, and I'm looking forward to seeing its future development." - Rankedia
Improve Your Content Marketing Strategy
A tool like thruuu can do wonders for any website owner look for affordable, easy-to-use tools to help them better understand their competition and begin outranking them. With thruuu, you can gain an immense amount of insight into what your competitors are doing differently, along with gaining suggestions on how your website can start thriving — whether you're re-optimizing old blog posts or diving in with an entirely new website. In any case, thruuu offers insights and features that are extremely hard to beat for the minimal, pay-as-you-go price tag.
Of course, if you're really looking to improve your website's ranking, it's important that you start from the ground up, and that's exactly what Scripted's service will help you do. If you've been struggling to rank your website, it's time to analyze your content strategy as a whole and make sure you're taking the right approach. 
If you're interested in learning more about how Scripted can boost your site's performance and help you take your brand to the next level, it's time to talk to a Scripted representative and see if this option is the right fit for you. Explore Scripted's features today and get on the path to a better content marketing strategy.