Similarweb Tool Review | Scripted

Have you ever wondered how your site's traffic really stacks up next to your competitors? Similarweb is the exact tool to help you visualize it. Similarweb offers both a free and paid service that helps you analyze the traffic and habits of your own site's visitors and compare those behaviors next to the metrics of other sites on the web.
If you're trying to improve your SEO and track your rankings over time, Similarweb can help you draw conclusions and monitor results.
What to Consider When Looking for a Traffic Analysis Solution
Digital research isn't easy to pull off because, even with so many tools out there, it's easy to feel like you're always jumping from one option to the next, looking for a sound solution. What's more, if you find yourself using multiple tools, it can end up taking more time than it should piece that information together. Similarweb seeks to bring it all in one place for easy reference and comparison.
The idea behind traffic analysis is to get a closer look at your competitors' websites to determine everything from page load speed to how long the average visitor sticks around. Knowing how many visitors a website gets in a month and what percentage of those visitors come from paid campaigns will prove very useful in crafting your digital marketing strategy.
With the information a tool like Similarweb provides, you can understand your competitors better and glean important details about your audience so you can determine how to drive traffic to your site. For instance, if you see that your biggest competitor has to buy the majority of their visitors, you're in a highly competitive space and you're going to have to strategize accordingly.
Meanwhile, metrics like the bounce rate and average time spent on a page tell you things about your audience's habits and can reveal the downsides of a given website, both things you can take advantage of to improve the metrics for your own website through a combination of design and content improvements. With all of that said, you have to ask: Is Similarweb the best tool for the job?
Features and Benefits of Similarweb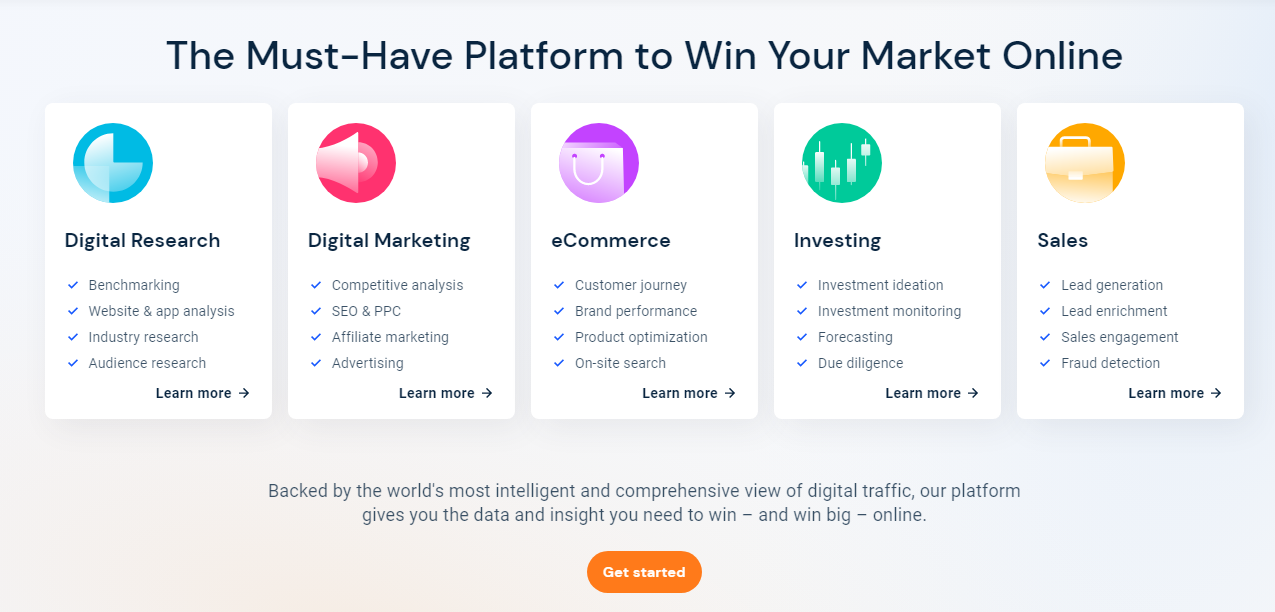 Similarweb offers a suite of tools designed to help you research and improve your website and its rankings by exposing the metrics of any website on the internet.
Digital Research:

Analyze any app or website, view benchmarks, research your industry, learn about your audience, and more.

Digital Marketing:

Analyze your competitor's online presence, dig into SEO and PPC campaigns, and improve your approach to advertising.

eCommerce:

Explore the customer journey, optimize your products, improve on-site search, and get to know more about the performance of a given brand.

Investing:

Monitor investments, perform due diligence and make forecasts based on past performance.

Sales:

Generate and enrich leads with special tools that aid sales engagement and fraud detection for your business.
As you can see, Similarweb has a host of tools, each one targeted at different business activities. You're likely the most interested in the digital research and marketing tools, which work together to help brands improve their online presence and better engage their audience.
When it comes to research, in particular, Similarweb is most well-loved for its granular data that allows you to drill down analytics to a domain, sub-domain, folder-level, or page-level analysis of traffic and engagement. Best of all, Similarweb's data is updated in real-time, so you know you're always working with the most recent information.
With over 100 million websites and nearly 5 million apps, Similarweb has the resources and databases to help you dig into just about any industry in any country and get the information you're looking for.
Pros of Similarweb
Easy-to-use platform with a slew of tools to help you understand and get ahead of your competitors while better understanding your audience.

Benchmark your metrics for your website and see how you compare next to your competitors.

Identify industry trends with leading research tools that can get as granular or comprehensive as you wish.

Analyze audience behavior so you can better engage and grow across platforms, and get a leg-up over your competitors.

Perform keyword research to understand content and optimization opportunities, understand where your competitors are getting their organic traffic from, and help your content rank over those in your industry.
Cons of Similarweb
For smaller websites and niches, especially outside of the United States, you may find that data is lacking. As such, you should take advantage of the free plan to test things out -- especially if you're in an obscure niche.

While the free version allows you to dig into some information, if you want to get more granular or look at more than a few websites, you'll need to upgrade to a paid plan.

Even with a paid plan, you might not get as much information as you would like in certain areas, particularly when it comes to social reviews, certainly paid ads, or when looking back over long periods of time to analyze a website.

The paid plan can get very costly, and since you'll need to talk to a consultant to get pricing information, many people rule Similarweb PRO out before they even give it a chance.
Similarweb Plans & Pricing
Similarweb keeps things simple with only two options: free or enterprise. Most companies will start with the free plan to test out the tool, but may find that their search volume or data needs go beyond what the free plan offers, so here's the alternative.
Free
The free plan offers one month of mobile app data, three months of website traffic data, and five results per metric.
Enterprise
The enterprise version is fully featured, offering up to 28 months of mobile app data, three years of website traffic data, global/country-level data, the ability to split between desktop and mobile data, keyword analysis, industry analysis, and the opportunity to let multiple users into Similarweb. Plus, you'll enjoy unlimited results per metric.
The pricing of the enterprise version is determined depending on your needs, so you'll need to reach out to a consultant.
Customer Reviews

"At the moment, we utilize SimilarWeb PRO for new business pitches, SEO insight, and competitive landscape reviews. It is used by our strategy, SEO, analytics, business development, and media teams. The biggest thing we ultimately use it for is to review how a brand stacks up against the competition, which is key for our planning. Ultimately I would, in fact, recommend SimilarWeb PRO to any of my colleagues. There are multiple platforms in the space, but SimilarWeb PRO is definitely one of the top three. Its capabilities, bells and whistles, and tech are fairly interchangeable with the other top platforms in the space." - Jonathan Kagan
"It's a competitive intelligence tool, which provides great insights to multiple stakeholders in the company. This is used by various teams such as marketing, business, and product teams who use it for understanding competitors' user acquisition channel mix, their user funnel and retention, the market share and top of the funnel user behavior, etc. It's a very strong tool that helps multiple stakeholders in the company and helps you set direction strategically too, thus for medium to large scale companies, I would strongly recommend having a competitive intelligence tool and SimilarWeb is actually one of the best ones out there in this domain, so just go for it." - Verified User, Vice President in Marketing
Power Your Content Marketing

A tool like Similarweb can help your brand dig deeper into its competition and audience, but Similarweb PRO may be out of your budget for the time being. In any case, powering your content marketing strategy with the right tools is paramount to success, so where should you make the crucial investments?
If you're trying to improve your website's traffic and engagement, it may be time to look at the primary culprit: Your content. Scripted's service can help you take control of your website's rankings and conversions by putting your content into the hands of expert content writers. Interested in learning more about how Scripted can help your brand grow bigger? Explore the features today!