SEOPress Tool Review | Scripted

WordPress is one of the most popular content management systems (CMS) on the market, so it's not surprising if you use WordPress to run your website. However, that doesn't mean WordPress can do everything you need it to straight out of the box. When it comes to ranking your website, SEO plugins are an obvious choice to help improve the performance of your WordPress site. But there are simply so many to choose from that it's easy to get confused.
Here's how SEOPress stacks up to your other options, along with some guidance on what to look for in an SEO plugin for your WordPress website.
What to Consider When Looking for an SEO Solution

As a CMS, WordPress has come a long way over the years, with each new version being a bit more user-friendly and SEO-friendly than the last, but that doesn't replace the need for an SEO plugin. The best SEO plugin will help you check off all the important boxes, from making your target keyword clear on every page and post, to distributing it evenly amongst your content, hitting a minimum target length, using headings effectively, and so on.
SEO plugins also help you easily assign metadata to every piece of content you publish, further improving your rankings and giving you more control over how people see your website in the search engines. All of this is extremely important to building your brand's reputation and driving organic traffic, yet the list goes on.
Things to look for in an SEO plugin include:
The ability to optimize every page and post for a target and secondary keyword.

Content analysis that goes beyond keywords to analyze length, density, links, and more.

Metadata, including titles and descriptions you would like to appear in the search engines.
Plugins like SEOPress help further boost the performance of your website by creating and maintaining a sitemap, allowing you to monitor page speed and backlinks, and bringing Google Analytics right into your dashboard. While some features you may never touch, the variety of features offered by top plugins like SEOPress far outperform those of any free plugin. So, let's take a closer look at SEOPress and how it compares to its biggest competitors.
Features and Benefits of SEOPress

SEOPress offers an expansive free version, which includes titles, metadata, sitemaps, content analysis, unlimited keywords, and an ad-free experience. The free version also integrates with Google, allowing you to effortlessly review where you stand in Google My Business and Google Analytics. Plus, integrations with ads will help you optimize your campaigns across platforms.
In the Pro version of the plugin, you can enjoy added features, such as the ability to import metadata, a broken links finder, redirections, breadcrumbs, page speed, URL rewriting, a rankings tracker, and the ability to edit your robots.txt and htcaccess files. Whether you choose the free or paid option, SEOPress offers more features than popular alternatives, like Yoast and AIO SEO.
Pros of SEOPress
SEOPress is easy to use, with installation and setup taking only moments. Whether you're new to WordPress or a long-time user of SEO plugins, SEOPress has a minimal learning curve that will save you time.

You won't have to compromise on features, even if you choose the free version. While there are plenty of valuable tools you may choose to invest in with the paid plugin, the free version offers enough to keep you going.

You'll find plenty of Google tools are built-in to the SEOPress plugin, including Analytics, Knowledge Graph, and Local.

If you're building websites for clients, you'll love that the plugin is fully white-label — even in the free version! This is a generous and impressive feature that will save marketers so much money.
Cons of SEOPress
While SEOPress is among one of the simplest plugins to use, there is a learning curve.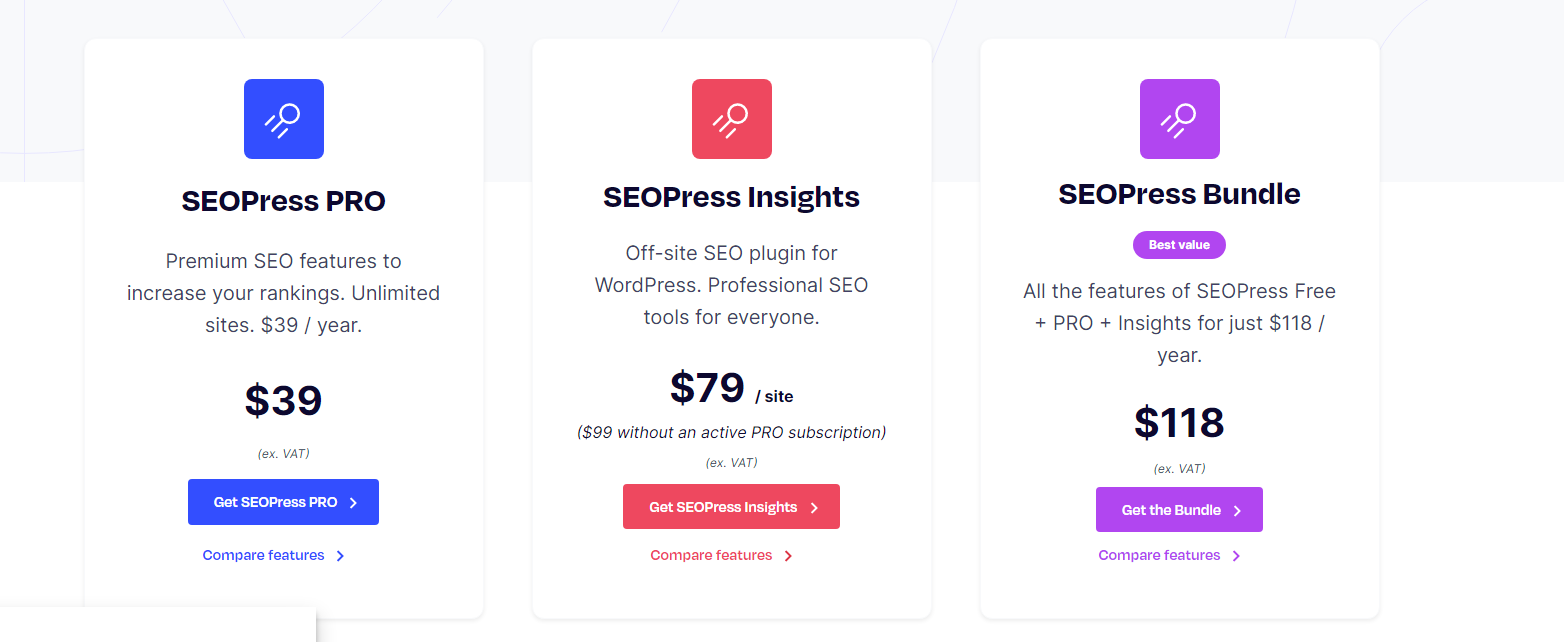 SEOPress has a generous free version, but the premium plugin is a step-up if you want all the bells and whistles.
Free
Unlimited sites and fully white-label, SEOPress offers a free plugin that does everything most website owners will ever need. Plus, SEOPress will help you import your data from Yoast SEO, All In One, Rank Math, SEO Framework, SEO Ultimate, WP Meta SEO, or Squirrly for free. Enjoy the following:
Installation wizard

Titles & metadata

XML and HTML sitemaps

Google Knowledge Graph

Open Graph

Twitter Card

Content Analysis

GDPR-Ready Google Analytics, Matomo Cloud, and Google Tag Manager

Import / export options

Redirect attachments to post parent or file URL

No ads, footprints, or anonymous data collection

Make the plugin white label using hooks

Intuitive interface
Premium
For just $39/year, SEOPress Premium unlocks even more features, including hands-on support when you need help. Best of all, you can lock in the current price and continue renewing at that rate forever, even if the price increases, making SEOPress a true high-value investment. With this plan, you get all the above features plus:
Import and export SEO metadata to a CSV file

Import redirects from a CSV file

Google XML Video Sitemap

Google Structured Data Types

Custom schemas

Google Local Business and Google Suggest

Dublin Core

Redirections 301

Edit robots.txt and htaccess

Breadcrumbs

Google Analytics statistics inside your dashboard

Google Analytics Enhanced Ecommerce

Google Page Speed

WooCommerce integration

Easy Digital Downloads integration

Google News Sitemap

404 monitoring

SEOPress BOT to check for broken links

Manage the default WordPress RSS

Rewrite URLs

Make the plugin white label from within WP Admin
Customer Reviews

"This is probably the first time in my many years using WordPress and its various themes and plugins that we have struggled quite so much to find fault with it. This is an SEO plugin to beat all SEO plugins and competes, and perhaps outperforms, most of the others on the market. Pricing is spot on. Features are plentiful. The design is excellent, and the overall layout and navigation are so simple, even someone brand new to WordPress can follow it. Plus, it performs on the SEO front, which is the most important thing. There's no point having an SEO plugin that looks nice and says it can do lots of things and then doesn't deliver!" - Collective Ray
"SEOPress [is] one of the best SEO plugins for WordPress sites. With its clean interface that's easy on the eyes, you can play around with its multitude of features to help boost your WordPress site's SEO. Granted, you have to know your way around the plugin to achieve your desired effect. But once you do, SEOPress is loaded with features and options to tweak your site's SEO settings no problem! I personally enjoy its extremely simple pricing plan. Even if you have just one site to use SEOPress, $39 for the whole year beats the rest (for comparison, Yoast SEO is available for $99/year for just one site). And it's even a greater bang for your buck if you have multiple WordPress sites lying around that are in need of SEO." - SEO Tools Finder
Power Your Content Marketing

If your website runs on WordPress and you're looking for a feature-rich plugin to help power your SEO efforts, look no further than SEOPress. With so many generous options included in the free plan, and so many more add-ons given to you with the premium option, you won't be missing out on anything with this detail-oriented plugin.
With the ability to analyze and optimize your content for unlimited keywords in the free version and dive into more advanced aspects of SEO in the paid version, combined with the simple and straightforward pricing plan, there's no doubting that SEOPress is worth the money. Start out with the free version and take things from there as you get to know the plugin, making sure to make use of the developer's handy and broad knowledge base that he built to complement SEOPress.
Once you have this plugin in place, the other half of mastering SEO and improving your website's organic traffic is putting more time into creating quality content. Scripted's service can help by matching you with top-rated writers who will create effective content for your business. Interested in learning more? Explore Scripted today!