SendPulse Email Tool Review | Scripted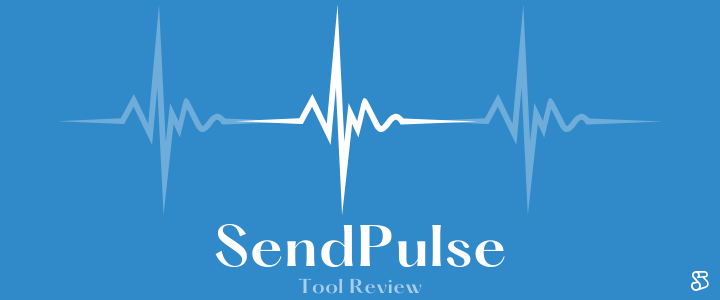 SendPulse isn't your average email tool. While you can use SendPulse to manage your email marketing, it also offers tools to help you with SMS marketing and create chatbots to manage your presence on Facebook, Telegram, and Whatsapp.
Its features make it a powerful multi-channel marketing suite, while automation and other bonuses make it easily scalable and effective for brands across industries, regardless of size. So, is it something your business should look into using? Let's dive deeper.

SendPulse markets itself as an "all-in-one" marketing communications platform, but as a brand, you know you have to be careful with such big claims. Knowing what SendPulse can and can't do is crucial to determining whether or not it's the right tool for your needs.
Basically, you should only consider SendPulse if you can use at least a couple of its core features, namely email and/or SMS marketing. If you don't need the chatbot features SendPulse also offers, it may be best to look elsewhere for an email and SMS marketing tool that doesn't do chatbots, just to save some money.
With your needs in mind, let's take a closer look at the exact feature suite SendPulse advertises and how those features can give a boost to your brand, and help you better engage with your audience across all the big platforms you connect on.
Benefits & Features

The goal with SendPulse is to give you the tools necessary to partially automate your marketing communications while also giving you the freedom to reach your audience on their favorite platforms.
Email Marketing
Perhaps the core tool offered by SendPulse is something you'll consider less than extraordinary, simply given how many alternatives there are. However, SendPulse's approach to email marketing is powerful, with a focus on automation and a tiered pricing model that realistically breaks up features and limits so that you can truly make the most of what you're paying for.
SMS Marketing
If you want to delve into SMS or text marketing for your brand, SendPulse can help you do it. If you're doing SMS marketing in tandem with email marketing, it makes great sense to do both from a single platform, too, as that will help with segmenting your audience, tracking response, and engaging subscribers across channels without being redundant.
Chatbots
With SendPulse, one of the most powerful automation tools is the chatbot builder, which allows you to create chatbot flows and campaigns for the most popular messengers, including Facebook, Telegram, and WhatsApp. More platforms may be added in the future, too.
Of course, other tools offer chatbot builders, so again, it only makes sense to choose SendPulse for this if you'll also be taking advantage of its other tools, offering you the convenience of having everything in one dashboard.
Web Push
Want to utilize the power of push notifications to reach your audience as they use their browser? Instant browser notifications can be sent to any of your subscribers, alerting them to sales and deals or letting them know about important announcements, all while you schedule these notifications within the grand scheme of your cross-channel messages, allowing you to avoid redundancy.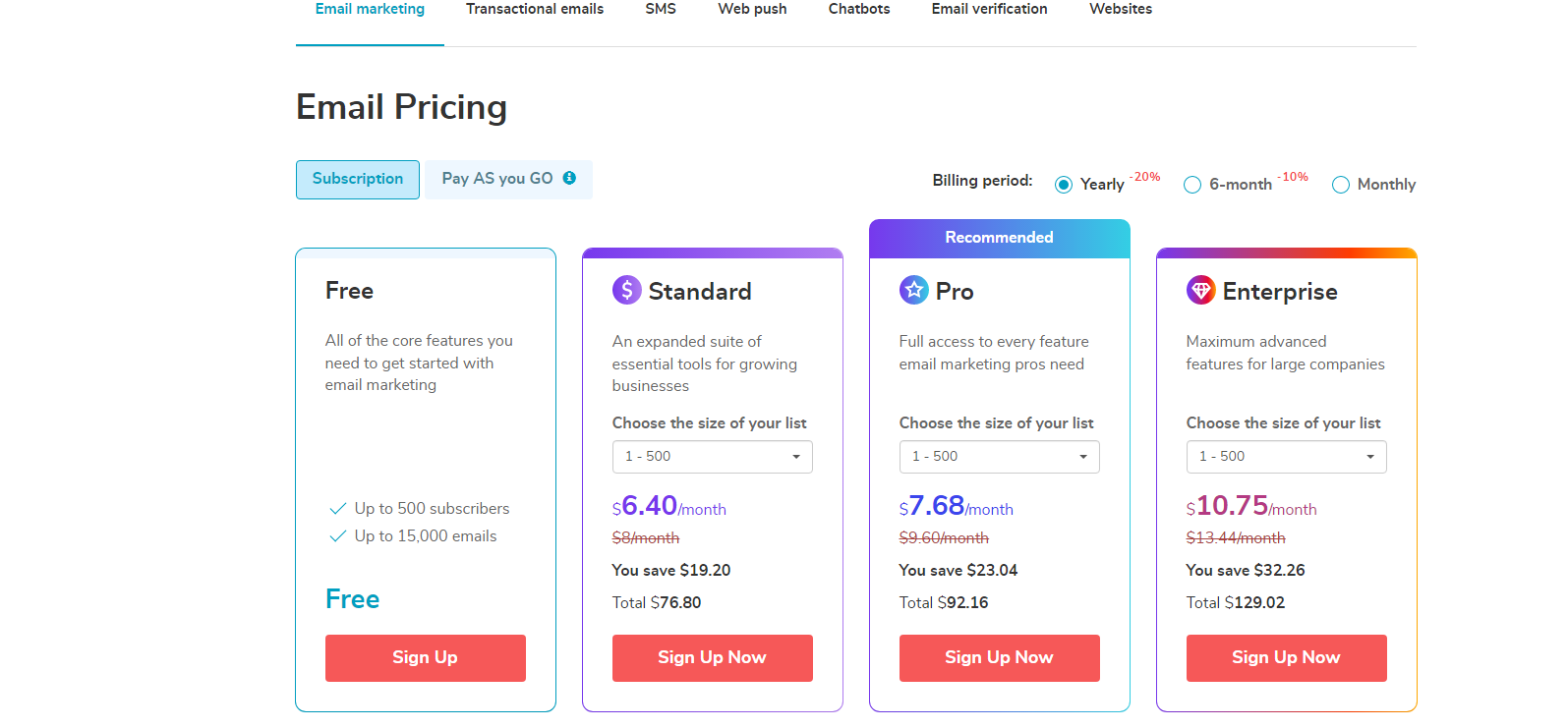 SendPulse offers a robust pricing model, which can be confusing at first glance. You'll get to choose between a Pay-as-you-Go model, which is based entirely on usage, or you can subscribe to a certain tier, paying either monthly, bi-annually, or annually (with the latter offering discounts for longer commitments).
Further, SendPulse's pricing is broken down by each tool the platform offers, allowing you to pay for email marketing, transactional emails, SMS, web push, chatbots, email verification, and websites individually. This gives you the freedom to create an almost custom plan, helping you avoid overspending on things you don't use.
With that said, the pricing model requires some time to review before you can figure out how much you'll actually pay. Here's a brief overview of some popular options to give you an idea.
SendPulse for Email Marketing
Email marketing is free for up to 500 subscribers and 15,000 emails. Pricing for the email marketing suite is based on how many subscribers you have rather than how many emails you send. With a list of 1,000 subscribers, it's:
$12/month for the Standard plan, which offers unlimited emails, up to three users, three landing pages, ten email flows, and up to five saved audience segments.

$14.40/month for the Pro plan, which offers unlimited emails, up to ten users, ten landing pages, fifty email flows, and unlimited saved audience segments.

$20.16/month for the Enterprise plan, which offers unlimited emails, unlimited users, unlimited landing pages, unlimited email flows, and unlimited saved audience segments.
Save 20% off the monthly rate for any plan by paying annually or save 10% by paying every six months. You can also pay as you go at a rate of $32 to send up to 10,000 emails with the features of the Standard plan.
SendPulse for Transactional Emails
Transactional emails are free for up to 12,000 emails. After that, the Basic plan costs $8.85/month for up to 25,000 emails. Upgrade to the Pro plan to get a dedicated IP address and send up to 100,000 emails for about $75/month. There are tiers in between if you don't need the dedicated IP address. There are also greater discounts on the Enterprise plan if you're sending more than 500,000 emails per month.
Save 20% off the monthly rate for any plan by paying annually or save 10% by paying every six months. You can also pay-as-you-go at a rate of $15 for the first 10,000 emails.
SendPulse for SMS Marketing
SendPulse bases the pricing for its SMS marketing tools on the country from which you would like to send your messages.
For the United States, you'll pay $0.024 for each SMS you send (+1 country code).

For Canada, you'll pay $0.015 for each SMS you send (+1 country code).

Other popular countries, like Australia (+61) cost $0.035 per SMS. The cheapest rate is $0.012 for Turkey (+90).
When you initially sign up, you can send 10 SMS for free.
SendPulse for Web Push
Pay monthly and send notifications to up to 10,000 subscribers for free. Upgrade to the Pro plan and pay $19/month for up to 30,000 subscribers with the chance to save 20% when paying annually. The Pro plan allows you to remove branding, use the SendPulse API, segment your audience, perform split testing, and more.
SendPulse for ChatBots
Start using the ChatBots for free for up to 1,000 subscribers and 10,000 messages per month across all of your bots. You can have up to three bots with the free plan. Upgrade to the high-volume plan, starting at $9.85/month for up to 1,000 subscribers, and enjoy unlimited bots and messages along with the option to accept payments, remove SendPulse branding, and more.
SendPulse also offers a WhatsApp builder, if you need help. You can also save 20% on the monthly rate if you pay annually.
SendPulse for Other Features
SendPulse goes on to detail the pricing for things like email verification and websites if your brand is interested in those features.
Customer Reviews

"The first thing that comes to mind is its ease of use, I was able to learn to use this application in a matter of a few minutes since the interface has a fairly "user-friendly" design that allowed me to get along well with it. The fact that it allows me to create email marketing and SMS campaigns in a very practical, easy, and fast way is one of the most useful to save time, since I don't have to spend hours and hours configuring everything necessary to guarantee that the campaign is executed perfectly," via G2.
"SendPulse maintains a nice general interface, with excellent design features in several highlights about its visual appearance, which any user can get to appreciate from the beginning, without excluding that its base is quite fast, which allows executing operations based on modern digital marketing through different methods in an automated way..." via G2.
Level Up Your Marketing
With a powerful suite of features like SendPulse offers, your company can easily take its marketing to the next level, even when working on a tight budget. Scripted can help you take things a step further. While SendPulse will help you market to your existing subscribers, Scripted's content will help you grow your audience and build your lists, so you have more customers to market to.
Interested in learning more about how Scripted can help you grow your reach and your brand while essentially putting the creation of unique, on-brand, and high-quality content? Explore Scripted today!