Optimizely Tool Review | Scripted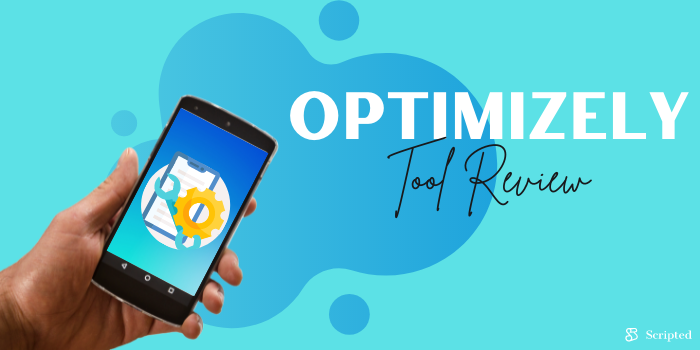 If you're new to solutions like Optimizely, you may look at it and assume it's a fancy, overpriced web builder — but this tool can't be compared to the other "website builders" that come to mind. While website builders seek to offer an entry-level, all-in-one solution for businesses hoping to get online, Optimizely arms major brands with the tools they need to create immersive, fully customized digital experiences.
Optimizely is in the same category as Ceros if that name is familiar to you, but Optimizely takes a bit more of a user-friendly approach to achieving a similar outcome — plus, Optimizely prioritizes SEO, something Ceros seems to have overlooked. Here's what you need to know about this design tool.
What to Consider When Looking for a Digital Experience Solution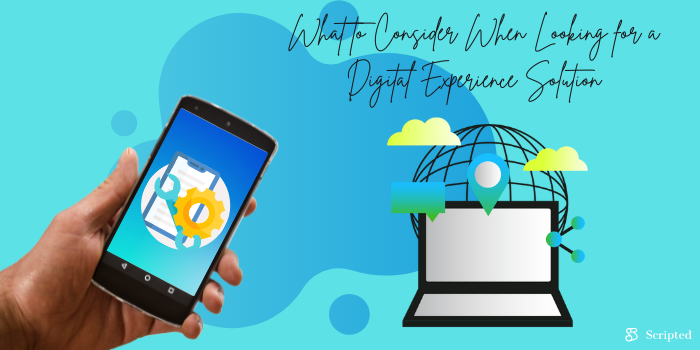 If you're new to the concept and you remain unsure what Optimizely offers, hear it in their own words: "Creating digital experiences that transform your company takes data-driven decisions, continued experimentation, and constant invention. Optimizely Digital Experience Platform helps you unlock your digital potential."
To put it simply, Optimizely is a design tool that helps companies create immersive landing pages and web-based experiences, split testing various concepts and helping you decide what's going to drive the best results for your business. Not only does Optimizely give you the tools to bring a concept to life and test it across your audience, but it also helps you do so more quickly, thanks to progressive delivery and experimentation features.
There are not too many tools like Optimizely on the market aside from Ceros. Based on reviews and the experiences of users, while both are impressive and expensive, Optimizely is just a bit more user-focused, with a highly responsive support team and more down-to-earth branding.
If you're looking for a solution like Optimizely, consider the following features and requirements.
Collaboration is a must-have when dealing with any sort of design project. Consider the size and needs of your team. If you need multiple users to have access to Optimizely, ask yourself if you need permissions controls or other features to keep your designs secure.

Optimizely allows for both frontend and backend testing and offers tailored recommendations, but do you need more? Optimizely is meant to fuel design, but it won't do it for you. If you want a system with templates and out-of-the-box solutions, Optimizely isn't for you.

Consider how much time you have to invest in a tool. Optimizely is no joke. This feature-rich platform has all you could ever ask for when it comes to measuring outcomes and split testing every feature on your website, so prepare for a learning curve. This isn't something you'll start and finish within a day or even a week.
As you think about your brand's unique requirements, let's dive deeper into what Optimizely has in store for you.
Features and Benefits of Optimizely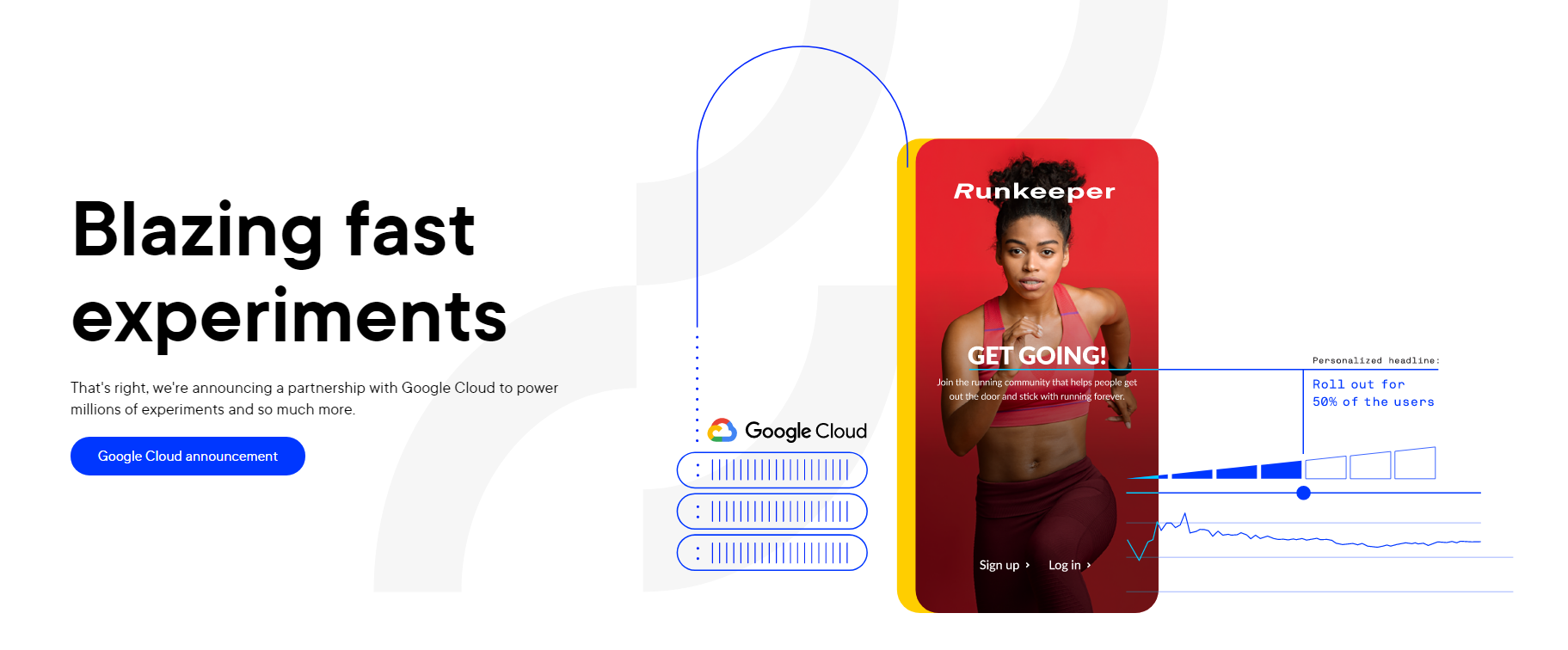 There are countless reasons why over 9,000 brands have trusted Optimizely with their digital experiences. From eBay to Yamaha, Pizza Hut, Peloton, Microsoft, and many more, Optimizely has bragging rights — and for good reason. This platform is very well thought out and offers you the exact functionality you need to do a/b testing at scale.
When Blue Apron started using Optimizely and adopted Full Stack, they were able to run 10x more experiments each month to supercharge their analytics and rapidly improve their results. Eventually, 100% of their product teams began using Optimizely for experimentation. Meanwhile, DriveTime adopted Optimizely and began seeing a 20% increase in CTA click conversions on their homepage while developing 30 homepage variations to precisely target their various audiences.
Optimizely is tried and tested — the question is, will it work for your company? It's important to be straightforward and address that Optimizely is not priced for smaller companies, even though it would be an extremely valuable tool for a small business to have. With that said, you can always reach out for pricing information if you're interested in pursuing this powerful tool.
Pros of Optimizely
By far, the biggest pro of Optimizely is its ability to drive results. When used correctly by a dedicated team, Optimizely can completely transform your company, maximizing conversions and allowing you to offer the most tailored and targeted web experiences to all of your visitors. No more showing everyone the same content or call-to-action.

Optimizely is feature-rich, something that poses a learning curve but also what makes the platform so worthwhile. Once you learn your way around, there's very little you can't do with Optimizely, and the customer success team is always around to help.

With integrations for SalesForce and others, Optimizely allows you to get extra granular with your experiments, tracking results all the way down the funnel so that you can get beyond the "percentage who clicked" and actually look at conversions, renewals, and connect customer feedback to your content.
Cons of Optimizely
As a reviewer put it, Optimizely is not for the faint of heart. Optimizely is filled with features that take time to learn and utilize. It's targeted at large companies and enterprises for a reason, but if you have the manpower to put it to use, then you'll definitely get results.

The price barrier to Optimizely is, by far, the biggest con of the platform, but it's an instance of "you get what you pay for," and there's truly nothing like it in the low-budget space.
Optimizely Plans & Pricing
Optimizely does not publish its pricing and it does not offer pre-defined plans. You'll get to choose between the Web version, which means you can only develop and test for web-based users, and the Full Stack version, which means you can test across web, mobile, TV, and chat applications. The pricing will depend upon the size of your company, the number of projects you want to work on, and other usage factors.
Anyone can reach out to the Optimizely team to discuss pricing, but Optimizely won't allow just anyone in. They'll schedule consultations to give you quotes and understand your needs and then, if it fits your budget, they'll onboard you if they think it's a good match.
Customer Reviews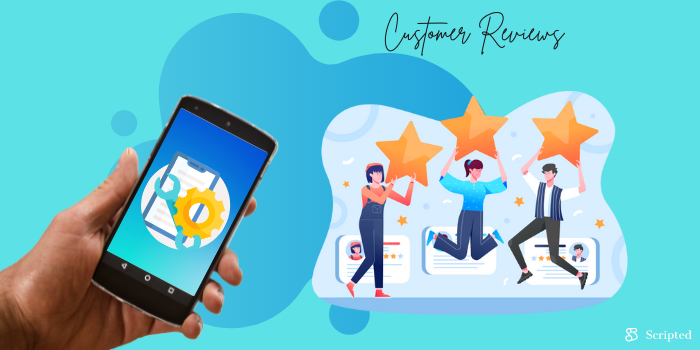 "Optimizely is like the Ferrari of a/b testing solutions. You can do so much with it. The learning curve is excellent at times. With power and control comes a price. You have to learn how the system operates. It's not for the faint of heart. At times, tests require a developer. We can optimize everything on the website including CTA, colors, buttons, and graphics. We even test new feature releases to ensure we are seeing a positive lift without much risk (using a targeted audience and specifying the amount of traffic we send to the variant)." - via G2
"I've worked with Optimizely for years on many different sites and love the easy integration. It's easy for beginners and also allows for more advanced users to set up complicated experiments and goals. They have a nice results dashboard allowing for monitoring performance at a glance. They've also put considerable effort into curating a huge knowledge base if you ever have questions. [However], Optimizely experiments often cause bugs elsewhere on a page or site and their debugging capabilities leave a lot to be desired (the debugging tool they have available is also only for paid users which is enterprise-level only). [Overall], Optimizely offers quick, easy integration and testing management. It is important to keep the time you will spend on other heavier integrations in mind when considering a CRO tool such as this." - via G2
Power Your Content Marketing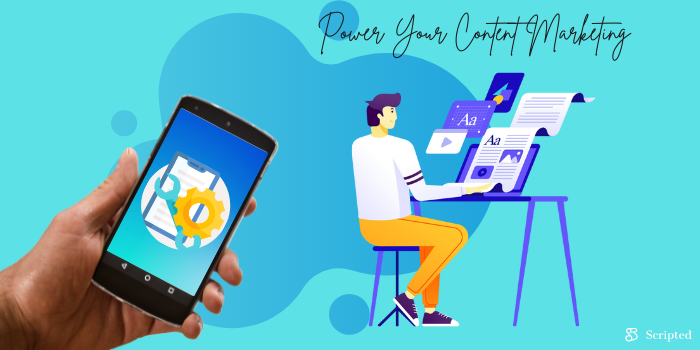 There's no doubting that Optimizely is an extremely powerful platform for growing your brand, improving conversions, and building memorable customer experiences. With that said, it's also a very expensive solution. If you don't have the budget for Optimizely, don't be discouraged in your content marketing journey. In fact, one of the best ways to improve customer outcomes is through a content strategy, and that's something anyone can invest in.
With Scripted's service, dedicated content writers will help you create your content, across channels, so that you can give your customers an effective and memorable experience every time they interact with you. Interested in learning more?