Hotjar Tool Review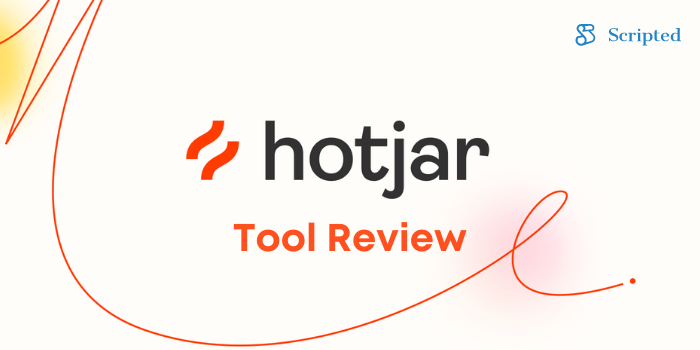 With seemingly new online marketing and SaaS tools becoming available daily, business owners are constantly falling victim to "shiny object syndrome." 
The term "shiny object syndrome" means that business owners are shifting their focus on how the newest, latest, and greatest software can improve their business every time a new software comes out.
However, suppose you do not do a thorough analysis and research whether or not this tool will fit your current business model without causing your business to shift direction and focus entirely. In that case, these new tools can cause more harm than good.
To help expedite your learning process, here is a full review of one of the top online tools you can use for website and landing page analytics, Hotjar.
Hotjar is a popular tool for conversion rate optimization and user experience research. It was founded in 2013 by David Darmanin, Brian Peters, and Jonathan van der Kloet.
Hotjar has won some awards, including the W3 Awards' People's Voice Award for Best Web Application of 2018.
Hotjar is a web-based tool that empowers website owners to understand how their visitors interact with the site through key metrics. These tools help you identify opportunities for improvement and boost your conversion rates.
This form of user feedback is called "conversion optimization," and it focuses on making your site better suited for your customers, resulting in higher conversions.
In the online digital marketing world, analytics and optimization are crucial to success in such a competitive landscape.
Hotjar provides a new way to view analytics through tools such as heatmaps, scroll maps, form analytics, and more.
Here is a breakdown of the critical features that Hotjar has to offer.
Heatmaps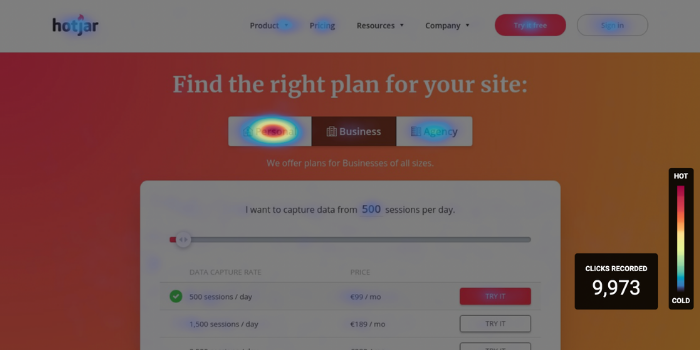 Hotjar's signature feature is its heatmap analytics. Heatmaps essentially show the hotspots on your website or landing page that customers most often click on or engage with.
Hotjar offers three main types of heatmaps.
Click Heatmap
Click heatmaps show when and where visitors click on your website.
Click heatmaps help understand what areas of the site you may want to promote or focus less attention towards.
Scroll Heatmap
Scroll heatmaps show a clear picture of how far down users scroll when they visit your website. Scroll heatmaps are great because they can tell you if people were interested enough to continue reading the entire page or immediately lose interest and click out of the website.
Move Heatmap
Move heatmap tracks where the hotspots are, or points of interest are on the website or landing page.
If people are constantly hovering their cursor over certain website sections but not hovering over others, you can change your website accordingly.
Feedback Polls
Hotjar offers a feature that allows you to poll your users with a question and receive feedback.
Polls are great for collecting data without complicated forms or surveys and creating an avenue to understand your customer needs better.
Form Analytics
Hotjar offers form analytics to measure how certain successful forms on your site have been at converting leads.
Visitor Recordings
The visitor recording feature is very effective for more visual learners who struggle with analytic interpretation. Visitor recordings are videos of people using your website and landing page to see what users do.
Watching a recording of a customer allows you to understand the customer's thought process better as they engage with your website.
Conversion Funnels
Hotjar also offers conversion funnel analytics, which is a great way to measure the effectiveness of your marketing efforts.
It allows you to see how many visitors convert into customers and what steps they took.
If you notice customers are making it to the checkout page but are not purchasing, you know that the checkout page most likely needs improvement.
Data Exporting
Another feature that users rave about with this product is their data exporting capabilities - because HotJar now has mobile apps available for download. All of these analytics can be exported as a CSV file or Excel spreadsheet!
Why should you use Hotjar for your business?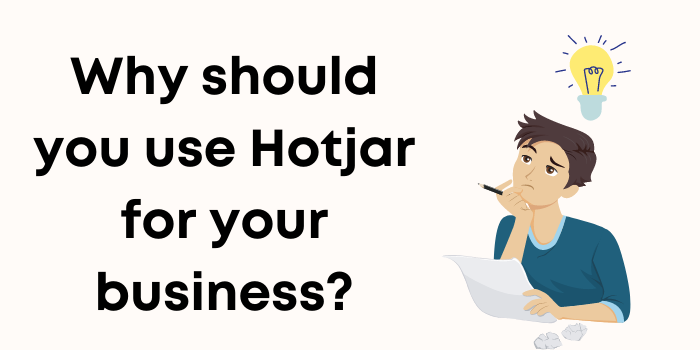 Here are some of the key outcomes that the Hotjar features can provide you and your business.
Empathize with the customer
Understanding the pain points of the customer is your job as a marketer or business owner. Using Hotjar allows you to understand the holdups, pauses, frustrations, and pain points of a customer going through the journey of your website or landing page.
Collect feedback to understand customer behavior better
Through easy-to-use pop-ups and forms, customers can provide valuable feedback with just a few clicks.
An example of one feedback tool is a 1-10 scale. This scale asks, "how likely are you to refer us to a friend". If a customer says they are very likely, then you know they are satisfied. And if not, then you can watch their journey through your website and try to understand where the frustrations or holdups were. 
Easy to use product 
Hotjar is not like some online software or tools that require data engineers and analytic experts to understand the information.
Hotjar provides high-end information that is easy to interpret by people of all skill sets and tech backgrounds.
Enabling all your business members to understand data can be great for stakeholders and individuals who are not as tech-savvy as others.
Understand what kind of content customers want to consume
With content being so critical on websites, using a tool like Hotjar will allow you to discover what type of content the customer wants to read. You can track how much of the article a customer reads and see if that customer decided after going through the article on your blog page.
If you are having difficulty capturing customer engagement, you may want to consider hiring content experts trained to entice the viewer to read the entire article.
If you are looking for a professional team of writers to create highly engaging content, a company like Scripted can provide you with industry experts to increase traffic and conversions.
Using Scripted, you can turn organic traffic into paying customers with much greater success.
Hotjar Pros and Cons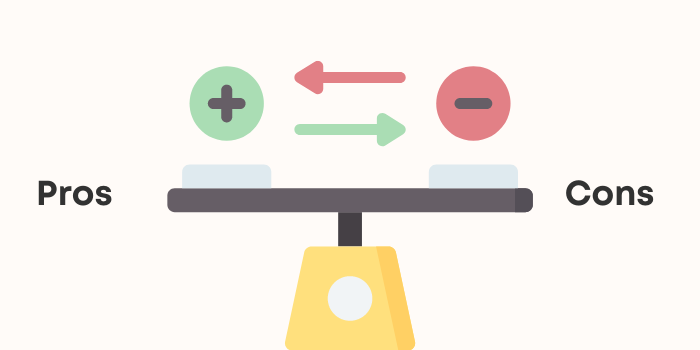 Pros:
Easy to install and understand analytics

Heat mapping provides valuable insight into several customer interactions

Record customer sessions to understand pauses, delays and get a better understanding of their experiences.

Minimizes guesswork and interpretation of data

Easy to access the data and export analytics

Understand customer journey through funnel analytics

Direct customer feedback through forms and interactions

Offer a free option for businesses just starting out
Cons:
Flexibility in the free features is limited

Requires an internet connection to view the analytics

It can get expensive for larger companies on the higher packages

Web-based not mobile based
Who is Hotjar for?
Hotjar can be used by any business that operates online. It can be used to monitor website visitors, understand customer experience on a landing page, and more.
The best part is that it's not only for the big companies with budgets in the hundreds of thousands of dollars. Hotjar offers two free plans so you can try them before you buy.
Some key roles that Hotjar may be especially beneficial for include:
Marketers that are looking to increase online conversions.

Content creators and bloggers looking to understand how engaged a customer is with their content.

Analytics experts that are looking to track customer data efficiently and effectively.

Business owners that are interested in watching the customer journey through their marketing funnels and websites.
Pricing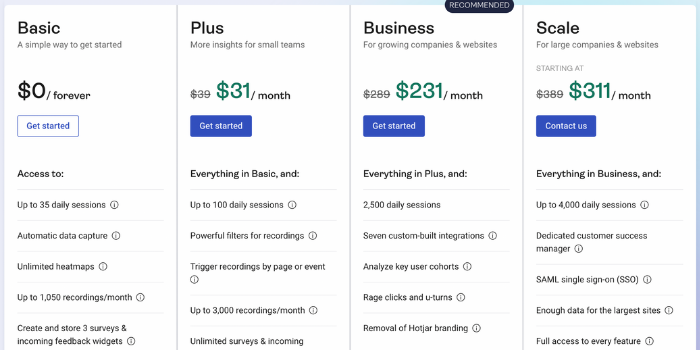 There are four pricing tiers to Hotjar.
Free:
The free and basic level is excellent for someone new to online analytics, but it is very limited. With the free version, you get access to three free heatmaps. 
Plus, $39.00/Month
The Plus level includes automatic data capture, unlimited heatmaps, 3,000 monthly recordings, and unlimited surveys.
Business, $99.00/Month
This includes everything that Plus has with the addition of user attributes, custom-built integrations, rage clicks, and u-turns and the removal of Hotjar branding.
Scale, $389.00/Month
The scale package is for large organizations that need a lot of support and onboarding. The scale package includes all features, personalized training with a Hotjar specialist, and SAML single sign-on.
Final thoughts for Hotjar
One of the most critical elements to a successful online business is to minimize the guesswork throughout the customer journey.
This starts in the marketing funnel and extends all the way through until after the customer makes a purchase.
Using a tool like Hotjar, you are able to unlock a whole new world of analytics, and instead of interpreting customer experience off of strictly numbers and data, you can now engage with them, track them, and watch them throughout their journey on your website.
One of the separating factors is that content creators, blogs, and any online article platform can now track how long a customer is on the page and how much content is being read. 
Being able to understand how much of an article or web page is being read is revolutionary in the online analytics world.
If you realize that customers are not properly engaging or reading your content, you may consider hiring outside professionals, through a platform such as Scripted.
Overall, Hotjar is a great tool for your business and one that can help increase conversions in many facets. If you want even more help increasing conversions and revamping your content marketing strategy, check out our writers in 40+ industries.