GTmetrix Tool Review | Scripted

Did you know that page speed is one of the most overlooked ranking factors? Google offers its own suite of developer tools, like PageSpeed Insights, to help you quickly analyze your website's load time and get a PageSpeed score. However, the suggestions of that free tool are often minimal, and that can leave website owners struggling to figure out where they need to improve upon their website in order to boost its load time.
If you're not familiar with page speed, it's one of the most crucial metrics Google considers when evaluating the performance of a website. Since Google prioritized high-quality results when choosing where to rank a website, along with the overall experience each site can provide its users, it's essential that you make sure your site loads quickly. A tool like GTmetrix can help, by analyzing your page speed more in-depth and giving you better suggestions to help you optimize and improve it.

GTmetrix is a handy tool that, first and foremost, tells you how long it actually takes for your website to load. By testing your website from a random server location, you're able to get around your own browser's cache and see how long your site actually takes to load for everyday users. This same tool gives you suggestions for optimization and can even reveal aspects like how your pages look across device types, which is great for finding design bugs in addition to analyzing page load speed.
Pros
GTmetrix offers a basic free plan that you can use to test out the tool and decide if it's worth upgrading to a paid plan.

The suggestions of GTmetrix dive deeper and can be more helpful than the suggestions of Google's own free tool.
Cons
You can use a free tool to do the same thing as GTmetrix, so it's worth comparing a tool like PageSpeed Insights to the plan you're considering.
Features and Benefits of GTmetrix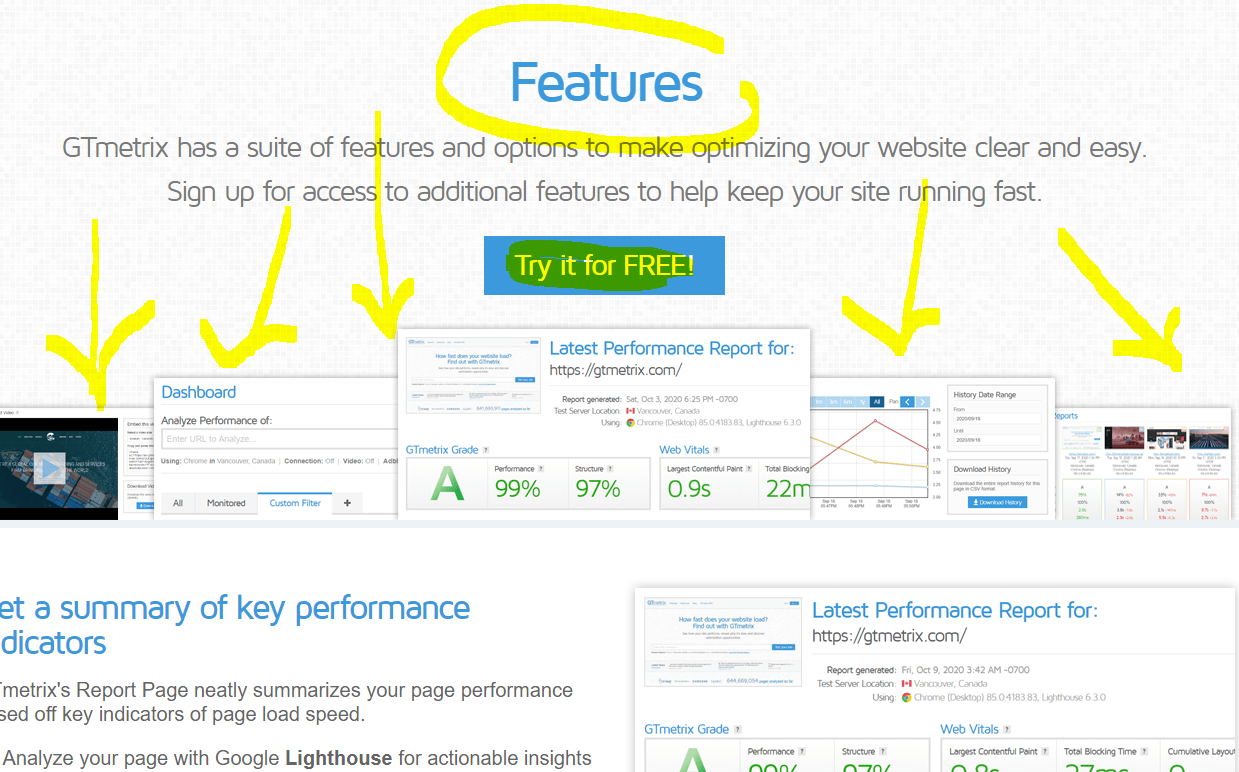 This tool can tell you how long it takes for your website to load from around the world, helping you serve a global reader base with ease. Of course, if you haven't paid attention to page speed in the past, you wouldn't be the first website owner to overlook this important little metric. Content marketing expert Neil Patel shared that the average load speed of a top-ranking page is just 1.62 seconds. You should aim for no more than 3 seconds.
Patel also dove deeper into the page speed conundrum, recognizing that many people claim page speed and rankings are not correlated. Yet, he contested this, reminding readers that "Google says page speed does matter. There was even an entire update about it. That connection is backed up and supported by Google's new PageSpeed industry benchmarks. They found that as page load times go up, the chance of someone bouncing from your site increases dramatically."
You can see the correlation between load time and bounce rate here:
The chance of a bounce increases to 32% as load time goes from 1 second to 3 seconds.

The chance of a bounce increases to 90% as load time goes from 1 second to 5 seconds.

The chance of a bounce increases to 106% as load time goes from 1 second to 6 seconds.

The chance of a bounce increases to 123% as load time goes from 1 second to 10 seconds.
A "bounce" represents a potential visitor who clicked on your website in the search results, only to click the "back" button in their browser, either because the site was loading too slow, or they at-a-glance decided your site didn't fit their needs. In any case, Google hates to see a website with a high bounce rate because it means their users' experience was compromised. Bounce rates are also bad for website owners because they represent lost visitors and a ding to your search engine ranking.
With all of that in mind, let's take a look at how a tool like GTmetrix can help boost page speed for your website.
GTmetrix Plans & Pricing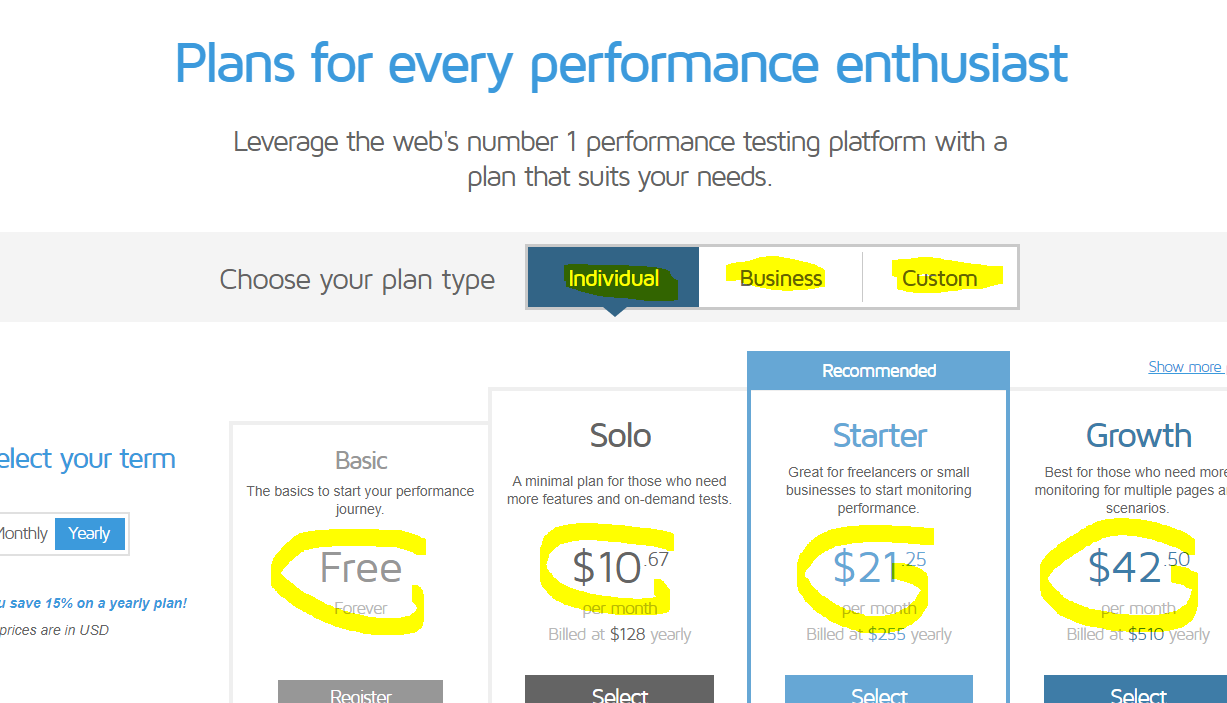 GTmetrix offers a free plan with up to 50 on-demand tests each week and 10 API credits each day. You can monitor up to one website at a time and retain data for three months.

The solo plan is $10/month, billed annually. Monitor up to three websites at a time and get up to 150 weekly on-demand tests, 25 daily API credits, and six months of data retention. This plan also includes mobile device testing, global monitoring, and premium testing locations.

The starter plan is $20/month, billed annually. Enjoy higher limits, with up to six monitored slots per hour along with 175 weekly on-demand tests and double the daily API credits, plus all the great features of the solo plan.

The growth plan is $40/month, billed annually. Designed for those working with clients' websites, you'll unlock even higher limits along with white-label reports.
GTmetrix Customer Reviews

"It is a very easy-to-use tool that not only gives you a diagnosis of the loading speed of your website but also indicates how to solve the elements that slow it down. I was developing a website for a renewable energy company and it had slow loading, it was very useful for me to determine what factors I should improve. It is a very precise tool to obtain a diagnosis of what is happening with the loading speed. After making the diagnosis it is probable that you need a person who knows about web development to be able to correct the problems." via G2
"Basically GTMetrix helped me generate a report of my website by analyzing the page. I really like how easy it is to use it. All I had to do was just type the website name and start scanning. and after a couple of seconds, we will get a detailed report of our entered website. the report contains details about how much time it took to load the website, and how much time it took to load the resources like images, and styles and it will also check the images we uploaded are compressed or not." via G2
"GTmetrix is [a] website which helps its user to analyze other websites [along with their] performance and load time. [GTmetrix] also gives suggestions to meet our website quality. I have used this website to check the website that I have created before handing it over to the client. It's totally free of cost for all the works we have done with it [and] its interface is so simple, it helps each user handle it very cleverly." via G2
Improve Your Content Marketing Strategy

The best way to boost your page speed is by using a tool like GTmetrix so you know where you stand. From there, the actions are fairly standard: Make sure you're not using bulky images, try caching your pages where you can, implement AMP for mobile load speed, and make sure you follow Google's best practices to clean up your site's code. Most of those things are fairly easy to handle, especially if you're using a content management system (CMS) like WordPress where a lot of these elements can be taken care of automatically with the use of a plugin.
Of course, if you're worried about the little things like page speed, it may be time to take a step back. While page speed is important, website owners who are struggling to improve their rankings may be overlooking the elephant in the room. If you haven't already come up with a content strategy that combines keywords and audience interests alongside backlink outreach, optimization, and engagement, it's time you put your content into the hands of a qualified professional.
With Scripted's service, you can stop sweating the small stuff and trust your content in the care of a content strategist, who will work in tandem with Scripted's best writers to produce content that impresses your audience and helps you rank in the search engines for all the keywords you care about. Interested in learning more about this valuable service? Explore Scripted today!