Feedly Tool Review | Scripted
Whether you're enjoying social media for personal use or trying to find inspiration for your company, sifting through all the noise takes an insane amount of time, and it can easily steer you off track, given that there are so many distractions. Feedly is a unique service as its goal is to help filter out the noise using an AI-powered assistant, bringing you a custom feed of the most relevant content from across all your favorite platforms.
With Feedly, you can spend less time scrolling and more time reading, researching, and coming up with fresh ideas. Here's what you should know about this handy tool.
What to Consider When Looking for a Sourcing Solution

Feedly helps you bring all of your most trusted sources into a single feed so that you and your team no longer have to spend time scouring social media looking for insights or inspiration. Feedly uses AI to help pull it off. All you have to do is train the assistant to identify the content you like and want to see and dismiss the content that's irrelevant, from an unreputable source, or otherwise undeserving of a spot in your feed.
There are many use cases for a tool like Feedly and, depending on how you hope to use it, there are some various features you may be searching for. For instance:
If you want to curate a news feed for everyone on your team, you'll want to consider how easy it is to share your feed. Can you send out a link, similar to an RSS feed, that anyone can access or will people need to log in to Feedly? Can you set permissions on who can view your curated feed?

Another consideration before investing in a tool like Feedly is whether or not you'll use it enough to justify it. Many niches already have a type of curated app or feed where a team of people or tools have gone through and found the most relevant content for the day or week, so would you be better served signing up for one of those?

One of the most powerful features of Feedly is being able to share insights with your team, but you have to consider if your team will actually look at your feed. You also need to consider whether the feed will replace their other research or simply supplement it.
With these things in mind, let's take a closer look at what Feedly can do.
Features and Benefits of Feedly

When you first start using Feedly, your first task is to find and organize the sources you wish to pull from. From there, you'll train Leo (the AI assistant) to filter out the noise. Lastly, your custom feed is curated and generated, updated regularly so that you always have the latest content to share with your team.
Feedly claims that "Leo allows you to prioritize topics, trends, and keywords of choice; deduplicate repetitive news; mute irrelevant information; summarize articles, and so much more." You can use the topic skill to prioritize specific topics, trends, mentions, and keywords. Or, you can use the like-board skill to give Leo examples of what you like by sharing a board you've curated with Leo. Another handy feature is the business event skill, which is ideal for tracking content related to partnerships, launches, funding, leadership changes, and more. 
No matter how you choose to use Leo, you can continue to train him using your feed. When you see an article you don't like, prompt Leo to show "less like this," and he'll begin updating your feed in real-time. With that said, Leo comes pre-trained in 24 industries, so you won't have anything but fine-tuning to do if you decide to use Feedly for your company. 
Pros of Feedly
Feedly is easy to use and very intuitive. Set up takes mere minutes, and the only thing you'll have to do is look through your feed and deprioritize a piece when you don't like it.

Sharing your feed with your team is easy and can make collaboration simpler. Rather than everyone spending time looking for insights, Feedly curates what's important and puts it in one place for easy reference.

Feedly is more than just a filtered newsfeed. With Leo, AI brings your feed to life and helps you curate exactly the content you want to see, so you don't miss anything relevant.
Cons of Feedly
Feedly could create bias in your newsfeed, not just because of the presence of AI, but because each plan limits you to a certain number of sources.
Feedly Plans & Pricing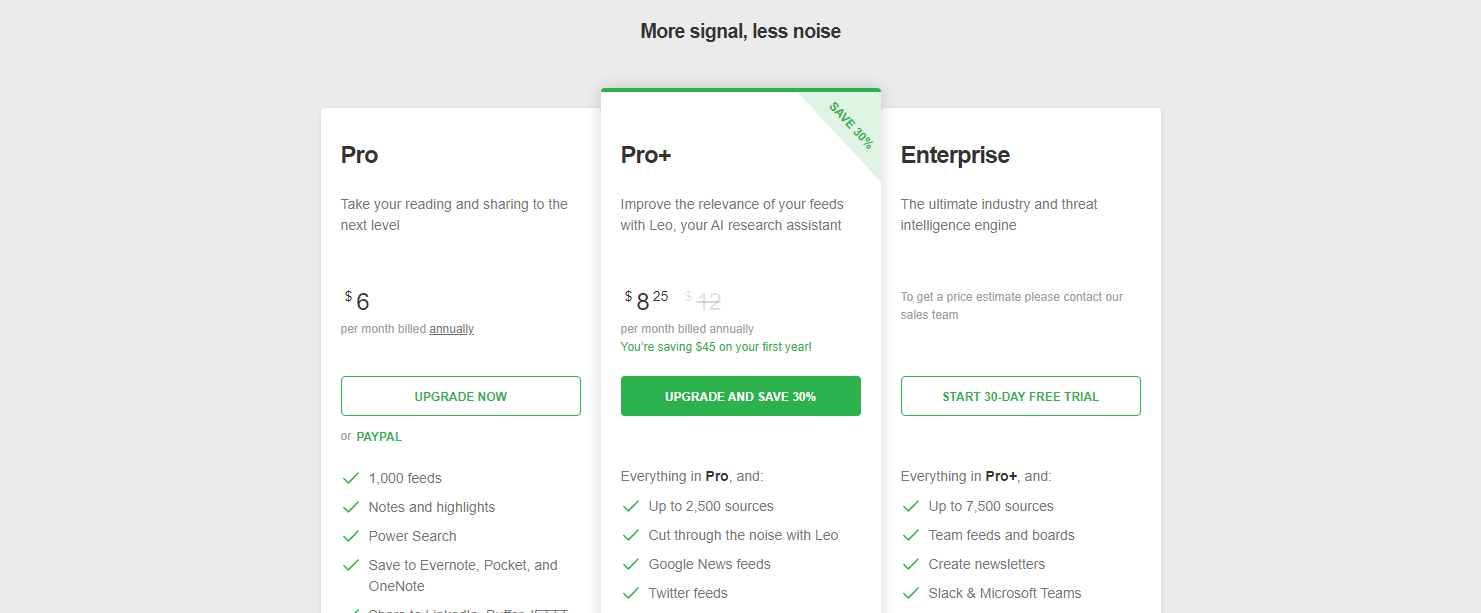 You can get started with Feedly's free plan, which offers a plain text feed curated from up to 100 sources. Or, sign up for one of the paid plans:
Pro: $6/month, enjoy content from up to 1,000 sources, notes, highlights, search, the ability to save and share custom fonts, and no ads.

Pro+: $8.25/month, enjoy content from up to 2,500 sources, plus Leo's Core AI skills, which include topics, business events, deduplication, mute, summaries, and more.

Enterprise: Custom pricing, enjoy up to 7,500 sources in addition to API access, the team feeds, newsletter generator, onboarding, industry intelligence, and more.
Customer Reviews

"My primary use for Feedly is for keeping up to date with my Clients in the media which is critical to my role. Feedly allows me to aggregate all the media alerts of my clients into a single, easy digest, platform. I can then spend 10-20 minutes each morning reading the latest news and alerts about my clients and take that knowledge into my days' meetings and interactions. It enables me to be a lot more informed." via GetApp
"I use this tool throughout the day to save and access all of my RSS feeds. Feedly is an amazing RSS feed tool that I have used for years. I used to manually subscribe to RSS feeds over the web. Feedly allows me to search and select the sites that I would like to receive RSS updates for and get them all in one central and searchable place. Once in a while, I have some issues with trying to save feeds into a saved section. This has only happened a couple of times in several years, but it was a bit frustrating." via GetApp
"Generally, Feedly is perfectly ideal for quick reading of subscriptions. Each category of subscriptions or posts of one blog for you is a mini-magazine that you can read fluently both at the counter in the store or meticulously, at home on the couch. All the management of Feedly - it's comfortable and simple strokes on the screen. [However], I do not quite understand why the connection of Feedly with the free IFTTT costs money. Perhaps there are other ways of monetization." via GetApp
Power Your Content Marketing

If you spend a lot of time sifting through content on social media, Feedly is a worthwhile investment that can save you substantial time, all while helping you discover new, more relevant content to help your business grow. Whether you're looking to track competitors and industry innovations or seeking to stay on top of what's trending amongst your audience, Feedly's AI-powered assistant can help you sort through the noise.
Of course, if you're looking for inspiration and insights to help plan your content, there's an even better way to do it. Instead of relying on a feed to tell you what's interesting, Scripted can help you get ahead of the trends with the help of content writers. With Scripted, you can enjoy more consistent and engaging content that gets your company the results you want, and it's all hands-off, too!
Interested in learning more about how Scripted can help grow your brand? From content and project management tools built-in to the platform to an ever-growing database of the best writers in the industry, Scripted can help your brand get to the next level when it comes to your content and digital presence. Explore Scripted's features today and see for yourself the difference great content can make.