Top 7 Transcription Software Options

It can take a human being anywhere between 4-10 hours on average to transcribe a one-hour audio track. For this reason, the advent of transcription software has been a game-changer for businesses, content creators, musicians, and others who need to work with audio files regularly. Transcription software takes an expensive and time-consuming task and turns it into a quick and easy job requiring very little human input.
That said, we know that the world of transcription software can be overwhelming. There are many different options, each with its strengths and weaknesses. We put together this list to help make it easier for you to find the right software for your needs!
What is Transcription Software?

Transcription software is an automated means of converting audio or video into a transcript in text format. Working with transcription software is usually straightforward: you upload your audio or video file, and then the software analyzes the audio data in that file using speech-recognition technology. The resulting analysis is then converted into text (speech-to-text functionality) so that it can easily be read, searched, modified, or exported for further use. 
While some users may be concerned about the software 'listening' to them, most speech-recognition technology providers actually rely on very complex natural language processing (NLP) and machine learning (ML) algorithms to analyze the data. This means that no one, or 'nothing', truly listens and understands the data in real-time. That said, some transcription software services use humans to ensure the quality of the outputs (called 'human in the loop' services). Human-in-the-loop services could mean that someone has access to your data, or parts of it, for quality control (note that they are very likely to be bound by confidentiality rules in their employment).
Transcription software has numerous applications. Here are just a few of the ways it can be used:
To create captions for audio or video clips

To convert a podcast into an SEO blog post

To produce a written version of an interview

To ensure accessibility of audio and video materials for deaf individuals

To take notes in lectures or meetings

To enable multiple language translations of the same audio or video content

To obtain a written copy of lyrics from a song

To generate a script from video footage, which can also be used to boost SEO easily
With transcription software offering a quick and cheap means of converting any audio or video file into text, the options for its use are endless.
Tips for Choosing Transcription Software

Not all transcription software is created equally, and it is easy to fall into the trap of simply choosing the first one you see when you need to get a job done quickly. You do, however, need to be careful in doing this. Some companies, for example, do not offer strong privacy guarantees, and some might fall short of data protection regulations altogether. This means your private data could be used or sold without your consent. Here are some tips to think about as you consider the transcription software options below:
Speed: Software transcribes faster than a human, but that doesn't mean that every piece of software is optimized for speed. Some software offerings take seconds or minutes to transcribe a file, while others can take over an hour. Typically, platforms that use artificial intelligence (AI) software are quicker at transcribing because the AI can predict, recognize, and verify speech patterns and sentence structures before the speech is said.

Accuracy: there's not much point in relying on software to do a human's job if you need to then relisten to the file and double-check that the software got it right in the first place. Accuracy matters in transcription, especially when it comes to ensuring that deaf users have a comparable experience to hearing users with, say, a transcription of an important lecture.

Privacy: we rarely know what happens to our data on the Internet, but that doesn't mean we shouldn't take extra care in choosing software providers with strong privacy and data protection guarantees. Look for service providers that comply with the data protection regulations for your jurisdiction. The General Data Protection Regulation (GDPR) and the California Consumer Privacy Act (CCPA) are just two examples.
What are the best transcription software options?

With countless options available, we've narrowed down the top 7 transcription software providers that you should consider for your next transcription project:
1. Otter.ai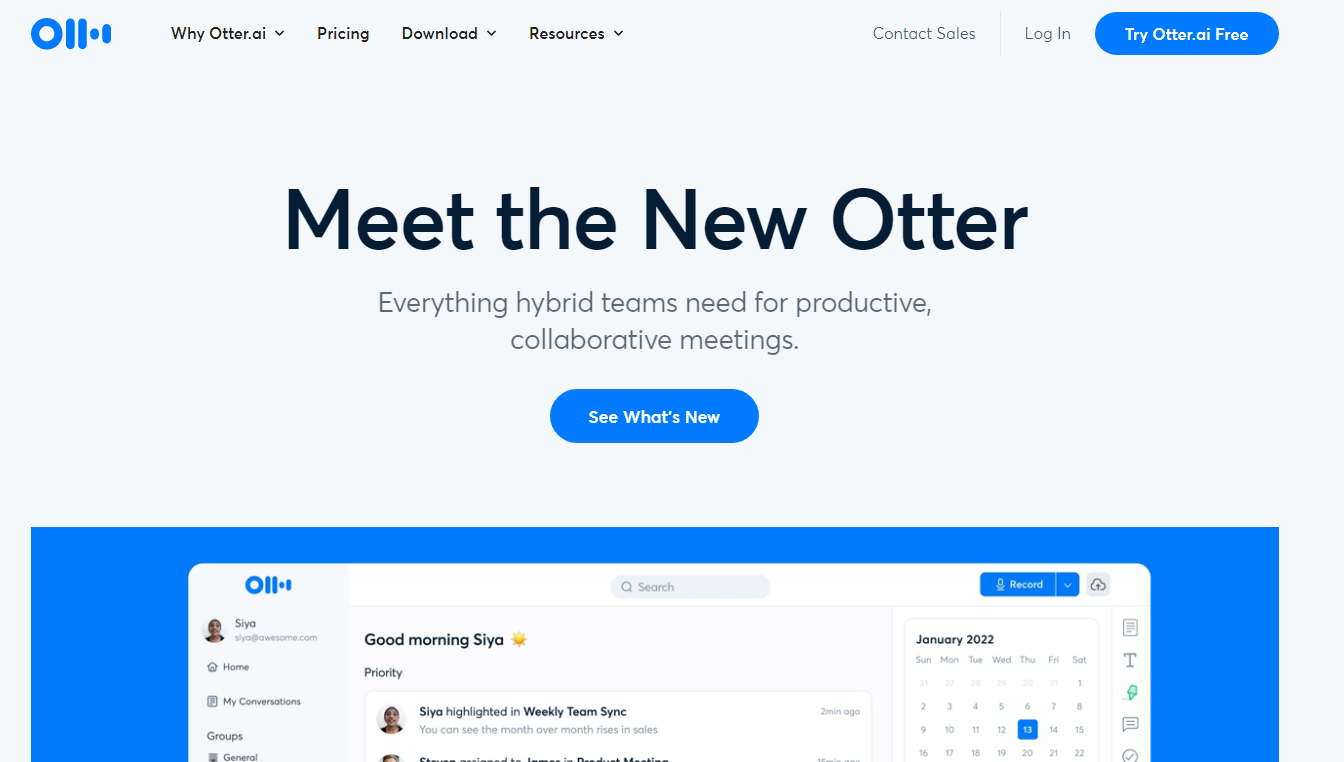 Otter.ai made waves in the transcription world (excuse the pun!) when it released its technology that automatically recognizes speakers' voices in conversations and interviews with multiple parties. It consistently shines among the highest-ranked transcription tools because it is feature-packed and straightforward to use.
Pros of Otter.ai
Diverse applications within the business, education, and individual productivity spheres

Extensive in-app features that reduce the need for other complementary software products

Generous free option offering up to ten hours of transcription per month
Cons of Otter.ai
Voice assignment is a flag-ship feature, yet it can sometimes take a while for the voices to assign correctly

Calendar synchronization is possible but quite glitchy if meetings need to be rescheduled or canceled

No options for scheduled archiving or deletion of data to take sensitive information offline
Otter.ai Pricing
Otter.ai has a free plan, a Pro plan at $12.99 p/m, and a Business plan at $30 p/m. You can save 36% by paying for an annual subscription, and Enterprise options are available.
Where to get Otter.ai
Available on iOS, Android, and as a Chrome extension, Otter.ai is a versatile tool. Visit the Otter.ai website or search on individual app stores for the latest version of the app.
2. Descript

Descript is a transcription tool with a built-in editor that ensures you can take the automatically generated transcriptions and edit them until you're happy with the final output.
Pros of Descript
Customer service is fast to respond, and product suggestions are executed quickly

Filler words like 'uh,' 'um,' 'oh,' etc., and speech gaps (where the audio is silent) can be edited out with one click

The free plan offers unlimited screen recordings and permits full video and audio editing
Cons of Descript
The user has to serve as the human-in-the-loop for quality purposes

Learning how to use the tool can take some time, especially when new updates are shipped so quickly

Speaker assignment is time-consuming
Descript Pricing
Descript has a free plan, a Creator plan at $15 p/m, and a Pro plan at $30 p/m. Annual subscribers save 20%, and as is expected, Enterprise solutions are available via their sales team. Discounts are available for students, educators, and nonprofits.
Where to get Descript
Descript is a web-based platform available through the official Descript website.
3. Happy Scribe

Happy Scribe is a transcription software focusing on subtitle generation for television and cinematic programming as well as online content like YouTube videos, workplace-hosted training videos, and digital courses.
Pros of Happy Scribe
Great value for money with usage-based pricing

File listening and editing happen in the same window, reducing window-switching

Very high accuracy compared to other offerings
Cons of Happy Scribe
No offline option to reduce Wi-Fi usage while editing

No ability to transcribe video to audio yet

Intermittent issues with cursors 'jumping around' in the text while editing
Happy Scribe Pricing
Pricing is based on usage and whether there is a human-in-the-loop. Automatic (non-human) transcription is $0.20 per minute. Human options include their 'Human-made' plan (automatic with human quality assurance), costing $2.25 per minute, and 'Human translation' (full human transcription), costing $24.79 per minute.
Where to get Happy Scribe
Happy Scribe is a web application available through the Happy Scribe website.
4. Verbit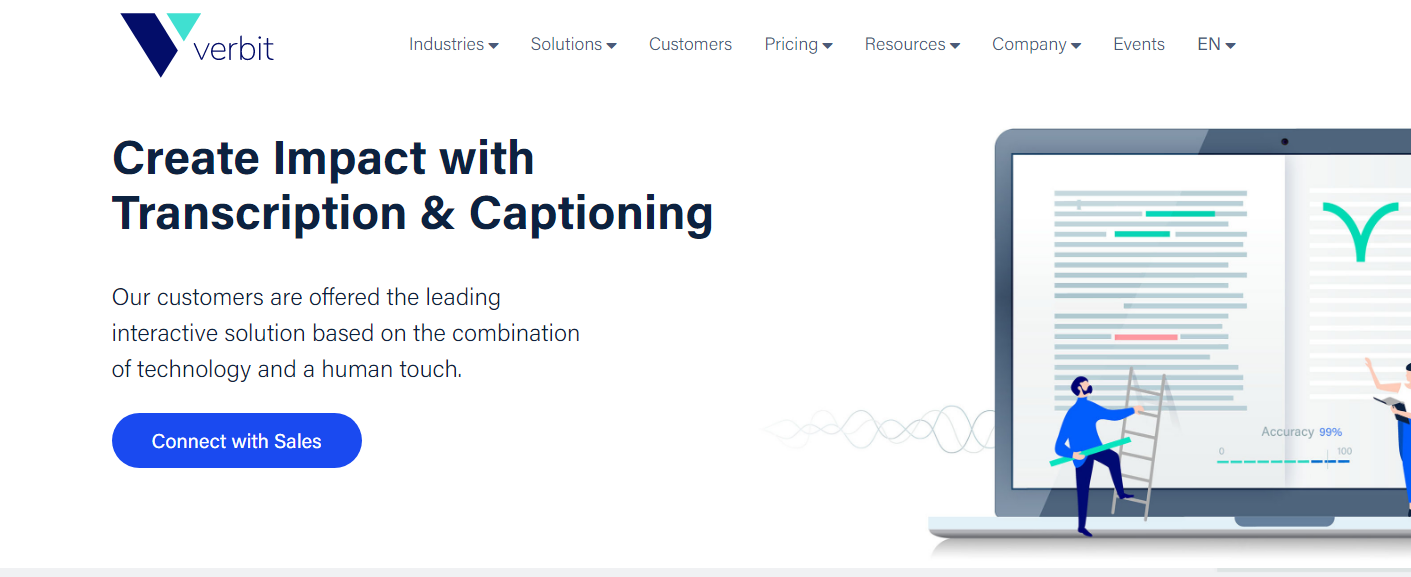 Verbit is a sophisticated transcription tool aimed primarily at large institutional users like libraries, courts, government departments, and schools. Boasting CNBC, Johns Hopkins, and the Library of Congress among its users, Verbit is an enterprise-grade solution with some of the best human-assisted technologies in the business. 
Pros of Verbit
Outstanding customer service with prompt resolution of issues

Stand-alone portal with powerful integrations, including less common learning management system (LMS) offerings

Wide variety of media options able to be transcribed (YouTube, Vimeo, etc.)
Cons of Verbit
Less accessible to the individual or small business user

Quarterly billing model with some unpredictable billing times if usage exceeds the quota

It can take some time to get a new account approved
Verbit Pricing
Verbit's pricing depends on the user's industry and the required service level. Standard, Professional, and Premium plans are available for different sectors (education, business, law enforcement, etc.). Pricing can be requested through their sales team.
Where to get Verbit
Verbit is an online transcription platform available only through the Verbit website.
Rewatch is a platform that allows you to store, search, and manage all of your video content in one place and access extensive video editing and transcription offerings. A highly-regarded solution, Rewatch is used by leading technology companies, including Brex, Vercel, GitHub, zendesk, AngelList, and Envoy.
Pros of Rewatch
Extensive collaboration features, which are especially helpful for async teams

Relatively inexpensive compared to similar offerings elsewhere

Powerful video search allowing you to look for keywords in speech
Cons of Rewatch
Transcription is not always very accurate

No free version

Upload time is slow, which delays editing and collaboration
Rewatch Pricing
Rewatch prices start at $7.50 p/m for their Startup plan and increase to $15 p/m for their Business plan. Annual subscribers save 20%, and bespoke Enterprise plans are available upon request.
Where to get Rewatch
Rewatch is a web-based application with mobile apps for iOS and Android and a downloadable Mac or Windows screen recording application.
6. Sonix.ai

With independent verification as the most accurate speech-to-text transcription software offering, Sonix.ai is an excellent choice for those who need swift turnarounds on their transcriptions with minimal editing time. It also boasts over one million users using the app to transcribe over 35 languages. 
Pros of Sonix.ai
Attractive and user-friendly transcription editor

Highly rated on accuracy by customer reviews and independent verifiers

Easy to set up and use without extensive onboarding training
Cons of Sonix.ai
No mobile app at present

Non-native speakers with accents are sometimes hard for the software to detect

No live speech-to-text transcription, limiting its application to pre-recorded audio
Sonix.ai Pricing
Sonix.ai offers a basic pay-as-you-go model starting at $10 per hour, with lower pricing of $5 per hour plus $22 per user per month available for users who need more frequent transcription and collaboration tools. Enterprise solutions are available.
Where to get Sonix.ai
Sonix.ai is only available through its official website and, as yet, is not offering mobile applications or browser extensions.
7. Maestra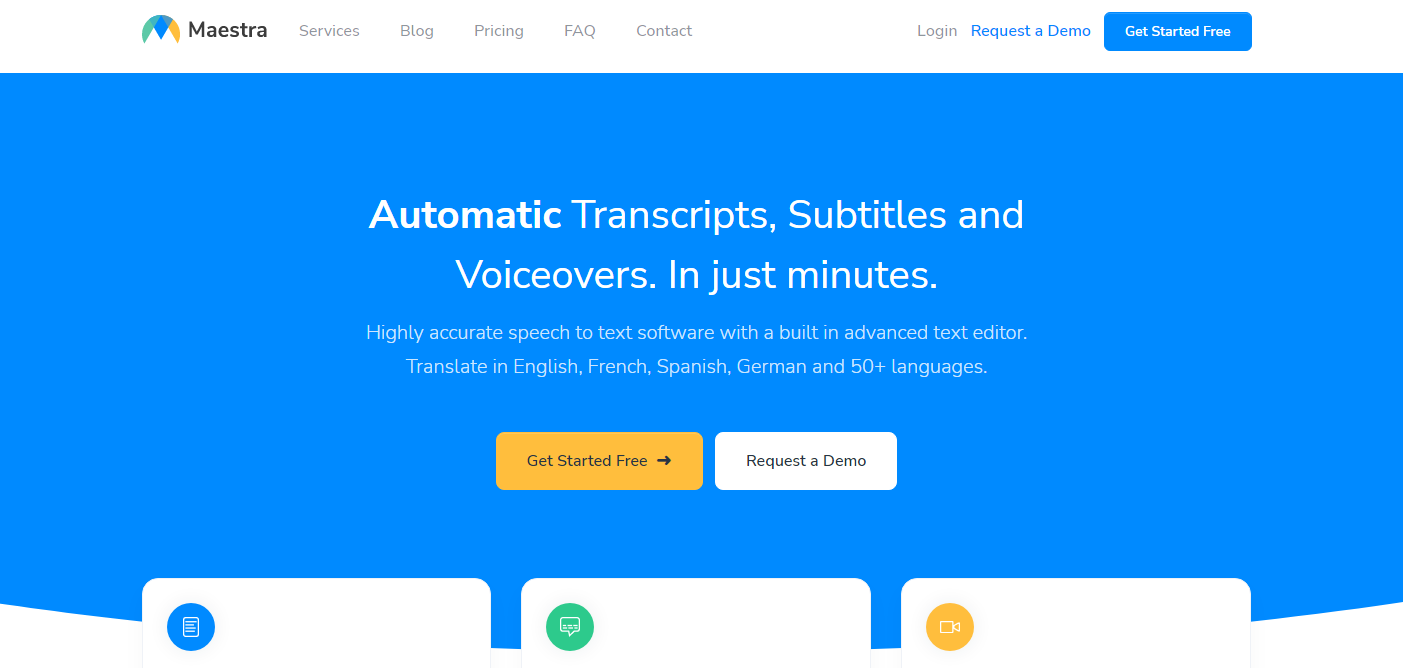 Maesta helps you produce transcriptions, subtitles, captions, and voiceovers in minutes using AI. The platform is multi-language with real-time translation into over 50 languages currently supported, making it a no-brainer solution for users that have international audiences.
Pros of Maestra
Video captioning and voiceovers are produced very quickly

Collaboration tools make editing and management of outputs quick and easy

Customer service and product teams are very responsive and receptive to feedback
Cons of Maestra
The user interface requires some improvements and updating

Translation quality can sometimes suffer if trying to convert audio into English (English to other languages seems not to be affected)

Large files take a particularly long amount of time to upload
Maestra Pricing
Maestra has a pay-as-you-go option for individual users available at $10 per hour, with a lower pricing option of $5 per hour available for team users willing to pay $29 per user per month ($19 per user per month if paid annually). Enterprise options are available.
Where to get Maestra
Maestra is available through its official website at maestrasuite.com. At present, no mobile applications or browser extensions are available.
Hire a Transcription Writer with Scripted

Looking for highly vetted transcription writers who know everything there is to know about speech-to-text and transcription software? Look no further than Scripted, the copywriting platform that makes it easier than ever to find and work with professional writers. Leveraging our proprietary SmartMatch software, you can readily work with freelancers with the industry expertise, skillset, and experience level required by your project. To get started with a talented transcription software writer today, start your free 30-day trial.