Social Media Content Strategy for Your Transportation and Logistics Site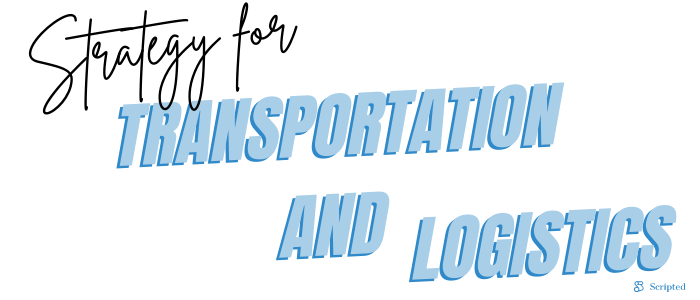 Social media is an important part of the business. Websites dedicated to the transportation and logistics industry experience the benefits of an effective social media strategy. Grow your business by implementing a social media strategy that will increase traffic to your website.
What is a Social Media Strategy?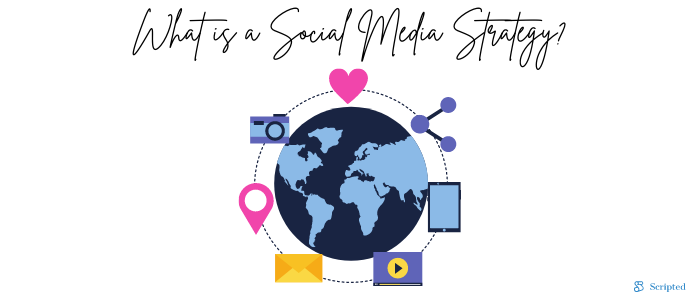 A social media strategy is a way to organize your social media campaigns. Having a content marketing strategy is the key to a successful social media campaign. It focuses your efforts toward specific actions that can achieve the goals that you want. It prevents unfocused work and lets you create a branded, well-defined user experience. 
A Guide to Creating a Social Media Strategy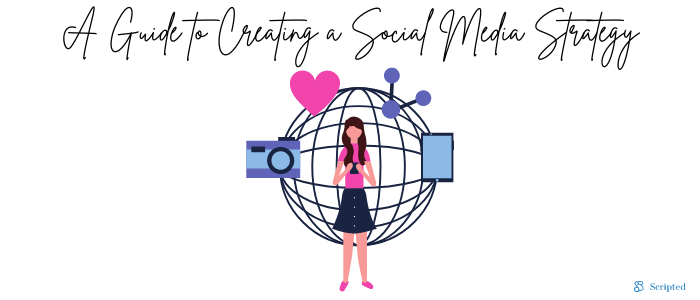 Every business needs a social media strategy that is unique. There are several steps in the process that make your social media plan work for your specific needs. Here is how to develop your company's social media strategy.
Step One: What is Your Desired Outcome?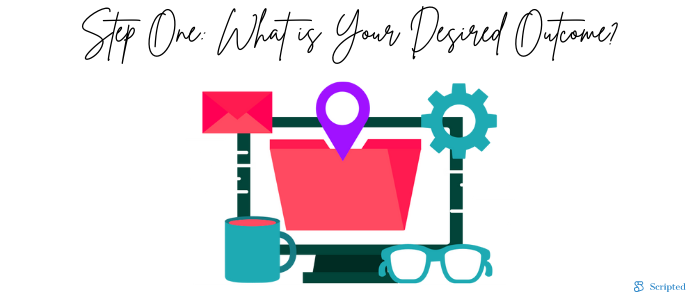 Begin with a clear understanding of what you want to achieve. Having a clear goal in mind means that you can decide which methods and courses of action support your desired outcome. This is very important in making sure that your efforts focus on creating specific, measurable results.
To determine what goals work well for your business, answer these questions:
What is the most important benefit that I want for my business?

Can advertising on social media lead to more sales?

Can creating a community on social media lead to business growth?

Can I post regularly on social media?

Are my customers already on social media?

Are my competitors using social media?

What kind of change do I want to see in the business, thanks to social media?

What level of engagement or interaction do I want to create on social media?

What performance statistics do I feel are important?

What returns will make me satisfied with the time and cost that I invested in social media?
By answering these questions, you can either prioritize or eliminate the reasons you need a social media strategy. Take notes when you try to answer these questions. Putting your goals in writing makes them more concrete and easier to commit to. Plus, you will need the information later when finalizing your decisions.
Step Two: Define Your Audience
Your audience is the people who your business affects. Make sure that you are communicating with them in a way that is appropriate. Your communication structure should reflect this audience, both in tone and in content. If you can connect with your audience on a deeper level, you are more likely to increase traffic and engagement with viewers.
For example, if you design and manufacture custom clothing, your audience is likely to be your customers and future customers. The tone of your content should be friendly and welcoming. This makes it easier for the reader to participate in your business by posting positive feedback or talking about their experiences.
Use keywords to improve the targeting of your posts to specific people who might need your service or product. Avoid targeting everyone with a post that has the same message.
Step Three: Choose Your Social Media Platforms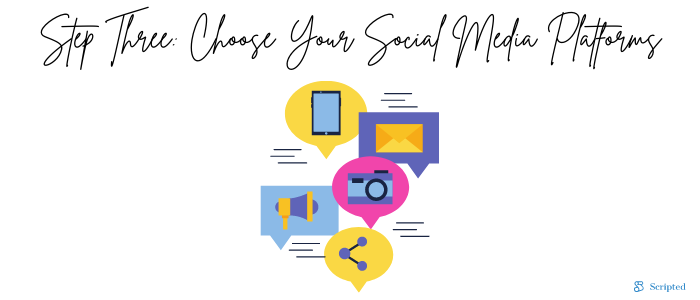 Determine which social media platforms work best for your company. Every platform is different and has its own benefits and challenges. Here is a brief description of the different social media platforms:
Facebook
Facebook has an internal platform for promoting businesses as if they were people. Using Facebook for your business lets you market directly to consumers, making it a perfect platform for B2C marketing. It is also one of the most widely-used platforms and has extensive support for business applications.
Instagram
Instagram is focused on visual advertising. Every post has at least one high-quality picture associated with it. If your company has strong photography, illustration, or animation skills, it could be a better choice than other platforms. Instagram also allows you to post relatively short videos and has a platform for businesses.
Twitter
Twitter is one of the easiest platforms to use for your business. Tweets, the posts that you put out on Twitter, are limited to 240 characters. You won't have to worry about making long posts every day. If you are a small business owner and are going to manage this yourself, Twitter may be the best choice.
LinkedIn
LinkedIn is a platform specifically targeted at businesses and professionals. It is the best platform for B2B marketing, recruiting, and building influence with industry professionals. Use LinkedIn to grow your presence in the industry among other businesses rather than trying to draw in new clients.
Pinterest
Pinterest relies heavily on images to draw people's attention. Once you have their attention, you can provide more detailed content. Pinterest is great for businesses that can create stunning visuals that attract attention or for businesses with audiences that like to collect things.
Quora
Quora is a site where people can ask questions and experts will answer them. Use Quora to build your reputation as an expert in the industry by answering questions for people and offering services that can help.
YouTube
YouTube is the largest video-based social network on the planet. Use it to educate your potential customers about the industry as well as what your company does that is unique. Tutorial videos are an effective way to grow your audience while demonstrating that you are an expert in your field.
There are many more social media platforms available that can help your business grow. Start by choosing a single platform to focus on. Once you have a strategy in place that produces results for one platform, you can expand. Most times, you won't have to remake the content that you develop. Simply edit or modify it for other platforms.
Step Four: Define What You Need to Measure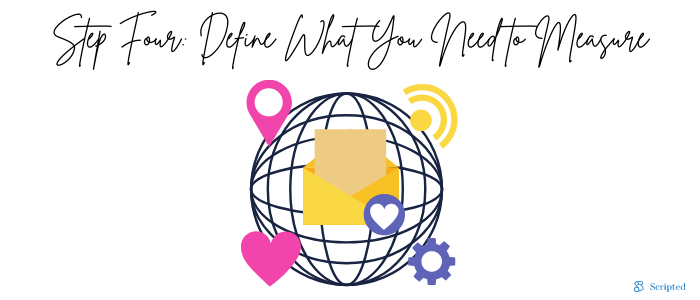 Any marketing campaign, social media or otherwise, must be monitored for performance. As long as you can collect data that shows how your strategy performs, you can make improvements. Define what performance metrics you need to measure in order to understand the efficacy of your social media strategy. Here are several common key performance metrics (KPIs) to track.
Reach/Impressions
This metric measures how many people see your social media posts. Reach correlates to the size of your audience and how many people see your posts. Using SEO (search engine optimization) techniques effectively can help you increase your reach across all platforms. 
Engagement
Engagement metrics focus on what people do when they see your posts. Measurements of responses such as likes, shares, and comments show you whether you're creating content that interests your audience.
Reactions
Reactions are similar to engagement metrics. These are based on how people respond to your posts. You want reactions to be positive. Negative interactions likely drive potential customers away.
Paid vs. Organic Interactions
All social media platforms have paid and organic interactions. Paid interactions happen when people click on your ads when they are displayed through paid advertising. Organic interactions happen when people find your posts by chance. Knowing if your paid advertisements perform better than your organic advertisements is important because it lets you gauge how effective it is and determine how much you should put into paid advertising.
Your business can track any set of statistics that you feel is important, provided that you can reliably collect data for it. Most social platforms have KPI tracking systems built in to make it easier. However, there are many third-party options that can also be effective. The key to tracking KPIs is to do it consistently. Continuous measurements give you an accurate picture of performance so that you can make well-informed decisions about your social media advertising.
Step Five: Create Starting Templates for Your Content
Social media advertising is about posting content that will interest your audience. If you have a marketing plan already in place, you already know what content you should share on social media. If not, start by creating starting templates for your content.
Using templates makes it easier to create content on a schedule. Since posting regularly is the hardest part of using social media for business, remove any resistance to starting the process.
Templates also make it easier to apply industry best practices every time you post.
Step Six: Create and Maintain a Content Calendar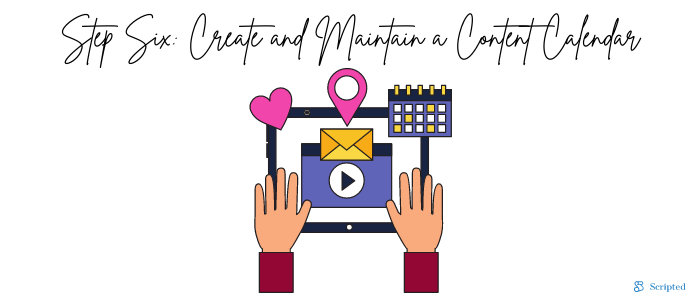 Create a content calendar that lists what you are going to post and when. This makes it easy to post on a regular schedule while also helping you and your team stay organized. Post at least once per week. In an ideal situation, posting every two or three days should return the best results.
Maintain your calendar so that you do not have unplanned gaps in your content. When possible, work ahead so that you have extra content you can use if you need to take time off from creating content.
Step Seven: Implement, Monitor, and Adjust When Needed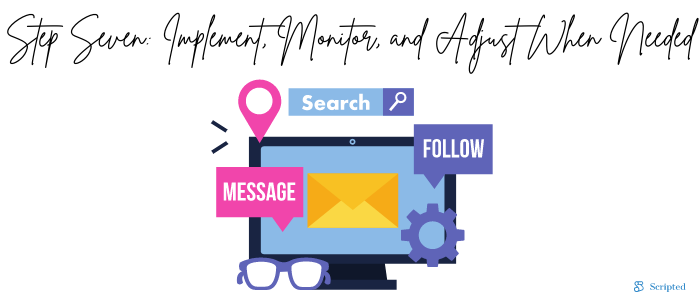 Once you have these pieces in place, implement your strategy. The first few posts are always difficult because you have to figure out a method of creating content. It gets easier over time the more that you do it. Focus on getting your content out there more than anything else. Then, you can focus on cleaning it up and making it better as you go along. The most important thing is that you start and keep going.
While you are posting, monitor your performance. If a post is not doing well, try to figure out why to use KPIs. Then, make adjustments to see if you can make future posts better. Every strategy takes time to refine and improve upon, no matter which company implements it. The best companies are the ones that take the feedback that they can get and use it to do better in the future.
Avoid These Mistakes When You Use Social Media for Business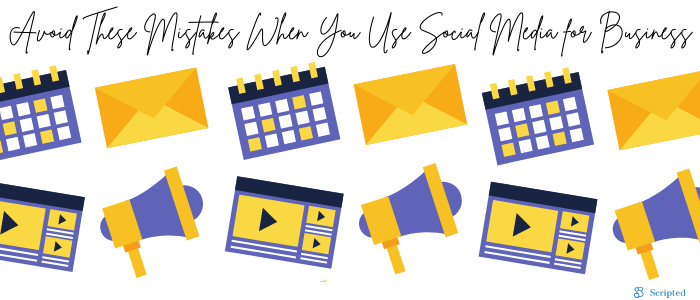 There are several mistakes you can avoid to prevent problems. Companies that are just starting out must be especially careful about what they post. Here are a few things to consider when you use social media. 
Avoid Posting Negative Content
As a business, it is important to avoid posting content that is decidedly negative about specific people and topics. 
For example, a business can take a stance on a particular local sports team being critical of a player for their performance on the field. However, that business will likely receive a lot of negative backlashes if it disparages that player in a way that most people would say is inappropriate. 
It is okay to be critical but not derogatory. Subtle distinctions like this mean the difference between success and problems. Before posting anything online, consider the possible implications of how people will receive that content.
Avoid Illegal Speech in Your Posts
Always consider the legal implications of what you want to post. Every country has its own regulations regarding free, protected, and illegal speech. Violating those regulations is a fast way to cause problems for your business.
In the United States, there are three classes of speech to consider: legal, protected, and illegal speech. Most people do not fully understand the laws regarding free speech, which often leads to issues.
Legal speech is anything that is not restricted by specific regulations or laws. This covers most things that you can say online, positive or negative. Protected speech is anything that is explicitly protected by laws. This includes what people consider free speech and has been thoroughly litigated in courts all over the U.S.
The third category is illegal speech, which covers things you cannot say. Illegal speech largely has to do with what you say within the context of how you say it. There are things you cannot say in a certain context and things you cannot say in any context. Avoid these things as much as possible to avoid creating legal and social problems for your business.
For example, most people have heard the "fire in a crowded theater" example. You cannot go into a crowded theater and yell "fire" when there is not a fire. It would cause a panic without a significant reason and terrorize the other people that are there. This relates to context: If there is a fire, then it is okay to warn others. If there is not a fire, then you are just interfering with their lives.
This applies to things that you say online as well. You cannot spread lies about people or say things that knowingly terrorize other people without reason.
Be Mindful of Copyrights
Even though it is on a social and public platform, it is not acceptable or legal to use other people's copyrighted material without permission. This could land you in serious legal trouble if you take someone's intellectual property. There are plenty of free resources to help you find material that is not copyrighted. Avoid using material that is unique to a brand, business, or person who you do not have written permission to use.
There is Help Available
Developing content for social media can be a challenge at first. If you are unsure of what to do, ask for help. There are services that can help you develop content for social media and other purposes. Browse our writers at Scripted to see what they can do to help you improve your social media strategy.