How Do I Choose A Marketing Software for Social Media?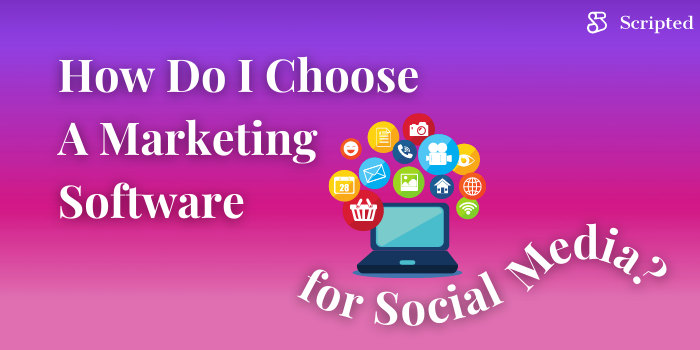 Social media is a dominating online force, but a complicated one. YouTube, Facebook, Twitter, TikTok, Snapchat, and Instagram are still favorites, but new platforms seem to spring up regularly. So how can businesses best manage their social media marketing? There are tools available that can help. How should you go about choosing marketing software for social media, though? 
Define Your Business Goals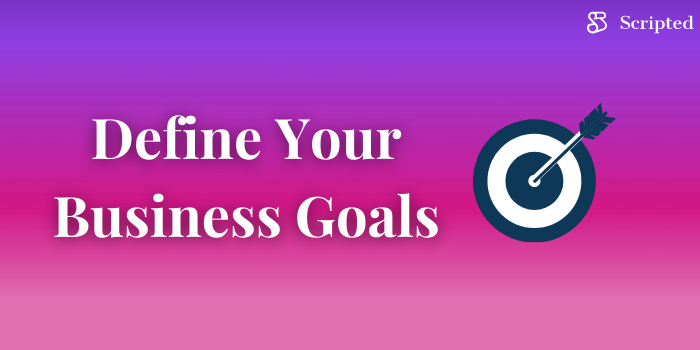 The best choice is the one that works for you. That means you need to understand what features you want in a social media marketing tool and what you hope to accomplish with it. 
For example:
Increase brand exposure

Drive traffic to the business website

Improve organic search engine rankings

Develop new business partnerships

Stimulate customer loyalty

Reduce marketing costs

Increase sales
These are all goals that you could meet with an increased social media presence and better marketing. 
Pinpoint the Must-Have Features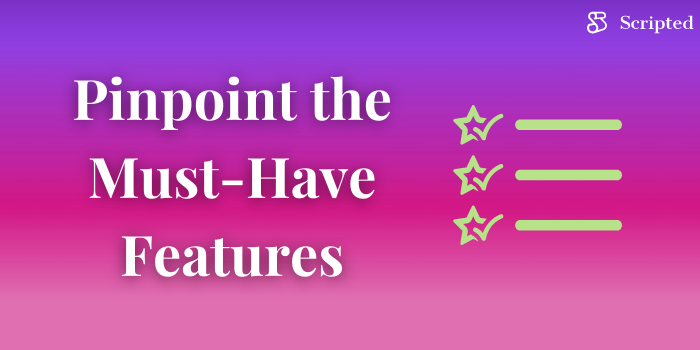 Next, ask yourself why you need software to help with your social media marketing efforts. It could be you already use a software program, but it misses the mark for you. Maybe the interface is confusing. Perhaps it doesn't provide the right analytics. 
Maybe you have been managing your social media pages manually. Why isn't that working for you? What kinds of automation will make the process easier? 
Make a list of things you want the software to do so you know what features you need. 
Some  common features include:
Post scheduling — Scheduling allows you to create posts ahead of time and then automate their publishing. So, if you write all the posts you need for a week, you can set them up to publish whenever you want. 

Social media monitoring and listening — Social listening tracks and reviews the social buzz regarding your brand, company name, or products. This is invaluable information for most businesses. It allows you to take the temperature of your target audience and see how they are feeling about a marketing campaign or product. By listening in, you can develop a better understanding of how well your marketing efforts work. 

Keyword tracking - Keyword tracking is similar to social listening, but it focuses on select keywords. For example, a coffee shop in Manhattan may track coffee Manhattan or coffee Washington Square park to gain insight into what people are talking about and why. 

Sentiment analysis — Sentiment analysis takes a deeper dive into social media conversations and determines how the context might apply to a topic, brand, or industry. 

Customer profiles — Create social media personas to look for your ideal customer on different social media platforms. 

Multi-channel management — This allows you to be active in multiple social media platforms at once. 

Calendar — This shows an overview of your social media posts: past, present, and future, on one or more platforms. You could see what tomorrow's posts look like on all your social media pages at once. 

Campaign management — Plan and manage multiple social media marketing campaigns at once. 

Team collaboration — Allow more than one person on the social media marketing software at once. 

Social channel integration — Post to more than one channel at the same time. For example, you might create a post for LinkedIn and Facebook and send it to both at once. 

Alerts — Alerts cover a variety of topics. For instance, you might have one set up to alert you if there is a sudden influx of mentions for your brand or product. A second alert might tell you when you have a comment on a post. 

Analytics and Reports — Create reports you can share with stakeholders to monitor the progress of social media campaigns. 
The most promising social media software programs have one or more of these features. For example, Hootsuite, one of the more well-known software programs for social media, uses social listening to pinpoint brand and product mentions. Sprout Social  shows conversion history and allows you to monitor content on several social media platforms. 
Once you have a list of features you want, circle the top five and prioritize the rest. That will give you a jumping-off platform as you research the various tools available. 
Consider Influencing Business Factors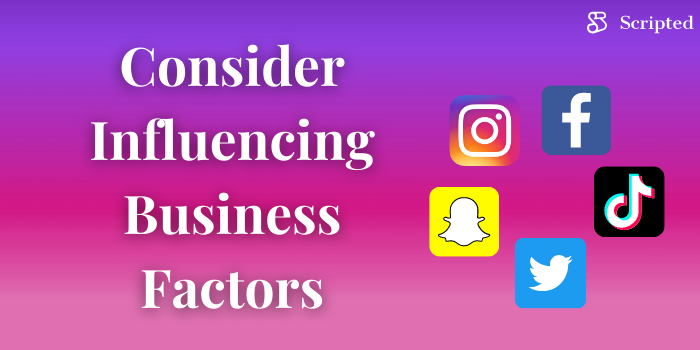 Different factors about your company could influence your decision, too. For example, business-to-business (B2B) companies may focus on different platforms, such as LinkedIn. Business-to-consumer (B2C) will probably stay involved in platforms that target friends and families like Facebook or Instagram. A non-profit might spend more time on Twitter. 
The size of your company matters, as well. Small businesses might not have the budget for expensive software. They may look closer at software plans that offer scaled pricing or low subscription-based services.
Finally, what is your target demographic? If your focus is on a younger crowd, you might stick closer to TikTok or Snapchat. Businesses that target older individuals may do better with Facebook. It's important to go where your ideal client is when marketing on social media. 
Look at the Competition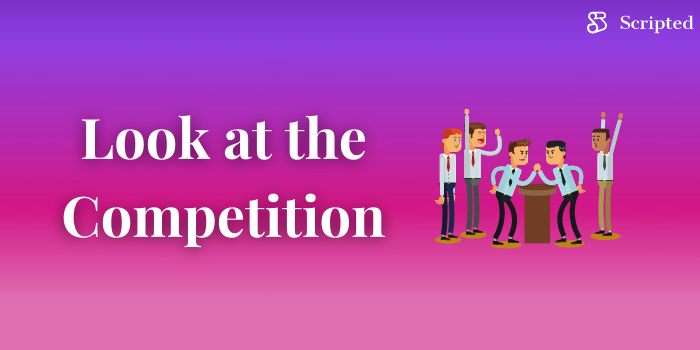 This tip is true for most marketing decisions. What is the competition doing, and is it paying off for them? Look at their social media pages and see what kind of content they post and how often they post it. 
That will give you an idea of what you need to beat and how a software program can get you ahead of the competition. For instance, scheduled posts would be an asset if your competition is very active on social media. 
Get Plenty of Feedback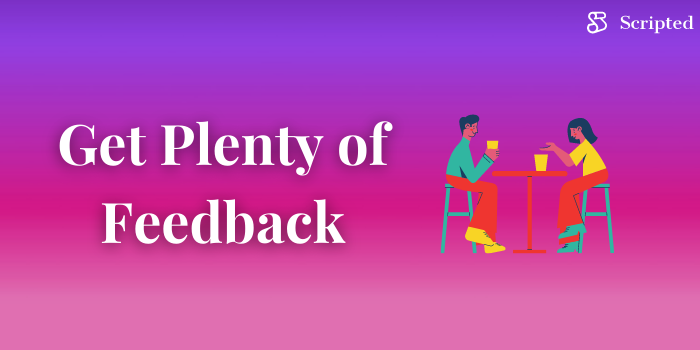 Ask your valued customers, partners, and vendors to see what programs they use and why. This is the best way to get real-time reviews on the products you might consider as front runners. Ask them what features they like best about the software and how easy it was to master. Keep a list of programs and make notes about each as you get feedback.
Go online and look at reviews for the product, too. You can do Google searches for reviews, but also look on the mainstream social media platforms and in forums, as well. See what the industry experts and influencers use, too. 
Make sure to look at the "top" and "best of" lists, too. For instance, look closely at our tool review articles to see what options we consider the best of the best. 
Make Use of Free Trials and Plans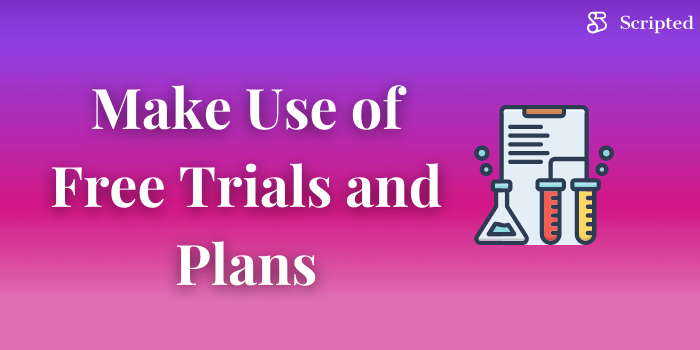 Before you make your final choice, look closely at the products that offer free trials. Even if you don't think that software is the right choice, try it out anyway. You might learn something about what you want and discover features you didn't know were an option. 
Make a list of all the social media marketing software programs that offer free trials or free plans, and try at least half of them. That will give you a well-rounded idea of what these programs do and what you want from them. 
If you find one you really like, write down the features that impressed you the most and the pricing. This way, you can make comparisons as you go through the free trials to get a picture of what the perfect choice might look like for your business. 
Some products that offer free trials include:
Ripl — One free week

Buffer — Free plan for up to three social media channels

Hootsuite — 30-day free trial

Sprout Social — 30-day free trial

Agora Pulse — 30-day free trial
Most will have different subscription levels, too. Make a note of what fits in your budget and what features come at the pricing. 
Create a Short List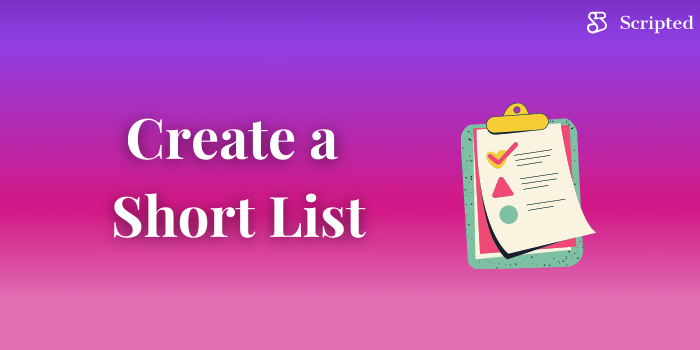 Once you've asked all the questions and done all the research, create a shortlist of your favorites. Write down the pros and cons of each software program. Also, make comparisons. Which one offers all the features on your 'must-have' list? Look to see what makes each one unique and whether they have features you didn't consider yet. 
Finally, figure out which one best fits your budget. If the top product on your list is too pricey, go to your next favorite and see if it is the better option. You might find some social media management software brands do à la carte features, too. Perhaps you can fit a favorite into your budget by cutting out the features you don't need. 
When you finally choose, if they don't offer a free trial, ask for one. The worst thing that can happen is they say no. If they don't provide a free trial, sign up for the shortest possible subscription. That way, you won't spend a lot of money on something that doesn't work for you. 
There are many social media marketing platforms out there, so take your time and do your research to ensure you get the best return on your investment. 
Scripted has a large pool of carefully vetted writers with experience optimizing for social media. Start your 30-day trial with Scripted to discover how much easier content marketing becomes when you rely on professional writers.