Rank Math: Feature Overview & User Guide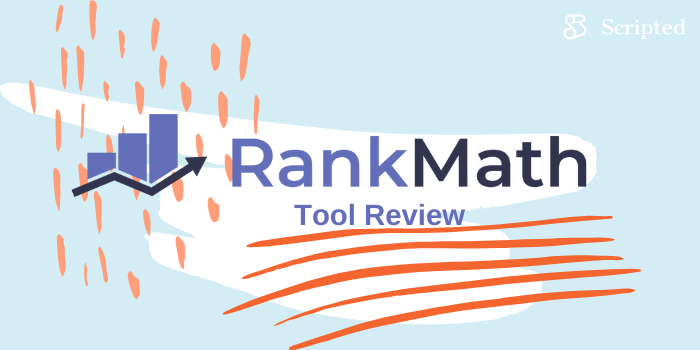 There's a reason why people spend years mastering the complexities of SEO. With ever-changing algorithms and standards, website owners often find optimizing content for search engines to be a daunting task. Fortunately, while no tool can replace the work and advice of informed writers and gurus, Rank Math comes close to helping website owners hit the key marks.
What Is Rank Math?
Built specifically for WordPress, Rank Math is a search engine optimization (SEO) plugin with a user-friendly interface. It requires absolutely no technical or SEO knowledge to use. The power of Rank Math starts with its ability to optimize your content directly within the native WordPress editor, whether you're working with page content or a blog post.
Within the editor, Rank Math will make suggestions based on the most widely used SEO practices. In your dashboard, you can also customize your SEO settings and control other things that impact SEO, like how you want structured data to appear and which pages you want indexable. 
Overview of Rank Math's Features
Rank Math works because it doesn't take a one-size-fits-all approach to SEO. It's customizable (although entirely useful right out-of-the-box) and it has a module design that allows you to choose which features you want to use. This is ideal as it allows you to turn off things you don't want, avoiding unnecessary clutter, complications, and confusion in the backend.
Over 15 Modules:

You can choose from 15 different modules. Activate some or all of them based on your priorities and goals.

Keyword Rankings:

Keep track of where you stand in the SERPs with the keyword ranking charts, which show you which search phrases you're climbing or dropping for.

Analysis:

The detailed analysis will check over 30 common factors to help you identify pressing SEO issues that could impact your rankings.

One-Click Migrations:

Seamlessly migrate data from other SEO plugins with a one-click import option, allowing you to keep all of your historical data and other important settings in place.

Gutenberg & Classic:

Rank Math is compatible with both the Classic WordPress Editor and the newer Gutenberg Editor.

Rich Snippets:

Trying to get ranked with rich snippets? Rank Math offers support for over 20 schema types, including "FAQ" and "How To" snippets.
These features are only the beginning. Rank Math's features include an intuitive setup wizard that basically does all the work for you, as well as integration with Google Analytics, position history, the ability to import scheme markup from other sites, and more. It all adds up to an excellent, thoughtful plugin you'll use again and again.
Pricing & Plans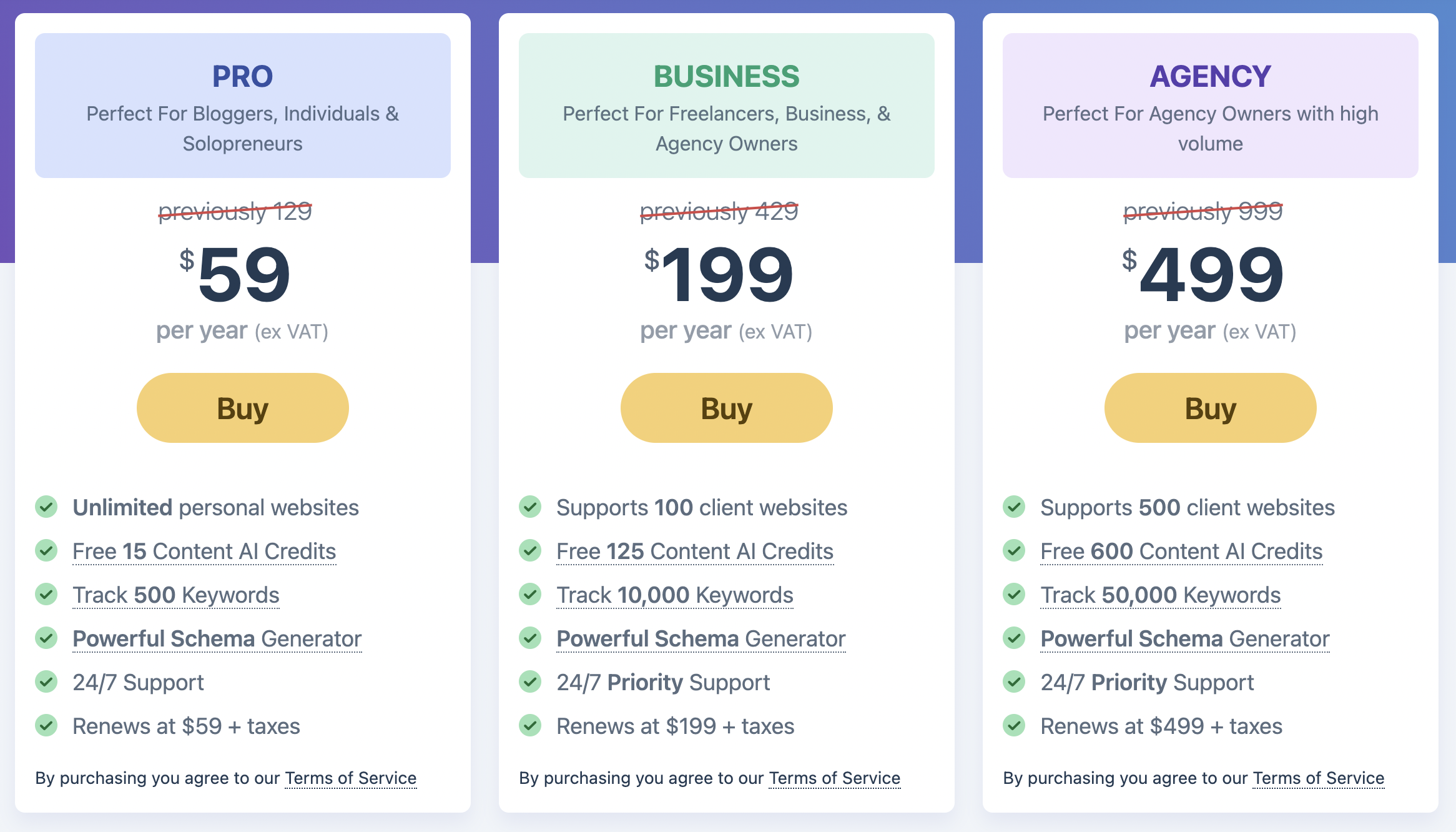 Simple pricing plans make setting up Rank Math a breeze. A free plan is available but if you want to make use of all of Rank Math's significant features, you should consider a paid plan. Luckily, they offer multiple tiers and payment options.
Free Version
The free version allows you to fetch Google data up to once every 7 days and you can preserve that data for up to 90 days. You can still run a full site analysis, track keyword rankings, optimize content (individually or in bulk), and enjoy the other basic features.
Pro Plan
For $59/year, you can get the Pro plan and track up to 500 keywords and 180 days of historical Google data, which can refresh up to once every 3 days. Unlike the free version, the Pro version lets you track winning/losing keywords; winning/losing posts and their corresponding keywords; custom-build and validate schemes; watermark social media images; and much more.
Business Plan
For $199/year, the Business plan scores you all the Pro features including those important to agencies and marketers. They built the Business plan for resellers, offering support for client websites, the ability to track up to 10,000 keywords, and no limit to historical Google data.
Agency Plan
For $499/year, the Agency plans allows you to support 500 client websites, get 600 content ai credits, track 50,000 keywords, and more. If you work for an agency, check their website for more information. 
Why Do People Use Rank Math?
Plenty of free SEO tools exist on the market, so the fact that most of Rank Math's features are limited to the paid plans may disappoint some website owners. However, users agree time and again that Rank Math is worth the money. After all, you'd be hard-pressed to find the breadth of Rank Math's features in any combination of free plugins, and you'd then be stuck dealing with a dozen different interfaces.
Rank Math is many plugins in one, simplifying your workload with a seamless UX that also improves optimization since you're keeping all your data in one place. Looking at comparable plugins available for Rank Math's top features, they say their Pro and Business versions add up to a value of over $1,675, and that's tough to dispute once you go down the list.
What Users Say
Reviewers on WordPress (and other review sites) consistently rave about Rank Math. In fact, within the WordPress Repository, the plugin has an average rating of 4.9 stars with over 2,086 reviews.
One recent review stated: "I tried several SEO plugins and my conclusion was that RankMath is the most complete tool to set up SEO configuration. It is easy to use, provides a lot of useful information on how to set up SEO correctly, it works with Elementor, and I was able to set up SEO in pages, posts, products, etc."
This echoes the same positive sentiments of most reviews, with another stating: "We got bored with the unnecessary complexity of another well-known SEO plugins. After being recommended to me by a fellow developer we made the transition and never looked back."
Of course, there are negative reviews for the plugin, primarily focusing on complaints about pricing and plan changes. It was not too long ago that some pro-only features were included in the free plan, and the update caused concern for some website owners who were relying on the features being free.
The Pros and Cons of Rank Math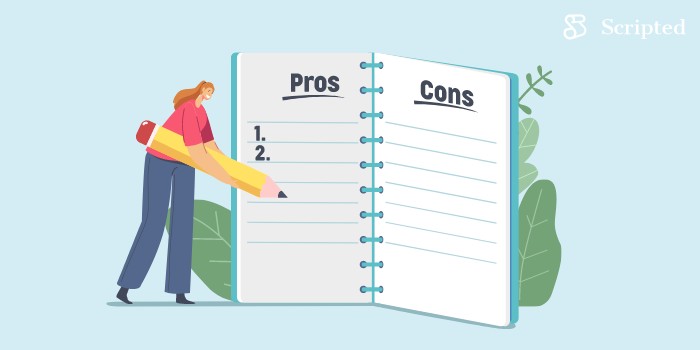 If you're interested in trying out a new SEO plugin for your website, consider Rank Math to be a top contender. Of course, every solution has its pros and cons. Here's a closer look at what Rank Math offers and where it may fall short for your application.
Pay The Difference to Upgrade
If you're hoping to try out the Pro or Business features but don't want to buy into the Business plan upfront, you can get the Pro plan and upgrade later by paying the difference between the two ($140 plus tax). Unfortunately, there's no way to test out the Pro plan on your own site without signing up, although they do have a demo website.
Lenient Refund Policy
In the event that you buy the Pro or Business plan and you decide it's not for you, Rank Math will give you a full refund. The only limitation is that you must request the refund within 30 days of purchase. They will then void your plugin license and you won't be able to use the Pro or Business features unless you upgrade again.
No White Label Option
If you happen to be a marketer, agency, or a business that offers SEO services to clients, you might be disappointed to learn that Rank Math does not have a white label option. This means you cannot remove or hide Rank Math's branding from the client's website, which may complicate your billing process or service pricing.
They Prohibit Group Buying
If you like to save money on plugins by going in with other website owners for a "group buy" where you share the cost to sign up for a Business plan so you can all use it under one license, Rank Math doesn't allow it.
Downgrading Can Complicate Things
If you sign up to the Business or Pro plan and later downgrade (either from Business to Pro or Pro to Free), you won't technically lose any data. Rank Math says they'll keep all the content that's connected to the features associated with the more expensive plan intact. However, they say it's stored in your WordPress database and only reactivated when you upgrade and start paying for those features again.
This is something to consider as you can't buy Rank Math outright. It is an ongoing subscription, so downgrading in the future could impact your SEO if you downgrade to a plan that doesn't have the features you previously optimized your content with.
Scripted & Rank Math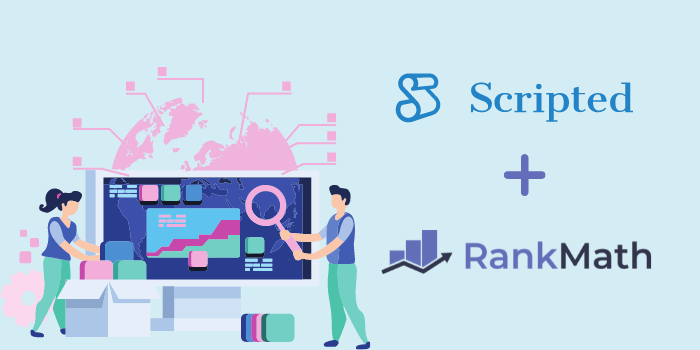 All in all, Rank Math is an extremely powerful SEO plugin, and with a modest setup and simple user interface, you'll never feel overwhelmed. Somehow, Rank Math has managed to keep the user experience simple and straightforward while packing in hundreds of dollars worth of premium SEO tools.
Of course, there's no use trying to optimize your website if it isn't built upon great content. It's been said time and again that content should be at the core of any ranking strategy, and that means you have to prioritize the quality of your content above anything else.
While Rank Math can help you with the finishing touches of your blog posts and website content, Scripted's professional writers are the ones who will really help your website perform. With our self-managed and Full Managed plans, we empower businesses of all sizes to improve their search engine performance with access to highly skilled niche writers.
When you use Scripted's expert content creators and Rank Math's powerful features together, you'll truly have a winning combination on your hands. Interested in learning more about Fully Managed? View our plans or contact our team to get answers to all of your questions.