Increasing Organic Traffic to Your Health and Wellness Website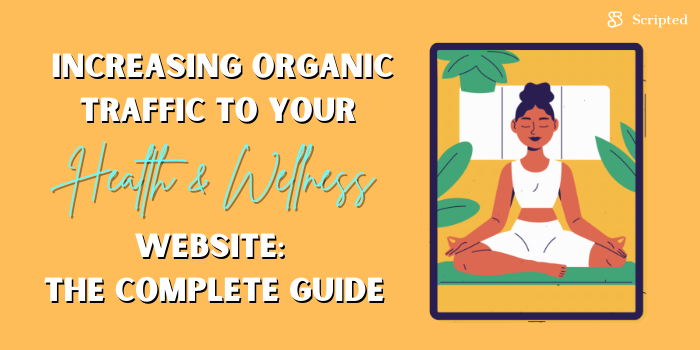 Organic traffic is the name of the game. It's what drives conversion rates, and it's what keeps customers coming back for more. If you're looking to increase organic traffic to your health and wellness website, then you've come to the right place! This post will give you a complete guide on how to do just that.
Identify Your Target Audience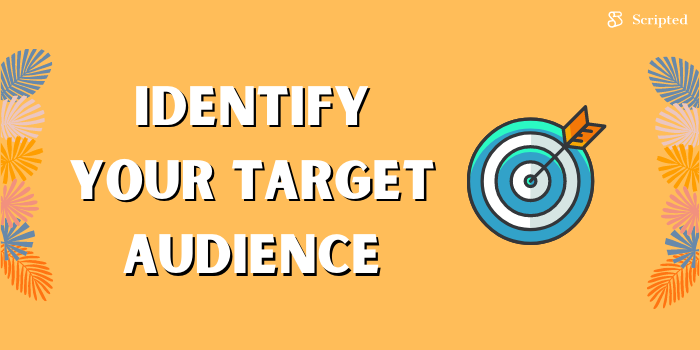 The first thing you need to do is identify your target audience. You want them to be a niche audience so that their search habits are predictable and can be targeted more effectively. Are they lifestyle enthusiasts who like reading about organic foods? Or are they people looking for natural remedies for ailments such as eczema or psoriasis? What's the age range of your average customer?
Building a website with content explicitly tailored towards this group will help increase traffic coming from these specific audiences, leading to higher conversion rates!
Create an SEO Strategy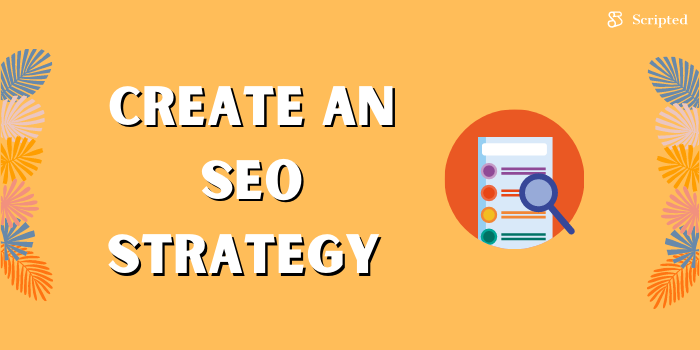 To get found on Google, it's essential that you know which words searchers use when searching online. For example: if one of the most popular search terms for your niche is "natural remedies," then you should use those words in the title of your website. Next, write content that features variations on these keywords and rank them higher than other posts not using this keyword to help increase organic traffic.
When it comes to organic traffic, you're not alone. There are a lot of other websites out there with the same goal as yours. Luckily for you, though, this means that your competition can be used in your favor! By analyzing what these competing websites do right and wrong, you'll be able to quickly figure out how to make changes on your site – increasing organic traffic in no time at all!
Now that you've identified your target audience, discovered the keywords they use in Google searches, and analyzed what your competition is doing right and wrong, it's time to create a plan of action!
First, figure out how much content you should have on your site. If there are too many pages for users to scroll through, this could negatively affect their experience with the website – meaningless organic traffic from these customers. Depending on the type of website you have, 200-800 words per page is a good rule of thumb to keep. However, this depends on trends in search engine optimization; but always keep an eye on what works best for your niche.
Develop a Compelling Mobile-friendly Website Design
 
If you want to increase the time visitors spend on your website, it's essential that they're happy with what they see. This means creating an appealing design for them from the first second of landing on your site.
Use quality images throughout your content and ensure that there are no broken links in any of these pages, as this can deter visitors and cause them to click away before converting into leads. If you have videos or audio files available, make sure these are embedded in the posts, so visitors don't need to go looking elsewhere for something interesting – increasing organic traffic all around.
Videos for health and wellness websites could include how-to tutorials or short clips of you talking about the benefits of your health and wellness products.
If you want to increase organic traffic, then your website needs to be mobile-friendly. As more people start using their phones as their primary device, Google is increasing its priority on mobile-friendly sites.
This means that if you don't have a responsive design, your website will be penalized when it comes to organic traffic! That's why it's so crucial for any health and wellness business owner to make sure their site is compatible with all devices.
Mobile optimizations include:
Optimize the design and content of your site so that the text is readable on a small screen; use short paragraphs and lots of white space around any images or videos so they're more easily viewed by someone browsing with their phone in hand.

Include links to other pages or websites within these posts – this allows users who are reading them from a smaller device like an iPhone (or iPad) easy access without needing to zoom in constantly. This also provides quick shortcuts if readers need information quickly rather than having to scroll through everything first! When linking out, make sure there are no broken links anywhere on your site.

If you're planning on using forms or other contact information on your website, be sure that they are all sized appropriately for these smaller screens and that any text is readable when zooming out to a more detailed view of the page.
Optimize Weekly Blog Content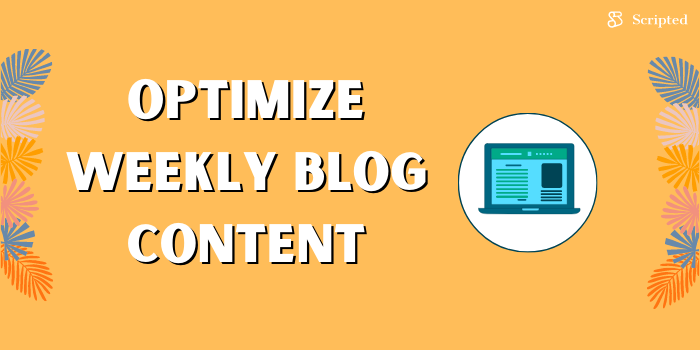 You want to increase the volume of high-quality content on your site so that people are consistently coming back to see what's new. This will keep them engaged and entertained.
The key is to be consistent with the frequency of posts. Posting something new every Monday can work well for some businesses. You could even post weekly tips and tricks about health and wellness or write "best of" lists each week showcasing products you sell exclusively online.
The best way to get found on Google is by applying SEO (search engine optimization) techniques. This includes using keywords in your post titles and subheadings and optimizing the content for search engines by including headings at appropriate points throughout the text. Optimizing long-form health and wellness website content with these simple steps will lead to higher organic traffic.
You can use software like Surfer SEO to analyze your content and find out where to make changes.
Use Social Media to Create Buzz 
It's essential to get your content out there so people can find it. A great way to do this is by using social media sites such as Facebook, Twitter, and Pinterest! With these, you have a chance of getting lucky with the right post at just the right time, which would result in high organic traffic – doubling or even tripling conversion rates without any extra work on your part!
Promote on Other Websites by Guest Blogging
Promoting your content to other websites is another great way of getting the word out. This will increase organic traffic and bring in new visitors and customers since you'll be able to reach a broader audience on their favorite sites.
Guest blogging can work well if done regularly with high-quality content or submitting articles as links back to your site on these same blogs relevant to what you sell. This strategy may take some time to show results, so don't give up if nothing seems to happen at first; eventually, people might start linking back from those sites because they're interested in seeing more related content.
Compile a list of bloggers in the health and wellness space and reach out to them with a pitch. Even if they say they aren't interested in a collaboration at the moment, keep a healthy relationship with them since you never know what could happen in the future!
Create an Email Newsletter
Email is still one of the most popular forms of communication out there, so why not utilize this in your online business strategy to increase organic traffic? You'll be able to send emails at specific times of the day or week with interesting content related to health and wellness and exclusive discounts, which will lead to increased conversions. The key, though, is that you need an email list – something many people neglect when first starting a website. To avoid this pitfall, make sure to include a signup form prominently on every page of your site, like "Join our mailing list" or "Subscribe for Updates." As soon as someone signs up, they are added to your list and you can start sending them updates.
Build Relationships with Influencers in Your Niche
Influencers are those who have a large following on social media sites and blogs. Some stay in their niches while others branch out to write about other topics – but either way, they'll be able to reach thousands or even millions of people with the right post. So it's worth it not only for getting increased organic traffic but also potential sales when these influencers share your content.
Influencers in the health and wellness space include fitness models, nutritionists, doctors, and other experts in the field. It's best to start with more famous people since you'll have a better chance of getting noticed (and hopefully shared!). But don't be afraid to reach out to someone new – they may not know that if they share your content, it will get them many new followers!
Add Value by Providing Free Resources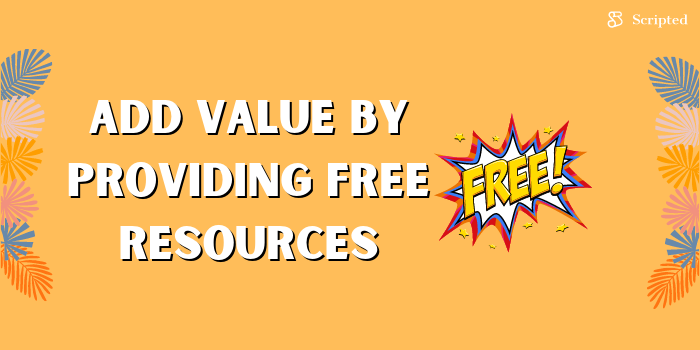 Freebies are a great way to get people excited about what you have to offer by providing free resources – such as ebooks, webinars, or guides related to your industry and topic of expertise. You'll be able to provide your visitors with the information they need while at the same time showing how much value you can bring to their lives!
Include Testimonials From Happy Clients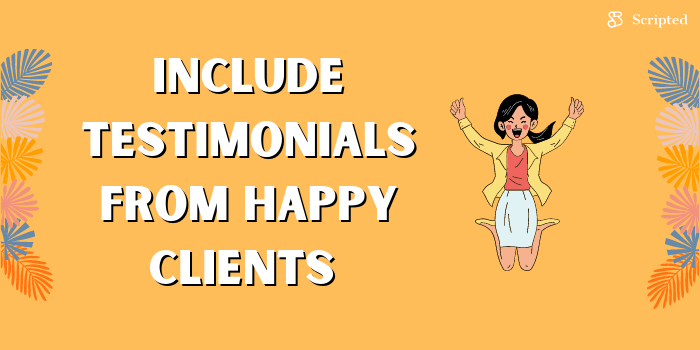 If you want to increase organic traffic, testimonials are an excellent way of showing visitors that what you're offering is worth it. Include quotes from satisfied customers who have successfully used your products or services and offer discounts if they sign up for newsletters or follow you on social media channels!
An excellent way to collect testimonials is to ask for feedback is through an email form after they purchase a product from you. You can offer discounts if they sign up for newsletters or follow you on social media channels. 
Create Content That Inspires People in Health and Wellness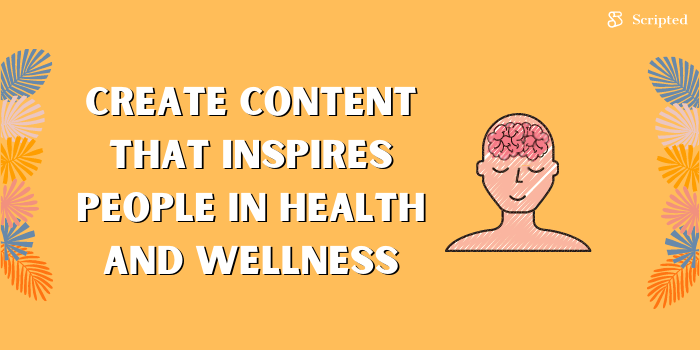 Many people assume a blog should only talk about the latest trends, but there's another approach: writing content that inspires others. By sharing how other entrepreneurs, experts, or influencers get through tough times with their struggles as well as triumphs – whether they're related to dieting, weight loss, or any other topic-you'll show those reading them that many people are just like them.
It's not enough to share your content. You have to engage with people through comments on blog posts, blogs and forums, so they feel like you're a human being. Plus, it can increase organic traffic when people start sharing the conversations or quotes from these discussions.
Popular blogs in the health and wellness space include Fitness Magazine, Women's Health, and Well+Good.
Measure Your Traffic Growth 
The most important thing you can do to increase organic traffic is to measure your growth. There are many analytics tools out there – including those for Twitter, Facebook, and Pinterest-that allow you to see what's happening with regards to views, shares, and engagement on your posts/pins/tweets, etc.
Measurement allows for feedback so that you can continue growing in the best possible way.
When you measure and review your traffic strategies each month, you should be able to see what's working and what's not. For the strategies that are working, be sure to double down on your efforts. For example, if you notice that you're getting a lot of traffic from Instagram, hiring someone as a dedicated creator for that platform may be worth it.
Conclusion
We hope this article has helped you learn how to increase organic traffic on your website and blog. If you have any questions or are looking for help with content strategy, please don't hesitate to contact us about what we can do for you. Our team of experts would love the opportunity to be a part of making your business grow. Visit our health & wellness industry page today so we can start helping you take care of all things digital marketing related!