Keyword Research for Blog Topic Idea Generation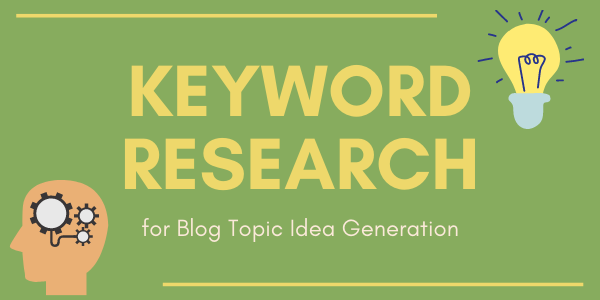 Spend any amount of time reading about how to come up with better blog ideas and you're sure to see the term "keyword research" pop up at least a few times in every guide. While you might gloss over it at the start of your content creation journey, the fact is, blog keyword research forms the foundation for any great content plan.
If you're wondering why keyword research matters, or how to do keyword research for blog posts, this guide will walk you through it. Let's take a look at how keyword research works, why it's important, and how you can use it to fuel your blog topic idea generation.
What Is Keyword Research?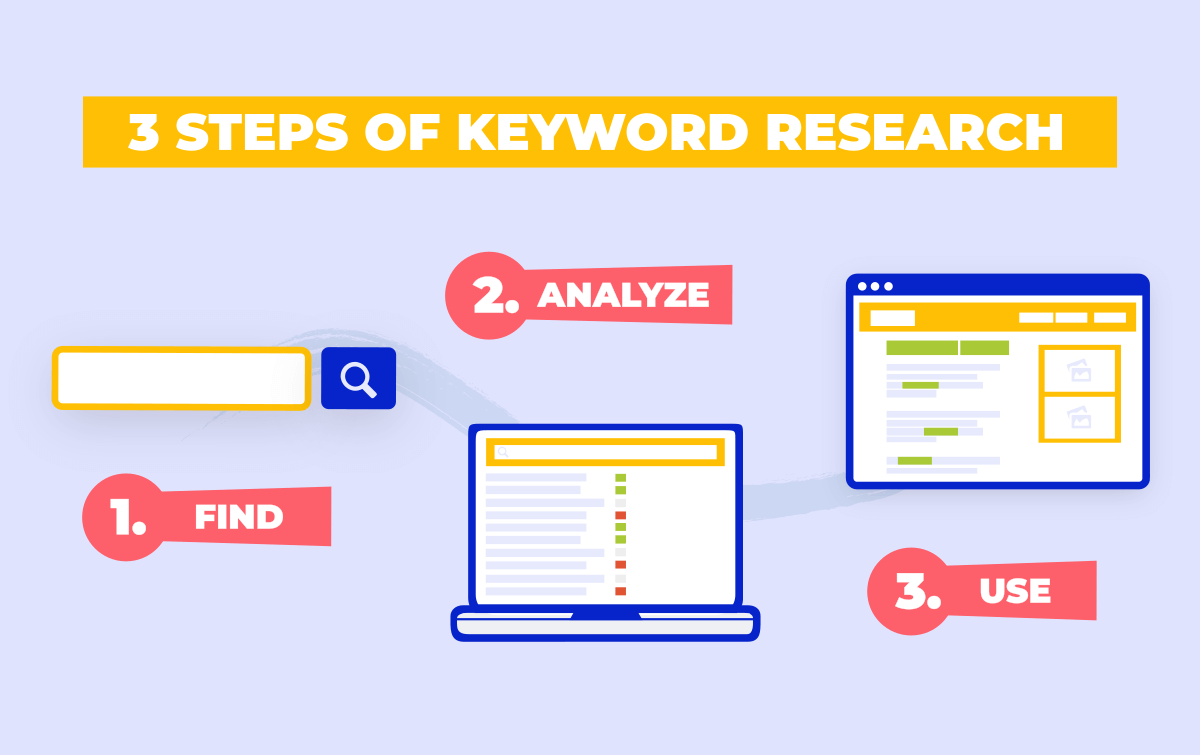 The process of keyword research involves using an analytics tool, like Google Analytics, to discover the terms and phrases (i.e., "keywords") people search to find content. Knowing the keywords that are relevant to your niche is essential in optimizing your website for search engines and driving organic traffic.
If you don't yet understand the link between keywords and search engine rankings, that's a whole other subject you should definitely delve into, but there's a short, quick explanation. Major search engines like Google send out "crawlers" (bots) that digest the content on websites to identify what it's about. Since they can't read or comprehend like humans can, these crawlers look for keywords to categorize the content and determine when it's relevant to show that content to searchers.
Of course, actually getting your content to rank in search engines goes far beyond simply including relevant keywords these days. Google and other engines have advanced algorithms that take into account content length, outbound links, and the way visitors interact with your site, among countless other factors, to determine if your content should show up and, if it does, whether it deserves the #1 spot.
Ultimately, the concept of search engine algorithms and cracking the code on how to get your content into the number one spot is extremely complex, but there's a reason why keyword research is preached about everywhere. It's because Google would be the first to tell you that the real thing the algorithm is trying to do is put the most valuable, relevant content first in the search engine results pages (SERPs).
So, if you want your content to rank, you need to start by creating content your readers will care about. You can do that by creating content around the keywords they're already searching. That means you need to come up with a keyword plan.
Creating a Keyword Plan
A keyword plan is basically an outline of the relevant keywords in your niche, with each primary keyword ranked based on its importance to your website. You get to decide which factors make a keyword important, based on your sub-niche and metrics like search volume and how difficult it would be to actually rank for that keyword.
Your keyword plan should identify a handful of primary keywords and then branch out to find keywords related to those keywords, and more keywords related to those keywords, and so on. This is how you end up with a full-fledged keyword plan you can start using to generate ideas. Fortunately, you don't have to come up with your keyword plan by hand.
To create a keyword plan, you can:
Continue using tools like Google Analytics to assemble keywords and connect them on your own.

Use a handy tool like

AnswerThePublic

to find question-based keywords that convert directly into blog topic ideas.

Turn to a professional content strategist or creation team, like Scripted's

Cruise Control

.
It's up to you how complex or large you want your keyword plan to be. For the best long-term results, come up with a big keyword plan so that you can create and schedule content that builds upon itself, helping you to align your content with the sales funnel or calls-to-action you want to incorporate for your readers.
Turning Keywords into Content
As your keyword plan comes together, you need to get out of the "keyword" mindset and into the content mindset. After all, you aren't trying to publish keywords nor are you writing for the search engines. While keeping SEO best practices in mind and basing your blog posts around relevant keywords is important, remember that you're writing for your readers. This means taking basic keywords and turning them into lively, engaging content that people will actually want to read.
To help you turn your keywords into content, think about...
What keywords are already questions? Could those questions be headlines? Ex. "How do dog microchips work?" is a keyword that could also be a blog post title.

What do the keywords really mean? Think about what the intent is behind the keyword. For instance, "microchip dog procedure" could be turned into "What to Expect When Getting Your Dog Microchipped".

Build out from main keywords by considering related keywords. These can give you sub-heading ideas and additional blog post ideas. "Pet microchip laws" is a primary keyword that you can turn into a series of blog posts, like "Pet Microchip Laws in California," "Pet Microchip Laws in Illinois," and so on.
Whenever you're looking at a keyword and determining how you can turn it into a blog post, remember your primary goal is to create value for your readers. Some keywords may end up not applying to your target audience, in which case you're best off avoiding them. On the other hand, you may come up with content ideas that aren't based around keywords, but if you think they're valuable to your audience, you should certainly pursue them.
Creating Better Content
Remember that content isn't all about keywords. As you go on to turn your keyword ideas into content, you have to keep your readers in mind. Everything you publish should be designed to offer real value to the people who will read it, and that means looking past SEO.
If you need help generating consistent, high-quality, well-researched content, reach out to Scripted. Our team of professional writers cover a variety of niches and can help you boost the performance of your website.